Original URL: http://www.theregister.co.uk/2011/11/16/review_acer_aspire_s3_ultrabook/
Acer Aspire S3 Core i7 Ultrabook
First among equals?
Posted in Personal Tech, 16th November 2011 12:16 GMT
Review The Acer Aspire S3 is a major new entrant to the emerging market for 'ultraportables' – ultra-thin but powerful notebook PCs with reduced components to keep the space and weight to a minimum. It won't suit everyone, but if you like the idea of a portable Windows computer than can be carried in one hand or tucked under your armpit rather than lugged around in a shoulder bag, the S3 is a delight.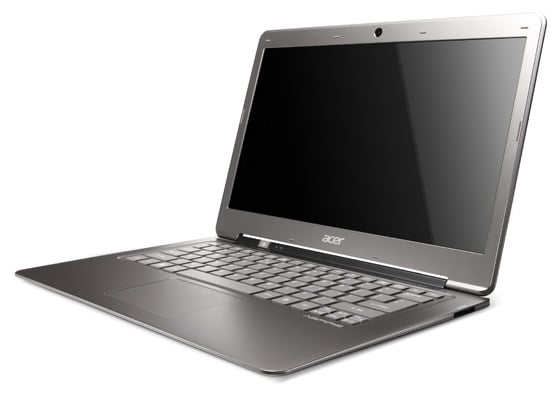 First to market: Acer's Aspire S3 Ultrabook
But before I go further, be aware that the obergruppenführers at Reg Hardware have declared that direct comparisons between the Acer Aspire S3 Ultrabook at Apple's MacBook Air are not welcome. "Just review the product in front of you", they said, "otherwise the readers will write you off as an Apple fanboi."
So the fact that the S3 is several hundred pounds cheaper than a MacBook Air while offering double the storage is something you'll have to work out for yourself. I, for one, will not be mentioning it.

A sophisticated brushed aluminium finish: I wonder where Acer got the idea from?
In a notebook market populated by fragile, plasticky models, the Aspire S3 stands out with its tough-looking, brushed aluminium casing. Magnets keep the case closed without the need for a clasp. The lid and body do not have perfectly flush edges: far from being a lapse in design, this actually makes it quick and easy to open the case without having to fumble for "the right place" first.
The body of the case is gently sloped, the rear being a few millimetres higher than the front edge. Opening the almost unfeasibly skinny lid reveals a 13.3in display with not too much space wasted around the bezel.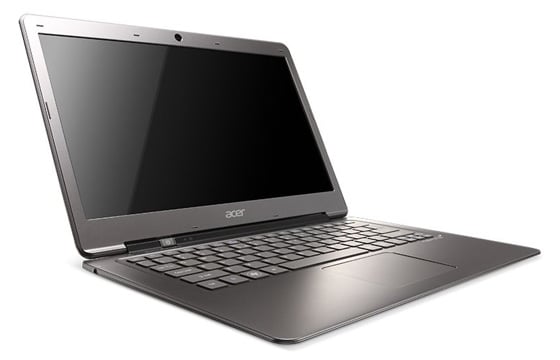 The skinny display has to be seen to be believed, but the visuals are still bright and crisp
The display's 1366 x 768-pixel resolution is a compromise, of course, but Acer has taken the trouble to ensure it's a decent quality display in terms of visuals. In use, the screen is crisp and clear with an impressively wide viewing angle for such a small computer.
Key concerns
Unfortunately, the keyboard doesn't fill me with so much joy. It feels cramped and some of the important keys have been reduced to ridiculous proportions. I hate it when the Ctrl key is no bigger than other keys, for example, and the cursor keys are impossible to locate by touch: all four directional keys plus PgUp and PgDn together can be hidden under the pad of my thumb.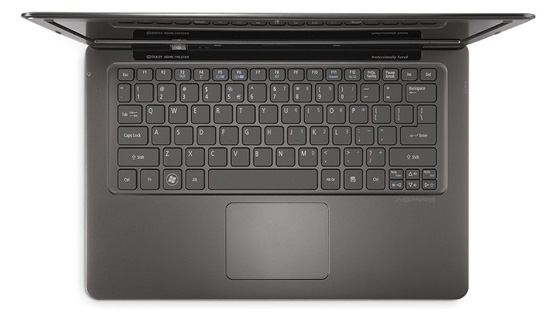 The one piece trackpad functionality needs refining
Another unexpected annoyance is the trackpad. It's one of those new types that you press down to produce a mouse-click, hence the lack of separate mouse-click buttons. Clicking and dragging is horrible, requiring you to press down hard on the trackpad and squeak your finger unpleasantly across its surface.
If this wasn't bad enough, you can only squeak for a couple of centimetres at which point you have no more trackpad left. Moving an icon from one side of your desktop to another can require several steps: press-squeak, press-squeak, press-squeak. Acer provides a utility for these functions but there's no obvious magnetic click and drag option.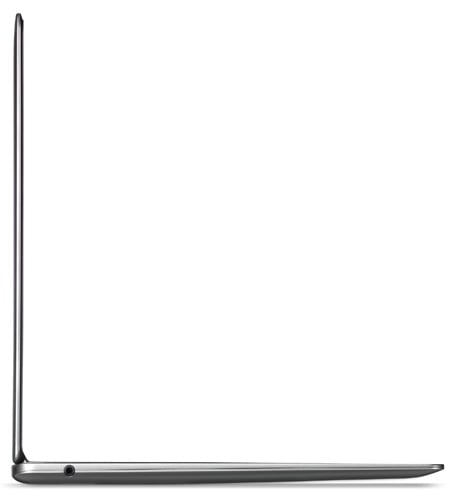 The bulk of the interfacing is at the rear
Nor is there much by way of multi-touch gestures to get around this. The trackpad supports one or two-finger gestures – the latter principally for right-clicking and scrolling – but nothing for 'soft' clicks, sweeps or special shortcuts. Even the two-finger scroll action failed to work half the time. After a while, I couldn't stand it any more and plugged in a mouse, whereupon I enjoyed using the S3 a great deal more.
I wish it had been as simple to stop the loud fan noise and high-pitched whistling that the computer makes when it's churning away. I share an office, and my office partner complained that the sound was "disagreeable".

The lid stays closed magnetically without the need for a clumsy clasp

Only the bare minimum of ports here at the thick end of the wedge
You only get two USB 2.0 ports and a single HDMI port for video-out, plus a headphone socket, but this is a fair compromise in such a slim computer. I wish one of the USB ports could have supported USB 3.0 but there you go. Also provided is a dual-format memory card slot, supporting SD and MultiMedia Cards. Having an Olympus camera that takes xD cards, this is useless to me but I appreciate the importance of having at least SD Card support.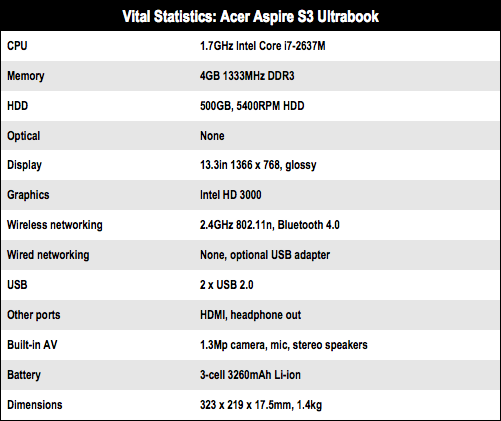 The awakening
Equipped with an Intel 1.7GHz Core i7-2637M CPU and 4GB of RAM, the Aspire S3 turns out to be no speed demon, least of all for graphics as it relies on Intel's integrated HD 3000, rather than a discrete CPU – it notched up a fairly typical score of 3449 on 3DMark '06.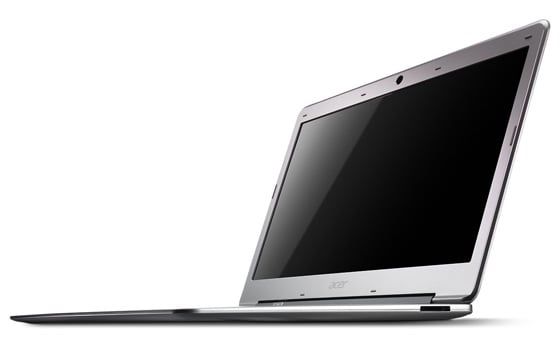 Good all-rounder for undemanding users
Still, it is clearly a good general-use computer and even though the built-in stereo speakers are inevitably tinny but they are nonetheless satisfyingly loud and clear for such a small unit, no doubt helped by the inclusion of Dolby Home Theatre enhancements.
Saving the best feature for last, the Acer Aspire S3 is super-fast when waking from sleep mode – the company calls this Acer Green Instant On. Waking from proper sleep mode takes somewhere between 5 and 10 seconds, while waking from a light-sleep mode takes just a couple of seconds. Better still, after waking, the computer reconnected to Wi-Fi almost instantly. And whaddya know, this has the moniker, Acer Instant Connect. For the user, this combination is certain to extend the battery life, since I would normally prevent a notebook from going into hibernation because it's normally such a hassle to wrench it back to life afterwards.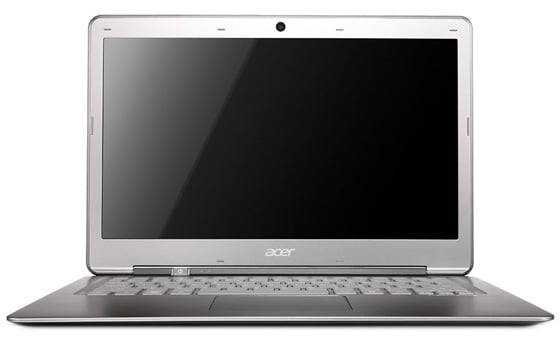 A clean, super-slim, minimalist design: I wonder where Acer got the idea from?
It's just as well because the uncompromising Register Hardware battery test – involving running the intensive PC Mark Vantage benchmark on a loop until the battery is too depleted to keep the computer alive – saw the fully charged S3 conk out after 1hr 36mins. That's not bad in itself but it's hard to reconcile with Acer's suggestion that you'd only have to recharge once a month ("up to 50 days", in fact). The power management is good but surely it can't be that good?
Verdict
The best summary I can think of for the Acer Aspire S3 Ultrabook is that it's a splendid product with some annoying details. On one hand, it's a good all-rounder in an amazingly slim, lightweight package. On the other hand, the keyboard will take some getting used to, the trackpad is awkward and the fan noise could drive your office colleagues nuts, however, Acer tells me that the review S3 was from a pre-production batch and what's on sale now should be cured of these ills. Yet for carrying around and flipping open here and there whenever needed, the Acer Aspire S3 is just the job. Oh, and if you want to shave £200 off the price, there's always Acer's Intel 1.6GHz Core i5-2467M model to consider. ®
More Notebook Reviews

Lenovo
ThinkPad
X1
Dell
Vostro
V131
Acer
Timeline X
5830T
Sony
Vaio
SB
Apple
MacBook
Air 13in