Original URL: https://www.theregister.co.uk/2011/11/16/recruitment_flames/
Reg man the most-flamed recruiter in the UK?
Dom Connor IS 'the unemployment problem', readers declare
Posted in Business, 16th November 2011 11:00 GMT
FoTW Last week's article by Dominic Connor on how some techies really, really need some help with their CVs hit a number of nerves.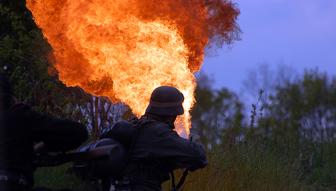 Image via Shutterstock
It's quite possible that this single piece will earn Dominic The Reg's annual most flamed writer award for 2011.
Now, we know you're busy people, so here are some of the choices cutting remarks directed at a man who was only trying to hel...
First up was Scott Brown
What the hell is this guy on about? #

This must have been the most irritating article I've ever read on on here.
And from there, the floodgates opened.
Anonymous Coward

Thanks... #

..For reminding me why I don't use recruiters, you lot are almost as useless as estate agents.
For others it was Dominic's policy on phone numbers that made the blood boil.
Dances With Sheep

Mobile Phone Number ? #

"Why do you send your CV to me with no mobile phone number? "

Is he taking the piss?

Who the fuck is going to give a mobile phone number so you can call me at my current place of employment or when I'm sat on the bog? You get a home landline (with voice-mail) and a private email address sunshine.

If you think you need to contact me instantly, right this minute... you don't. Any company I will work for isn't shitting themselves trying to employ the first person they can phone in a blind panic.
While for Hollow, the problem was... well just about everything.
Hollow

You sir, are THE unemployment problem! #

This article is disgusting, it completely and utterly encapsulates the recruitment industry, stupid, idiotic, arrogant arseholes who wouldn't know a good applicant if it hit them in the face!

Why do we put our education on our CVs? Because it took us a bloody long time to get, in some cases cost us a fortune to get, because most employers look for degrees or relevant vendor qualifications and that was the reason we spent so much time and money getting them. We could of course just leave school and tell you that "I can com-pooo-tor" if you like? Fucktard!

Those who can, do, those who can't, teach, those who can literally do NOTHING, recruit! Most recruiters don't have a CLUE what my job entails, they have NO idea how to write code, how to build a server, how to set up a network, half of them barely know how to turn on a computer in the first place. "I can't turn the damn thing on, look" ... "That's the HP logo, not the on button, let me help".

Your CV checking agency does credit checks does it? Is this something industry wide? I don't remember ever agreeing to a credit check with an agent, I'm sure that's against the law!?

The reason people put their summer jobs on the CV and have a 4 or 5 page CV instead of a 2 page one, is because interviewers are more intelligent than recruiters, so they ask questions. If I don't put down that I spent 7 months doing nothing but DJing for a living in 2003, I'll get asked why I went from working in BTs back office to working for a finance company in Epsom, but spent 7 months out of work in between, at which point I have to start talking, once I start talking, I run the risk of saying something they don't want to hear, something that's going to not get me the job, if it's on my well thought out and triple checked CV however, they won't ask, because it's already there as 2 lines, briefly explaining what I was doing and where I was, this then enables me to just answer the techie questions that are actually fucking relevant!

I would absolutely LOVE to destroy the recruitment industry, it's nothing but a blood sucking whore with a bunch of zombies in their employ! You go for an interview, get pipped at the post by one other applicant, the recruiter won't ring you back! You ring their office and you get told they're "out", what fucking ever, you just don't want to talk to me because I didn't earn you any commission you shallow fuck! How about giving me some feedback as to why the other guy pipped me at the post? How about telling me what they liked about me, so I can make sure to do it again the next time you ring me up, in a months time, like nothing happened and you weren't an arrogant prick and send me somewhere else?

Recruitment, IS the reason for unemployment. All those broken websites out there in the world, Recruitments fault, I'd go as far as to say the whole PSN fiasco, that was recruitments fault, because no doubt Sony went to a recruitment agent to hire the developers and the ones who could secure the site and make it resilient against attack, spent their child hoods hacking things and playing with technology, instead of learning how to use Word or correcting their fucking grammar! My god you boil my blood, you arrogant, ignorant prick!
Sounds like a bit of a cnut
Or as one anonymous coward put it somewhat more succinctly ...
Anonymous Coward

not being funny or anything... #

But this Dominic Connor sounds like a bit of a cnut.
Not content with accusing Dominic, and all recruiters, and HR people, of being parasitic lazy middlemen, a number took issue with our man's grasp of Latin.
Sean Baggaley 1

@AC 13:22 GMT #

"That's all your CV is, something promoting your ability to do the job, not a life story..."

"Life story" is *exactly* what "Curriculum Vitae" is *supposed* to be, you ignorant dolt.

The full term used to be "curriculum vitae et studiorum" — literally "course of life and studies". CVs are *supposed* to be long-form, and always have been. In much of mainland Europe, the proper, long-form, CV is still in use.

It's the _résumé_, popularised in the US, which is the short-form _summary_ of your recent employment history and education. The clue's in the (French) name, which literally means "summarised".

If you want résumés, fucking well ask for them, instead of asking for CVs and then complaining that they're "too long".

And stop complaining about *our* language skills when yours are clearly no better.
However, as much as Dominic's flakey grasp of lingua Romanorum irked our classically educated readers, it was his inflated view of what his candidates were worth that really convulsed some readers.
Anonymous Coward

What planet is he on????? #

"Over the next few years you are asking to be paid more than the cost of a Ferrari."

Er? How many people in IT (who actually do the work) are paid more than the cost of a Ferrari?

http://www.autoexpress.co.uk/news/autoexpressnews/247387/ferrari_458_prices_revealed.html

give £170K....

Well at my current salary that will be nigh on 4 years.
Which prompted a flood of support from fellow readers:
Anonymous Coward

me #

Blended rate for PM resource on my programme is over £600. That's just over a year to hit supercar costs.
And just to really put the boot in, another AC added:
Anonymous Coward

Really? #

You're in the wrong business mate! A good developer in the city finance sector can easily cut £80k+ and tech project managers easily break £100k.
So, Dominic is just flame bait, and a flag-waver for over-paid city techs? Ratings were evenly split, and there were even a few people who agreed with him.
Anonymous Coward

Good article – pulls no punches #

This is the reality of job hunting, and this guy has just given a raft of examples of what will cause you to fail to get a job since you fail at the first hurdle of being able to write a good CV.

These are not made-up mistakes – these are real world examples, and what happens if your CV fails to make the grade.

Even if you are a 'talent' – if you come across poorly in a CV, or for that matter, a personal interview – guess what – you are not getting that job you think you deserve.

The first obstacle to change is recognising you need to change in the first place.

Wake up an smell the coffee people.
Genoceres took his life in his hands suggesting the inability to write a good CV could actually have some bearing on a candidate's ability to write code.
genoceres

Fantastic #

Given the number of crap CVs I've had to read over the years – this hits precisely the right spot. Hopefully people in IT will read this article and take heed.

I throw more CVs away because they're unreadable than I do because they're obviously not up to the job. And why? because if they can't write a good cv, then how crap is their code going to be?
Hollerith simply took a Hobbesian approach to recruitment.
Hollerith 1

...

If you can't be bothered wading through the tedious garbage (and I know it is) of dealing with recruiters, spiffing up your CV, anticipating what they want (eg, Word doc) and generally seeking to please me, the ultimate employer, then fine. That is your choice. However, I will NOT be coming to you, empty-handed or with single malt, because you are NOT that special. I can get UNIX guys, C++ guys, you-name-it-guys by the bucket-full. Some of them are hungry for work and willing to make my life easy so that I like them and choose them. They won't do a bad job – I hire them because they have been willing to suck up the pain of being employable, and that sort of hard work impresses me, and because the interview process will be asking them to demo their skills.

You, however, would come across in your interview, I suspect, as you come across here. Life is cruel and unfair. Get used to it.
What sort of techie never writes an email
But Dominic was also accused of letting the cat out of the bag.
Neil Charles

Please don't teach bad people to write good CVs #

I like bad CVs. It's so much quicker to bin a CV with spelling mistakes in it, than to invite somebody in for a 45 minute interview before you find out that you don't want to hire them.

I used to be quite lenient about CVs and think that people might be ok – despite a weak CV – as they've worked for good companies. After a lot of wasted interview time, I'm not any more. Good people write good CVs. If you're not genuinely excited about interviewing somebody after reading their two sides of A4 (not more. Ever.) then just don't interview them – it's a waste of your own time.

Thanks for the article though. I particularly enjoyed "You are a waste of space", coming from a recruitment consultant. LinkedIn and a competent HR department for me, please.

And as one AC pointed out, there could be a simple reason for the vast gulf between views.
One perceptive AC suggested there was a worrying split in the El Reg's readership.
Anonymous Coward

Fun exercise: #

Go back through the comments and guess who is an employer and who solely an employee...
Still, perhaps the last work should go to DN4:
DN4

"What sort of techie never writes an email... or a report... or a proposal?"

A happy techie.
Well, if Dominic's ears aren't burning yet, they surely will be later this week once readers read his thoughts on interview technique. ®