Original URL: https://www.theregister.co.uk/2011/11/15/voyager_2_back_up_thrusters_firing/
Voyager 2 finally agrees to a long hard thrust
Probe takes light-ages to return boffins' calls
Posted in Science, 15th November 2011 15:16 GMT
Voyager 2 has finally gotten back to NASA to let engineers know that its switch to back-up thrusters was successful.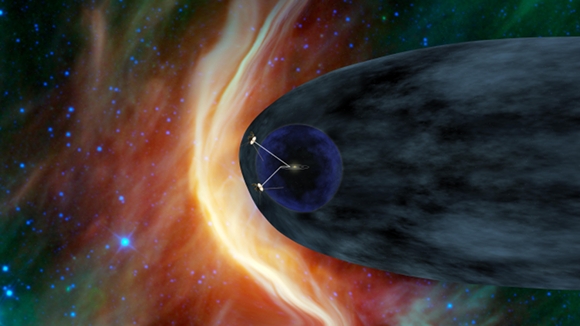 Artist's impression of Voyager 1 and 2 in the heliosheath Credit: NASA/JPL-Caltech
The space agency sent the signal last week to advise the old explorer to switch to back-up thrusters in order to conserve energy so it can continue its voyage for another decade.
Although NASA knew Voyager 2 had accepted the command, the ship took all this time to do the swap and then let the space boffins know it had managed the change. Which isn't all that surprising really, since the message was sent when the craft was around 9 billion miles (14.5 billion km), or 13 hrs 29 mins 52 secs light travel time away from Earth.
The agency wanted Voyager 2 to switch to its back-up thrusters so it would use less energy and thereby last longer. Switching to the back-ups means that the craft can turn off the heater it was using to keep the fuel line to the primary thrusters warm.
"Although the rate of energy generated by Voyager 2's nuclear power source continues to decline, by reducing its power requirements, engineers expect the spacecraft can continue to operate for another decade," NASA said in a statement.
Both Voyagers 1 and 2 are currently at the outer limits of our solar system, in the region of space known as the heliosheath, the outer shell of the bubble of charged particles around our Sun. They will soon reach interstellar space, the space between the stars. ®