Original URL: https://www.theregister.co.uk/2011/11/15/review_game_halo_combat_evolved_anniversary_edition/
Halo: Combat Evolved Anniversary Edition
Bark of the Covenant
Posted in Personal Tech, 15th November 2011 13:25 GMT
Review Love it or hate it, it's impossible to ignore Halo's legacy. With the exception of Super Mario, no other videogame series has been as critical to the success of its target platform - or as influential on the videogames industry as a whole.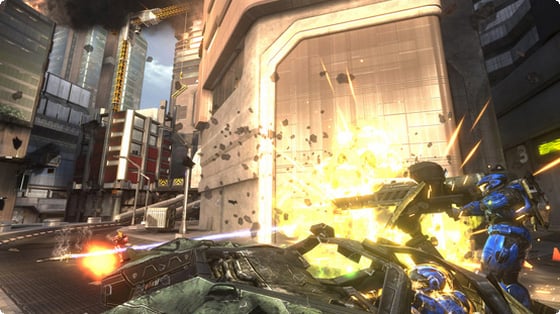 Urban jungle
Arguably the most important launch title ever, Halo: Combat Evolved single-handedly made Microsoft's attempt to muscle into the console business one to be taken seriously. Four acclaimed sequels and one real-time strategy spin-off later, Microsoft's poster-boy capped off a phenomenal decade by pipping Call of Duty to take the award for the greatest videogame franchise of all time in last year's Guinness Book of Records.
Halo's enduring critical and commercial success secured it a future beyond creator Bungie's involvement. So when the developer left to work on a new multiformat game, Microsoft established 343 Industries, an in-house team comprising former Bungie and Pandemic Studios staff, to continue the legacy.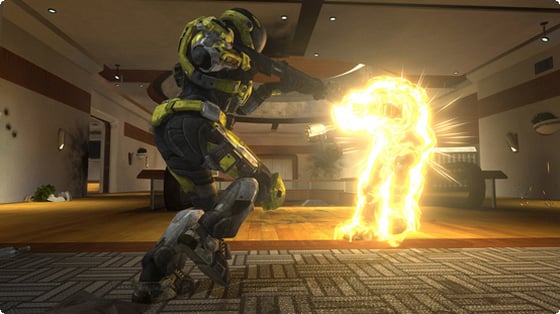 Glow ahead, make my day
To tide fans over until Halo 4, 343 Industries' first major output is a remastering of Combat Evolved. But it's a vastly different proposition to hi-def remasterings such as Resident Evil 4 and Ico & Shadows of the Colossus Collection.
Where those updates simply polished last-gen games with HD resolutions and improved frame rates, Halo Anniversary Edition reconstructs the original's visuals from the ground up using Halo Reach's engine. The results are nothing short of spectacular.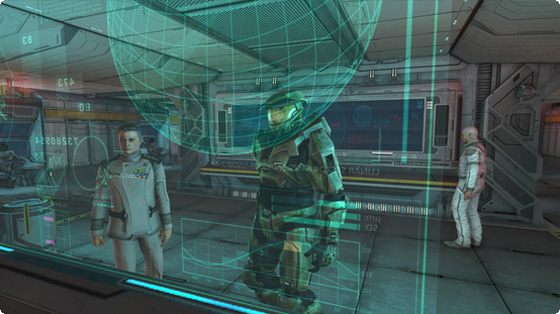 Total eclipse of the chart
An awe-inspiring labour of love, no polygon has been left unturned. 343 Industries has wrung every last drop from Reach's engine to modernise the decade-old graphics - even including 3D for those suitably equipped. And boy does it wants you to know it.
Switch it down
Just as The Secret of Monkey Island: Special Edition lets you switch between 'new' and 'old looks, so Halo Anniversary Edition allows you to flip between the new and original engines at any point in the game. Simply press the back button and a decade's worth of graphical advancements are undone in the blink of any eye.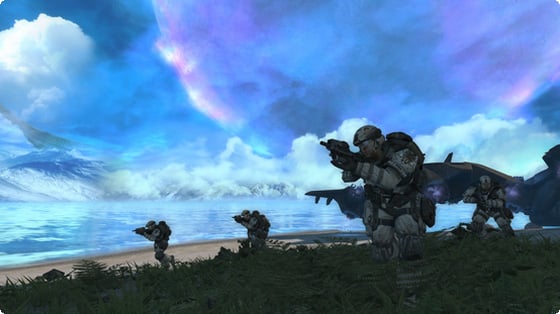 Bay for blood
Obvious throughout, those advances are nonetheless most apparent in Halo's exteriors. Take the swamp in the level '343 Guilty Spark', for example. Switch to retro view and it's noticeably claustrophobic and lifeless. Muddily textured trees and mounds punctuate the barren gloom, while a static tree canopy barely protrudes through the surrounding fog.
A quick switch back to the Reach engine and the swamp is transformed into lush, verdant wetlands, where bioluminescent plants light the darkest corners with a panoply of colour and everywhere long grasses and tree branches sway in the breeze.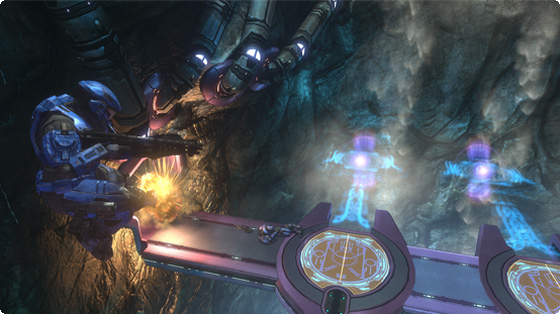 Cave of forgotten beams
Strikingly apparent outside, it's actually inside that benefits most from the overhaul. Most criticism levelled at the original centred on its repetitive interiors - nowhere more justifiably so than in 'The Library' and 'Silent Cartographer' levels.
In truth, the new engine does little more than paper over existing wallpaper, but it's transformative effect is nonetheless remarkable. Subtle shades of lighting break the monotonous architecture, while neon wall glyphs and additional floor markers disrupt the incessant déjà vu and minimise the backtracking that plagued Halo's most repetitive sections.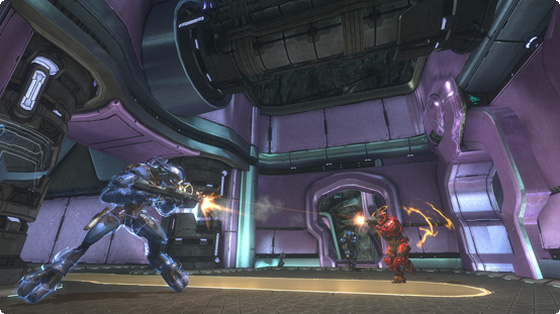 Damson in distress
Of course, a graphical overhaul counts for nothing if the gameplay doesn't stand the test of time. For the most part, it remains as peerless as ever. The evolving storyline - no mere pretext for absurd amounts of violence, no cardboard character cutscenes - continues to grip as a good sci-fi novel might.
And, despite years of innovation and advancement, no shooter has quite matched Halo's gunplay. Its narrow focus might seem rudimentary compared with the complex narratives, objectives and other ancillary distractions of modern shooters, but Halo was always unabashed in relying on scintillating sandbox combat alone.
Déjà vuvuzela
No matter how many times you've toyed with it, that sandbox still manages to throw up the occasional surprise. Discovering a hidden camouflage perk, taking a slightly different route to flank enemies, capturing and flying a Banshee before the game hands you one – you always feel you're just skimming the surface of an infinite reservoir of possibilities.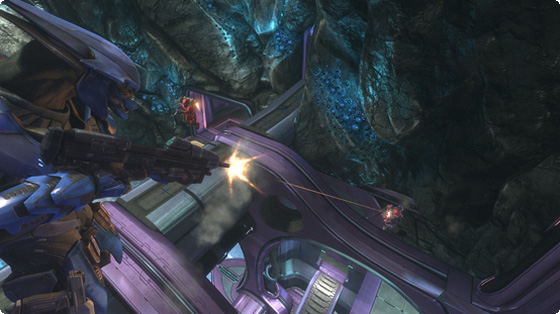 Killer drop
The same is true of enemy AI, which is as delightfully fiendish and unpredictable on the hundredth play as it is on the first. The weaponry is, on the other hand, reassuringly predictable. One of gaming's tautest arsenals, individual weapons provide distinct advantages against specific enemies, from the ludicrously overpowered scoped pistol to my personal favourite, the Needler – its Pavlovian delights all the more lavish thanks to the Reach engine's resplendent explosions.
While the majority of the gameplay still stacks up, Halo's few weaknesses are naturally amplified through the lens of a decade's worth of advancements. A divisive enemy first time around, The Flood's single-minded attack patterns feel woefully repetitive in light of the recent zombie shooters such as Left 4 Dead.
Worse still, the level mirroring as you backtrack from 'The Library' towards 'The Pillar of Autumn' now feels too familiar, enervating the once-epic denouement.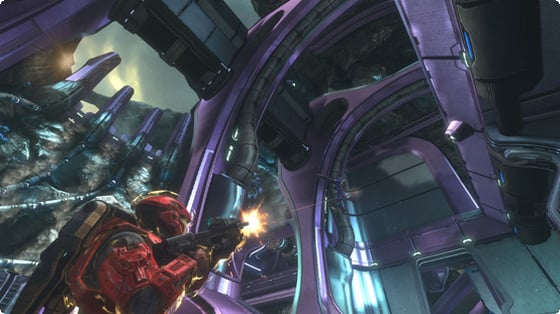 Starting to look up
The sensation of déjà vu extends to multiplayer. Included as a DLC code or available as a separate purchase for Reach owners through Xbox Live, the Anniversary edition brings a new twist to six classic Halo maps through Reach's class-specific loadouts, such as the Armour Lock and Hologram.
The problem is that apart from 'Timberland' – an exclusive from the PC and Mac versions of Combat Evolved – the maps are too small. While there's nothing fundamentally wrong with them, their diminutive size is a poor fit for the new mechanics, so while die-hard fans might revisit those classic maps, the ensuring chaos is likely to curtail their stay.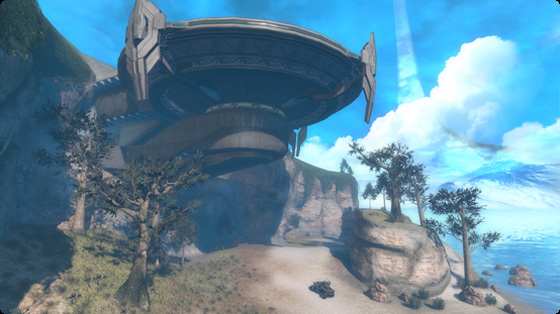 Enterprise cliffside
Verdict
In the current vogue for remastered videogames, Halo Anniversary edition stands apart. Where other developers milk the cash cow with perfunctory 1080p updates, 343 Industries has lovingly restored the original to a fresh glory. Exhibited alongside contemporary shooters, it's minor flaws may more apparent, and the restoration itself perhaps too faithful for some, but the original Halo remains a captivating masterpiece. ®
More Games Reviews

The Elder Scrolls V:
Skyrim
The Adventures
of TinTin
Call of Duty:
Modern Warfare 3
Goldeneye 007
Reloaded
Battlefield 3