Original URL: http://www.theregister.co.uk/2011/11/15/heroes_of_tech_jim_westwood/
Jim Westwood, home micro revolutionary
We salute Sinclair's chief geek
Posted in Personal Tech, 15th November 2011 12:00 GMT
Unsung Heroes of Tech We all know Sir Clive Sinclair, the sometimes eccentric British boffin whose early simple, cheap and often kit-assembled devices helped usher in the UK's home computer revolution.
You may also have seen the irreverent 2009 BBC drama Micro Men, which chronicled Sir Clive's failed battle with his own ex-employee and Acorn co-founder Chris Curry to secure the contract for the influential BBC Microcomputer.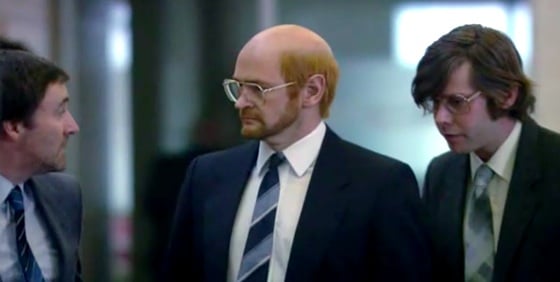 Micro Men: (L-R) Nigel Searle (Derek Riddell), Clive Sinclair (Alexander Armstrong) and
Jim Westwood (Colin Michael Carmichael). Source: BBC/Darlow Smithson Productions
If you saw that film, you saw Jim Westwood. Not one, but two of him: the character played by actor Colin Michael Carmichael, and the real Jim Westwood, appearing as an extra retiring behind a newspaper in WHSmith's as Martin Freeman, playing Chris Curry, enquires about games for the BBC Micro.
The newspaper is typical Jim Westwood. He likes to stay well out of the limelight. Always shy of publicity, he was the engineer tasked with making many of Sinclair's wilder dreams come true though much of the 1970s and 1980s. Back then, Clive saw pricing as the secret of market success, and the budget restriction was a challenge Westwood particularly enjoyed. Like Apple's Steve Wozniak, Westwood delighted in twisting the existing features of a low-cost component to unexpected new capabilities.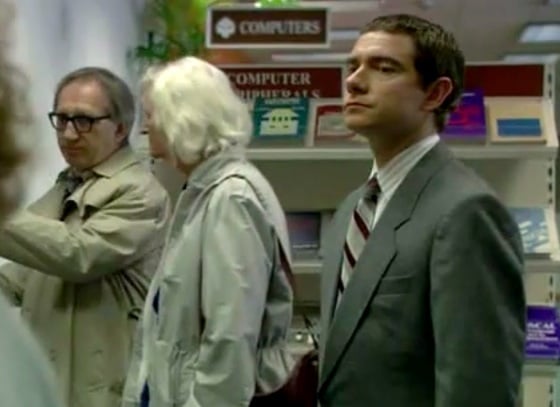 Will the real Jim Westwood step forward? JW in a cameo appearance in Micro Men alongside
Martin Freeman as Chris Curry. Source: BBC/Darlow Smithson Productions
In 1983, Westwood told an interviewer from Sinclair User magazine: "It's a challenge managing to achieve something without using expensive components and I like that challenge."
A favorite among his early designs, was the ZX80, the first home computer sold anywhere in the world for less than £100. "It was a real breakthrough in the use of cheap components," says Westwood. "It's something which ought to be in the Ark by now but I am still proud of it."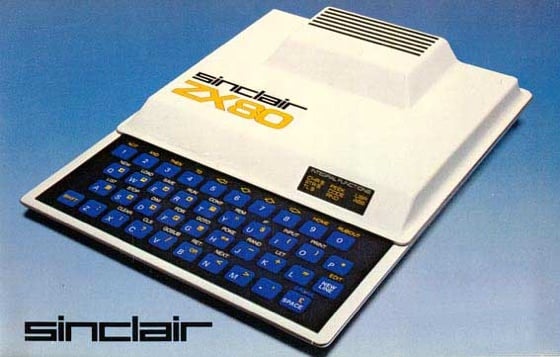 The kit that kick-started the home computer revolution in Blighty: Jim Westwood's ZX80
Although the ZX80 and its successors, the ZX81 and the Spectrum are what Sinclair is mostly remembered for today, computers were almost a sideline. His first ideas had centered around hi-fi and wireless products. His grandly named first company, Sinclair Radionics, had grown up as a one-man electronic component vendor, bulk-buying Plessey transistors that had failed quality control tests, which Sinclair then assayed himself and re-rated.
Jim Westwood, meet Clive Sinclair
That business had been funded from articles Sinclair had written for Practical Wireless magazine, and he was also the author of several DIY wireless construction books, published by Bernard Babani. Babani's bookshop in the Goldhawk Road, a stone's throw from the Babani Publishing HQ in The Grampians, Shepherds Bush Road was, in 1963, where the 15n-year-old Westwood was working behind the counter.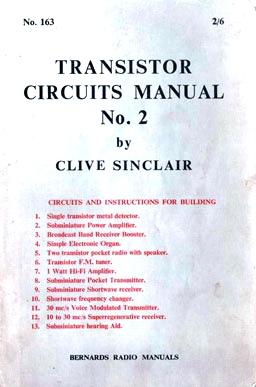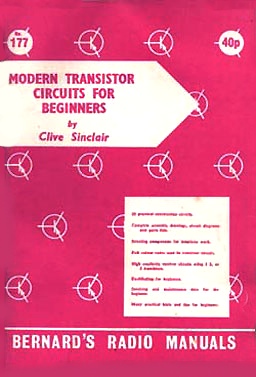 Clive Sinclair's early work for Babani Publishing - books Jim Westwood sold as a shop assistant. Source: ZXNet.ru
Tinggg! The shop door opens. Westwood hasn't seen this customer before: a red-headed young man in his early 20s strides in with the air of someone who owns the place. One imagines the conversation going something like this:
Westwood: Um... can I help you, sir?

Customer: You have the new book, I think, by Clive Sinclair?

Westwood: Oh, er, yes. "Practical Transistor Audio Amplifiers for the Home Constructor." That'll be three and six.

Customer: Good heavens, I don't want to buy it. I've just been round the corner arranging my next project with Bernard - your employer - and I popped in with the idea of signing a few copies.
But Sinclair quickly discovered that the shy young man hiding behind black horn-rimmed glasses was no ordinary shop assistant. A few doors along, at number 3 Goldhawk Road, was Lyons Radio, an electronics component shop where Westwood spent much of his lunch hours and salary. He was an out-and-out radio buff, and there was little in the library of "Bernard's Radio Manuals" - of which Sinclair's latest was number 173 - that he hadn't mulled over, assembled and modified with his own ingenious improvements.
Westwood found himself swiftly poached from Babani and, within weeks, was working on Sinclair Radionics' next project, to be released early in 1964. The Sinclair Micro-6, on sale in kit form for 59 shillings and sixpence, was a device no bigger than a matchbox that its publicity claimed to be the "world's smallest radio".
In fact, if you scoured London's Tottenham Court Road, in those days a cornucopia of electronic bits and bobs, it was possible to find a Russian MW-LW pocket radio that was even smaller. But Sinclair had learned the advantage of shouting his wares out loud. It was a lesson that even to this day Westwood himself never bothered to get the hang of.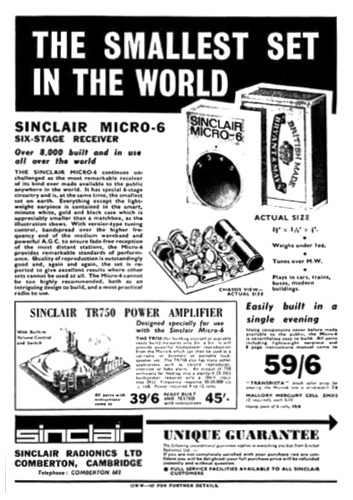 The world's smallest radio... almost. Sinclair's Micro-6
What Westwood did know about was making stuff. "Engineering... was always my hobby, even when I was very young," he told Sinclair User. "I had to take everything to pieces and gradually I was able to put it together again."
Like Sinclair, Westwood was self-taught, and his purely pragmatic approach to the sometimes near-impossible projects Sinclair dreamed up kept him in the forefront of the organisation as it grew through the mid- to late-1960s selling low-cost radios and hi-fi equipment.
Pocket calculators and TVs
Westwood's designs, often under absurdly tight budget restraints, were never text-book, and sometimes radically risky. The notoriously high return rate on Sinclair products was disguised by the fact that many were sold in kit form. But there's no question that in pushing the envelope of how much could be got out of how little, some of the designs were essentially self-destructive.
By the early 1970s "Sinclair" had become a household name, and it was time for a shift from audio. Today, when you can pick one up in Poundland, it's difficult to imagine the impact of "The Executive", a sleek, black, shirt-pocket calculator that could be yours for as little as £79.95 - just a couple of weeks' wages in those days! Only four years earlier, Hewlett-Packard had introduced the first desktop electronic calculator, the HP-9100 for a price that amounted to around £20,000 in today's money.
Once again, Westwood's design was cash-squeezed, but this time there was an even bigger problem. There was a good reason why the Americans and Japanese had so far stayed away from a pocket calculator. The components were particularly power-hungry, dictating a mains connection, or at the very least large batteries.
The display LEDs alone ate a lot of juice, but there was a standard solution to this. Instead of supplying steady power, you rapidly switched the LEDs on and off. If pulsed at around 60Hz you could save power while relying on human persistence of vision to see the light as continuous.
The trick tickled Westwood's fancy, and he found himself wondering whether it could be extended across the whole device. There was nothing in the specs for the Texas Instruments GLS 1802 calculator chip to suggest this was possible. But, after all, the circuit did include a number of capacitors, components that behave like tiny temporary batteries. Would they be able to sustain power between the pulses reliably enough to ensure there was no data loss?
Together with Chris Curry, at this stage still a faithful Sinclair acolyte, Westwood ran the tests. The specs said the TI chip needed 350mW of power. And here it was running reliably with a pulsed current at around 20mW. Job done.
Enter the computer
The Executive and its successors were market-winners. But Sinclair's heart was elsewhere. Westwood revealed in an interview with the Independent in 2008 that almost from their first meeting Sinclair's central goal had been to build a pocket TV. "We exhibited one at a trade fair in 1966," says Westwood. "It went to prototype, but it was before its time. We could design it, but could we mass-produce it? No."
In 1973, Sinclair attempted to launch a small portable TV for £200, followed by a second, the MTV-1, in 1978 at half that price. Westwood told the Independent: "We needed a price nearer £50."
The devices didn't sell. Undeterred, Westwood's team persevered, designing a novel "flat screen" 2in CRT that bent the electron beam through 90 degrees, and a special chip to control its core functions. In 1983 this appeared on the market as the FTV1 for £79.95. Sir Clive Sinclair - he was knighted that year - confidently predicted sales in excess of a million a year. In total, the FTV1 sold only 15,000 units.
The first Sinclair computer, the MK14, was little more than a reference design supplied by National Semiconductor for its SC/MP processors, but released as a niche hobbyist kit at the suggestion of Chris Curry. Curry had established for Sinclair a new company, Science of Cambridge, while Clive was extricating himself from the by-then government owned Radionics.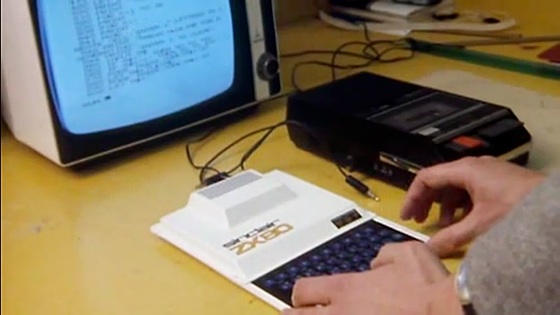 The first sub-£100 computer: Sinclair's ZX80
Source: BBC
The MK14 was launched in 1977 while Sinclair himself was still immersed in the pocket TV. Curry's departure the following year and the foundation of the company that eventually became Acorn Computers jerked Sinclair into the realisation of a market opportunity threatening to slip away. Once again, Jim Westwood came to the rescue, and the result, in 1980, was the groundbreaking ZX80.
Westwood stayed with Sinclair through the 1980s, developing the ZX81 and its successor, the Spectrum. After Amstrad acquired Sinclair Research - as Science of Cambridge had become - Westwood co-founded Cambridge Computer with Sinclair in 1986 to design the hardware for the radical battery powered portable Z88 computer and later to create the Astra set-top box and its associated satellite dish, the "Squish".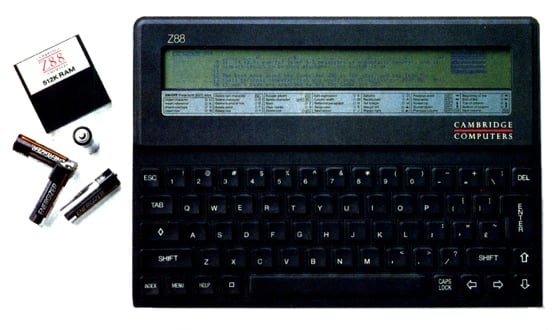 Portable 'puter: Cambridge Computer's AA-powered Z88
The pair parted company around the turn of the decade when Westwood left to form his own private consultancy. He later joined set-top box maker Pace, and now, in his early 60s, works as hardware development manager at set-top box manufacturer Amino. ®
Reg Hardware extends its thanks to all the retro computing fans whose enthusiasm and scans helped make this feature possible. The author also wishes to thank Jim Westwood for dotting and crossing the historical Is and Ts