Original URL: https://www.theregister.co.uk/2011/11/14/robo_bear_helps_people_sleep_better/
Robo-bear helps snorers snooze more smoothly
Tickle for a quiet night
Posted in Personal Tech, 14th November 2011 11:59 GMT
If you're sick of applying Sinex before sleep, fearful that snores will prompt your spouse to groan, prod and eventually stick an old sock in your mouth, then perhaps this robotic polar bear is the way forward.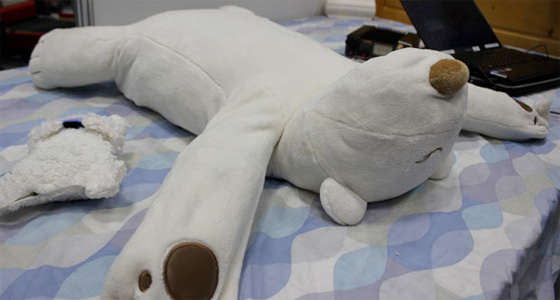 Jukusui-kun is a tool to help those with sleep apnea syndrome kip better. It comes in the guise of a cuddly bear, which monitors slumber patterns and if need be, gently tickles a user's face so they roll onto their side and remain in a state of deep sleep, Japan Trends reports.
To put this perceptive pillow to use, punters nod off with a cuddly pulse meter attached to their hand. This, along with sensors under the sheet and a built-in microphone, detects when the earthquake sounds commence, prompting the bear to reach over and stroke the user's cheek. Ta da!
Developed by Wasaeda University's Kabe Lab, Jukusui-kun was on show at the International Robot Show in Tokyo this weekend. Check it out in action below:
If Jukusui-kun makes it to the commercial market, it's probably an inappropriate present for a snoring student at Eton, but for other noisy nappers it could be just what the doctor ordered. ®