Original URL: https://www.theregister.co.uk/2011/11/14/review_samsung_rv720_notebook/
Samsung RV720 17in Core i3 notebook
Big screen bargain?
Posted in Personal Tech, 14th November 2011 12:57 GMT
Review Desktop replacement laptops are a genre of portable computer apparently intent on chuntering on forever without ever truly succeeding or dying. By nature, they tend not to be petite, and Samsung's RV720 is no exception.
Desktop replacement on the cheap: Samsung's RV720
Weighing around 2.7kg and measuring up at 420mm wide by 275mm deep, not only is it a burden to carry for a proper distance, you'll also need to hunt around to find a bag that will take its sizeable bulk. Certainly, the polite traveller will avoid deploying it on a train or worse, a plane tray table.
At first glance, the 17.3in screen offers bags of real estate. There's a lot of promise for creative types, but the resolution could certainly stand to be a tad higher – 1600 x 900 is all you get, and while that's plenty for web-browsing, it does seem a bit of a waste. Narrowly missing a match for Full HD, this is mitigated by the optical drive, which is DVD-only. In compensation, the screen is fantastically bright, and a duel with DisplayMate revealed smooth gradients and deep blacks.
With this form factor there's room enough for a mumeric keypad too
There's a lot of room for the keyboard, and Samsung has put the space to good use. The keys are nicely spaced, and there's a full numpad on the right hand side. The base of the system feels solid, making the RV720 a worthy machine for bashing out coursework or the household expenses.
Samsung has included a fairly bare-bones selection of interface options. You get three USB 2.0 ports, which will doubtless be enough for most, but not quite enough for more demanding users who want to their desktop replacement to be an actual desktop replacement and would hope for at least one USB 3.0 port. You do get an SD card slot, though, as well as both VGA and HDMI ports, plus dedicated 3.5mm audio I/O ports.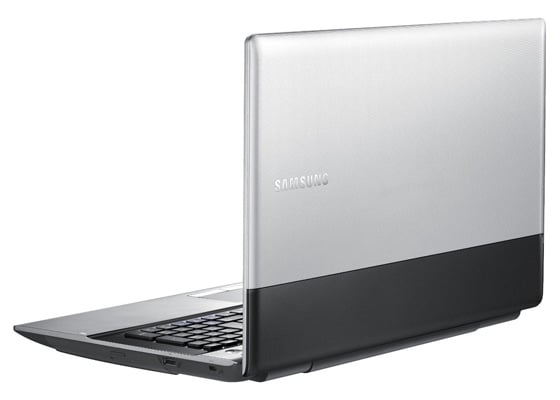 No Blu-ray, but a 750GB HDD is on-board
If the supply of external ports appears so-so, Samsung makes some compensation with internal storage, with a 750GB Hitachi hard disk on-baord. It may run at a mere 5400RPM, but most home users will take capacity over the relatively small performance increase provided by a 7200RPM drive. It comes divided into two partitions: one 270GB partition and another 404GB space; handy for those who want to keep their applications and documents separate.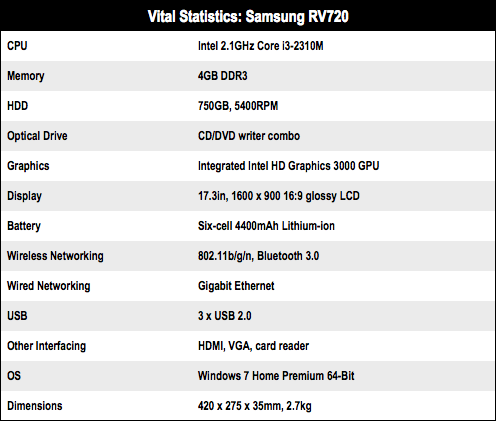 Gaming option?
Performance is middle-of-the-pack, which, to be fair, is all you can realistically expect of a 17.3in machine costing this much. The processor inside is an Intel Core i3-2310M running at 2.10GHz, providing two physical cores capable of handling two threads each, and backed by 4GB of DDR3 RAM. The result isn't exactly racy, but the RV720 will nonetheless handle virtually anything you can throw at it in terms of 2D processing tasks.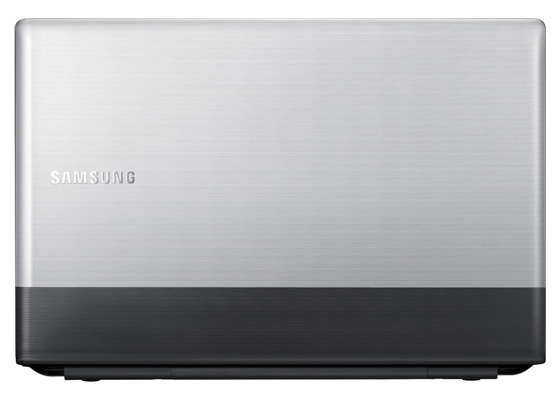 Like all 17in machines, its size and weight are imposing
The one area it falls down more seriously is gaming. The on-chip Intel HD Graphics 3000 processor makes a decent fist of running Windows, but there's not much left over in terms of 3D grunt. With no support for DirectX 11, 3DMark 11 doesn't even run, and in the older 3DMark 06 it scored an underwhelming 3242, so even older games can't be expected to run at silky-smooth framerates. It's a pity really, given the rest of the RV720 is so well-suited to home use, a bit of gaming power would have been the icing on the cake.
Battery life isn't spectacular either. The 4400mAh power pack slotted into the back of the machine would look par for the course on a much smaller laptop. Here, where it's expected to drive a huge, bright screen and it was no surprise to see it fall down slightly. Looping 3DMark Vantage tests with the screen at full brightness, it lasted for just 1hr 50mins.
With the screen at half brightness and the laptop connected to a base station, the RV720 ran for 4hrs 48mins, so in real life you'll see a figure somewhere between the two. That's not bad, but size notwithstanding, it does limit the practicality of the RV720 for travelling or working remotely. As a desktop replacement and shuffling from lounge to bedroom, it's not really an issue.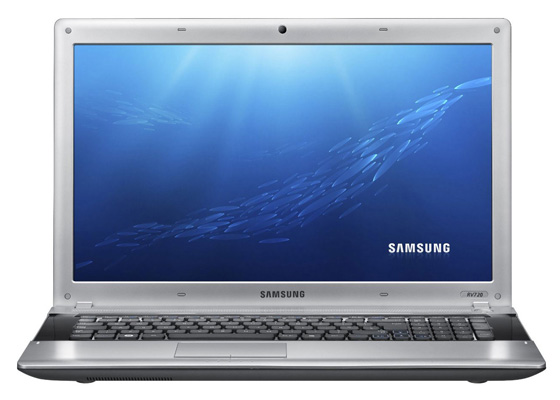 The Sandy Bridge Core i3 CPU turns out a decent performance overall
Verdict
The Samsung RV720 is a very capable machine, and those looking for a general purpose PC to use at home won't do much better for the money. There's not a spectacular amount of performance, but it will handle most jobs including creative tasks such as photo or video editing, and it's only gaming that is more of a no-no. ®
More Notebook Reviews

Lenovo
ThinkPad
X1
Dell
Vostro
V131
Acer
Timeline X
5830T
Sony
Vaio
SB
Apple
MacBook
Air 13in