Original URL: https://www.theregister.co.uk/2011/11/14/review_lifestyle_sony_walkman_nwz_a866/
Sony Walkman NWZ-A866
Touchscreen tunesmith
Posted in Personal Tech, 14th November 2011 07:00 GMT
Review Rumours that Apple would kill the iPod may have been far from the mark, but it doesn't stop rival companies wrestling for their own portion of the portable music player pie, despite smartphones eroding this market. Indeed, Sony still knocks out respectable PMPs and its latest A-series Walkmans are slick, lightweight models with storage options from 8GB to 64GB to suit different budgets.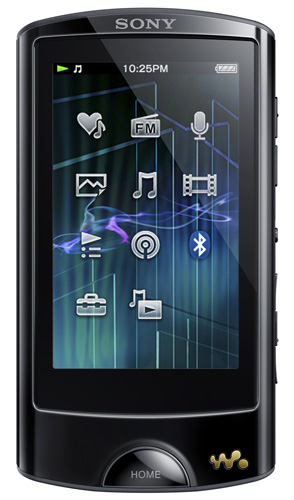 Sony's NWZ-A866 Walkman: Bluetooth streaming PMP, anyone?
Featuring a bright, crisp 2.8in 400 x 240-pixel touchscreen display the 32GB NWZ-A866 is a tad on the small side for watching video, but for the casual commute, will no doubt satisfy with its support for MP4, H.264 or WMV9. Admittedly, I rarely watch video on my Motorola Defy, as I find even its 3.7in on the small side too, so each to their own.
As a portable player, the touchscreen satisfies my operational needs. It's simple, easy to navigate and highly responsive. Menu icons are the customary collection of icons synonymous with Sony's UI, so anyone already familiar with it will instantly know what they're doing. It's all common sense, though, really.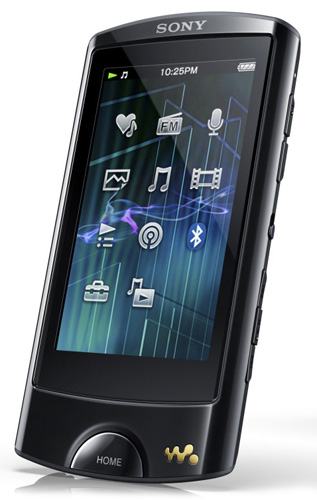 Touchscreen display deals with most of the tweaks
Beyond touchscreen control are standard volume and transport buttons, plus a hold switch. The only other physical button is on the front for the homecreen. Simplicity aside, the A866 crams in capabilities from FM radio to voice recording and even the cheesy Japanesy karaoke mode. However, it's the inclusion of Bluetooth streaming that broadens its versatility.
Other Bluetooth devices – for instance car radios or wireless headphones – can receive a broadcast from the player, or connect up to send/receive content. This feature does seem to drain the battery life more quickly, but even so the A866 boasts a commendable 23 hours continuous playback a significant benefit over a smartphone equivalent. I didn't find myself needing a battery boost too often, that's for sure.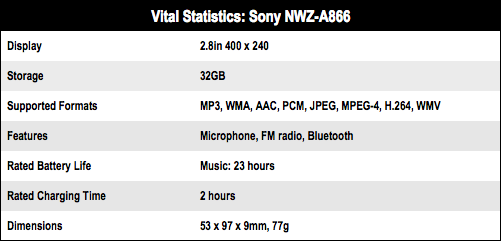 Open sores?
Format support is fairly standard, though, with AAC, MP3, WMA and L-PCM ticking a few boxes, but leaving open source Ogg and FLAC fans out in the cold, as with older models. With Sony's marketing suggesting the A-series is for audiophiles, then its really is time it broadened its format support. It's not like this hasn't been said before.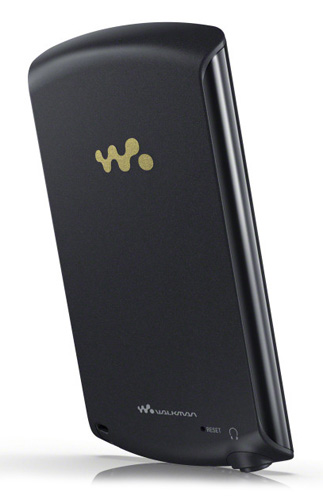 Open source audio formats are bypassed once again
Load up for a listen and you'll find the audio quality won't disappoint and and is hard to fault. In the past I've found Sony MP3 players to be a touch on the quiet side, however the A866 does a more than satisfactory job – just ensure your headphones are a good fit.
Supplied with the Walkman are Sony's MDR-EX300 earbuds, which are surprisingly good for a freebie set, but could have sat in my lugs better, so it wasn't long before I swapped them for my trusty Sennheisers that featured in our in-ear headphone roundup. With compressed tunage revitalised by several Clear Audio Technologies sound enhancements, the output certainly changes, feeling richer and in many cases, more complete.
Getting content on the device can be tad annoying, though. Yes there's drag and drop capability, but it has to be done through a proprietary 22-pin connection cable, which is easily misplaced. Sony has abandoned daft connectors on its phones; time it did the same on its Walkmans.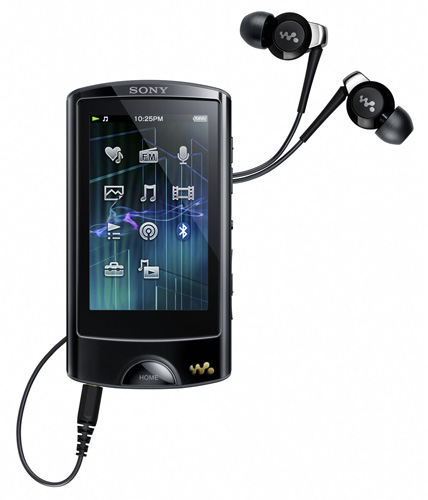 A toushscreen, Bluetooth and a decent battery life equip the A-series to take on smartphone alternatives
For PC owners, Sony has supplied its MediaGo software, which claims to make transferring files and ripping CDs an easy task. I prefer to just drag and drop files though – from my experience with iTunes and the like, this sync malarkey has never appealed to me and I didn't have any issues using the device without it.
At 32GB the NWZ-A866 has ample storage for music and enough for video too. The A-series range starts at 8GB and goes up to 64GB, but there's no MicroSD expansion. Still, with 32GB, how much music do you need on one device? Get organised – slackers.
Verdict
If you're keen on video, then you might be better off paying an extra £20 and settling for an iPod Touch. But as many will argue, Apple's media players could sound better. Indeed, the Sony NWZ-A866 delivers a quality output, along with a user-friendly design and, overall, is is a great little music player. Although some will bemoan its incomplete format support, as pocket PMPs go, it has a lot going for it. ®
More PMP Reviews

Philips
GoGear Muse 3
Archos 32
Cowon D3
Plenue
Creative
Ziio
Ten...
sub-£150
PMPs