Original URL: https://www.theregister.co.uk/2011/11/14/review_game_the_elder_scrolls_v_skyrim/
The Elder Scrolls V: Skyrim
Bludgeons and dragons
Posted in Personal Tech, 14th November 2011 14:21 GMT
Review Skyrim is set in the land of the Nords, a craggy treacherous landscape that reminds me of George R R Martin's series A Song of Ice and Fire and has the same epic scale. After the King of Skyrim is assassinated the land is plunged into civil war and the region has become severed from the rest of the empire. The game starts by leading me to my execution, luckily it is cut short by a very fiery intervention.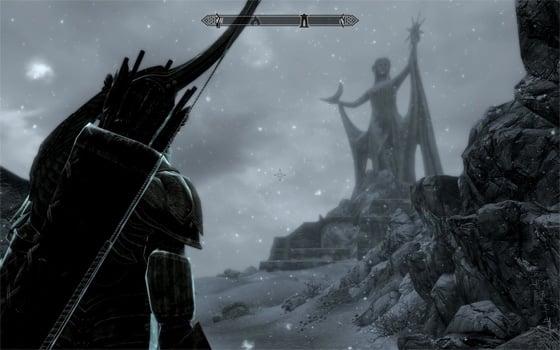 Statue of lunacy
The first thing I do in Skyrim is choose my race and, of course, I chose to be a pussy (Khajiit), figuring those nine lives would come in useful. But not, as it turns out, quite as useful as making sure I save the game regularly.
The facial customisation was fun but ultimately pointless as I soon found a helmet on a dead guard I stuck it on and it gave me +16 amour. Still, Over the weekend everyone on Steam has been talking about the Orc faces and how convincing they look, so I am almost tempted to re-role!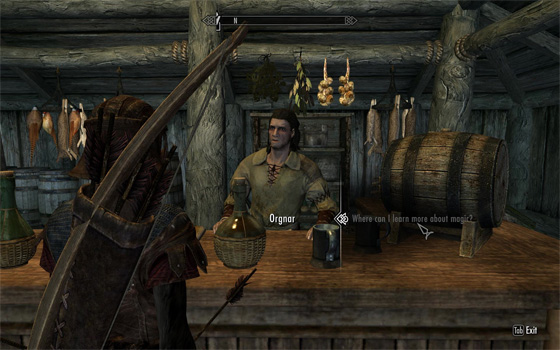 Where can I find Paul Daniels?
In Skyrim I don't choose a class, I become a class through my actions. I wanted to be an assassin using my stealth and cunning to defeat enemies. In order to use my perk points to get x15 backstab damage I need to spend a lot of time being stealthy, which isn't hard when I was sneaking around dungeons wondering what was around the next corner.
Cutting down from a ridiculous 27 in Morrowind and still over enthusiastic 21 in Oblivion, Skyrim has condensed the skills I can progress in to more comfortable 18. My astrological skills tree is beautiful and a real visual treat: my own personal constellation in HD space - who needs Hubble? In order to access the higher level abilities on the skill trees, I am expected to actually spend time gaining experience in weapons etc rather than allocating it.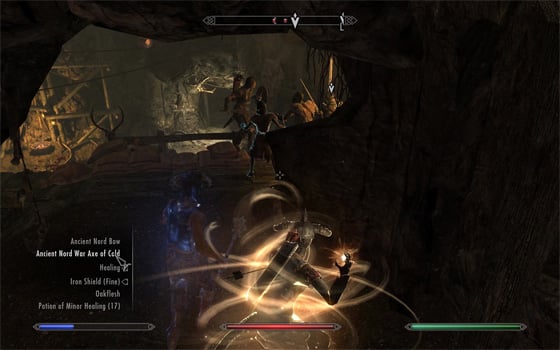 Don't balls it up
Every time I went up a level, I got ten points to put either magicka, health or stamina. Unsure of what was to come, I tried to stay balanced but ended up putting slightly more into magicka because I wanted to attend magic school just like Harry Potter.
In Skyrim, the ability to fast travel or steal the odd horse makes exploration less of a grind and as I look around I'm impressed with the pretty pretty, but I suspect it will be less so on your console - or run nearly as smoothly as it does on my PC.
Wowzers on the scenic front
Skyrim is definitely one reason to own a PC. The next-gen graphics meet my expectation of Bethesda and the Elder Scrolls series. While not as pretty as Witcher 2, the environment and storyline are far more open. If you see a mountain in the distance, you can be sure you can climb it. These aren't just rendered backgrounds, this is the biggest world you can imagine. I just open my map to marvel at a level of detail I have rarely seen in any game.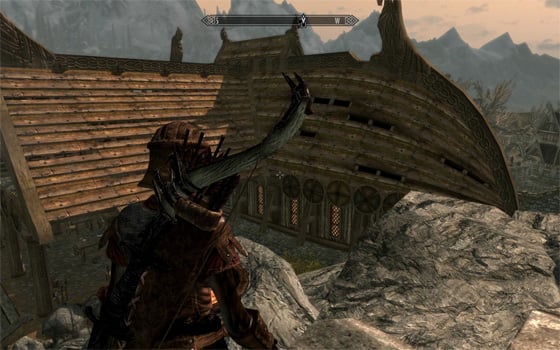 Boat house
This is a dangerous world of beautifully rendered animals, mythological and undead creatures. Finding the necromancy spell allowed me to reanimate some of these creatures at my leisure.
The addition of steam-powered automatons will please the steampunk crowd and add an extra dimension to the game reflecting its enormity and epic scope. Even at level 20, a giant's power attack can send me like a rag doll into the air. And watch out for those grizzly bears! You can't get much better than being handed a quest by a talking dog.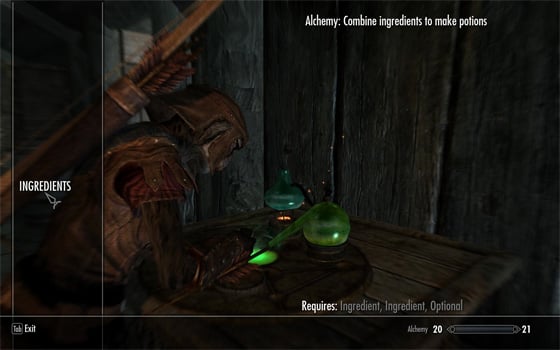 Lab to the living room
And so to the dragons and their mysterious reappearance. There are lots of them. I spent a plenty of time hiding in a bush trying to avoid them! Which was quite strange considering my character is apparently 'Dragonborn', a legendary hunter of the famed beasts. The voice is the power to use the language of Dragons and is central to the main narrative.
But it is surprisingly easy to get distracted from this main narrative BECAUSE HERE IS SO MUCH GOING ON! A long trek to consult some monks filled me in on the basics of learning the Dragon words of power to release special abilities such as fire-breathing.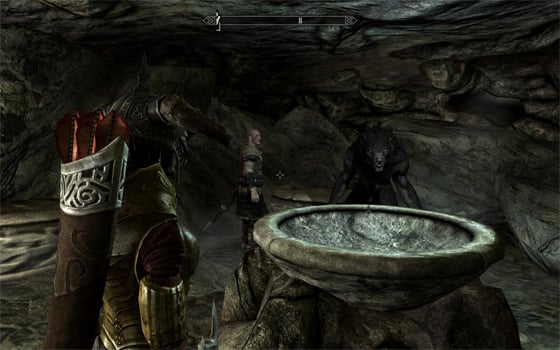 Bowl of pooch
The new Creation Engine does its job astonishingly. Mountain top ruins have age and authority with dynamic shadows and landscape textures realistically changed by windswept snow. Be warned about the weather in Skyrim - it is never on your side. I was attacked by a group of witches throwing fireballs out of nowhere and nearly died because I couldn't see where they were, it was snowing so hard.
At the dragonheart of it all...
I immediately recognised the abilities of the Creation Engine as a leap in graphics from Oblivion and even Fallout. Being able to look close up at 3D rendered rotatable models of everything in your inventory from mammoth meat to weapons is great and essential for oooing and aawing at quest objects.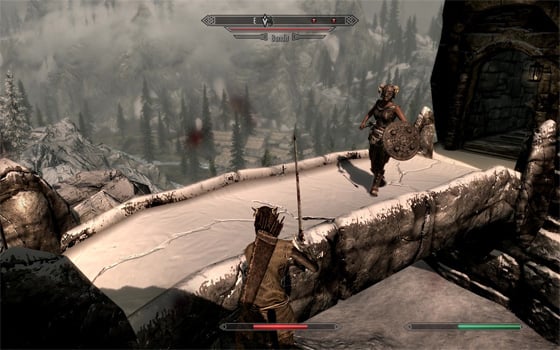 Thou shall not cross me
Dialogue does not play second fiddle to outstanding graphics in Skyrim. People talk around me and I can follow their voices, which makes the game a much more immersive experience than Oblivion with it's forced close-ups. I follow NPCs around as they go about their daily tasks while chatting to me about whatever quest I need to complete next. The odd compliment on my female physical appearance didn't go amiss either. Skyrim does an outstanding job of intuitive quest tailoring, matching and monitoring my gameplay and character style.
Skyrim's combat is remarkably fulfilling. Sniping giants from afar, or sneaking up on mighty vampires with a x15 damage backstab are equally enjoyable. During one my quests I became a werewolf, which really helped during the boss battles when I couldn't use my stealthy cat-like prowess. Bethesda have gone some way to creating near perfect pick and mix game mechanics.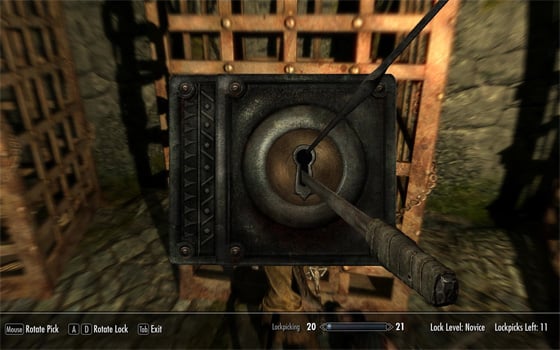 Pick it up
I can experience the world from a first- or a third-person perspective, and Skyrim plays equally as well in both. Coming from a World of Warcraft background, I felt more comfortable in third-person. But I could almost play through the game again because I expect, in first person, it is a completely different experience.
There is no doubt that Skyrim is an amazing game that you can spend 100+ hours exploring but I found the user interface terribly clunky and time consuming. My favorites list got too crowded and it took too long to select what I needed considering how many times I needed to changes spells or weapons. Hot keying is possible but in my experience not very user friendly.
Verdict
As professions go, what kind of assassin would I be without a couple of poisons and potions at my disposal? So I started using Alchemy. But it was also useful to have blacksmithing to sharpen my blades. High level blacksmithing would allow me to make magical weapons. Soulstones are used to power and create magical items, and I was lucky enough to obtain The Black Star which collected dark souls and is reusable. The quest to obtain The Black Star ended up in the backroom of a pub with me in werewolf form murdering the guests. Or was that just last Friday night at my local? Either way, I can't remember having more fun.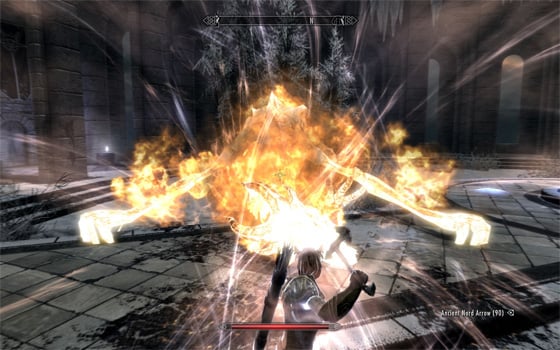 Serving up a portion of hot wings
As I take a break to open my next cider I am left imagining Skyrim as an MMO and doing this with my friends. Bethesda has created what MMOs should strive to achieve. Bethesda should be applauded - Skyrim is groundbreaking in its scope and vision. ®
More Games Reviews

The Adventures
of TinTin
Call of Duty:
Modern Warfare 3
Goldeneye 007
Reloaded
Battlefield 3
Uncharted 3