Original URL: http://www.theregister.co.uk/2011/11/14/geek_treat_of_the_week_ion_audio_piano_apprentice/
Ion Audio Piano Apprentice
Learn to tickle the ivories
Posted in Personal Tech, 14th November 2011 10:00 GMT
Geek Treat of the Week It might look a bit silly, but the Piano Apprentice from Ion Audio, the company famous for its USB LP decks, is good fun – and could actually help you learn to play the piano.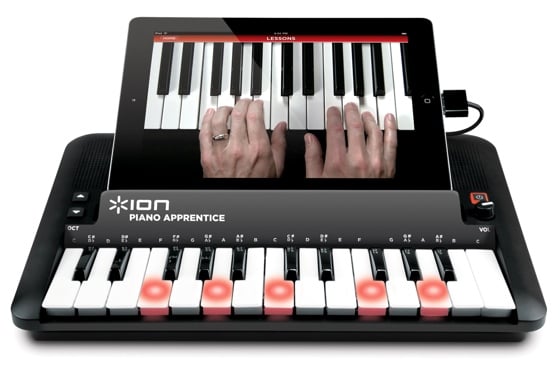 It consists of a two-octave keyboard with a small set of internal speakers. It has a small stand to support your iPad, iPod or iPhone, and a cable that plugs into the dock connector in order to control the keyboard and speakers.
The keyboard is powered by four AA batteries, which were included and which have lasted for a couple of hours of continuous use so far, and Ion reckons they'll last for 10-12 hours all told. There's a mains power feed at the back of the keyboard, but you have to supply your own AC adaptor for that.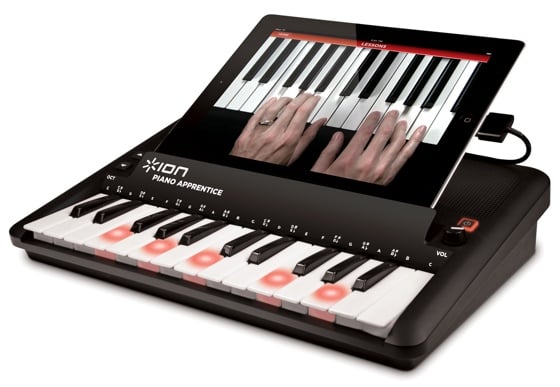 The speakers sound perfectly reasonable, but this is a 'dumb' keyboard so you need to use the free Piano Apprentice app to generate sound on your iOS device. If you know what you're doing, you can just use the app's 'jam' mode to tickle the ivories freely.
There's no option to record your music, but the keyboard works fine with the iOS version of Apple's GarageBand too, so you can record with that if you want.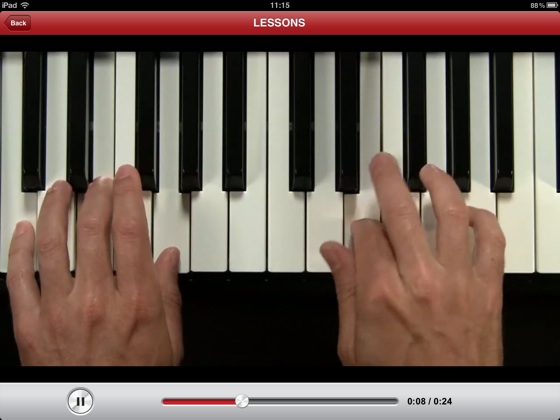 The app provides guidance by video
The Piano Apprentice app also includes a series of lessons that focus on playing individual songs. They aren't ideal for complete beginners as they do assume a bit of basic keyboard know-how, but I did like the fact that the lessons allow you to focus on the left- and right-hand parts of a song individually.
The keys on the keyboard are also illuminated, one by one, as the song plays. I'm not sure how helpful that actually is, but youngsters will find it fascinating.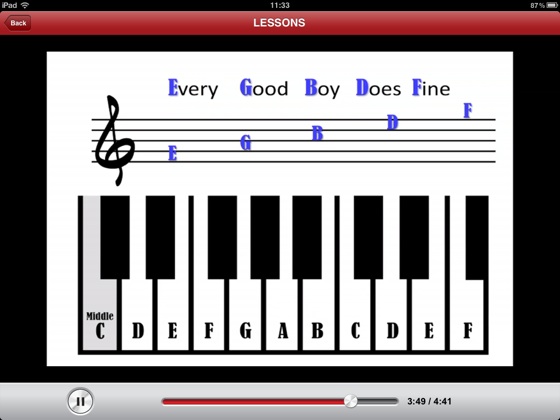 Sight reading: PA's sheet music mode
Finally, there's also a 'sheet music' mode that explains the basics of reading music, and contains the full sheet music for all the songs in the main lessons.
Admittedly, the Piano Apprentice is a bit gimmicky, although I do like the convenience of having a small keyboard that I can just use for a quick bit of practice every now and then. My main complaint is that it's rather expensive for such a small keyboard, and if you're really serious about learning to play the piano then there are more sophisticated keyboards such as the M-Audio Keystation available for less. ®
Geek Treat of the Week is published every Monday. Got a handy or fun gadget in mind you'd like us to consider? Please let us know
More Geek Treats

Elgato
EyeTV Mobile
GoPro
HD Hero 2
Griffin
Helo TC
House of Marley
Exodus
Olloclip