Original URL: https://www.theregister.co.uk/2011/11/10/nokia_lumia_reviewers_notebook/
Nokia's Windows comeback: Great but what's next?
Lumia 800 arrived in the nick of time
Posted in Personal Tech, 10th November 2011 14:01 GMT
Reviewer's Notebook Back in February, people muttered that Nokia's new CEO Stephen Elop was a Trojan Horse sent to destroy the company and deliver the remains of the chopped up cadaver to Microsoft. Those mutterings continue. But having used Nokia's new Windows phone (here's my review) it doesn't look quite like that. Microsoft's software has given Nokia a quick and vital competitive advantage.
If it feels strange reading that – imagine how strange it is writing it. Microsoft steps in to make Nokia competitive. Let's let that sink in for a moment.
Nokia loyalists in recent years have had to put up with a lot of grief, as the once promising Symbian OS was bound up in spaghetti code, mired in Nokia's bureaucracy and had custard pie thrown at it in the form of poorly written applications. Nokia never shipped a competitive email client with the S60, and made do with memory-guzzling and barely functional widgets for its social media story.
Windows Phone really excels at both. The Office functionality is better than anything cobbled together by QuickOffice. Photos and videos are handled as well or better than before. And the user interface is clean fast and functional.
Windows Phone is not only one of the most original pieces of design Microsoft has done – perhaps the best – it has executed it really well. This is a strong candidate for the best piece of technology Microsoft has ever produced. The platform also has an ace up its sleeve: the remarkable People application.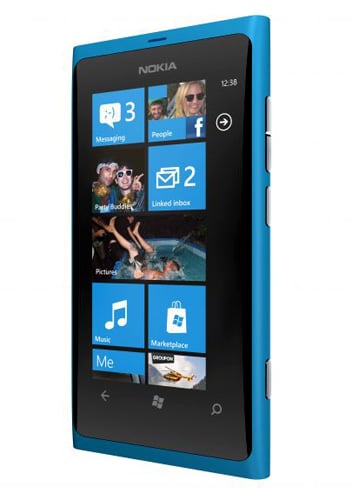 I'm most certainly not the target audience for a social networking-based app. Perhaps you're not either. Yet, even so, while writing the review, I found a lot of utility from a piece of software that united contacts with their recent communications with me.
I don't need to see all of someone's Facebook Wall; to be honest, I don't need to see any of it. But a record of SMSes and recent emails and prior meetings is useful when you're about to call them and catch up. There's huge value here if your online social networking is just the obligatory professional presence on LinkedIn. Or even if you don't use any social network at all.
No, this isn't an original idea and applications from Act! (24 years old this year) to SalesForce take the same idea and build on it. This is simply so well done, it's useful right away.
So all in all, you can't really see Mango as anything other than a huge step up.
So what now?
The Hard Sell
Well expect to see an awful lot of Lumia.
Windows Phone really impresses when you first use it, something Nokia has twigged. Most people have yet to see it first hand – and so Nokia is putting a great deal of expense into the point-of-sale marketing. Phone shops will have a real live Windows Phone for punters to paw at. The phone will reset to its demo default after a couple of hours – so customers can't mangle it.
And it's going to be inescapable, too. The operators are rooting for a third competitor to the Apple-Android duopoly. They don't like either Apple or Google, and view a market with three strong suppliers as much healthier than one with two – who are increasingly, it has to be said, copying each other.
But there's still a long way to go. One swallow doesn't make a summer, or spell comeback for Nokia.
There's a lot to add to the Mango iteration of the platform: Skype, tethering, customisations, device search, and overall, a little more freedom to differentiate. That hard-coded Bing button is not just an annoyance, but a constant, throbbing reminder of the rush in which the Lumia 800 came to market. It's a Microsoft-mandated option, but I can't imagine Nokia not wanting to use it for something else. Or remove it altogether. Currently, they're not allowed to.
And what is today the sheer novelty of having a nice smartphone with 'NOKIA' imprinted on it, won't work the second time. Reviewers will not be inclined to be generous to the platform provider or hardware company. Nokia still has an Achilles' Heel: it doesn't have a coherent design story – and design decisions let the Lumia 800 down badly. Nokia Design is really winging it, for now, with its camp colour palette. The critics claim that Nokia's "chief designer" isn't really a designer. They're beginning to have a point.
Still, Nokia can see a bit of light now. It has something worthwhile to sell. One little-noticed statistic from the channel – I'm surprised more hasn't been made of this – is that Nokia's UK sales collapsed by a staggering 87 per cent in Q3 to just 130,000 units.
One Windows phone doesn't make for a rounded portfolio. But it looks like it has arrived just in the nick of time. ®