Original URL: http://www.theregister.co.uk/2011/11/09/review_roundup_ten_high_end_android_tablets/
Ten... high-end Android tablets
Premium fondleslab, anyone?
Posted in Personal Tech, 9th November 2011 07:00 GMT
Product Round-up With Android 4 Ice Cream Sandwich upon us, it's a good time to take stock of the impact - or lack of it - of Android 3 Honeycomb and Nvidia's Tegra 2, the chipset and release of Google's mobile OS that were hoped would knock the iPad of its perch.
They've done no such thing. At the most generous counting, Android tablets account for around a quarter of all tablets sold, and the 'iPad' is fast becoming synonymous with 'tablet'.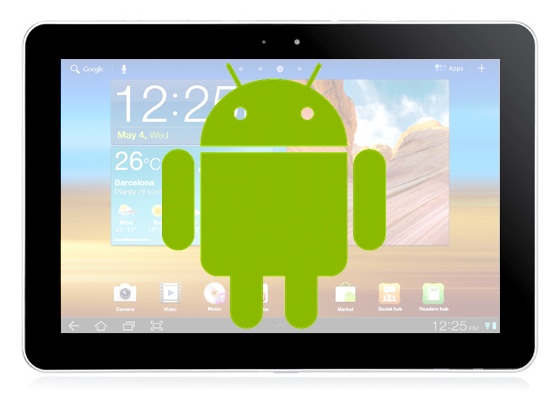 The problems have been many. Honeycomb 3.0 was frankly a bit half-baked at the time of release. Example? No support for Micro SD expansion or USB peripherals. However, versions 3.1 and 3.2 have fixed most of the obvious failings. There's also the issue of market and Market fragmentation.
An iPad is an iPad is an iPad. An Android tablet? There's really no such thing, nor will there be until Google decides to launch a Nexus Tablet. Instead, you have a range of devices from the usual Android suspects, including HTC, Samsung and Motorola, as well as machines from computer rather than phone wallahs, like Acer, Asus, Lenovo and Sony.
As for apps, most of your smartphone Android apps will work on a Honeycomb tablet but compared to the iPad there is a dearth of applications actually optimised for a larger, higher-resolution and landscape-oriented screen.
The end result is confusion in the mind of Joe Public and that's never a good thing when it comes to trying to flog stuff to the great unwashed. With that in mind, let's take a stroll down Honeycomb lane to check out the devices that would be iPad beaters.
Unless otherwise stated, I've looked at models with 16GB of storage and only a Wi-Fi wireless connection.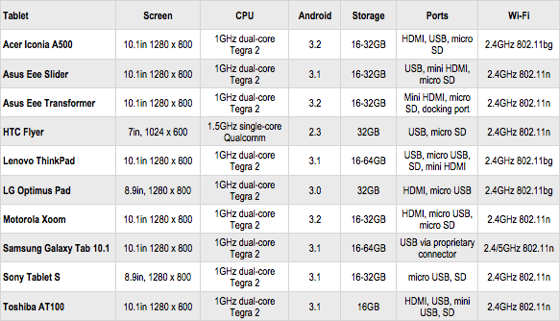 Acer Iconia A500

Overshadowed to the point of anonymity by the competition from Asus, Samsung and Motorola, the Iconia A500 is still a decent machine that has benefited from Acer's prompt roll-out of the Honeycomb 3.2 update. Physically, it's perhaps a tad nondescript but the black and slate-grey livery gives it a smart and understated look - which is how I like my tech.
Inside you will find the customary 1GHz dual-core Tegra 2 chip with 1GB of Ram; and Skype-friendly 2Mp front and 5Mp rear cameras. There's nothing out of the ordinary about the 10.1in, 1280 x 800 LCD screen, but it's a decent panel with robust viewing angles. It's also a darn site better than the screen on the smaller, 7in Iconia A100.
The slab-sides - the device is a fairly chunky 13.3mm thick - may not be the last word in style but they do allow for easy access to the USB, mini HDMI, 3.5mm audio and micro USB ports. For £299 with 16GB of storage and Wi-Fi connectivity, the A500 is now very solid value. But battery life could be better and, at 765g, it could be lighter too.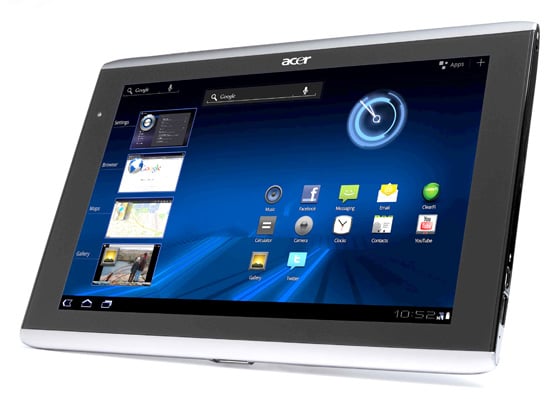 Reg Rating
75%
Price
£299
More Info
Acer
Asus Eee Pad Slider

Asus has wrung the maximum mileage from its 10in Android tablet by launching it in two distinct forms built from essentially the same parts. The Transformer, which I'll come to in a moment, has certainly proved to be a hit, but it's the Slider that offers the more radical interpretation of what a tablet can be and offers a more interesting alternative to the iPad.
Where the Slider leaves the page is with the addition of a built-in keyboard-cum-stand, a design that should attract users who want the convenience of a proper keyboard to get some serious typing done without having to buy or carry additional accessories. The chiclet keyboard is the full Qwerty banana too, not some cut-down excuse.
The sliding mechanism isn't the easiest to use until you get the hang of it. While playing with one at a trade fair earlier in the year, I had to ask the attending flack how to open it. Then after a few moments I closed it and... had to ask him again. Only after slowly part opening and part closing it a few times did the coin drop. Sadly, the recently announced UK price of £430 was higher than I was hoping for.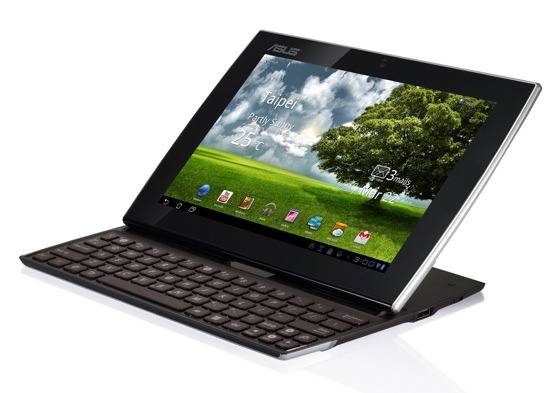 Reg Rating
80%
Price
£430
More Info
Asus
Asus Eee Pad Transformer

Alone among serious Android tablet makers, Asus seems to have worked out what the punter really wants: a really good screen, a realistic price and a handy accessory to tun it into a proper laptop. And that's what the Transformer gives them: a superb IPS LCD panel and a basic price of £330 - or £430 with the detachable keyboard and battery pack.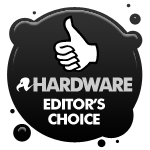 If the scuttlebutt is to be believed, the Transformer has been the only Honeycomb tablet to get anywhere near matching its maker's sales expectations. It's not hard to see why. The 10.1in, 1280 x 800 screen is quite superb - bright, crisp and colourful at any angle. The battery will easily see you through a full day.
It's not all roses in the garden. The styling is a bit square and uninspired, though I suppose you could look at that another way and say it's just easier to keep a tight grip on. There's no full-size USB port unless you cough up for the very fine but not exactly cheap keyboard extra. But, at 675g, it's one of the lighter ten-inchers around.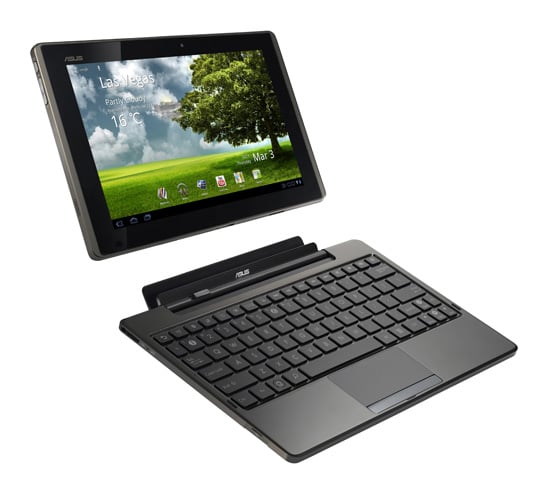 Reg Rating
85%
Price
£330. Keyboard dock £100 extra
More Info
Asus
HTC Flyer

Eschewing the Tegra 2 chipset and Honeycomb, HTC's Flyer is basically a big phone with a 7in, 1024 x 600 screen. The absence of Android 3.x isn't such a big deal because this being an HTC you get the Sense overlay which goes a long way to smoothing off some of Gingerbread's rough edges. In any case, the word is that an update to 3.2 is due imminently.
Powered by a 1.5GHz Qualcomm Snapdragon MSM8255T chip with 1GB of Ram, the Flyer wants for nothing in terms of speed and with it's glass screen and largely aluminium body it is a thing of both style and substance. Use it as an e-reader and the 200g weight saving over the iPad 2 is handy. If you want to doodle on it you can use the excellent digital pen and HTC Scribe software.
The problem with the Flyer is the price and the ports. Launch prices north of £500 were silly, but one UK retailer has recently dropped the 16GB Wi-Fi model to £299, though when the 10in opposition can be had for less than £350 that's still not exactly a bargain. And there's no HDMI or micro USB port, just HTC's own ExtMicro socket and that leaves a sour taste no matter what the justification.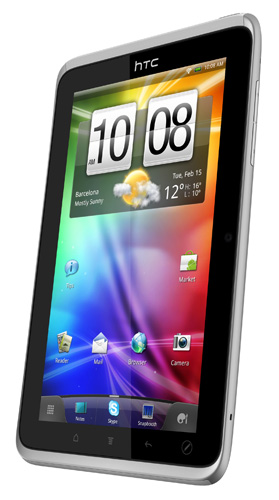 Reg Rating
70%
Price
£299
More Info
HTC
Lenovo ThinkPad

Dull but functional styling and rock-solid build quality? Yep, this is Lenovo's entry into the tablet market. If you want something a bit more curvy and consumer freindly, you'll need to wait for the IdeaPad K1 to be released in the UK. At the moment, your only choice is the very serious and enterprise-oriented ThinkPad Tablet.
Even though Honeycomb doesn't require physical controls, Lenovo gives you some so you can lock the screen rotation, launch the web browser, bring the home screen up or return a step through a row of rather stiff buttons. You also get full-size USB and SD slots and a screen that you can write on using a stylus. Look at the logos on the front and Lenovo clearly envisages the ThinkPad being used mainly in portrait mode.
Lenovo scores points for a decent software bundle, including the FlexT9 swipe keyboard, a full version of Documents To Go and Citrix Receiver. The excellent folio-cum-keyboard is worth a mention too. The IPS screen is nothing out of the ordinary, though, and is a bit short on brightness. The price is a little on the steep side. One for corporate IT departments rather than Joe Public.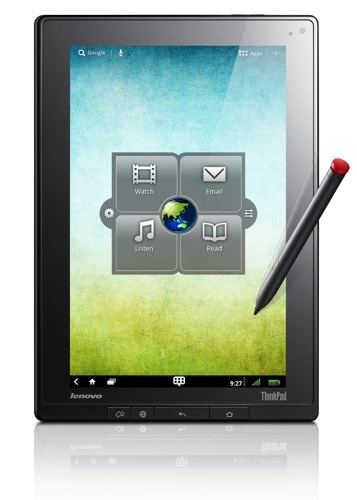 Reg Rating
75%
Price
£419
More Info
Lenovo
LG Optimus Pad

This being the iPad era, LG decided that everyone really wants a 8.9in tablet with the capacity to record video in 3D - hence the presence of two 5Mp cameras in the back of the Optimus Pad - but without a true 3D screen. That's a decision that limits the potential market to people who don't want an iPad or a 10in 'droid, but who do own a 3D TV. I suspect that's a group small enough to fit in my kitchen.
If there was a Nintendo 3DS-style screen here maybe I could make a case for LG but the only way to watch your content leap out of the page is with the pair of bundled, migraine-inducing 3D specs. In short, the 3D ability isn't a feature, it's a temporary amusement. It's all a bit of a shame because the 8.9in, 1280 x 800 screen is otherwise rather good.
The final nail in the coffin of LG's pad is its price. Best Buy - one of the few places in the UK you can find the Optimus Pad for sale; even LG seems to have disowned it - wants an eye-watering £750 for it. And it's not as if that gets you a premium product because the exterior feels a bit cheap and there's no storage expansion. If the form-factor appeals save yourself £550 and buy an Archos 80 G9.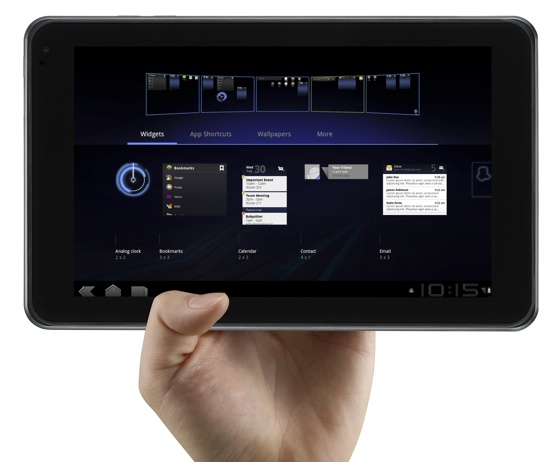 Reg Rating
45%
Price
£750
More Info
Best Buy
Motorola Xoom

The first kosher 10in Android tablet to hit the market, the Xoom is Genesis as far as Honeycomb is concerned. The flip-side of that coin is that Honeycomb wasn't really a finished product when the Xoom went on sale but thankfully - and for Motorola a little surprisingly - it rolled out the 3.1 update in reasonable time.
A smart and solid bit of kit, the Xoom feels every inch a premium product. A design feature I really like is the power button on the back next to the camera: out of sight, out of mind and safe from accidental pressing. Battery performance remains one of the best - eight hours of video looping is a real possibility, putting several of the more recent alternatives to shame.
After Motorola's inexplicable devotion to is social networking front-end for phones, Motoblur, many folk expected it to muck about with Honeycomb too. Not a bit of it, thankfully. Here all is as God and Google intended. The launch price of near-enough £500 was never going to stick, but now you can pick one up with your weekly shopping at Tesco for £330 which is altogether more reasonable and makes the Xoom a compelling choice.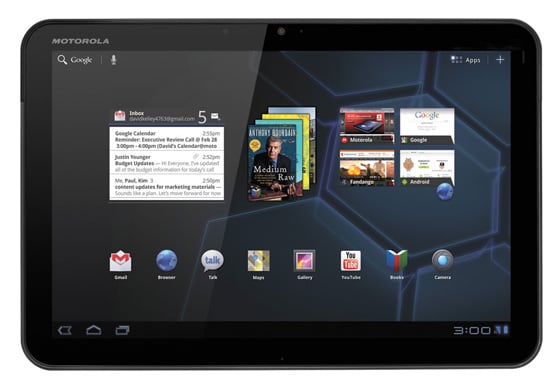 Reg Rating
80%
Price
£330
More Info
Motorola
Samsung Galaxy Tab 10.1

The Android tablet that rattled Apple so much it called in the lawyers. I'll leave it you to decide the merits of the accusation that the Galaxy 10.1 "slavishly" emulates the iPad 2. Personally, I think the claim is utter nonsense. I've got one of each on my desk as I write this and, other than a very basic commonality of form, they are clearly different.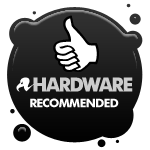 Strangely, the habits that Samsung does seem to have picked up from Apple are all bad ones, like the removal of storage expansion and the use of proprietary ports. On the plus side, Sammy has bundled the excellent Swype keyboard, a full version of Polaris Office and an excellent e-book reading app, making this tablet very easy to use out of the box.
The Galaxy 10.1 is by far the most physically attractive Android slab around. Weighing only 565g and measuring just 8.5mm back-to-front, it's the lightest and thinnest ten-incher too. Despite the slim profile, Samsung has made room for a 7000mAh battery giving a genuine full-day-and-a-bit life. Shame there's no HDMI port, and the charge port is in the wrong place if you want to use the thing while charging.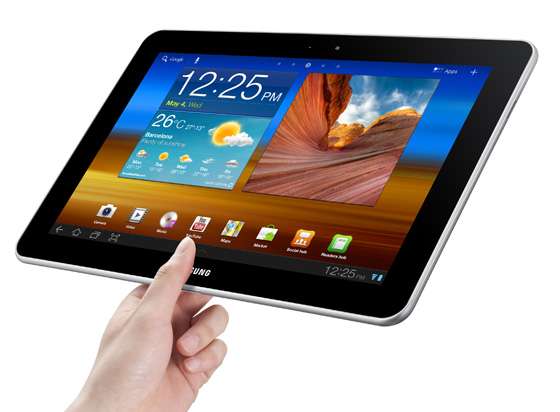 Reg Rating
85%
Price
£399
More Info
Samsung
Sony Tablet S

With it's 9.4in, 1280 x 800 screen and door-wedge profile, the Sony S is optimised for media consumption. Lay it on your desk and the shape and widescreen-movie friendly screen instantly appeal. The truly excellent IPS panel and much better than average, and decent speakers further reinforce its media playback credentials.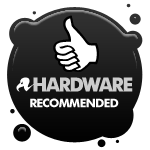 But the rest of the S feels a bit cheap, thanks to it's all-plastic construction. That does at least keep the weight down - at 598g it's 3g lighter than the iPad 2. Lurking inside is a unique feature: a fully functioning IR remote control. Just fire up the bundled app, point it at your telly or home cinema system and bingo, total control from your fondleslab.
Anyone who already partakes of the Sony media or gaming ecosystem will find the Qirocity-based video and music download and on-demand streaming services handy. For gamers, there's PlayStation certification. Being a Sony, this is not the value option and I bewail the lack HDMI and full-size USB ports - but it's certainly a different take on the Android tablet idea.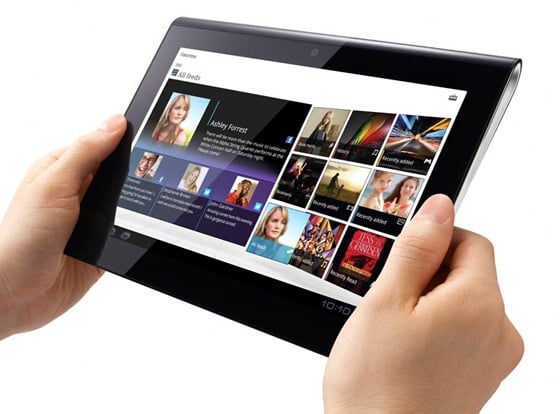 Reg Rating
85%
Price
£399
More Info
Sony
Toshiba AT100

Toshiba was early out of the starting gate with its Android tablets, but the less said about the Froyo-running Folio 100, the better. I mean, just how bad does something have to be to get pulled from Dixon's shelves? Whatever the truth behind the Folio's woes, it has left Toshiba with a big hole to climb out off. Luckily, the AT100 has a ladder, grappling hook and pitons.
What separates the AT100 from the herd is the rubberised back to prevent slipping from a sweaty grasp. You also get full-sized HDMI, USB and SD card slots. The catch: it's a lot thicker than all the other tablets.
Another handy feature is the user-replaceable battery. Cough up the necessary £45 and the next time your fondleslab flickers and dies all you need to do is unclip the back, swap power packs and you can continue to do whatever it was you were doing.
Not the lightest or thinnest machine the AT100 is still good enough to banish the memory of the Folio 100. But the killer is that the much skinnier, sexier, more capable AT200 is imminent.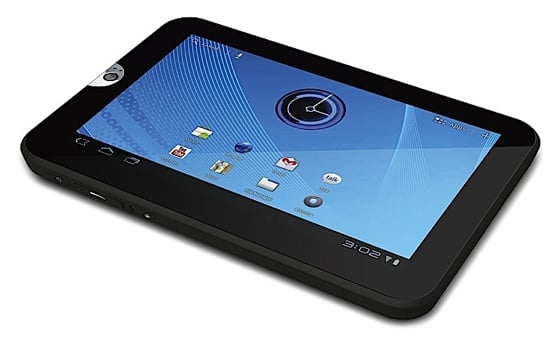 Reg Rating
75%
Price
£349
More Info
Toshiba