Original URL: https://www.theregister.co.uk/2011/11/08/review_samsung_ps64d8000_plasma_3d_tv/
Samsung PS64D8000 64in plasma 3D TV
Widescreen whopper
Posted in Personal Tech, 8th November 2011 12:14 GMT
Review With Samsung's domination of the LED TV market all but complete (bwahahaha!) it's perhaps easy to forget the brand is a major purveyor of plasma screens too. Its current largest is the 64in D8000, which with stand weighs in at over 38kg and dominates all but the largest of living rooms.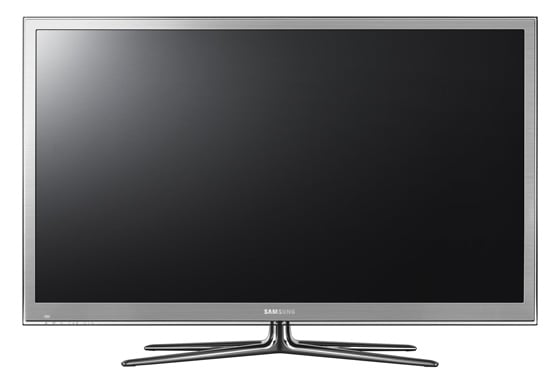 Samsung's PS64D8000 is styled to make this plasma panel blend in with its LED siblings
Aesthetically, this plasma apes the brand's LED LCD D8000 models to a tee. Just 37.1mm thin and edged with a slim, chrome bezel, causal buyers probably wouldn't be able to tell them apart. Samsung calls this a Plasma +1. Apparently the '+ 1' branding refers to the minimised bezel, which has bequeathed another inch of visible glass.
There's no significant difference between the menus on Samsung's differing TV technologies. Apart from some alternative options (adjustable pixel brightness rather than a variable backlight), they're equally clean and easily navigated.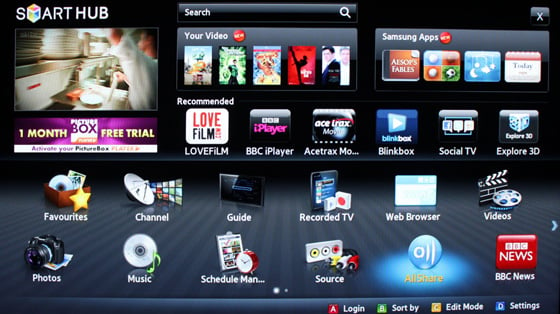 The Smart Hub portal has quite a lot on offer
Rather pointlessly, the set offers a choice of two TV Guides. The default Samsung EPG is clean and expansive, but it can be swapped for a ROVI creation, which is low-res and clunky.
Ultimately, this screen is all about the wow. Full HD images, be they from the Freeview HD tuner or an external source, look bitingly sharp. Motion resolution is excellent at close to 1080 lines. Don't mistake the stickered '600Hz subfield drive' label for some form of impossibly fast picture refresh rate. This plasma doesn't come with the same kind of convoluted framerate technology seen on high-end LED TVs, but then it doesn't need it.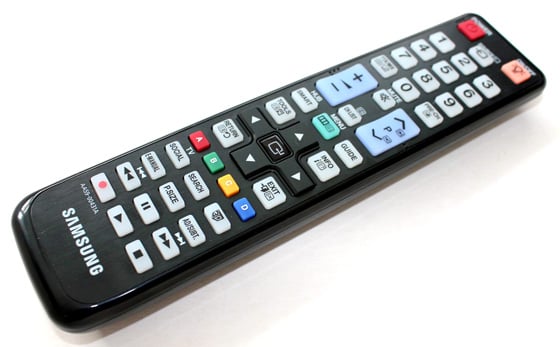 Standard zapper
As a home cinema display, this 64-incher excels. The sheer scale of its imagery creates an immersive, IMAX-like viewing experience – particularly if you sit too close! Just make sure to kill the overscan by selecting Screen Fit in the Screen Adjustment menu. That way you won't lose picture info beneath the bezel.
Black is black
Black levels are properly deep. Unlike edge-lit LED, there's uniformity to the darkness which is refreshing to see; there are no pools of bright light glowing from the corners. Shadow detail is also good.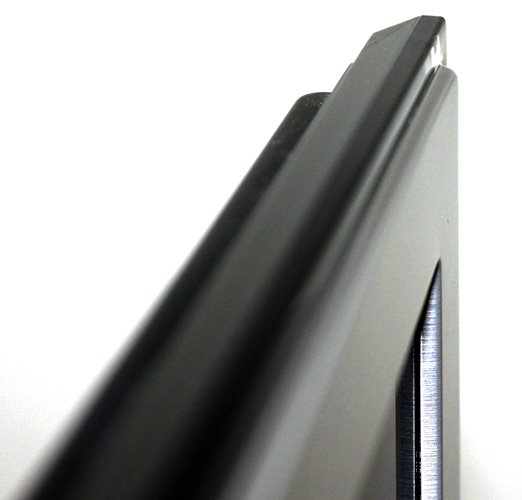 Thinner and thinner...
There are rival plasmas which go deeper than this Samsung. For example there's the heavily filtered Panasonic VT30 models, but to follow that route would be to diminish the appealing brilliance of the D8000.
The PS64D8000's 3D performance proves to be surprisingly effective. Images have tangible depth and brightness – pixels are automatically squeezed for maximum illumination – and I found crosstalk to be negligible. Even known-to-be-difficult Blu-ray sequences play out largely clean. The increased brightness emphasises a granular fizz in the pictures, but I can live with that.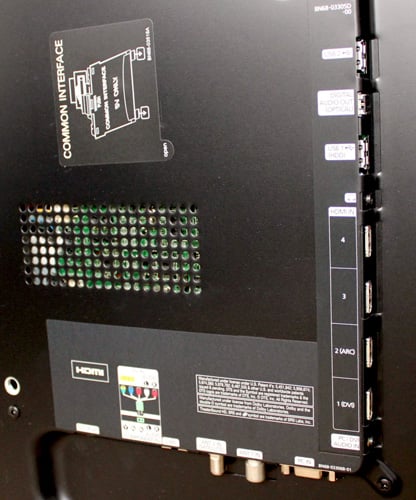 Jack pack on the back
The set's stereoscopy really paid off playing Arkham City on the Xbox 360 in 3D mode. The experience couldn't have been more immersive if I'd been togged out in cape and cowl. One pair of 3D spectacles is included in the package. 

My only real concern with set's image performance concerns some horizontal and vertical panning judder, which just couldn't be dialled out. A little bit of a shame, as the score card was looking mighty.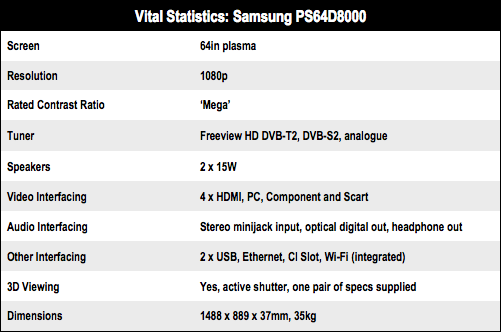 Network programming
The PS64D8000's sound system is above average in both volume and body. There's the usual variety of unnecessary presets which sound congested (Music), muffled (Movies) or wafer-thin (Clear Voice), but stick with the Standard option and everything sounds fine; a five-band equaliser offers manageable tweaks while SRS TruSurround HD is on hand to dramatically widens the stereo soundstage through HRTF (Head Related Transfer Function) audio trickery.

Freesat and Freeview HD reception is catered for
Naturally, this net-connected behemoth is DLNA compliant and proclaims enthusiasm for media streaming. It's at its best reading files from a local USB stick. Compatibility is broad: MKV, MOV, VOB, AVI and MP3 all worked A-OK.
Samsung kit has had a habit of being a little fussier over a network, as it's difficult to predict what media servers they'll work with. On my LAN, this screen seemed happy to stream those same files from an LG Nas, but baulked at playing them from an Iomega Nas. It's going to be a case of suck it and see for most users.
Samsung's Smart Hub internet portal has been covered in previous Samsung TV reviews, and there's little more to be added here. Suffice to say that all the main streaming video services are on tap, including BBC iPlayer, and there are scores of disposable downloadable apps to explore, including clients for Skype, Facebook, Twitter.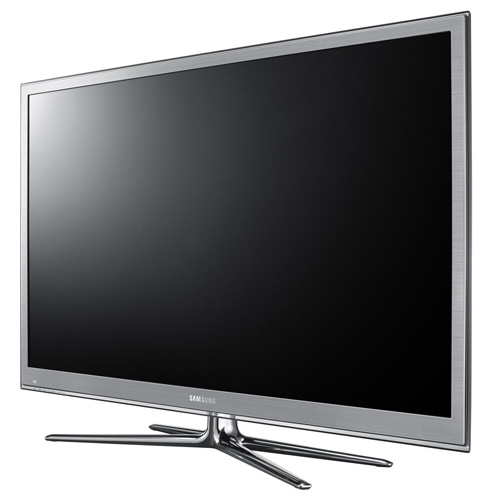 Big picture, big price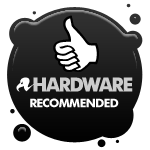 Verdict

The PS64D8000 is a tempting TV proposition of gigantic proportions. It's nicely turned out and delivers a spectacular picture performance. Just make sure you have enough mates to call on when you need help to lift it out of its box. ®
More TV Reviews

Sony
Bravia
KDL-40HX723
Toshiba
Regza 47VL863
Sharp
Aquos Quattron
LC-40LE831E
Cello
C42T71DVB-3D
LG
42 LW650T