Original URL: https://www.theregister.co.uk/2011/11/08/plastic_ammo_machine_gun/
New plastic telescope ammo machine gun is light as a rifle
Every soldier could get heavy-weapons firepower in future
Posted in Bootnotes, 8th November 2011 12:52 GMT
The US Army has announced successful tests of a new, lightweight portable machine-gun which fires special plastic ammunition. The gun and ammo are so much lighter than current weapons and their brass-cased cartridges that some soldiers are suggesting that every infantryman could in future pack the sort of firepower reserved today for heavy-weapons specialists.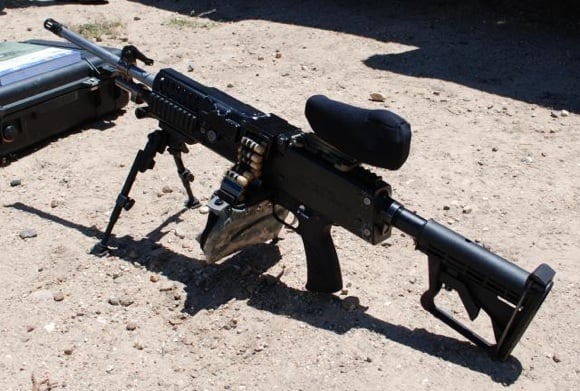 The machine-gun that only weighs as much as a rifle.
"I could see a whole squad carrying it," said Specialist Brandon Smith of the US Army, having participated in the trials over the past two weeks. "You would own the battlefield."
Normally only two soldiers in each eight-man squad* carry a light machine gun (LMG, aka Squad Automatic Weapon or SAW). This shoots the same ammunition as the other troops' rifles, but it is normally fed from a long belt rather than a magazine with only 30 rounds, and the LMG is designed to be fired on full auto for sustained periods (though in short bursts only, or even its heavy barrel would soon fail due to overheating). The gunner carries a lot more ammo than his teammates, and they sometimes carry some extra for him too - the idea being that his heavy firepower will pin the enemy down in a fight, letting the others manoeuvre and win the battle.
The downside of this is that the machine-gun and its belt (nowadays generally packaged in a box fitted to the gun, to prevent it flapping about and being a pain) are heavy, so much so that the gunner is at a decided disadvantage in a close-up gunfight where he needs to aim and shoot quickly while standing up. And the total load of weapon plus lots of ammo is very heavy.
Thus most soldiers are armed with assault rifles not intended to deliver sustained automatic fire and holding less ammo. These lighter weapons are handier for close-in fighting and permit other kit to be carried.
But US military boffins at the famous Picatinny Arsenal have been working on this situation for some time. Since ammo weight and bulk is much of the problem, they have come up with a new kind of ammunition: Cased Telescoped cartridges.
In a cased telescoped round, the bullet is no longer attached to the tip of a brass case full of propellant powder. The new case is shorter, fatter and made of plastic, so weighing substantially less, and the bullet is sunk into the middle of the propellant which makes the whole round shorter - it has been "telescoped". A shorter round weighs less itself, and also means that the gun's action, feed equipment etc is smaller and thus lighter as well. It's a trick originally developed for tanks, to make the turret smaller and easier to protect.
According to the Picatinny scientists, their new LMG and a thousand rounds of its plastic-cased-telescoped ammo weigh no less than 20.4 pounds less than the current M249 (a version of which is also used by British troops) and a thousand ordinary 5.56mm brass cartridges. The new LMG shaves no less than 8.3 pounds off the 15.7-lb M249, coming in at just 7.4lb - actually lighter than a standard British SA80 assault rifle! This, perhaps, explains Specialist Smith's opinion that it would be reasonable for all soldiers to carry such weapons, rather than just heavy-weapons specialists.
So why aren't people buying it like hot cakes?
There are other advantages: the new LMG's novel rotating chamber (shown in action in the vid below) doesn't heat up as an M249's does, and plastic cases are more heatproof than brass ones, thus reducing or eliminating the issue of "cook off". This is where a round is chambered and then goes off immediately due to the chamber being hot from prolonged firing, regardless of whether the trigger is depressed at the time.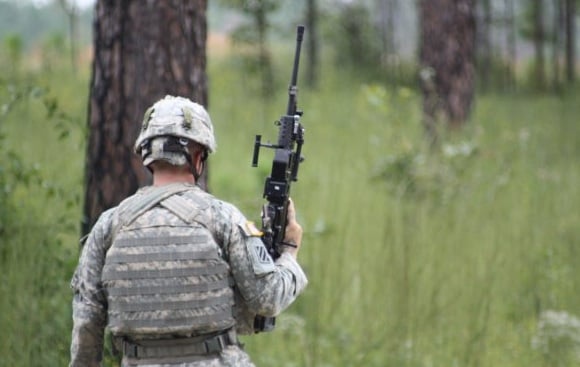 Certainly this bloke isn't finding it too heavy.
All in all, the new LMG and its plastic-cased ammo would seem like a no-brainer: but there is as yet no certainty that it will see service. Changing from NATO standard 5.56mm brass cartridges would be a move with international implications, and would involve massive expense and logistic trouble. There would probably need to be, if not a rifle to shoot the new ammo - the new LMG is more or less a rifle, just a much more powerful one** - then a shorter carbine type weapon. The Picatinny engineers are working on one, but it isn't ready for sustained trials yet.
Then, having made the massive effort to switch to cased-telescoped, the Western-aligned militaries of the world might find they needed to do the same thing all over again. This is because the Picatinny boffins are also working on caseless ammo, in which the entire cartridge apart from the bullet burns up on firing. This would potentially make the ammo lighter still, and further lighten weapons by removing the need to eject spent cases. Caseless ammo has been successfully developed before, however - for the German G11 rifle of the 1980s - and failed to gain adoption despite its undoubted virtues.
Perhaps fully caseless ammo is too long a step to take in one go: even manufacturer AAI, assisting the Picatinny boffins with the new kit, admits that caseless is "higher risk". Plastic-cased-telescoped is simpler to achieve and seems to offer major advantages right off. You can read more about it courtesy of the US Army's Research, Development and Engineering Command, here, here and here, and from manufacturer AAI here in pdf. ®
Comment
The reluctance on the part of the world's militaries to move on to new and improved small-arms technologies is understandable, as it would involve noticeable expense and trouble. However the developed world's armed forces routinely spend vastly greater sums and overcome much greater technical obstacles in order to build improved jet fighters, submarines, heavy tanks etc. Even back during the Cold War when these things were very important it was foot soldiers carrying individual weapons who actually did most of the fighting and dying, however: and nowadays infantry warfare really ought to be the most pressing priority for every advanced military.
It seems downright perverse to us here on the Reg defence desk to be spending billions to further increase Western fighter pilots' and submarine captains' already excellent chances of victory in future conflicts that are vanishingly unlikely to happen (as we are doing) and not spend the much more modest sums that would give our hard-pressed combat troops - who are actually fighting a real war right now - better firepower in lighter packages. ®
Video and footnotes
*Section, in British usage. The section/squad is split into two fire-teams of four, each with one machine-gunner.
**Perhaps it's time to revive the 1920s-1930s term "machine rifle", under which Colt marketed the Browning Automatic Rifle - an early military squad-auto weapon - to civilian customers, generally lawmen.