Original URL: http://www.theregister.co.uk/2011/11/04/smartphone_operating_system_shoot_out/
The Great Smartphone OS Shoot-out
Android vs iOS vs Windows Phone vs BlackBerry
Posted in Personal Tech, 4th November 2011 12:48 GMT
Review If you want a smartphone - and, let's face it, most people do these days - you have four choices, all of which have recently been updated.
Apple's rightly admired iOS has now hit the big 5-point-oh, Google's rather more blue-collar Android is about to turn 4, while Microsoft's Windows Phone is now a precocious seven-and-a-half. Amid all the fanfare, it's been slightly overlooked that RIM's BlackBerry OS has now evolved to version 7.0, the last major update before the arrival of QNX.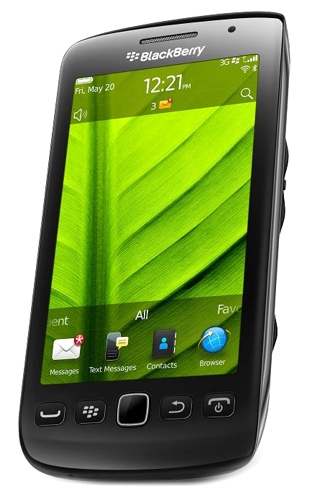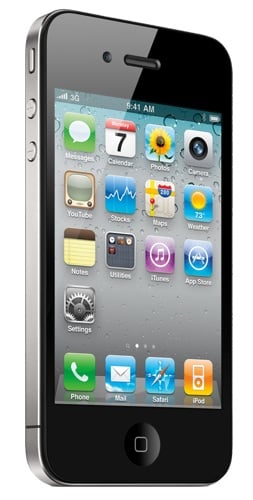 BlackBerry and iOS: RIM Torch 9860 and Apple iPhone 4S
Should this be a five-way test? No, because though the latest version of Symbian has turned out to be rather good, Nokia has still decided to shoot it in the back of the head and bury the body in the woods.
It's worth saying a bit more about BlackBerry because the new Torch 9860 is a device that really has to take the smartphone fight to Microsoft, Apple and Android. With a 1.2GHz CPU, a 3.7in touchscreen but no keyboard, it's pitched as direct competition to the various offerings from Apple, Android and Microsoft.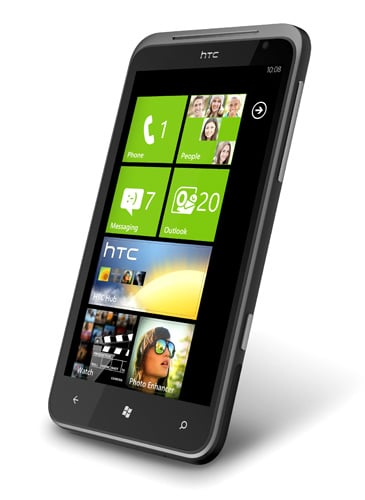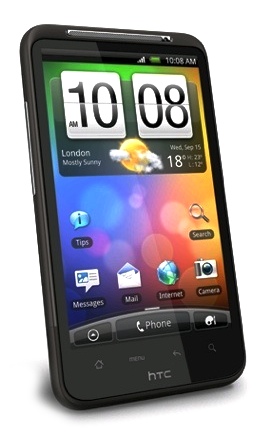 Windows Phone and Android: HTC's Titan and Desire HD
Lined up against the BlackBerry 9860, I have an iPhone 4S and HTC's vast 4.7in Mango-phone, the Titan. The new Galaxy Nexus is still a few weeks away, so Android is represented by my tried and trusty HTC Desire HD.
When the Editor dropped this on me, the instructions where not get distracted by third-party apps or the hardware, but to focus on the operating system and the user experience that you encounter when you get your new shiny-shiny out of the box, put a Sim card in and start tapping away.
Here, then, are seven tasks anyone would expect a smartphone to be able to allow them to perform. How easy and accessible do they make these tasks, without sacrificing functionality?
A big thanks to Vodafone for lending Reg Hardware the three new phones
Browsing the web
Flash, ah-ha...
Android has a clear advantage here because - assuming you are running 2.2 or above - it supports Adobe Flash and on certain handsets it reflows text so you can read copy without excessive panning and scanning. To be honest, it's the ability to reflow that's turned me into a loyal HTC fan because all it's newer handsets support the feature while much of the 'droid opposition doesn't.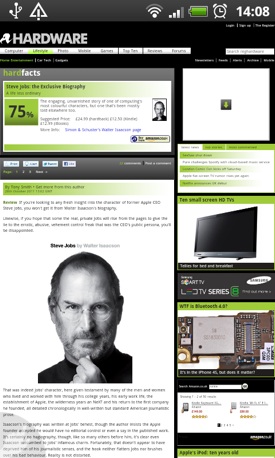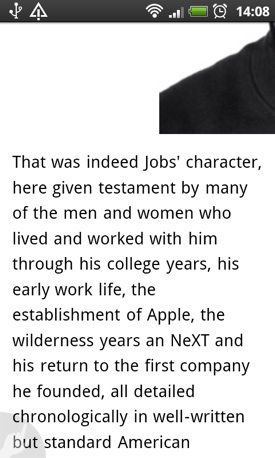 Android's text reflow means you can still read text even when you're zoomed in
The iPhone 4S' Safari browser is lightning fast and replete with pleasant animations, but the absence of Flash and reflow does take the edge off, especially the latter.
WinPho 7.5's stock IE 9 browser is almost as fast as the iPhone's but lacks the design subtleties that make Safari such a joy to use. Not having a zealot like Jobs at the helm, there's no reason for Microsoft to deny Flash to its users either.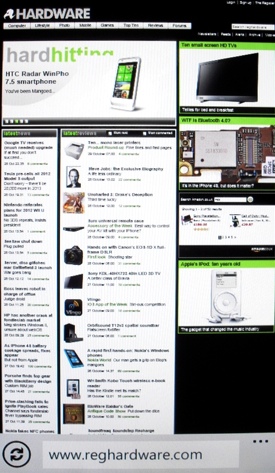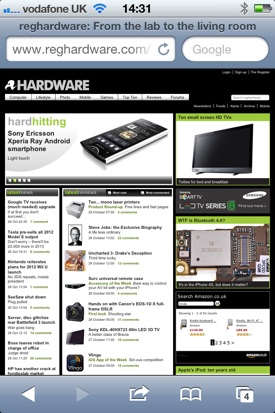 WinPho's IE 9 presents some rendering issues (left) but iOS gets it right - as long as there's no Flash on the site
BB7's WebKit browser does the job but comes home in fourth place being neither the fastest, the prettiest nor the most feature-laden.
Web Browsing








Android laps the competition thanks to Adobe Flash support and text reflow.
Making calls
Voices carry
OK, it's the most basic function of a mobile phone, but I'm as guilty as the rest of rattling off reviews of the latest über-handste and ignoring it. In everyday use, obviously the BlackBerry has an edge because it's the only phone with physical call make, call break buttons.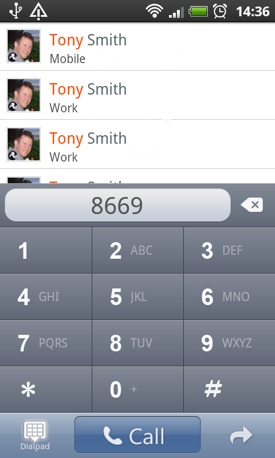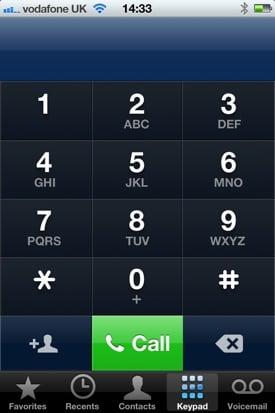 Android incorporates smart dialling at the keypad (left) but iOS does not
Launching the dialer in either iOS and Android really isn't that dissimilar: just look for the icon shaped like a dog'n'bone and tap it. Microsoft seems to have decided that that's just too easy. Touch WinPho 7.5's phone tile and you are presented with the call history. To see the dial pad, you have to touch the small icon at the bottom. It's all just a bit strange and fiddly, as if Microsoft thinks you'll only ever call folk already on your contact list.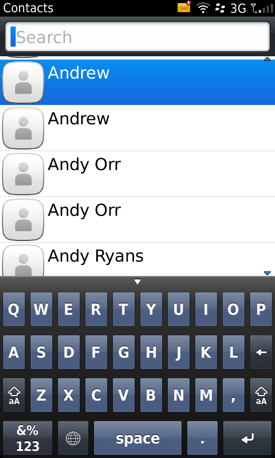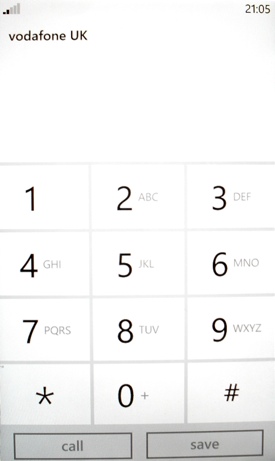 BlackBerry does do smart dialling, but only from the Qwerty layout (left)
Surprisingly, only Android supports smart-dialing directly from the numeric keypad.
All four operating systems will happily snag your contacts from the cloud, though iOS, while letting you import your Hotmail contacts, won't let you do so from Gmail. I'm sure iCloud will develop, but right now it only syncs with Outlook and that puts me right off. Android and iOS both get marks for having a quick-scroll feature for your contacts, something both BB7 and WinPho 7.5 lack - a major PIA if, like me, you have 300-plus contacts.
Making Calls








Android wins by a smart-dialing nose over iOS and BB. Windows Phone 7 trails home last.
Personal information and files
Or, where's all my stuff?
Here it's a question of horses for courses. If it's your pictures you are worried about, then Android has you covered with everything in your Picasa account appearing in your photo gallery as if by magic.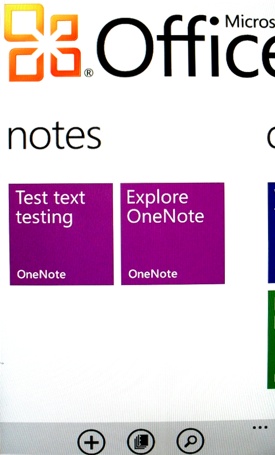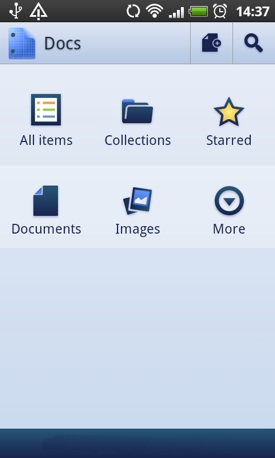 WinPho Office (left) has Google Docs (right) licked
When it comes to music, it's a case of what Zune offers now versus what Apple will in the near future when you will be able to mirror your entire iTunes library in iCloud and download it when and where you want. Called iTunes Match the service won't be free, but when it starts to offer a streaming service we'll all want it.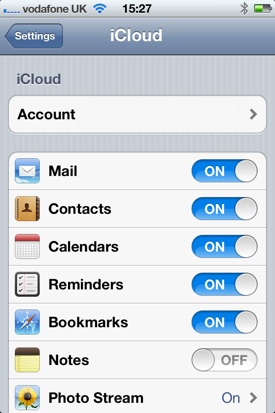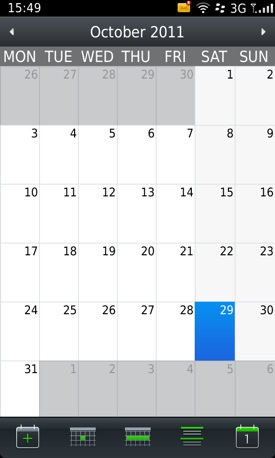 iOS has iCloud (left) for free data syncing. BlackBerry (right) just syncs personal info
Taken as a whole, Microsoft's Skydrive isn't as accomplished as Google's cloud offerings, so for mail, calender and contacts I'll take Gmail over Hotmail. But WinPho 7 Office beats Google Docs hollow for mobile productivity. When it comes to cloud storage, Apple and Microsoft give you 5GB, Google 2GB split between Picasa and Docs, while BlackBerry gives Sweet Fanny Adams.
Personal Info and Files








Almost too close to call between Android, iOS and WinPho 7.5. BB7 needs to get more cloudy.
Real-time information and alerts
What's happening out there?
Just been poked on Facebook? Mentioned on Twitter? Worried your shares are about to tank? Want to be warned that the skies will open in an hour? Here you will find a similar policy adopted by BB7, Android and iOS, all of which stick such info in a pull-down notifications bar.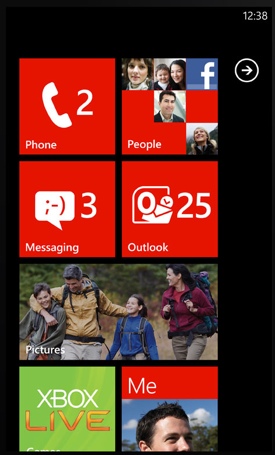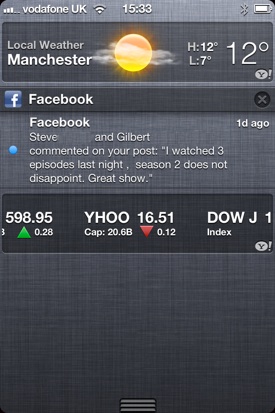 WinPho 7.5 presents real-time info in its dynamically updated tiles (left) while iOS (right) has a slicker take on the Android notification area
Of the three, iOS is the better implementation despite being a late-in-the-day borrow from Android. Dig into the Settings menu and you can have iOS 5 put the weather, social network alerts, message and calender reminders, missed calls and loads of other stuff in the notification bar. Third-party apps can use it too. Android does something similar thought not quite as comprehensively, a description that is sufficient for BB7 too.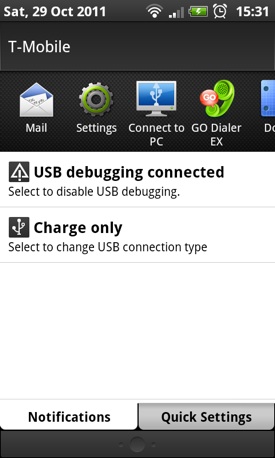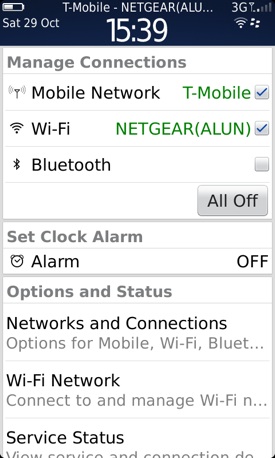 Notifications: Android (left) and BlackBerry
WP7 goes down a whole different route with its live tiles: large, dynamically refreshed info panels. You'll either love these or hate them depending on your view of the aesthetic and the size of your phone screen. Personally, I'm in favour, and on a big screen - say anything over 4.3in - the tiles are big enough for you can see what they are telling you at first glance.
Real-time Info








iOS gets the trophy but WinPho 7.5 gets best runner-award for lateral thinking.
Pictures and videos
Lichfield? Spielberg? Pah!
Prior to the 4S, the cameras on the iPhone where nothing to shout about, but iOS has always been a very user-friendly operating system for letting you indulge in some light messing about with your pics and videos. The auto-fix, red-eye reduction and crop features are hardly ground-breaking, nor is the thumbnail video navigation bar, but they are all idiot-proof.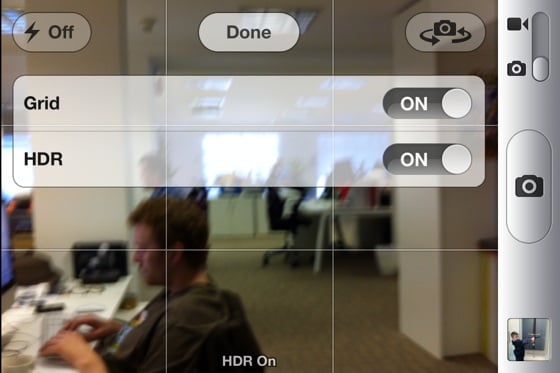 iOS, catching up with...
Android's camera management has been even more basic but with Ice Cream Sandwich it gets a much needed overhaul. The new app brings panoramic image-stitching, 1080p video recording, a host of edit options and the facility to take a full-resolution still image during video recording just by tapping the screen.
There's a lot more going on in the WinPho 7.5 camera app, but it's a bit scatter-gun. Basically, the photo and video settings just don't sit as well in the overall WinPho design aesthetic as other functions do.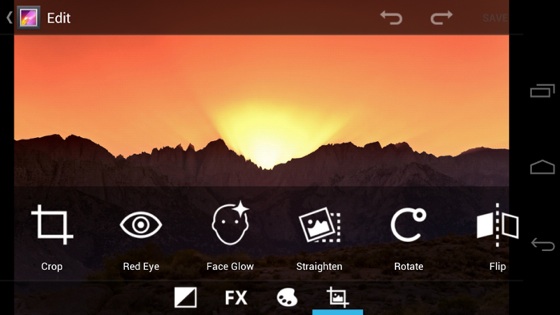 Android
The BlackBerry camera interface is better than you might expect too with a useful text option to optimise snaps of text.
Pictures and Video








iOS pips the competition but it's a damn close run thing.
Instant Messaging
What we have here is a failure to communicate
With BlackBerry Messenger this should be a slam dunk for BB, but then came a three-day meltdown and the horrible realisation that everything depended on the contents of a building in Slough. Still, when everything is up and running it works a treat, and bouncing around BB's own servers can save serious money when you are roaming abroad.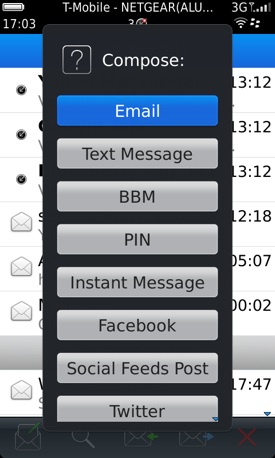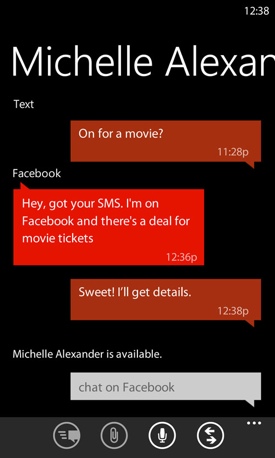 BlackBerry integrates many services into its messaging app (left), as does WinPho 7.5 (right)
Combined messaging is where WinPho 7.5's tightly integrated and controlled UI comes into it's own. Windows Live Messenger, SMS messages and Facebook chat, all can be grouped together into the Messaging app and monitored through the Messaging tile. With messages from all three sources falling into the one thread it's really rather impressive.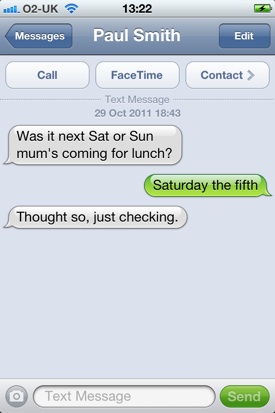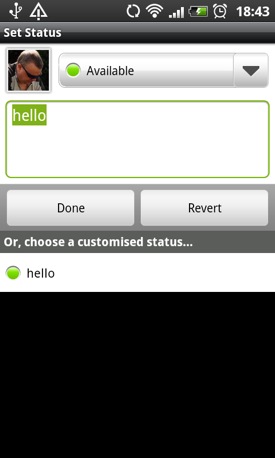 Messaging on iOS (left) and Android (right)
Apple and Google bring up the rear here. Not that's there anything wrong with Google Talk and iOs' Messages app - and, of course, both platforms support Skype, which is a major advantage over Blackberry and Windows - it's just that they don't offer the integration of WinPho, or the unbiquity and security of BBM.
Instant Messaging








BlackBerry comes up on the inside and just noses ahead of WP7.
Email
Just how many accounts does a man need?
WinPho 7.5 was the only device here that didn't snag the server settings for my Fastmail account from the web, meaning I had to set it up manually. Not a big deal, I grant you, but it's a trick even the Android email client can pull off.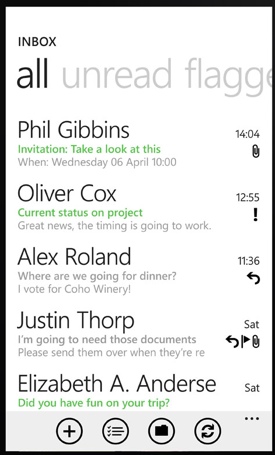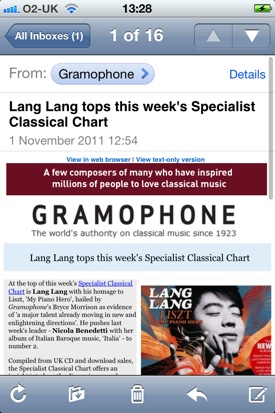 Both WinPho 7.5 (left) and iOS (right) do a good job of integrating multiple mail accounts
Otherwise, it's a tale of three against one. iOS, BlackBerry and WinPho offer really rather fine unified email inboxes that make handling multiple accounts as easy as falling off a soggy log, but the stock Android email client is a nasty little affair full of dead flies. Clearly, Google thinks everyone should be using its Gmail app.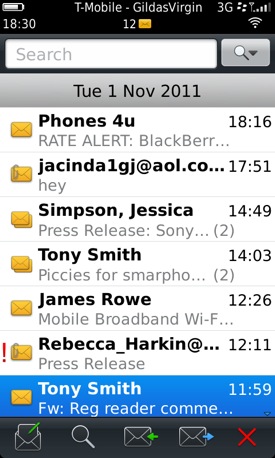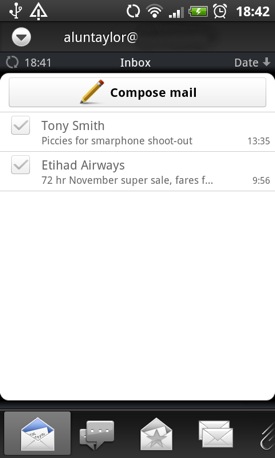 BlackBerry's stock email app (left) is one of the OS' strong points. Not so Android's offering (right)
Of the other three, I have to admit to a sneaking regard for the BlackBerry e-mail client, which lets you compose mail, texts, BBM and other IMs, as well as Facebook and Twitter updates, all from the one place. Good to see RIM keeping a firm grip on the essentials.
Instant Messaging








A photo-finish between iOS, WP7 and BB. Android is a three-legged nag in this race.
Verdict
None of the operating systems I've looked at here get it staggeringly wrong. RIM's BlackBerry is starting to look long in the tooth - sometime I though I'd slipped back into Windows Mobile - and, like Android, is prosaic rather than pretty.
Undoubtedly, iOS is the most aesthetically pleasing phone OS. And while Windows Phone is bravely - and refreshingly - different, it's stark look is an acquired taste.
WinPho is the newest OS, so it has some catching up to do to match the others for functionality. But it's getting there. And, for the moment at least, it's pleasantly quick.
Of course, no matter how good it is, if you're an open computing buff, a Microsoft product will not appeal, nor an Apple one.
Contrariwise, Apple's excellent content shops and playback capabilities are sufficient to satisfy anyone unopposed to or disinterested in the walled garden.
The crucial point is that there is, for the moment, plenty of choice. Take a look at all of 'em and find the one that most floats your boat. ®