Original URL: https://www.theregister.co.uk/2011/11/04/oz_roadtrip/
Whinging Brits reflect on epic Oz road trip
El Reg hacks versus the mighty Outback
Posted in Science, 4th November 2011 13:29 GMT
El Reg's Special Projects Bureau has just about recovered from its epic Oz roadtrip in pursuit of the World Solar Challenge competitors, and we though we'd share a few thoughts on our Outback odyssey.
Since we're dyed-in-the-wool Poms, you can expect a few whinges along the way, but we've thoughtfully flagged these so those Aussie readers of delicate sensibilities can skip the whining.
Our 3,000km slog across Australia began in a hot and sticky Darwin, where panting Territorians sweltered in anticipation of the impending rainy season. As one local explained, everyone in Darwin goes slightly bonkers as the springtime mercury creeps up and the rising humidity heralds some welcome precipitation.
Then, when the heavens open, everyone goes slightly bonkers under the relentless rain, apparently indicating that Darwinians spend a good percentage of their time in a state of mild insanity.
That would explain the rigours of the Banned Drinker Register, designed to tackle the worst effects of alcohol abuse, and which leads us to...
Pom* Whinge 1: Grog
You know how it is: you've had a hard day at the solar car testing track (see below) and you fancy a cold one. Don't, then, as my companion Drew did, attempt to buy takeaway alcohol unless you're carrying photo ID.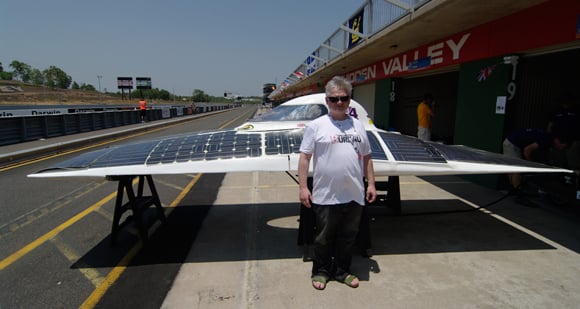 I had to whip out my driving licence just to get a six-pack of ice-cold stubbies. When I expressed the opinion that scanning my licence against the register was a little excessive in the case of an evidently sober and upstanding Commonwealth citizen, the bloke behind the counter insisted there were "a lot of problems with grog here in the Northern Territory".
In the end, we didn't spend enough time in Darwin to form an opinion on the locals' drinking habits, since the Stuart Highway beckoned us south into Australia's vast interior.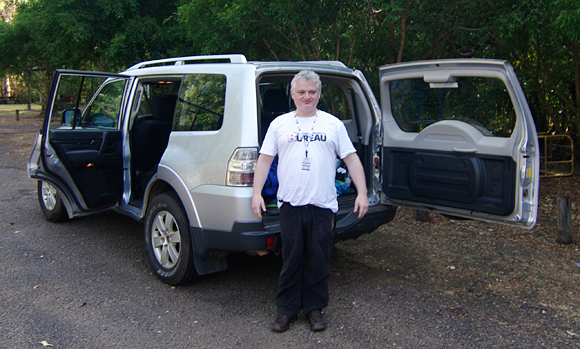 Suitably stocked up with water and provisions, we hit the tarmac in a somewhat worse-for-wear Mitsubishi Pajero en route to distant Adelaide. Normally, you can't take hire cars out of the Northern Territory, and certainly not on one-way trips. However, since we were covering the WSC, the company was happy to make an exception provided we cough an extra AU$700 "return fee".
Still, we agreed that the unexpected lightness of our wallets would at least mitigate the trip's fuel costs to a very small degree, and for the first 1,000km or so of Stuart Highway I kept a keen eye on the Mitsubishi's fuel consumption calculator display to see if the fleece had indeed impacted on gas guzzling.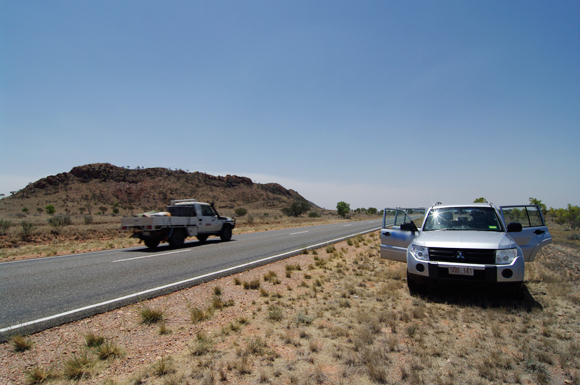 Those of you who've driven the Stuart Highway will know there's plenty of time for such distractions. The road doesn't present much of a technical driving challenge, but it's a good test of sheer endurance.
With cruise control engaged, and the tarmac stretching over the horizon, there's not much to do on a road where a junction is a major talking point, any land feature over 10 feet high is called a "mount" and even the slightest depression merits the description "valley".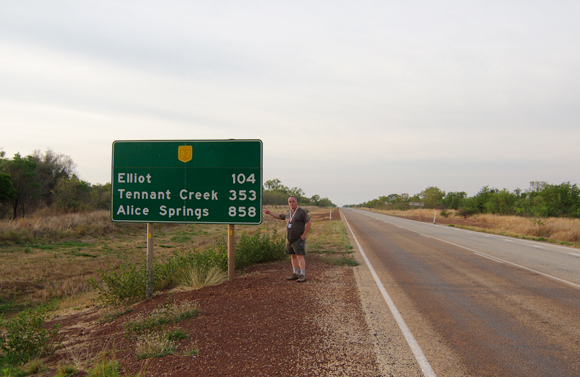 It's basically a matter of clocking up the kilometres between towns or roadhouses - the latter described as "variable in quality" by the WSC organisers.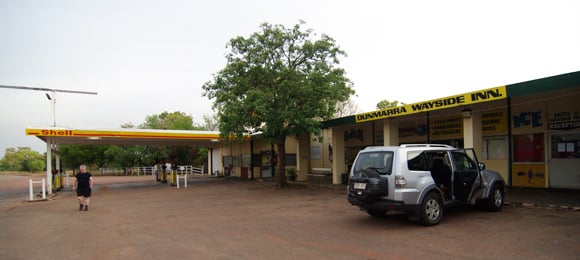 This description proved accurate. Our first overnight pitstop was at Dunmarra Wayside Inn (pictured above), where we spent a terrific couple of hours in the company of proprietor Gary Frost (see below) and his Kiwi chef (or "tucker fucker", as food botherers are known locally).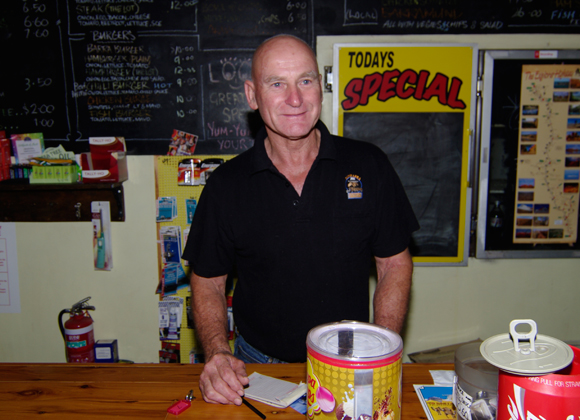 Dunmarra has two claims to fame. In 1872, the team constructing the Overland Telegraph Line from north to south met the team coming in the opposite direction. A roadside monument some 27km south of the roadhouse commemorates the moment when instantaneous telegraph comms were established between Oz and Blighty.
In 1993, 8-year-old Clinton Liebelt went missing from the roadhouse at Dunmarra, prompting a massive manhunt, under the gaze of the international press. The story of the search for Clinton is ably told by journalist Robert Wainwright in his book The Lost Boy: A Search For Life, A Triumph Of Outback Spirit.
Gary kindly gave us a copy of the book when we left Dunmarra, enquiring: "You Poms do know how to read, don't you?"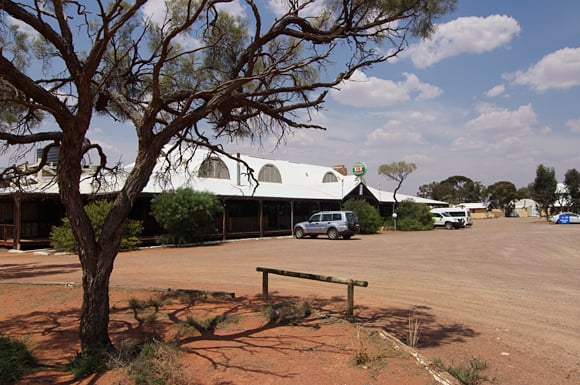 The female manager of the impressive Glendambo Hotel (above), way down south in South Australia, was equally friendly, recounting horror stories of a recent mouse plague which had seen the place swarming with waves of rodents, while warning us not under any circumstances to drink the "bore water".
Pom Whinge 2: Kulgera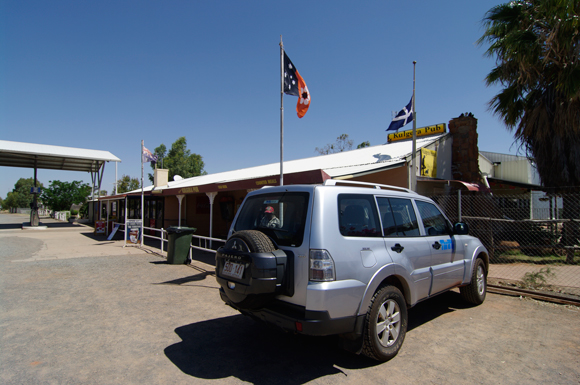 Sadly, the same can't be said of the staff at the pub in Kulgera, which is the last Northern Territory watering hole before you cross the border into South Oz. As Drew put it as we gratefully drove away from the novelty XXXX Gold tinnie: "WTF was that place all about?"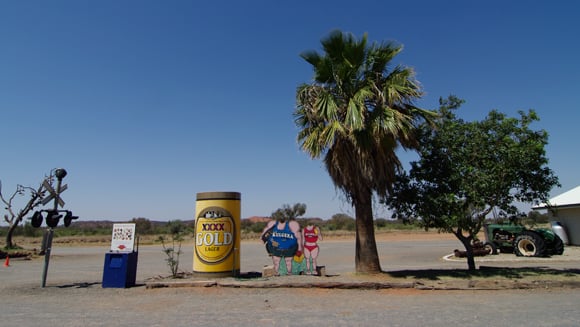 Aside from passing comment about roadside hostelries and occasionally pointing out a distant "mount" or "valley" of interest, Drew entertained himself on the trip by monitoring for a possible mobile signal on his Jesus Phone.
As well as packing a mobe, we'd bought a Telstra broadband dongle thingy back in Darwin, but made the mistake of getting in on a Saturday. We quickly discovered you couldn't activate it by phone until the Monday, which meant we had to stump an unneccesary extra 60 bucks for the pleasure of using our hotel's Wi-Fi connection before hitting the road.
Pom Whinge 3: Coverage? What coverage?
Apart from the Telstra weekend non-activation outrage, it quickly became apparent that the company has resolutely ignored the Outback. On a route much travelled by local, tourists and road trains, not even roadhouses have any kind of mobile coverage which would enable people to make calls and the long-suffering locals to get onto the internet without the aid of a satellite dish.
Sure, the distances involved are vast, but we became increasingly convinced that, given the will, Telstra could make use of the existing radio repeater masts to get the thing sorted.
No doubt Oz experts can set us straight on why this can't be done, but they are invited to imagine heartrending sight of Drew mournfully staring at his iPhone in the vain hope of contact with civilisation.
Mercifully, full contact with the outside world was re-established at Coober Pedy – the celebrated opal-mining town. With an overnight base of operations established in an underground hotel (pictured below), and the Telstra dongle giving five bars coverage, Drew was able to hook up his iPad fondleslab for the first time since Alice Springs.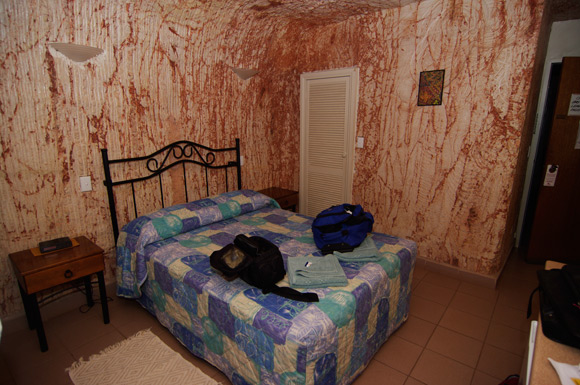 Yes, I'm ashamed to admit that the El Reg Oz travelling circus was packing a Jesus Phone and iPad (terrifying picture proof below), as well as less divine devices running pagan Windows. I'm old-school, and did a bit of harrumphing about the fondleslab, especially when I needed to transfer some snaps to it with a USB stick, to be told such archaic practices were proscribed by the Church of Cupertino.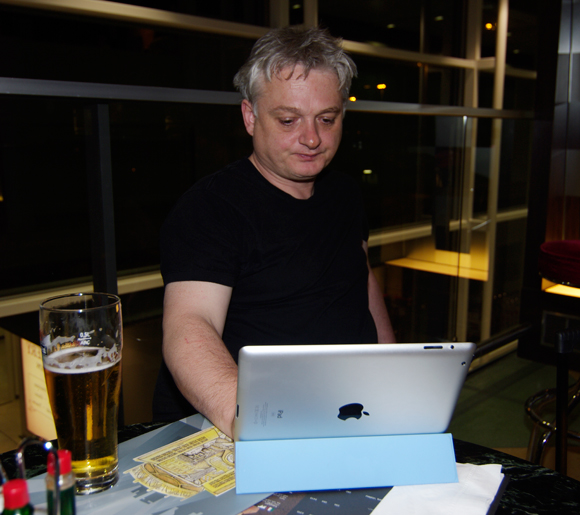 However, the iPad did prove a lifesaver in Adelaide, where Drew was able to use it in the car, and in the pouring rain, to book a last-minute hotel on the net. We'll call that a draw, then.
We'll also have to declare the final Oz wildlife tally a draw. Despite police warnings at the WSC press briefing that we foreign media types were pretty likely to end up in a helicopter air ambulance as a result of hitting a kangaroo at high speed, we managed to avoid marsupial mishaps.
This, however, was due in part to not seeing a single live kangaroo hopping about during our whole trip, which can only mean...
Pom Whinge 4: Kangaroos
Sure, we clocked a few emus, and a couple of lizards, but where were the bloody kangaroos? The Stuart Highway verges certainly provide plenty of entertainment for aficionados of kangaroo roadkill, but we left Darwin determined to spot Skippy, and the little bugger refused to play ball.
Oh, alright then, we did encounter one kangaroo - this joey** who'd been rescued by a local. Bless: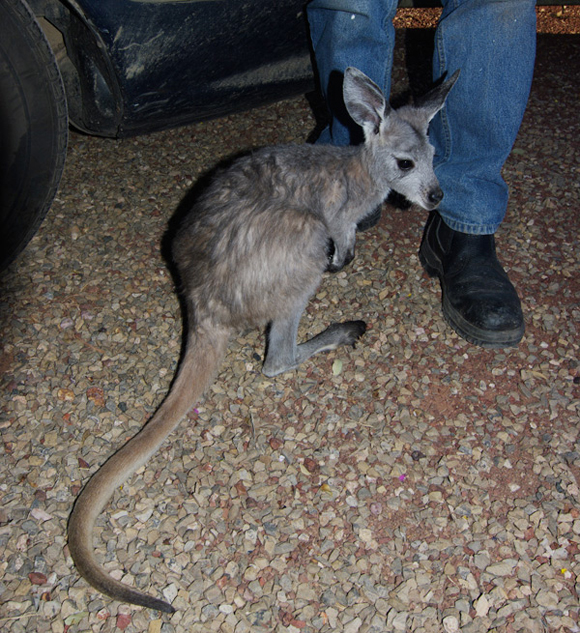 Bootnote
*Pom = Brit
**We suspect the little fella's mum may have been killed by the Japanese photographer we dubbed "Mad Max", who was also following the World Solar Challenge. His behaviour behind the wheel suggested he'd passed his driving test in Italy and had subsequently honed his skills on the Germany's Nurburgring.