Original URL: https://www.theregister.co.uk/2011/11/03/review_yamaha_rx_v471_av_receiver/
Yamaha RX-V471 5.1 AV receiver
Ridiculously good value?
Posted in Personal Tech, 3rd November 2011 12:30 GMT
Review Yamaha's RX-V471 is more than just a budget 5.1 AV receiver with 3D-friendly HDMIs. It represents something of a reboot for the celebrated hi-fi brand. Despite having a heritage with AV that can be traced back to the very first surround sound decoder, the past few years have seen the company floundering. For some reason it just wasn't hitting the right notes.


Christmas box? Yamaha's RX-V471 AV receiver
But with its RX-Vx71 line, Yamaha has created a range of AVRs that are more than just boy's toys. The RX-V471 is both a doddle to use and sounds far better than its modest price ticket might imply.
Ease of use and thoughtful functionality are a key part of its appeal. The GUI is clear, colourful and easy to understand; an HDMI overlay for volume and DSP selection adds a little graphical polish.
There's also HDMI stand-by pass-through. Again this simplifies its usage – for those not quite as interested in tech as you might be – and means you can power-up just for those TV shows with 5.1 audio or movies, without input switching or general faff.
A forward-facing USB digital connection is provided for iPod/iPhone/iPad and sticks. Media playback from USB covers MP3, WMA, AAC and WAV. However, there's no FLAC support. Set up is with Yamaha's plug-in mic and YPAO (Yamaha Parametric room Acoustic Optimiser) calibration system. Speaker levels and balance are managed with a decent level of accuracy.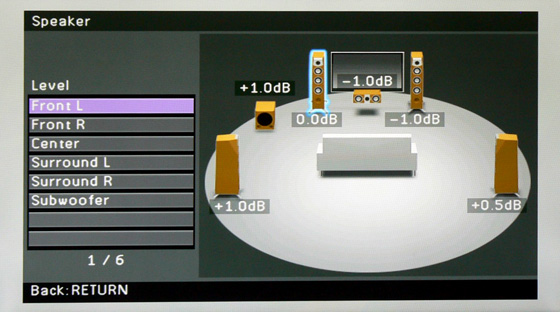 The set up is made as painless as possible
The RX-V471 is rated at 5 x 105W, which strikes me as a tad optimistic. It lacks the big dynamics typical of substantial power reserves. More significant than any numerical output is the fact it doesn't sound stressed when asked for more welly. It's a smooth, polite performer with impeccable manners.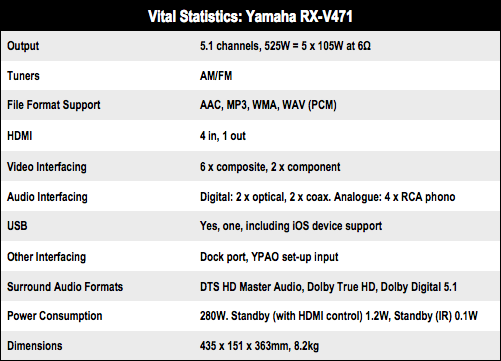 On the front panel of the AVR are four Scene buttons: BD/DVD, TV, CD and radio. These presets not only select the required input, but plot in whatever post processing you assign. One stab at the radio button, for example, selects the correct input and, should you choose, applies five channel stereo processing – have speakers, will use them.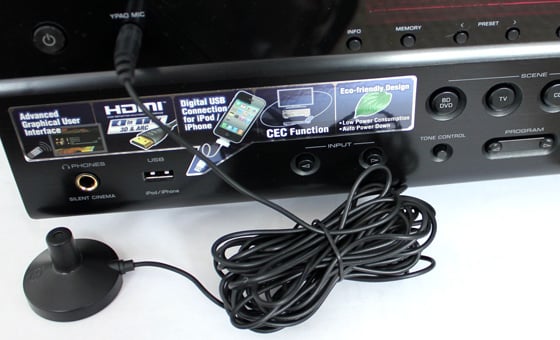 A calibration mic is supplied for use with the YPAO (Yamaha Parametric room Acoustic Optimizer) set-up
Alternatively, hitting the TV button might take you to a satellite or cable feed where a Sci-Fi DSP post processing mode is applied for wide stereo separation. 

It's in amongst these DSP presets that you'll also find a Compressed Music Enhancer, which endeavours to restore tonal richness to squished MP3s and WMA files.
Yamaha continues to offers some of the best DSP post processing modes in the business, and they're worth exploring. Included are some acoustic patterns taken from actual venues. You may not be able to drop everything to pop over to The Roxy Club in LA for a set from Motley Crüe, but hit this preset, dim the lights and pour yourself a Jack Daniels and it's a pretty close approximation.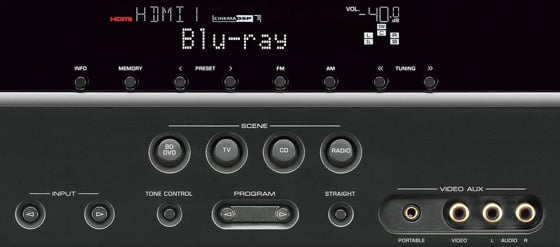 On the scene
Verdict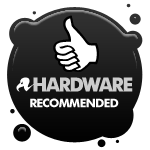 For a feature-laden home cinema receiver, the Yamaha RX-V471 can be considered ridiculously good value at £300. FLAC support may be conspicuous by its absence, but the fact that this AVR is so agreeable to live with seems reasonable compensation. ®
More AV Gear Reviews

Panasonic
DMR-PWT500
3D Blu-ray + DVR
LG
BD670
3D Blu-ray player
Ten… Freeview HD
recorders
Sony
VPL-HW30ES
3D projector
Onkyo
TX-NR609
AV receiver