Original URL: https://www.theregister.co.uk/2011/11/03/review_lenovo_thinkpad_x1_notebook/
Lenovo ThinkPad X1 13.3in Core i5 notebook
A computer of habit?
Posted in Personal Tech, 3rd November 2011 07:00 GMT
Review There's something very strange going on in ThinkPadland. Reports of two-headed calves, even flocks of birds flying backwards – these are nothing compared to some of the design changes wrought on ThinkPad users in recent times.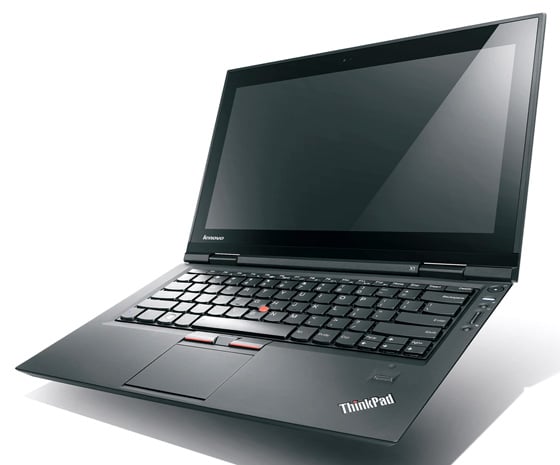 Lenovo's ThinkPad X1 combines new and familiar features
Since it was launched 11 years ago, the X-series range has been home to the smallest and lightest ThinkPads family, for which business users would pay a premium. Typically a lean 12in model, and matte inside and out, the X model du jour cleaved firmly to these size and quality constraints. For years the X-series eschewed fads such as integrated batteries, glossy displays and screens, and stayed small – and pricey.
Early last year came the budget X100e, which worried loyalists deeply. A sort of enthusiastic amateur tribute band to the ThinkPad, this model had one eye on the then burgeoning netbook market: it used cheaper parts, to hit a much lower price point. And this year Lenovo launched the X1 – which from a casual glance, is not recognizably an X-series model at all. What on earth is going on?
In comes the latest crank of the X1 for us to have a look.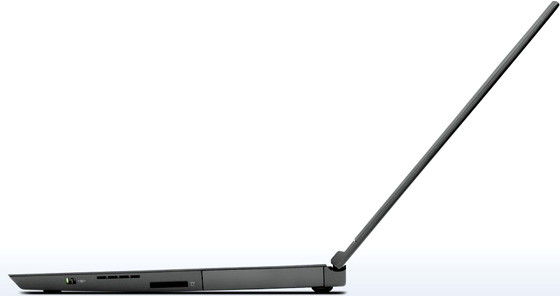 No optical drive on-board
First impressions are that the X1 looks much more like a 15.4in machine than the 13.3in model it is. The glass – Corning Gorilla glass in this case - comes to within a few millimetres of the edge of the lid, but the viewable area is smaller, as the display has a sizeable black border. A Lenovo logo is tattooed into this margin. Yes, just like an Apple display.
The screen is a mere 1366 x 768 pixels, when really omething as wide as this should accommodate a higher resolution. Even the much smaller, venerable X200 offered up to 1440 x 900. The gloss display has an anti-glare Corning glass finish, which is much less reflective than a typical High Street consumer models. At 350nits its not as gloomy as tradition dictates.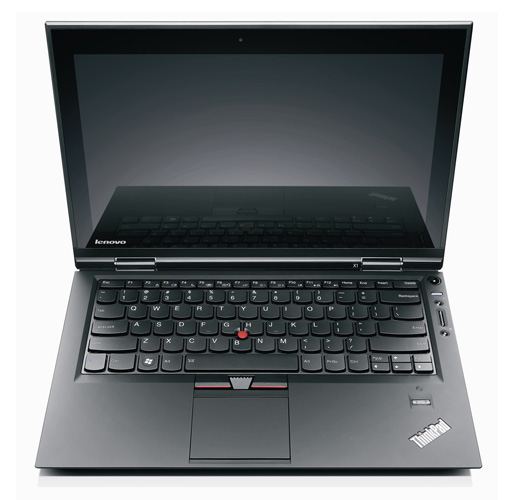 A glossy display, but it's the resolution that's the issue here
It's the first ThinkPad to eschew a replaceable battery for a built-in one, resulting in a sleeker design. This model came with a 2.5GHz Intel Core i5-2520M processor and 8GB of RAM – the base model has 4GB. It also features a 128GB SSD, which, out-of-the-box, leaves just 65.1GB free of the main 102GB partition.
Key features
Lenovo has introduced a new keyboard, which, confusingly, looks like the cheap but usable "chiclet-style" design seen on the X100e and Edge models. It works very well though in practice. Less can be said about the revised layout, which appears to favour looks over practicality.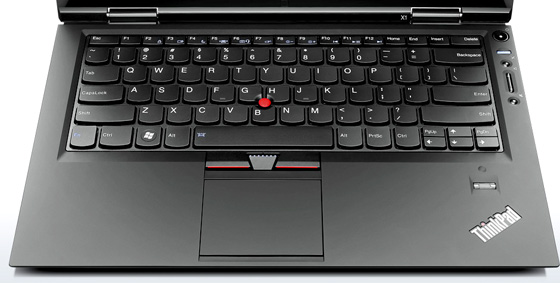 Some key changes here
The Thinkpad's hallmark protruding, sculpted cursor keys (with bonus back and forward buttons) is no more, and the six key block at the top right hand corner (again, subtly colour differentiated) is gone too. In its place is a very conventional function row.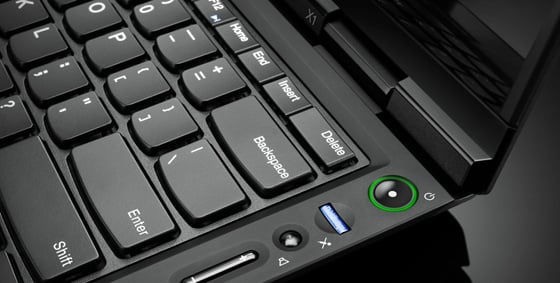 The keyboard has backlighting and is water-resistant too
The new keyboard looks nicer, arguably, but navigation is trickier; it may disappoint old hands. And old hacks, too. ThinkPads made a virtue of their serviceability – the bottom would be covered with screws and instructions, resembling the "Do Not Walk Here" decals on aircraft. Here, the emphasis on style means far fewer screws and instructions.

The side interface cover is more for looks than practicality
More disappointingly, the sculpted edges have led to a curious design choice being made. The powered USB port and headphone jack are under a flap, which looks ungainly and isn't as robust as no flap at all.
Benchmark Tests
PCMark 7 Results

Longer bars are better
Lenovo doesn't skimp on interfacing: with USB 3.0 and USB 2.0 connectors, plus an eSata combo USB port. For video, there's HDMI and mini DisplayPort – no complaints there. The unlocked 3G Sim slot is most welcome, but the USB ports are all either on the back or under that flap. Convenience is sacrificed for style. There's a SD carder reader too. The stereo speakers, face downwards as on previous models, but the output is dramatically louder. Dolby Home Theatre v4 is on-board too, which helps spice up the mix.
The PCMark 7 performance is encouraging due mainly to the SSD and 8GB Ram. There's only the integrated Intel HD 3000 graphics on here, which clocked up a passable score of 3773 using 3DMark 06.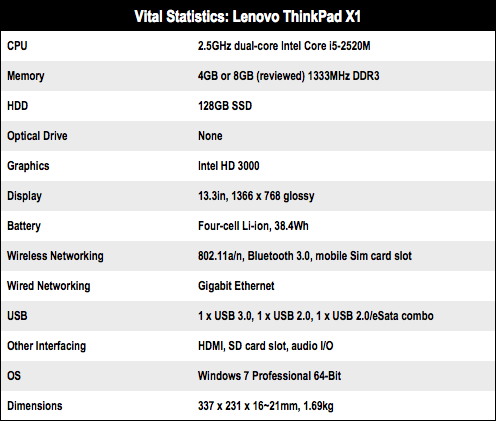 Juice bar
Lenovo claims five hours for the X1's four-cell internal battery. It registered 1hr 45mins in Reg Hardware's aggressive battery rundown test; looping PCMark continuously. With more typical usage – with the screen brightness turned to max – the X1 managed around 2hrs 20mins. This improved by up to an hour, with the display set to medium brightness, but it's markedly inferior to recent models.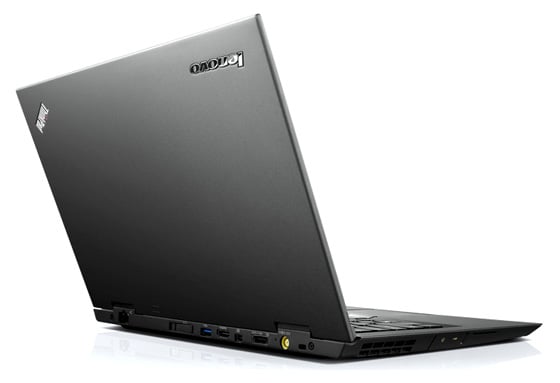 You can tack on an extra battery if you need more juice, but it'll cost ya
Not surprisingly, this review model comes equipped with the "39+", 36Wh battery slice, an investment that at £200 that adds 600g to the ThinkPad. This six-cell booster buys a some extra time, but if this was a slice of cake, you'd be asking for more. Mitigating this a little, the RapidCharge tech can revive a battery from expired to 80 per cent in around half an hour.
If this sounds repetitively carping, there are valuable parts of the ThinkPad legacy which have survived intact. Most importantly the magnesium alloy matte case and the roll cage, which instantly elevates it the X1 above the less robust competition. Indeed, it's solid and uncluttered with demoware junk, yet retains the excellent ThinkVantage utilities.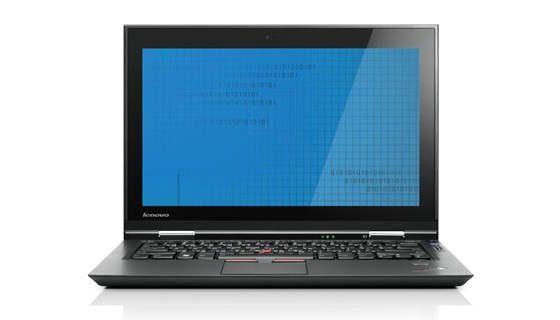 Built to last, but is it worth the extra?
The Lenovo X1 doesn't try and compete with the ultra-thin, but slower premium devices such as Apple's 13in MacBook Air and Samsung's 9 series, but it has far greater selection of expandability and I/O options. Here, Lenovo has offered some of the rich features of the old ThinkPad X301, but at a lower price point. But if you need some extra speed, another £167 will buy you the quad-core 2.7GHz Intel Core i7-2620M CPU build-to-order option. Going from 4GB to the 8GB of Ram that was installed on the review model will add yet another £324 though.
Verdict
Despite the less than glorious screen resolution, in practice, I found the Lenovo ThinkPad X1 was really a pleasure to use. I'm simply a veteran ThinkPad user, there's always been (at least) one in my Apple household, and I'm the sort of user who disables the TouchPad in the BIOS, preferring to use the TrackPoint. Because, as you know, TouchPads are for wimps. ®
More Notebook Reviews

Dell
Vostro
V131
Acer
Timeline X
5830T
Sony
Vaio
SB
Apple
MacBook
Air 13in
Lenovo
ThinkPad
Edge E420s