Original URL: https://www.theregister.co.uk/2011/11/02/review_panasonic_dmr_pwt500_3d_blu_ray_player_and_freeview_plus_hd_dvr/
Panasonic DMR-PWT500 3D BD Freeview HD DVR
A bit of a show-off
Posted in Personal Tech, 2nd November 2011 12:00 GMT
Review In the Twilight Zone between Blu-ray players and DVRs you'll find Panasonic's DMR-PWT500 that boasts a combination disc spinner and digital TV timeshifter. Space-saving convenience is main USP of this hybrid, so if you want one box that can do it all, it's certainly worth an audition.

Box clever: Panasonic's DMR-PWT500
The DMR-PWT500 is derived from the brand's DMR-HW100 and sports two Freeview HD tuners, the standard Panasonic ROVI EPG and uses a miserly 320GB hard drive (which surely means it should have been called a PWT320?). Still, this is enough to store around 80 hours of HD, delivering a recorded image quality in line with original transmissions.
The unit's Blu-ray transport is 3D-compatible and appears to share DNA with the brand's stand-alone DMP-BDT210/310. HD picture quality is predictably sharp and vibrant, upscaled DVDs look entirely respectable.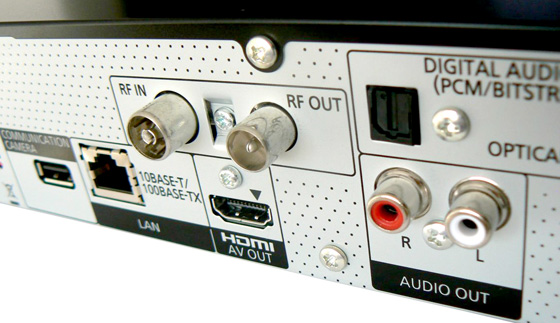 The back panel houses the essentials
In addition to telly and disc playback, the DMR-PWT500 also throws in media playback from USB and purports to do the same over the network. However, this deck is not quite the connected gad about town it likes to think it is.
Indeed, the USB option is the best way to watch media files. Video support from a stick or external HDD covers both AVI and MKVs, while music is limited to MP3. When you try and stream media across a network from a Nas, this deck appears dumbfounded. I managed to get an AVCHD file to play, but that was about it.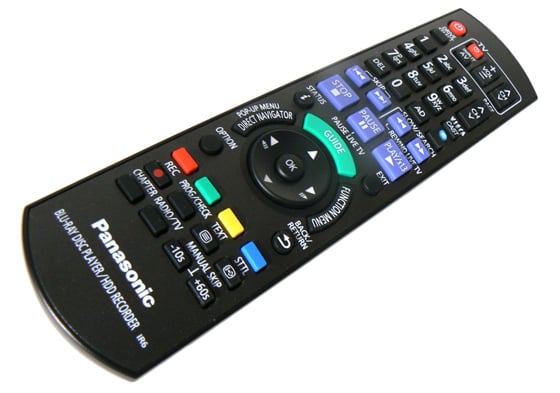 Clearly laid out remote
The deck also throws in access to Panasonic's net portal – or at least a version of it. The Viera Cast destination here is subtly different from the band's Viera Connect TV destination, even though they look pretty much identical. It's probably analogous to multi-dimensionality string theory or perhaps not. With this version of Panasonic's portal, there's no BBC iPlayer, apps nor games, and streaming services have a distinctly European bent. You do get YouTube though – a constant regardless of what dimension you're in.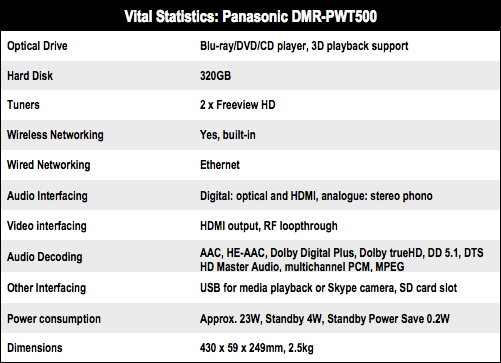 Mixed media
Getting on-line is a snap. The DMR-PWT500 has integrated Wi-Fi, a boon if you don't have wired access in your living room – or are simply running out of cabled connections from your hub. WPS Push is supported for those with compatible routers.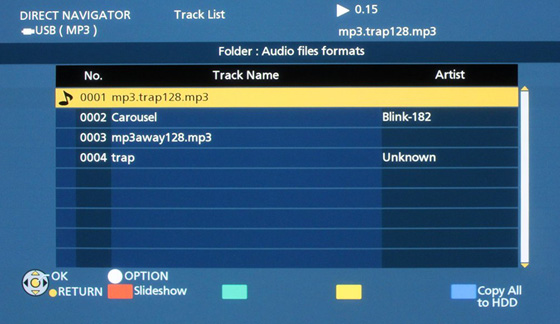 The music player tries out different formats for size
One interesting feature of the Panasonic DMR-PWT500 is its DLNA server functionality. This needs to be specifically activated in the menu, as it prevents the unit from going into Power Save during Standby. However, fire it up and your DVR suddenly becomes visible to other compliant media players on a network... with mixed results.
My Popcorn Hour streamer could see the Panasonic and its video library, but was unable to play any files. Conversely, both A.C. Ryan and Western Digital WD Live players were able to stream the DMR-PWT500's standard def recordings. Unfortunately, neither could cope with its HD recordings, each throwing up incompatible file errors. So, if you want to use the DMR-PWT500 as a server, best keep your recordings to standard def then.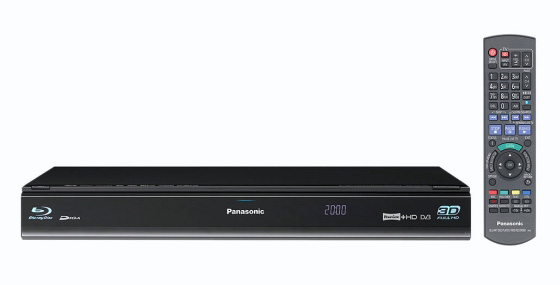 A very tidy all-in-one combo, but its networking needs refinement
Be aware that there are limitations to the deck's general functionality. When the DMR-PWT500 is recording, you can't mooch around the Viera Cast content portal or play media from USB or Nas. Finished DVR-ing the Alan Titchmarsh show? OK, now you can go on the interwebs… 

Verdict

Overall, the DMR-PWT500 is a clever, albeit rather expensive combi deck. Both disc and DVR performance are praise-worthy, but Panasonic needs to sort out the half-baked streaming and server functionality to really make this a one-size fits all solution. ®
More AV Gear Reviews

LG
BD670
3D Blu-ray player
Sony
VPL-HW30ES
3D projector
Ten… Freeview HD
recorders
Panasonic
DMR-HW100
Onkyo
TX-NR609
AV receiver