Original URL: http://www.theregister.co.uk/2011/11/02/review_htc_titan_windows_phone_7_5_mango/
HTC Titan WinPho 7.5 smartphone
Mango at large
Posted in Personal Tech, 2nd November 2011 07:00 GMT
Review The HTC Titan is big, really big and yet the Taiwanese manufacturer has managed to make this sizeable WinPho 7.5 smartphone look manageable. Much of that is down to the thinness of the handset, making it feel less massive than it actually is.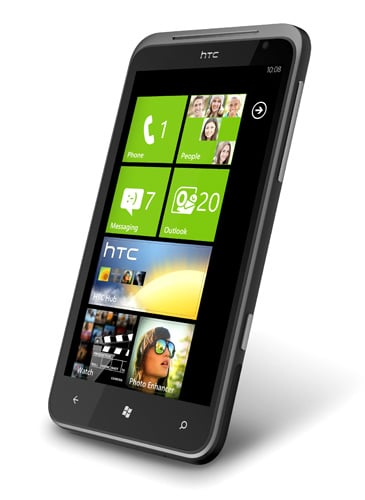 The big picture: HTC's Titan
It helps that there's nothing on the front of the phone either, apart from the HTC logo at the top, the Windows Phone button icons at the bottom and a front-facing camera behind the glass. Indeed, the business end of the Titan is nearly all screen, and when inactive you may not instantly guess the size of the display.
At first glance, it seems possible it might be a 4.3in screen, like on HTC's Android offering, the Desire HD. But, no, this is a 4.7in whopper, with a resolution of 480 x 800 pixels – around 200 pixels per inch, which meets Microsoft's Windows Phone 7 spec. It's no retina display, for sure, and given this amount of display real estate the proportional resolution is actually lower than some smaller phones.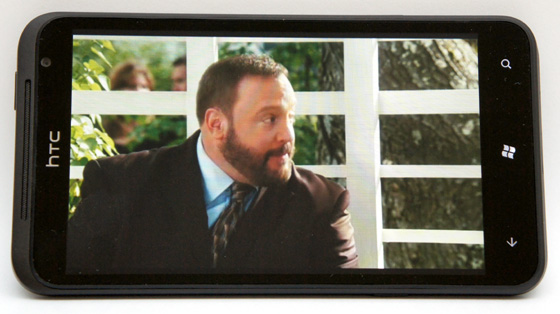 If a tablet's too big for you, try a Titan for mobile entertainment
For instance, last year's HTC Trophy with its 3.8in screen managed a pixel density of almost 246ppi from this resolution. Still, the Android-powered HTC Sensation XL has the identical screen to the Titan. None of these statistics would matter if the screen here didn't look good, but fortunately it does.
Mobile movie fans will doubtless be drawn to the Titan, either for viewing the 720p HD video that can shot on the phone or playback of commercial content. For the latter, there's HTC Watch, the phone maker's proprietary video download store. Log on and you can choose from trailers for films ready to be bought. For now, though, rental and purchase isn't available to Windows Phone devices as the service is still being rolled out worldwide.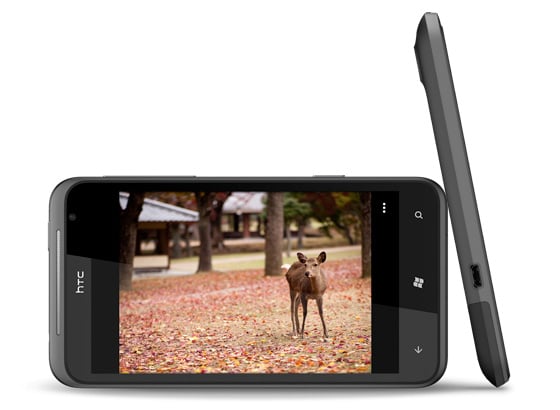 Photo finish
Still, a movie or TV show you've added to the handset's storage yourself will work and looks pretty good. Content will playback wirelessly on a DLNA-enabled TV too, as will your home movies. Unlike the company's Android handsets, the Titan's list of accessories has no MHL adapter on offer to deliver an HDMI output. The sound is good though, with the on-board SRS Surround Sound spatial enhancements more teasing through headphones, with the HTC earbuds being a cut above most bundled with a smartphone.
Light gatherer
On to pictures: the back of the phone has a bulge on it where the camera lens sits. Of course, it would have been sleeker if the back were flat, but you can't have that and a camera of this resolution and aperture. At f/2.2 this lens can let in a lot of light and the results are very good. Unlike the iPhone, with its simplistic interface, here you can specify a scene setting – portrait, beach, backlight, sports and the like.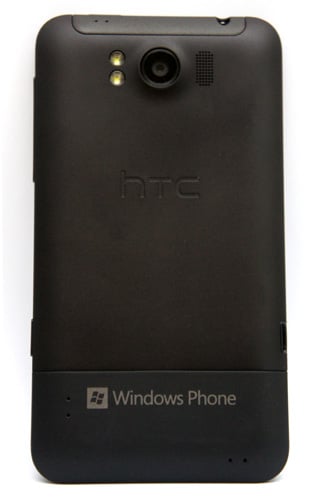 8Mp shooter with 720p video capture on-board
And there are effects like Panorama, which is very neat. Take a picture, pan to the right, stop and pan again. Nothing unusual about that but the camera cleverly uses the phone's accelerometer to draw a horizontal line across the image, so you can keep the horizon level. You can also adjust the ISO, white balance and turn face detection on or off.
The handset has auto-fix image tweaking features to jazz up the pics you've taken too, which is OK rather than outstanding. Video capture is respectable, however, you can't zoom while you're recording. Yet as a smartphone snapper, the Titan delivers an enjoyable photographic experience, aided by that wide aperture and range of exposure options.
Sample Shots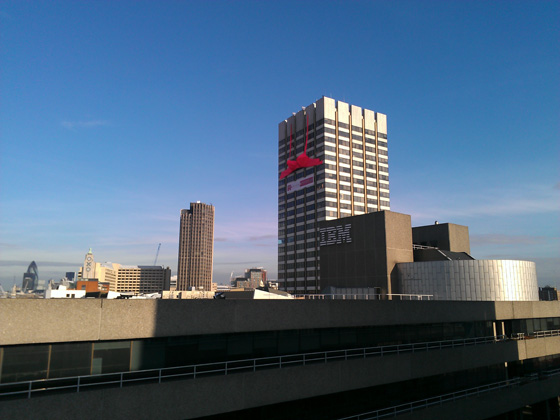 Click for a full-resolution image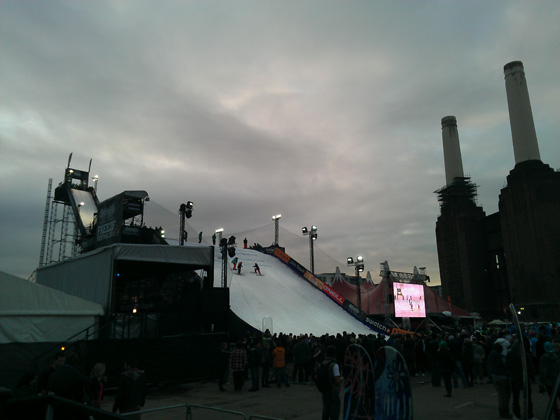 Click for a full-resolution image
The processor speed is pretty nifty too – it's a Qualcomm 1.5GHz model – single-core, not a dual-core CPU. Along with no expandable memory, the single core CPU is another spec prerequisite from Microsoft. Support for dual-core is in the works, but the software isn't there yet. For all these restrictions, you won't notice slowdown and the Titan won't leave you dawdling. The 16GB storage, while not generous, will be enough for most unless you plan to keep a lot of movies on-board.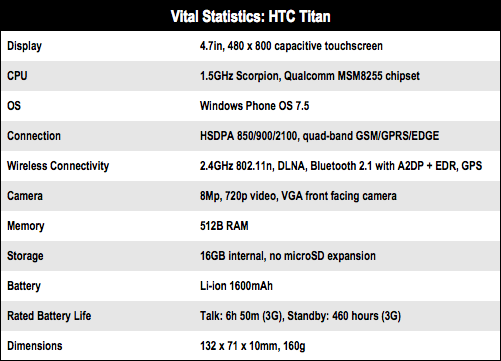 The Entertainer
Battery life on smartphones varies greatly – indeed, some Android handsets will flounder in much less than a day. Since so much of the battery life is down to the screen, you might imagine that this phone will give up by lunchtime.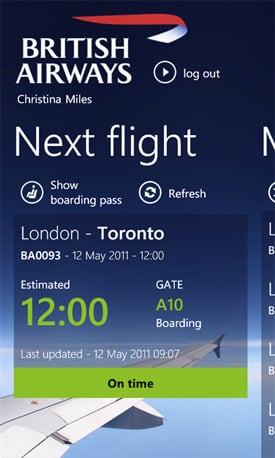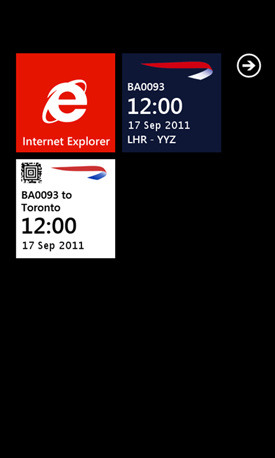 Aspects of the BA app include pinning flight particulars to the homescreen
In fact, Windows Phone 7 has always outgunned Android for between-charge life and the latest version WinPho 7.5 (Mango) includes battery-saving settings. These enhancements allow you to manage a day without problems, often a day and a half. For peace of mind, daily charging is still the way to go, but you can leave your charger at home.
HTC has a gift for producing phones that maintain a robust signal and the Titan continues this tradition. Apparently to aid the signal transmission, there are tiny pairs of pinholes at the top and bottom of the phone's largely metallic back. Reception aside, the audible call quality was good, too.
You can read about the joys of Windows Phone 7 and Mango (v7.5) in various reviews on Reg Hardware so I'll just say that it's an intuitive and responsive OS, which shows plenty of potential. Sure, the apps aren't as numerous as with Apple's iOS but from a taste of what's out there at the moment, they look tremendous.
If you're after functional rather than eye candy, then the British Airways app gives a taste of WinPho 7.5's capabilities. Besides flight info, the app takes advantage of the phone's screen shortcuts function, so you can even have your boarding pass QR code pinned to the homescreen. Not much good if you don't fly BA, but nevertheless, the WinPho 7.5 works well and together with the HTC hardware delivers an impressive user experience.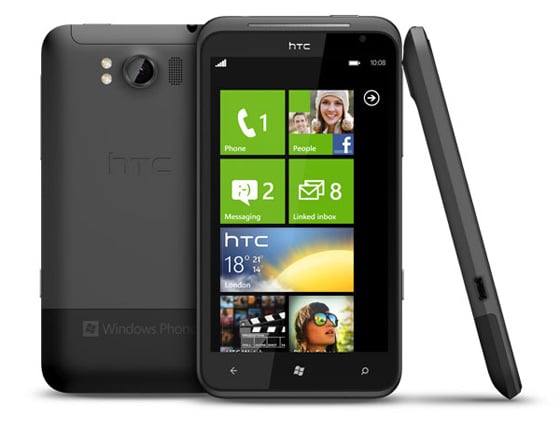 Entertaining option
Yet the catch for the Titan and its entertainment raison d'être are the restrictions of the platform. Its supersize screen has to follow the 480 x 800 spec and, likewise, there's no storage expansion although 16GB should satisfy most. Also, HDMI out would be a boon on this handset too but appears to be another spec shortcoming, for now, at least.
Verdict
Although it's not as heavy or as thick as a big phone could be, you're never going to lose the HTC Titan in a pocket. Still, it's handsome, speedy and shows off the capabilities Windows Phone 7 OS in its current Mango flavour. Indeed, it appears that the HTC Titan is more of a statement phone, made for those who like to go large. ®
More Smartphone Reviews

HTC
Radar
Apple
iPhone 4S
Ten… Androids
to outshine
the iPhone 4S
Sony Ericsson
Xperia Arc
RIM
BlackBerry
Torch 9810