Original URL: https://www.theregister.co.uk/2011/11/02/ipad_2_made_from_t_rex_fossils_costs_5m/
iPad 2 made from T-Rex fossils costs £5m
Extreme bling
Posted in Personal Tech, 2nd November 2011 17:44 GMT
We've seen hardware go so overboard with gem-encrusted bling, that it was difficult to imagine it getting any more expensive. Insert some dinosaur fossils though and - hey presto! - you can sell an iPad for £5,000,000.
The iPad 2 Gold History takes blingage to new extremes. Not only are these slabs covered in two kilos of 24 carat gold and 12.5 carat diamonds, but feature a bezel made from ancient rock and the crushed remains of a Tyrannosaurus Rex.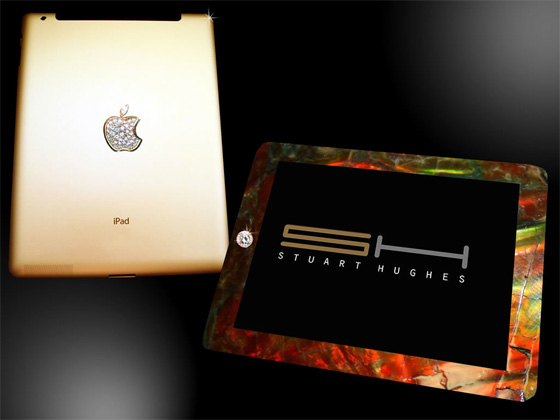 Having passed its 75 million birthday, Canadian Ammolite is the oldest stone in the world. Some 750g of the precious stuff was mixed with 57g of fossilised T-Rex leg to create the bezel.
Meanwhile, the rear features an Apple logo made from 52 individually-set gemstones and the front includes an 8.5 carat diamond surrounded by a further 12 small flawless ones.
Designer Stuart Hughes is well known for his luxury Apple products, already producing diamond-encrusted iPhones and heavy-duty golden MacBooks.
Just two iPad Gold History models will be produced and one has already been snapped up apparently, so if you fancy it, and have a spare five million pounds under the bed, then hurry up and take the last one. ®