Original URL: https://www.theregister.co.uk/2011/11/01/review_game_battlefield_3/
Battlefield 3
Bangers and crash
Posted in Personal Tech, 1st November 2011 13:03 GMT
Review Even the staunchest opponent of all things games would have been hard pushed to avoid the determined advertising campaign waged on us by EA of late. TV spots, billboards, websites, magazines, sides of buses, newspapers, even logos on tanks in one recent London stunt, all liberally displaying brand Battlefield.
To say the war upon our eyes and ears has been won would be putting it mildly.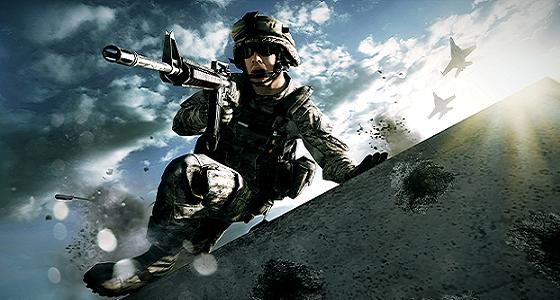 Over and (taken) out
With such hype comes bewildering expectation and, while Dice's Battlefield 3 certainly makes for entertainment, it falls short of being the second coming we might have expected. That said, if you hyped up Jesus' return to Battlefield 3 proportions, even that might seem a bit... 'meh'.
What you get here is essentially two games in one: the FPS-by-numbers single-player campaign and the far more open and ambitious multiplayer offering. You'll also get a first look at Dice's much publicised Frostbite 2 engine, the driving force behind Battlefield 3's effects and, since gameplay footage was released, one of the game's most hotly debated aspects: "Is that really gameplay footage? Will it look as good on console as PC?" And so on.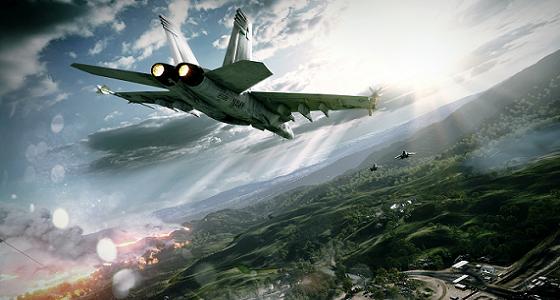 Do not talk about flight club
Well, as this is a review of the Xbox 360 version – that's the version supplied by EA – I can at least state that yes, it was really gameplay footage all along and, no, it doesn't look as good. But it isn't far away.
To clarify – on the Xbox at least – you're provided with two discs, one with the solo missions and one for multiplayer. It's this second disc which also contains the high-res texture pack which you really should install at all costs to get the most out of your experience. Without it, be prepared to be underwhelmed. Owners of 4GB 360s have no choice - they can't install disc 2.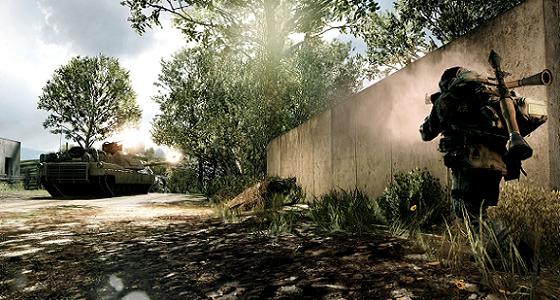 Tanks for the memory
With the texture pack installed Battlefield 3's warzone is a thing of monstrous beauty, as tracer rounds whiz overhead, grenades kick up clouds of dust, choppers and jets patrol the skies, and your enemies realistically recoil before crumpling to the ground as they become yet another statistic confirming the evil that men do.
Single shots
During the single-player campaign your avatar is, for the most part, Sergeant Henry Blackburn, a soldier who's interrogation by US military police fuels the episodic drip feed of missions. Considering EA want this to be a Call of Duty killer, it feels all too familiar to last year's CoD: Black Ops setup and so never particularly piques the interest. That's despite the constant world-shattering events which rival even the most action-packed days in the life of Jack Bauer.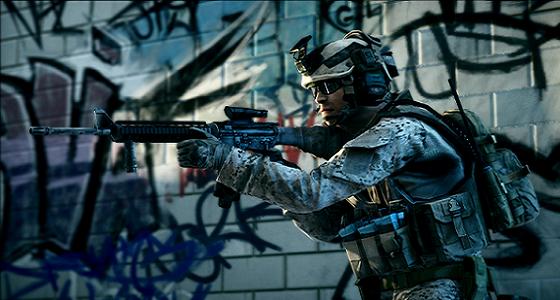 American graffiti
Predictably, there's the level where you'll be primarily sniping, another where you'll slog through the narrow confines of an office, and another which sees you in a huge engagement across a frenzied warzone. As I say, it's FPS by numbers. Battlefield 3 at least tries something different by including vehicles, essential for their multiplayer use – which I'll get to – and also interesting enough during the campaign as you take the fight to the enemy in tank, jet and helicopter.
With or without vehicles, there's no escaping how tightly scripted Battlefield 3's action sequences are and how shackled its fire fights. It's obvious why developer Dice plumped for such strictness: after all, most of the jaw-dropping sections used across those aforementioned TV spots are the products of such scripts.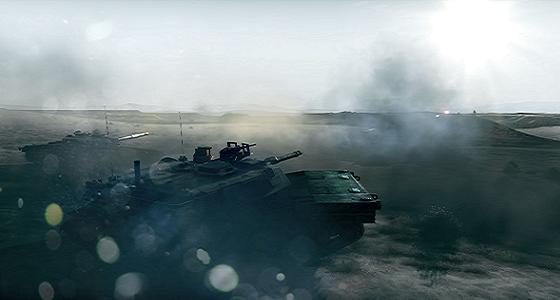 So long and tanks for all...
However, with such funnelling present during combat – no matter how open the battleground might appear – the lack of tactical options hurts the gameplay. You're essentially left playing through what might as well be, to all intents and purposes, an on-rails shooter.
Thankfully, where the single-player experience limits, the multiplayer aspect expands, allowing for a staggering amount of attacking strategies, weapon combinations and approaches. The only real limiting factor is how much you put into it: Battlefield 3 rewards you with ever more intricate weapons and additions the more you play. But it can be initially bewildering in its ebb and flow.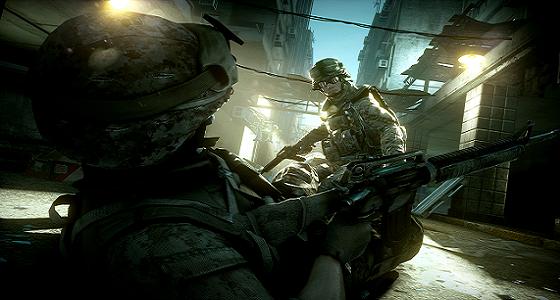 Get up, get busy, do it
No other game quite captures a full-blown war – at least the popularised perception of such an encounter – like Battlefield 3. I'm sure that PC owners pity their console-owning counterparts like poor relations, but Dice has worked wonders given that the maximum number of players per map is just 24 on consoles, but 64 on the PC version.
Friendly fire
The combination of constant visual feedback - real-time map, graphical overlay, etc - serves to focus the combatants' attention on certain areas of the map, keeping the action pulsating while never feeling in anyway limiting.
If, for example, you simply want to log in, grab a jet and go wing-to-wing with the flyboys of the opposition's army, then that's entirely up to you. Similarly, if you want to head into the nearest concentration of concealing foliage and snipe at unsuspecting hostiles from half a mile away, you can. It's as simple, and open, as that.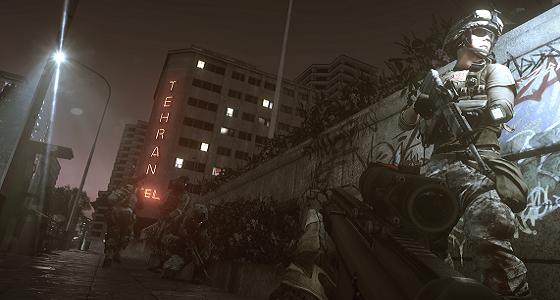 Iran here but will go forward more slowly
There are some blockbuster moves thrown in too. One map has the player base-jump from one compound to the next to get to subsequent objectives. Away from such extravagance, the more practical side of the game provides a choice of role - soldier, engineer, assault or recon – all with their own pros and cons. Gameplay options reintroduce Rush (attacking or defending set objectives) and Conquest (capture and hold). In a nod to the Call of Duty brigade, Battlefield gets team deathmatch.
An assortment of co-operative missions has also been thrown in for good measure, most ramping up difficulty to maddening heights as seemingly unending waves of enemies attack, all staged in environments borrowed from the single-player game.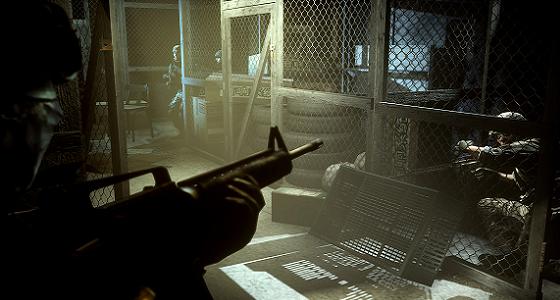 A cagey affair
Occasional missions which task players to complete objectives while sharing vehicles make for a neat twist. That said, flying a helicopter is as likely to end in an argument as it is in triumph – something my 20-plus failed attempts at that very level can attest to.
In fact, once suitably up to speed, the only thing out there to spoil your enjoyment is other players. Get too many glory hunters, or people playing just to annoy - seriously, how much time do these people have on their hands? - and it's time to head to pastures new.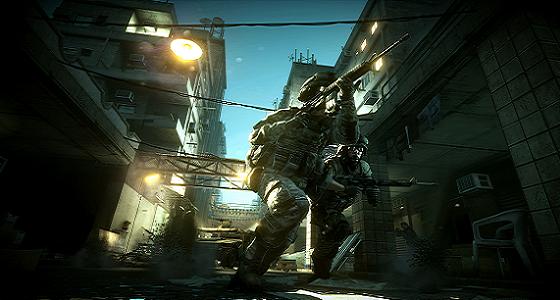 Shooting through alleys
Get a bunch working together, however, and you're in for a treat. Battlefield 3 consistently delivering some of the closest, most evenly contested battles I've experienced in a game of this ilk.
Verdict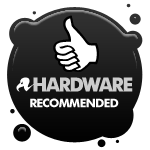 It's rapidly becoming one of the most confusing aspects of the modern, multifaceted FPS: what do you review, the single-player game, the multiplayer option, or attempt to come up with some kind of average between the two? Battlefield 3 delivers a fair to middling, generic solo experience - albeit one with very pretty visuals - but then complements that with a huge and varied multiplayer component which will have all but the most hardy competitor running for cover.
If you're going into this with no intention of going online then there are better action-adventure alternatives out there – Uncharted 3, Batman: Arkham City and Deus Ex: Human Revolution to name but three. But if you're looking for deep, rewarding multiplayer then look no further. ®
More Games Reviews

Uncharted 3
Batman:
Arkham City
Forza 4
Ace Combat:
Assault Horizon
Dark Souls