Original URL: https://www.theregister.co.uk/2011/10/31/oh_no_its_halloween_hardware/
Halloween Hardware
Spooks to be had
Posted in Personal Tech, 31st October 2011 07:00 GMT
Product round-up Look out, it's Halloween 2011, where nobody questions strangers that give young kids sweets, those with a crude sense of humour get dressed up as Steve Jobs, and sales reps get annoyed by random people knocking on their door.
If you're someone who gets into the spirit, then consider some of the following Halloween gadgets. While some are on the costly side - and it's probably too late to grab those that require postal delivery - why not bung 'em on the shopping list for next year?
Fog machine

There's no smoke without fire, unless of course, you mystify mates with an eerie atmosphere tonight by grabbing one of these fog machines.
This particular model is a 400W entry-level box that'll fill 2000 cubic feet for every minute it's turned on. It'll automatically shut off should the machine overheat too, so there's no risk of spontaneous combustion.
Still, you should probably make sure everyone is aware there's a machine in action - you don't want a pile up as people dash for the exit in panic.
Alternatively, invite your chain-smoking grandparents over and save a few bob. They'll probably bring sweets with them too, and scare away the kids without dressing up. Bonus!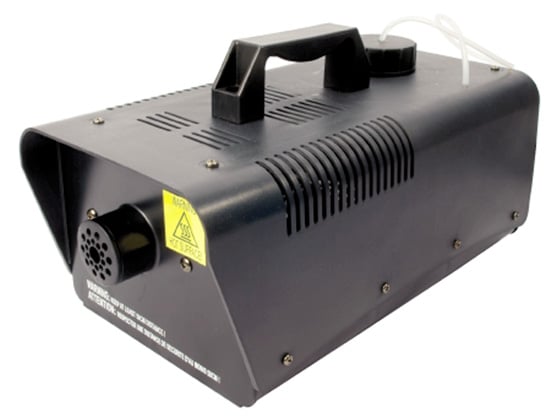 Price £30
More Info Maplin
GPS Tracker

If you're remotely fearful at the prospect of little Billy being snatched away after joining his mates' Trick or Treat group - surely a risk with so many vampires on the street that it's easy to lose Count. Ahem - then perhaps a GPS tracking device would ease your worries.
There's plenty of options available, including live trackers from companies such as Snooper. These tend to send location details in a text, after a user calls the Sim-card inserted in the tracking device. Of course, there's more professional spy-kits out there too, should you have the cash to splash.
Those who prefer to save their pennies, though, can always opt for the cheaper software-based trackers for mobiles, such as the Find your Friends app for iOS 5 users, or Trick or Tracker, an Android app even more geared towards worried parents.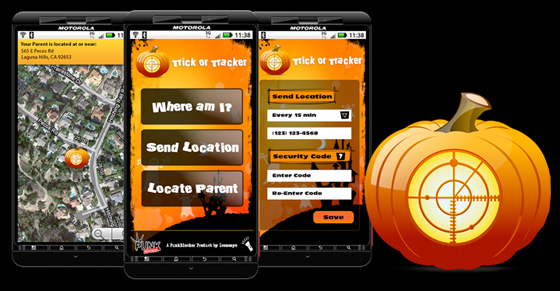 Price Free - £150+
More Info Snooper
HD Projector

On 31 October, a projector is always a cracking piece of kit to have. It could used to beam ghostly images over the windows of your home, or set up your own secret cinema, complete with cobwebbed room, flickering light and director's cut copy of Night of the Living Dead.
They're not exactly limited to the one day of the year, either. Let's face it, with mankind's inability to find contentment, our large flat-screen TVs are starting to look a bit small these days. Upgrading to an HD projector might be a good idea in the build up to Crimbo too.
The BenQ W1200 is a worthy choice, projecting images up to 300in in size with a 1080p resolution. As HD projectors go, it's on the cheaper side of things too. You can read what we thought about the BenQ W1200 here on Reg Hardware.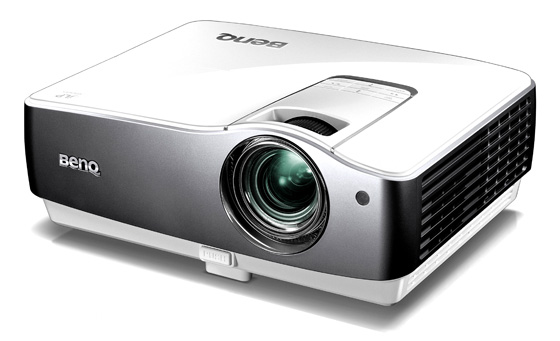 Price £1000
More Info BenQ
House of the Dead: Overkill

Arcade visitors will nostalgically remember pumping these zombies with lead in exchange for a few 10p pieces. The latest installment of House of the Dead - number five, to be precise - has come in leaps and bounds since those days.
Successfully launched on the Wii a couple of years back, Headstrong Games has revamped it for the PlayStation 3 in time for this year's Halloween, and it's PS Move compatible too.
There's nothing quite like taking out hordes of zombies on this sinister day, and with most of the human ones locked up for rioting, chances are you may have to partake virtually. Look no further.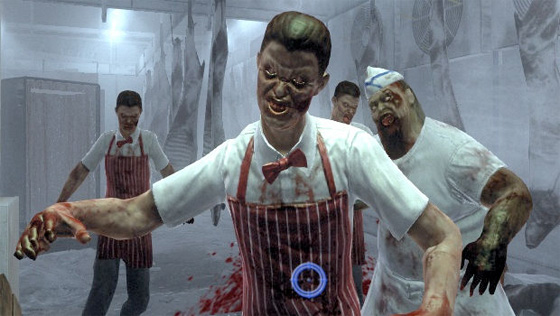 Price £40
More Info Sega
Mobile cases

There's plenty of spook-scrawled cases out there for most mobile devices, but those bobbing for Apples this Halloween undoubtedly have the wider choice.
These glow-in-the-dark cases from Slickwraps are made from photoluminescent vinyl that will apparently glow for hours and can be recharged in minutes. There are versions for older iPhone models too and the fact they're not covered in pumpkins or ghost-related design schemes, means they can be used all year round without their owner looking like a goth.
Griffin has recently announced some limited edition Halloween cases for iPod Touches too, which are rather cute with cartoony caricatures. Bright and cheerful with a ghoulish twist.



Price £16
More Info Griffin
Plasma Lights

Frightening lighting is what Halloween is all about, and from strobes to those light-up balloon thingamajigs, the market is flooded with spine-chilling glowers.
This plasma ball from Maplin fits the bill and responds to touch as well as voice and music. Unless you have a phobia of anything skull-shaped, it's unlikely to cause many scares, but candle lit pumpkins are so last century and this'll make any display look über cool.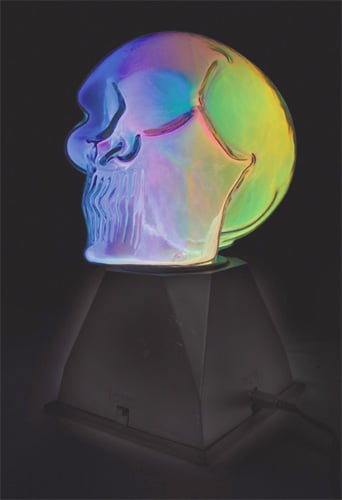 Price £25
More Info Maplin
Radio Controlled Tarantula

They've been around for quite some time and are hardly going to wow RC fans with their technical achievements, however a remote controlled creepy crawly like this is bound to have arachnophobes running for their lives. With a spider this big, they'll be way too scared to try stamp on it too. I know I would be.
Yeah, yeah, the RC Tarantula is a bit gimmicky, but for that price, it'll hardly dent the wallet. You'll probably spend more on Haribo anyway.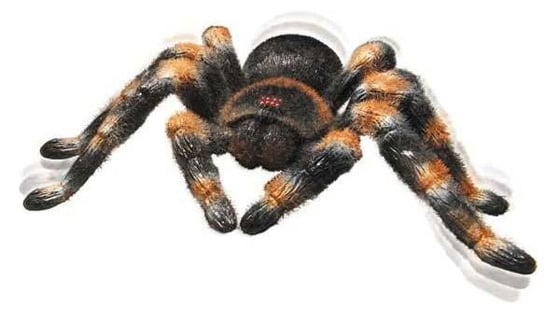 Price £16
More Info Pixmania
Scary Mary haunted mirror

You'll need cash to burn in order to purchase one of these scary mirrors, but the inevitable shock would be priceless.
An LCD display is hidden craftily behind two-way mirrored glass. Connected to a DVD player by HDMI, the screen can be set up to play anything you like.
It does come with a DVD player, HDMI cable, wall mount and portrait light, so there's at least a bit of bang for your buck. There's also an optional remote control which dictates when the clip is activated, be it through a step-on mat, PIR sensor or manually with a switch.
For the other 11 months of the year, it could be programmed to tell you you're the fairest of them all. And who doesn't love a Snow-White inspired ego boost?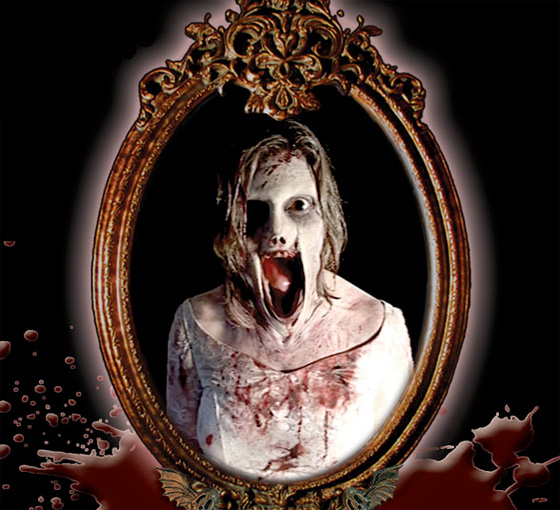 Price $1700 (£1060)
More Info The Horror Dome
Shower Curtains

Nowhere is safe from a cheap scare on Halloween, but even those with Hitchcock's Psycho fresh on their mind are unlikely to suspect one when they enter the shower.
This fright-filled curtain could provide all the screams you need - or all the screams you can handle. The curtain comes with a splattered blood design and plays the Psycho music accompanied by panic-stricken yells whenever someone steps in.
Simply bring the girlfriend over, tell her she needs a bath. Sit back and await a naked woman running out with a look of terror.
Or a shout of, 'why did you waste your money on this annoying and distasteful piece of plastic?' Either way, job done.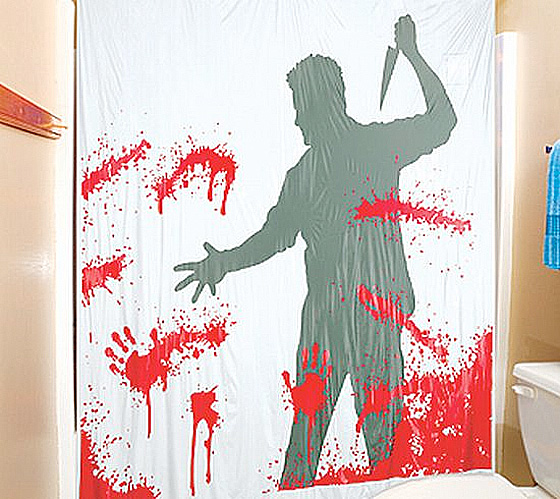 Price $20 (£12)
More Info The Lighter Side
Smartphone apps

There's dozens of apps out there to use your fondleslabs fittingly tonight.
Halloween Voice Transformer probably needs no explanation, a free app that allows users to record voice and morph it into all sorts of freaky sounds. Witches, aliens, monsters and robots, it has got the lot. But there's plenty of other free sound effects apps out there to spook people with.
For more personal focus, there's heaps of fright-related fun from making your own zombies and battling vampires to turning yourself undead through creepy image edit tools. Oh there's also this year's Angry Birds Seasons update, a fun Ham'O'Ween edition.
Finally, taking the spirits out is always a good move on this auspicious night, so how about an app for creating spooky drinks? Pocket Cocktails caters for such needs and has some disgusting Halloween specials. Drink up.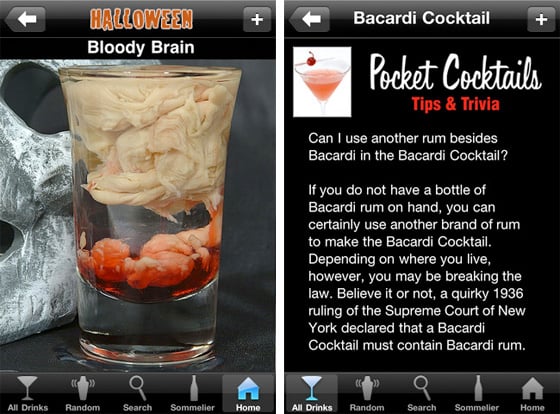 Price Free+
More Info Pocket Cocktails