Original URL: https://www.theregister.co.uk/2011/10/28/hands_on_canon_eos_1d_x_dslr_camera/
Hands on with Canon's EOS-1D X full-frame DSLR
Shooting star
Posted in Personal Tech, 28th October 2011 06:00 GMT
First look Canon's top-end DSLR range has long been a slightly confusing place. The EOS-5D, both Mark I and II cameras, were self evident – slower, very high-quality stills models for studio photographers on a budget. The high-end, featuring EOS-1D variants was baffling, though.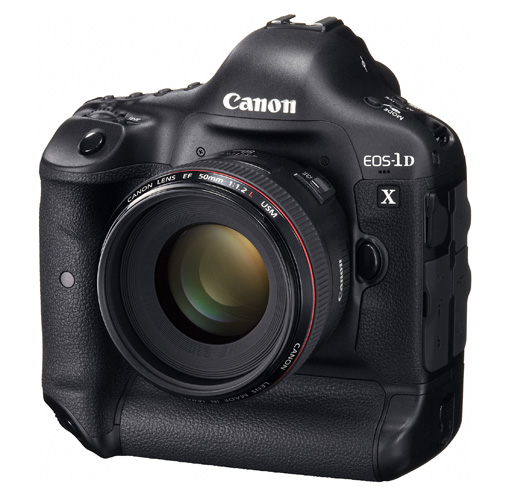 Next year's model: Canon's EOS-1D X
If you were a wildlife or sports shooter, the crop-frame Canon EOS-1D Mark IV was the obvious choice: 16.1Mp, 10fps and enough focus points to allow the most hapless photographer to latch on to passing athletes or wildlife. Alternatively, studio photographers could opt for the full-frame EOS-1DS Mark III with 21Mp – the same as the EOS-5D Mark II – in a full-height body with 19 cross-type AF points.
The problem was, opting for either meant compromising. With the EOS-1D Mark IV you were losing image quality, as comparison tests with the Nikon D3s often showed. Or, if you went for the last-generation EOS-1DS Mark III, you were losing a significant amount of speed - its fastest pace of 5fps comparing poorly to the D3S' 9fps.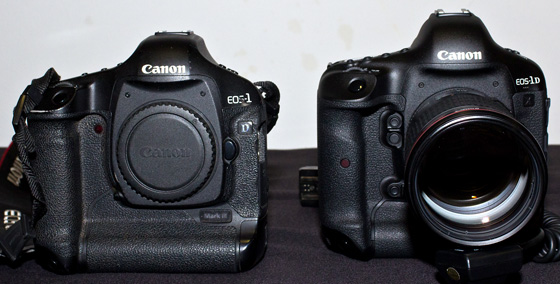 Compare and contrast: EOS-1D Mark III (left), EOS-1D X (right)
Canon has simplified things enormously with the EOS-1D X. There is now just one camera at the top of Canon's pile, and this is it: a full-frame, high speed monster, designed to rob Nikon of its head of steam in the professional DSLR market.
The headline news is that Canon has resisted chucking more megapixels at its new hulk. The Nikon D3s is fêted by photographers for its low-noise performance, and Canon can ill-afford to produce another camera that doesn't keep up, so resolution has been sacrificed in favour of image quality.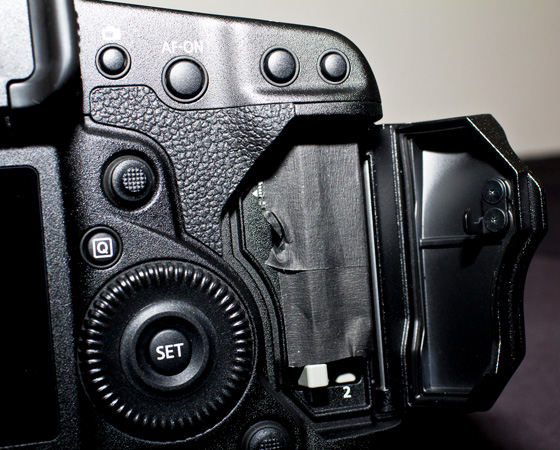 Dual Compact Flash slots: taped in to prevent card sneaky swapping to grab shots from a pre-production model
Even so, the files produced are 5184 x 3456, which on my 18Mp EOS-60D translates to around 25MB RAW files, so there will still be plenty of opportunity for workflow bottlenecks. The dual Compact Flash and SD card slots of previous EOS-1D variants are gone, replaced instead with twin Compact Flash sockets, hidden behind the same latch-operated, weather-sealed door.
Dark matters
The entire camera is built to withstand photographing in the most appalling light possible. The testers available at Canon's Pro Solutions event in London had their Compact Flash cards taped in (pre-production samples was the reason given) so it's a tricky thing to test, but the maximum ISO is 204,800, or a stop further than the Nikon D3s.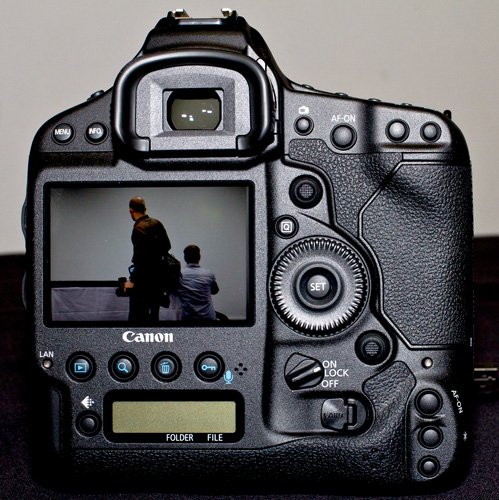 Screen size has increased slightly
Test images on these pre-production models taken at ISO 204,800 showed a pretty vast amount of noise, even on the small preview screen on the back, but it's the 1D's performance at more practical higher speed ISO settings - say ISO 2000-6400 - that will be of most interest to professionals.
It's not just a whizzy sensor; there are no fewer than 41 cross-type autofocus sensors on-board, and 61 AF sensors in total. Of these, the cluster of five AF points in the middle of the frame are dual cross-type sensors, which should make focusing in normal light faster, and should improve focus performance in challenging conditions.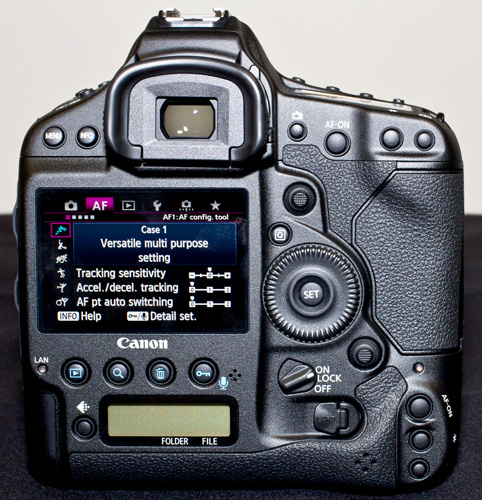 Customisation options abound
In use, the huge number of AF points is a slight faff; if you're trying to select a particular one from all 61 you'll be scrolling for ages. The menu system allows you to cut down the number to choose from; you can opt to only have the cross-type sensors available for selection, for instance, or only the nine central points. As ever, if you don't like something out of the box, there's probably a custom menu selection for it.
Canon has moved the goalposts in terms of frames per second performance as well. It was already quick, with 10fps on the EOS-1D Mark IV, but it now offers 12fps as standard, with the maximum number of frames available yet to be confirmed. If you've ever found 9 or 10 frames a challenge to control, this is going to be another hurdle to master.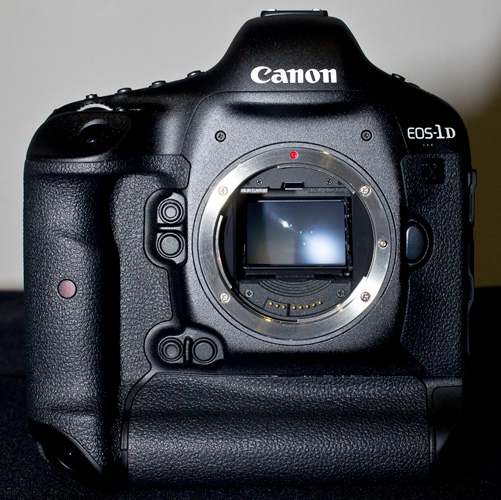 At full pelt, the mirror stays up during continuous shooting
And, for those who are either photographing Really Fast Things or are Really Bad Photographers, a frankly berserk 14fps mode has been included as well. This comes with a few catches – it works by not returning the mirror to the start position after every shot, which will make tracking harder, and it only evaluates autofocus and exposure on the first frame.
Media burst
Still, at slightly faster than half cinema speed, your excuses for missing shots are going to start looking rather sparse. Like previous EOS-1D models, when it's at full chat it sounds like a pack of cards flying uncontrollably out of a shuffling machine. The processing power is supplied by no fewer than three computers: a DiGIC 4 processor for exposure and autofocus evaluation, and two DiGIC 5+ processors for handling the incoming tidal wave of data.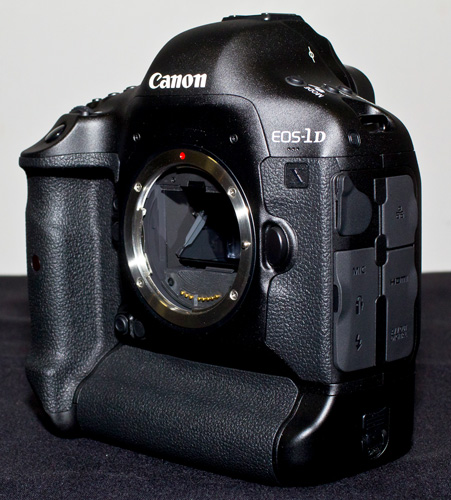 The top right rubber cover protects an integrated gigabit Ethernet port
Naturally a video mode comes as standard, with the much-requested live audio monitoring included. Video specs are standard, although the full-frame sensor will allow greater depth of field, and the 1080p mode is superior to the best available in Nikon's high-end DSLRs, with the D3s offering only Motion-JPEG and the D700 doesn't shoot video at all.
Usefully, the EOS-1D X is Canon's first DSLR to skirt around Compact Flash's 4GB maximum file size; hit the upper limit of the file and a new one is automatically created. The same goes for video files which run longer than 29 minutes, which will come in handy for time lapse recorders, albeit at the cost of annoying EU customs and excise pen pushers.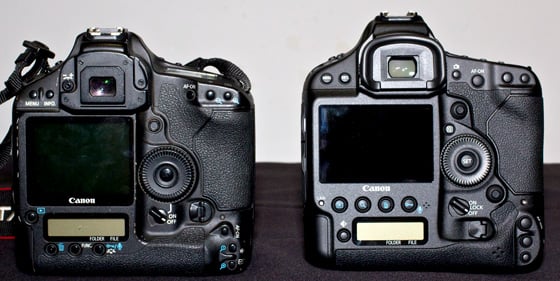 Back to back: EOS-1D Mark III (left), EOS-1D X (right)
So what's it like to actually pick up? "Heavy" would be the first adjective to come to mind. The exact weight has yet to be announced, but it certainly felt a tad heavier than my battered EOS-1D MKIII. Its robustness emphasises this camera's positioning among a professional user base.
The buttons are weather-sealed, although, for my money, the ISO button now crowds slightly too close to the index finger dial. Otherwise, Canon has resisted annoying existing users by keeping the button layout largely the same, though the screen has grown by 0.2in to 3.2in. Indeed, there are no major departures from previous models of the 1D.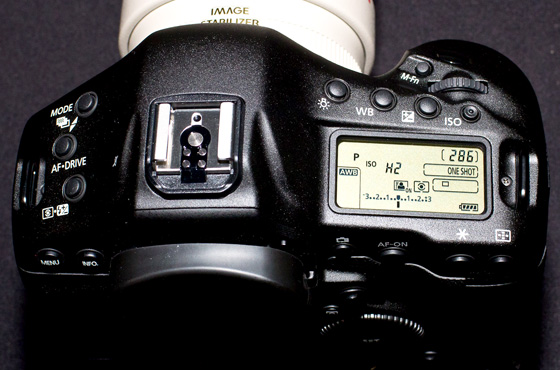 The top plate LCD delivers plenty of shooting info
There's no perceptible lapse in time between flicking the switch to the On position and the camera flickering into life, and the same can, of course, be said of shutter lag. It's a comfortable bit of kit to hold; the hand grip is enormous compared to the likes of the EOS-600D, and the integrated vertical grip make flipping to portrait orientation easy.
In the frame
As ever, the vertical grip duplicates a few of the controls available on the standard grip, but new to the EOS-1D X is another joystick on the back, the better to skip through the menus and select autofocus points. The viewfinder's enormous and very bright; 100% frame coverage is a given at this price, but even so the .76x magnification means it's easy to see what you're doing and what the camera's focussed on.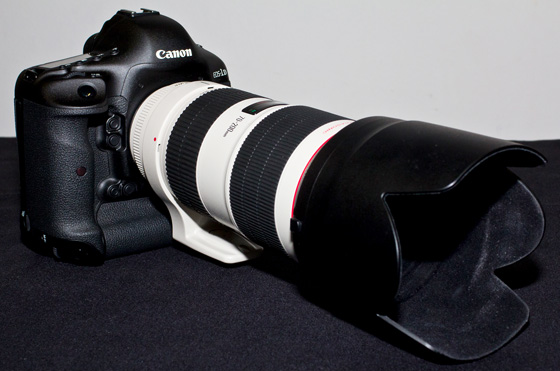 Full length photos: no crop factor with lenses on this model
Like previous models, it's extremely well-balanced, although the new-look menu system might take a bit of getting used to. Whether the two customisable function buttons on the front are any use remains to be seen, but it's a nice idea for those who need to shuffle between modes not already catered for by buttons elsewhere.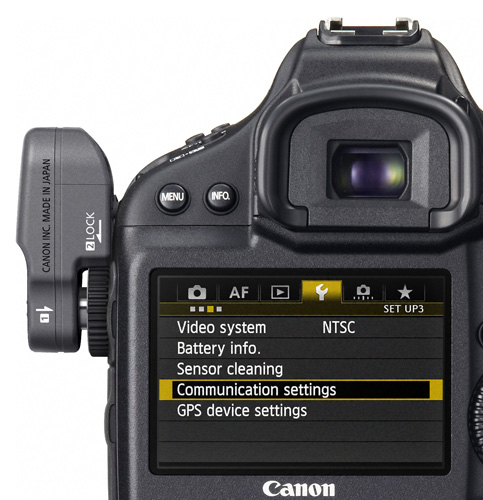 Canon's WFT-E6 attachment delivers wireless connectivity
The EOS-1D X has its work cut out for it. The Nikon D3s has carved itself a neat little niche thanks to entirely respectable performance and outstanding ISO capabilities, and the EOS-1D X is much more expensive: £5,299 on release, versus the two year-old D3s' price of £3,577. The next few months will be interesting, with Nikon much-rumoured to release a high-end DSLR before Christmas, and the Canon EOS-1D X set to touch down in the first quarter of next year. Until then, photographers will have to salivate and save in equal measure. ®