Original URL: https://www.theregister.co.uk/2011/10/27/review_sony_kdl_40hx723_3d_led_backlit_lcd_tv/
Sony KDL-40HX723 40in LED 3D TV
A better class of Bravia
Posted in Personal Tech, 27th October 2011 11:00 GMT
Review The KDL-40HX723 is a feature-heavy 40in Freeview HD TV from the posh end of Sony's 2011 catalogue. While it sells for a tad more than a looky-likey from the brand's bread and butter EX range, the premium is worth paying if you want to see what Sony's picture boffins are really capable of.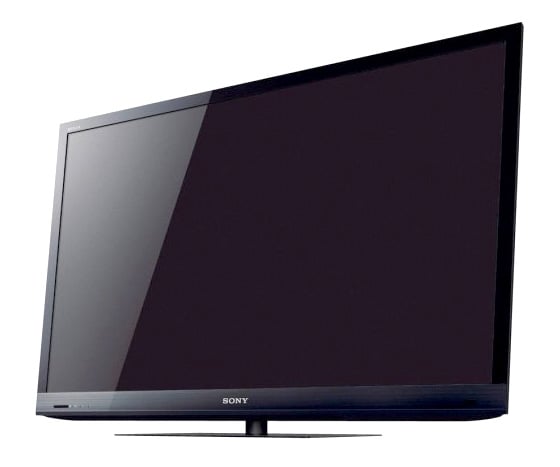 Quality viewing: Sony's Bravia KDL-40HX723
A quick rummage around the menus unearths a science lab's worth of image control: Advanced Contrast Enhancer, Black Corrector, Edge Enhancer and Variable Gamma? They're all here, professor. 
You can also engage a Clear White setting which gives the set an authentic Akihabara blue-ish white balance, which I rather like.
All of which may seem to imply that this screen is a challenge to set up. In truth, the Standard picture preset is so well judged you'll probably not feel any screaming need to fiddle with its settings for quite some time.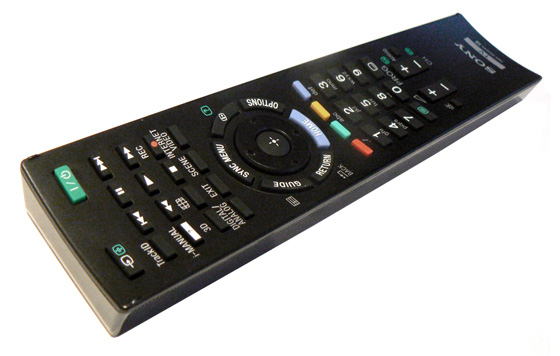 A functional rather than flashy remote
Colour fidelity in particular is excellent. Reds have a rosy accuracy that sets this TV apart from more orangey rivals. Similarly, blacks are deep and smooth – and there's more than enough tools to extract copious levels of shadow detail from the darkness.
Motion picture resolution is equally impressive. The highest iteration of Sony's proprietary Motionflow technology, dubbed XR 400, combines frame interpolation with backlight blinking for blur-free pictures. It comes in four strengths: Standard, Smooth, Clear and Clear Plus. All make a positive contribution to moving picture clarity.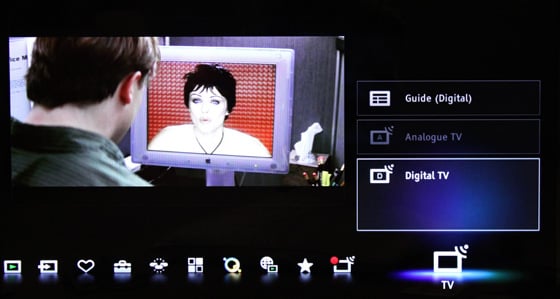 Menu options
You can elect to turn Motionflow off, but you'll notice a significant softening of the image when you do.

 The most aggressive Motionflow mode, Clear Plus, reinstates a full 1080 lines of moving detail; unfortunately the process steals a significant amount of brightness from the screen, which makes it largely unusable.
Motion carried
The remaining options offer the best compromise, retaining around 850-900 lines apiece. 

One test sequence I favour is a long-shot of an idyllic countryside scene with a train hurtling in and out of the frame. With Motionflow engaged, you can clearly see the passengers as it passes though. When viewed without it, these travellers are little more than a blur.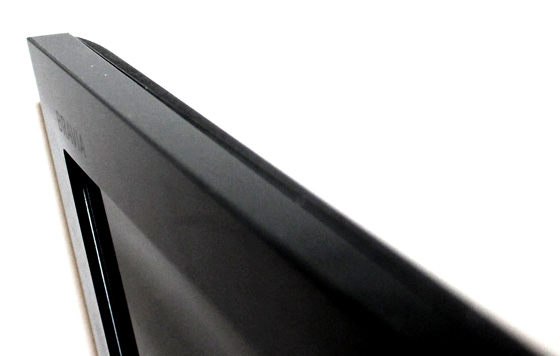 Not too thick, not too thin...
There is a caveat, though: all Motionflow modes introduce slight artefacting around random moving objects, usually people. Standard is probably the most benign.
Still, for sports fans the extra clarity is probably worth the side-effect.

The KDL-40HX723's 3D performance is equally stellar. I've not been particularly impressed by Sony's cheaper 3D models, but this 40-incher acquits itself well, with a stereoscopic presentation that's sharp, bright and deep.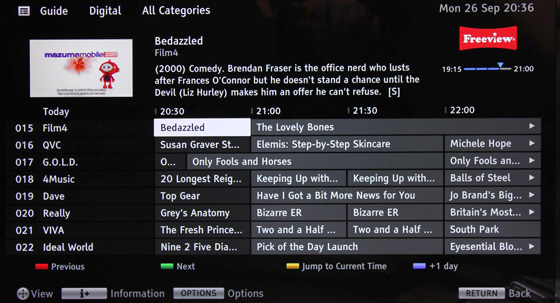 EPG
Double imaging is still evident on some 3D Blu-ray discs, but better-authored platters like Avatar are spectacular. The full kaleidoscopic impact of that first 3D foray around Pandora is undimmed by this TV. 

Helpfully, the brightness of the 3D glasses themselves can be altered via an onscreen menu.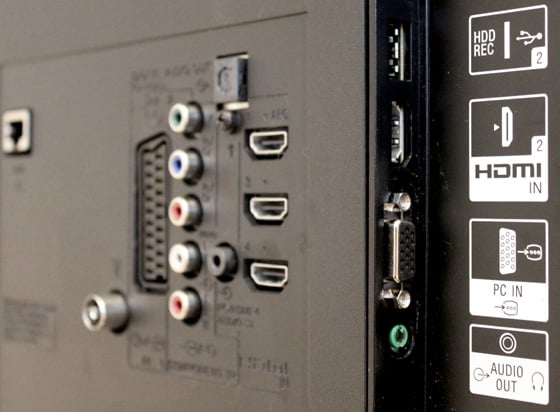 Rear connections ahould satisfy most needs
If crosstalk is evident, it's worth dropping the brightness of the specs down to Low to mitigate against the effect.

 Incidentally, there are no 3D glasses included with this set. They're an optional extra.
The KDL-40HX723's net-connectivity is predictably generous. There's a wide variety of IPTV on tap, as well as the brand's music subscription and VOD movie services.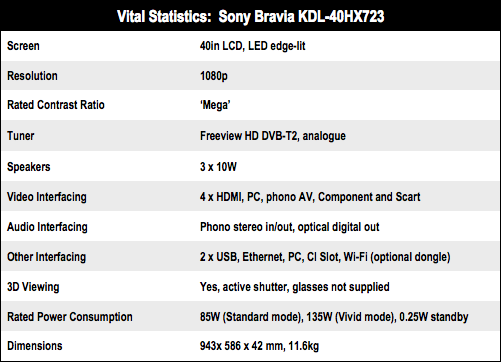 On-line player
Web TV options include BBC iPlayer, Demand 5, YouTube, Daily Motion, Sony's dedicated 3D promo channel plus a slew of niche curiosities. To make the most of this streaming video content, the set's so-called X-Reality PRO engine minimises mosquito noise and other low bitrate nasties.
Not the cheapest, but you do get what you pay for
The TV's network media playback is somewhat less comprehensive. While this DLNA compliant screen will befriend like-minded devices on a LAN, it's not entirely sociable. AVI, MOV, WMV, MPEG4 and AVCHD files from Nas devices and USB all play, but MKV-wrapped fare is ignored. Oh, and if you want Wi-Fi connectivity, there's a dongle option, but it'll cost ya.
Of course, the set has other party tricks. Track ID, a feature which identifies incidental music from a TV show using the Gracenote database, is well known. It's handy if you want to find out the artist responsible or album it comes from. Less common is Video Search, which allows you to look up movies for cast and crew info.
The TV is also a lightweight DVR, recording to an external hard drive. However, remember there's only one tuner and recordings are locked to the TV of origin.
Despite the set's physical constraints, audio quality is good. There's an efficient S-Force digital amp onboard offering 3 x 10W output, plus five post processing modes to make the most of the 'invisible' downward-firing speakers.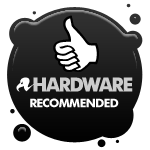 Verdict

Overall, this 40-in set is as impressive as it is expensive. There are a few niggling caveats, but the Sony Bravia KDL-40HX723 offers a terrific HD performance, bright engaging 3D and a barrel load of IPTV. ®
More TV Reviews

Toshiba
Regza 47VL863
Sharp
Aquos Quattron
LC-40LE831E
Cello
C42T71DVB-3D
Sony
Bravia
KDL-40CX523
LG
42 LW650T