Original URL: https://www.theregister.co.uk/2011/10/27/review_orbitsound_t12v3_soundbar/
Orbitsound T12v3 spatial soundbar
Flatscreen fortifier
Posted in Personal Tech, 27th October 2011 06:00 GMT
Review The popular Orbitsound T12 soundbar has reached its third version. Retailing for the same price as version two, the new edition looks the same externally but there are various improvements inside, including a better subwoofer speaker, higher quality components for the main speaker drivers and an extended volume range.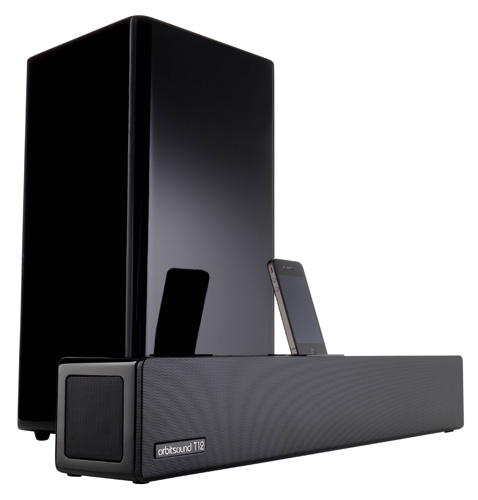 The T12 looks the same as before on the outside but features upgraded components
As before, the main unit uses a conventional 605mm long soundbar shape – housing four midrange speakers and two tweeters – but the crucial part is the pair of additional drivers, one at each end, to create a consistent stereo experience across a wide choice of seating positions. Orbitsound describes this as 'spatial stereo' a rebranding of its airsound tech found in previous models.
This product improves on the often inadequate sound from TV speakers, especially as flat-panel screens get increasingly slim. Unlike some soundbars it does not claim to create virtual surround sound, and airSound works without any digital signal processing.

Sockets include various digital and analogue inputs. The final production model will lose the stereo width switch
It takes a simple concept and applies it well, which is why it's so appealing. Setting up is straightforward; it functions best with a digital audio connection from a TV, using that as a hub for any extra sources such as a set-top box or DVD player. There are no decoders for Dolby Digital, et cetera, so make sure your connected device is not configured for bitstream output.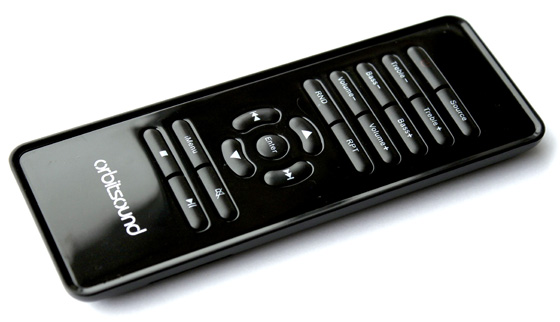 A slimline remote also controls iPods but the volume buttons could be better placed
The small remote control – like a fat credit card – has seen a redesign since the original version. It's fine, though the placement of its all-important volume buttons could be more prominent as it's too easy to hit treble or bass instead.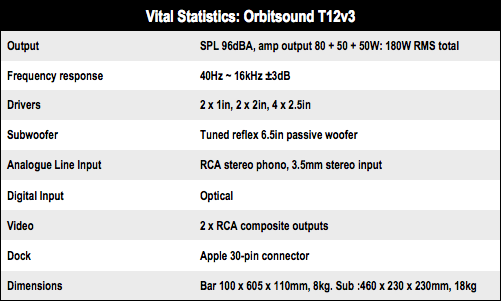 Wider world
Another alteration is that the Stereo Width switch from previous versions is removed. It will run only in wide mode, with no mono option. The sockets enable you to connect up to two digital audio sources, two analogue and an iPhone or iPod (including older players without digital output). Apple gadgets can also make use of the video output for showing videos or photos. There is still no display or menu system for the soundbar itself though.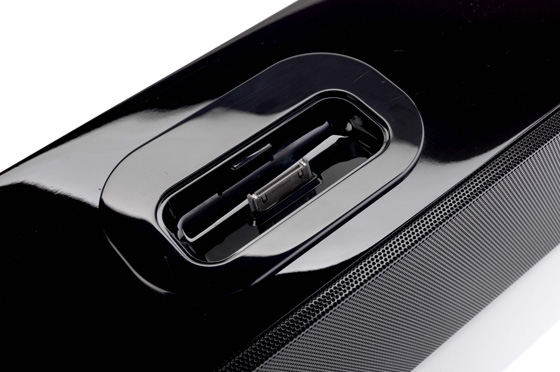 The top-mounted docking port supports both iPhones and iPods
The system gives a definite boost to audio quality compared to the flimsy, boxy performance of most modern tellies. Dialogue or singing remain vivid, even if the soundtrack is busy with sound effects. And for such a slim enclosure, it delivers a decent midrange response. Mark Strong's sonorous narration in Who Do You Think You Are resonates warmly, as does the booming soundtrack to Channel 4's Fresh Meat. It makes an effective and convenient music system too.
The subwoofer is passive, hence its amplification is handled in the soundbar, but it has plenty of impact, particularly when playing the Dexter opening sequence or High Violet by The National on an iPod. However, the product would benefit from being able to fine tune the sub's dominance, as it can be over-loud at times. Alas, changes to the T12's bass control also affect the midrange output from the soundbar. The sub also comes with a very short cable but that's easily replaced.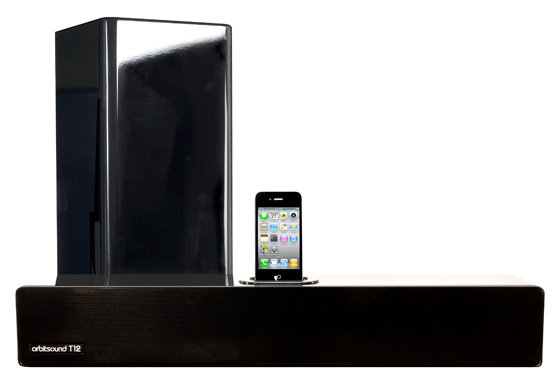 Give your telly a boost without cluttering up the lounge
Verdict
As a whole, the Orbitsound T12v3 cannot replicate a surround array of separate speakers and high powered AV receiver, but you shouldn't expect it to. Such a set-up would involve a higher cost and require speakers all around the room. And even then, the 'sweet spot' can be more restricted than with the Orbitsound, which serves as a desirable upgrade for your TV and also delivers a very respectable two-channel audio output. ®
More AV Gear Reviews...

Soundfreaq
Soundstep
Recharge
Logitech
Z906
Ten…
wireless speakers
Harman Kardon
SB 16
Eight…
spatial soundbars