Original URL: http://www.theregister.co.uk/2011/10/26/review_soundfreaq_soundstep_recharge_sfq_02rb_compact_speaker/
Soundfreaq Soundstep Recharge
Android friendly compact speaker
Posted in Personal Tech, 26th October 2011 06:00 GMT
Review Audio dock maker Soundfreaq recently released an Android version of its iOS remote control app and is now busy promoting its Bluetooth-equipped Soundstep as something for 'droid-heads as well as iFans.

Looks good, sounds good: Soundfreaq's Soundstep Recharge SFQ-02RB
For a mid-range audio device, the Soundstep looks rather slick. The speakers are housed in a semi-glossy finish black plastic box while the controls reside on the step in front, hence the name. Flip the unit over and you will find a small remote control tucked away into a bay, so iDevice users can control their tunes from across the room when docked. It's a nice idea, keeping the remote safe and sound when not needed.
Measuring up at 330 x 92 x 113mm, the Soundstep is certainly small enough for its intended role, sat on a desk or a kitchen work surface or a bathroom shelf. At 1.23kg, it's not what you could call heavy either. The build quality is impressive – even though it's all made from plastic – but it's very solid. The uniform black finish, black cloth speaker cover and orange lighting - including a bright LED bar in front of the dock connector - all combine to belie its £150 price tag.

The USB port enables device charging
Music can be fed to the unit through the iOS 30-pin dock connector or the 3.5mm auxiliary jack. If you want to transmit your tunes wirelessly it has to be with Bluetooth, since there's no support for Apple AirPlay. There are no mounting adapters but an iPhone 4 sat securely enough on the dock and the connector is flanked by rubberised iPad supports. To keep things looking ship-shape, there's a rubber cap to cover the dock connector when it's not being used.
Around the back you will find a composite video output and a USB port for charging non-Apple kit. On the step in front of the dock sit a row of touch-sensitive buttons that respond to even the gentlest of caresses.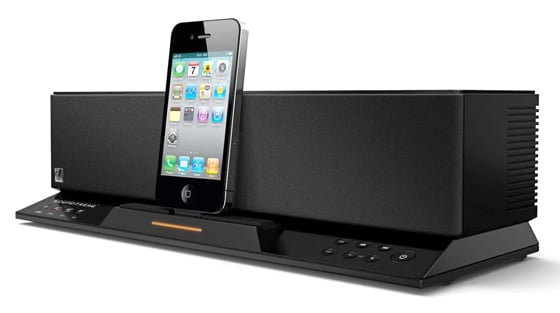 Beside iOS device docking there's an aux input and Bluetooth streaming
To the left of the dock you'll find four buttons to swap between the dock, Bluetooth and the auxiliary input and to activate Soundfreaq's UQ3 audio enhancement. Buttons for power, volume, track skip, play/pause and Bluetooth pairing are all located on the other side.

Sound options
The Soundstep does without any fancy Bluetooth audio coding like that offered by AptX but the end results are still very listenable, especially if you engage the UQ3 sound modifier, which makes everything that bit more expansive.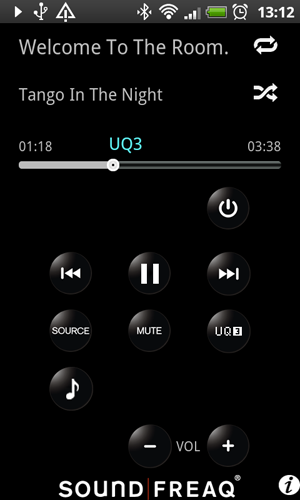 Android app for remote tweaking, which, along with the iOS version, also includes an FM radio
How much power the two 38mm forward-facing drivers and one rearward 50mm woofer pump out seems to be a company secret but for a portable and compact boom-box it's clearly – or rather audibly – more than adequate. I've had my Soundstep in the office running through playlists from both an iPhone 4S and an HTC Desire HD over Bluetooth for nearly a week and I've yet to manage to wrong-foot it, even with the volume up to the max.
Playing anything from Wagner to Nine Inch Nails to Joni Mitchell, the sound always fell pleasantly on the ear and never wanted for warmth, body or detail. You can't really ask for more from a box this size.
The Android remote app is little more than a port of the iOS version that appeared earlier in the year. The main difference is the button with a quaver on it. I've no idea what this does – possibly a sound enhancer – because whenever I touch it, the app crashes.
Beyond basic control of your music which is something you can also do from your stock music player the app also lets you swap between sources, launch UQ3 and switch the box off, though not back on. Once off, the Bluetooth connection is dropped rendering the app useless.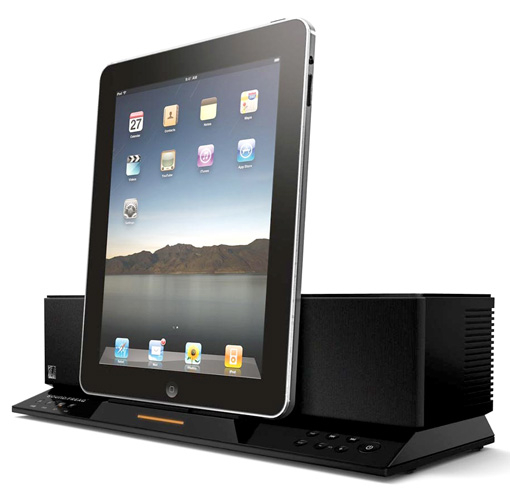 iPad docking fits nicely too
According to the spec sheet, a full charge of the Soundstep's battery should keep you grooving for six hours. I found that to be pretty accurate claim, getting 5 hours 40 minutes of playback from a Bluetooth source.
It seems a bit of a missed opportunity though that you can't re-charge your device from the Soundstep's USB port or the dock unless it's connected to the mains. Yes, it would shorten the dock's play duration but it would leave you with a fully charged phone when it breathes its last.
Verdict
Compact, well made and stylish, the Soundstep has all the visual bases covered and it pumps out a perfectly decent sound. While it holds iPhones, iPods and iPads securely, its other main selling points are the Bluetooth connectivity and remote control app, which let users of Android handsets join the party too. ®
More Speaker Reviews

Philips
Fidelio DS9
Logitech
AV Stand
Ten
wireless
speakers
Pure
Sirocco 550
B&W
Zeppelin
Air