Original URL: http://www.theregister.co.uk/2011/10/26/emc_lightning_revealed_a_little/
Gelsinger pops lid on top-secret EMC Lightning code
Flash cards reveal some parts of mysterious project
Posted in The Channel, 26th October 2011 14:29 GMT
EMC's Project Lightning code is being produced by a software team in Israel, using – El Reg thinks – Micron hardware.
Project Lightning is EMC's placing of its own PCIe-connected flash memory cache card in servers, with its contents controlled by FAST (Fully-Automated Storage Tiering), which passes data to it from a backing EMC storage array such as a VMAX or VNX. The aim is to get data closer to server applications so that they can access it faster and minimise processor core I/O waits.
The latest info about the project comes from EMC COO Pat Gelsinger who showed the Project Lightning PCIe card at Oracle's recent OpenWorld event.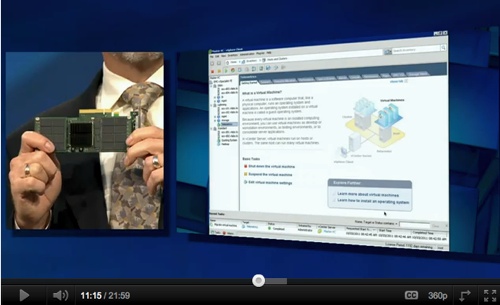 Pat Gelsinger with Lightning PCIe card at Oracle OpenWorld
He said its was a 320GB, multi-level cell (MLC) flash card and in beta test with customers. The only available 320GB PCIe flash cards come from Fusion-io and EMC has said it is aiming to compete with the Fusion-io products. It is thought by financial analyst Aaron Rakers of Stifel Nicolaus that Lightning is a Micron-developed card.
However, although Micron has a P320h PCIe flash card, this uses single level cell (SLC), 34nm flash and has 350GB and 700GB capacity points. Also it doesn't look like the Lightning card.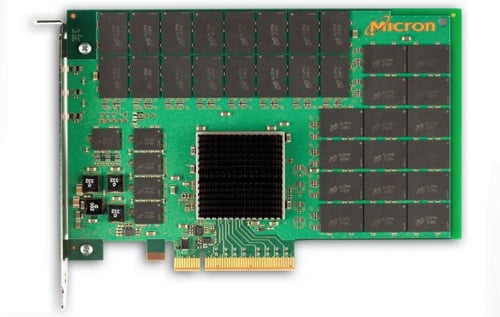 Micron P320h PCIe flash card
However, let's turn that image upside down and compare it to a close-up of the Lightning PCIe card from an EMC video of Gelsinger's OpenWorld pitch.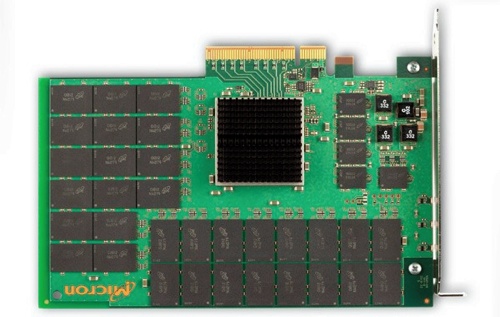 Upside-down Micron P320h flash card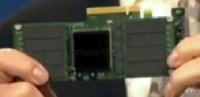 Blurry close-up of Lightning card
We can see that it does now bears a family resemblance to the EMC Lightning PCIe card (right) with a similar large black controller chip, identical connectors on the top edge and a similar group of four small dies by the controller chip. The Lightning card appears to have 16 flash dies whereas the P320h has many more. But then it has more capacity and is an SLC design, not an MLC one.
We know that Micron and Intel are developing 20nm process flash at their IMTF foundry. El Reg wrote in April "IMFT's 8GB device is sampling now and is expected to enter mass production in the second half of this year. At that time, Intel and Micron also expect to unveil samples of a 16GB device, creating up to 128GBs of capacity in a single solid-state device smaller than a US postage stamp."
It would take 20 of these 16GB dies to provide a 320GB raw capacity and there are only 16 does visible on the Gelsinger card, implying 20GB dies. We can't resolve this issue, but there is one further indication Micron could be EMC's Lightning partner.
EMC's Flash Business Unit
EMC created a dedicated Flash Business Unit earlier this year to identify and exploit new market opportunities, new technologies and create and manage strategic partner and supplier relationships around Project Lightning and the use of flash in its arrays. This unit is headed by SVP Mark Sorenson, who is based in Hopkinton, and has been SVP for unified mid-range storage, meaning VNX.
Quoted in a MarketWatch story in August, and identified as heading up EMC's Flash Business Unit, Sorenson said: "Clearly [flash] is game-changing technology in the sweet spot of our business. Without question EMC is rethinking its software and how to get the most out of flash."
Barry Ader is the senior director for product management in the Flash Business Unit and also based in the Boston area.
An EMC insider said: "Gelsinger described Project Lightning as an internal start-up company that would remain small and unhampered by higher corporate meddling."
We understand that Project Lightning software is being written by a small team at an EMC research and development facility in Herzliya, Israel. That software would extend FAST to send data to the Lightning card and store it on the card using the card controller. The card would also need a driver in the host server.
David Erel is the Management Team Leader in this Flash Business Unit at Herzliya, and Philip Derbeko is one of the team members working on the software. Having this team based in Israel certainly keeps them out of the way of higher corporate meddling.
Relatively close by, in Kiryat Gat, there are Intel and Micron facilities, which could be a handy coincidence.
We note that Vcache and Vflash are terms already used by other suppliers. Our guess, given that EMC is keen on V-something-X names, such as VMAX, VNX and VPLEX, is that the Lightning flash card will also be called V-something-X.
So there we have it: a little light cast on Lightning. But we'll have to wait for EMC's actual Lightning strike before we get to see details of the full product. ®