Original URL: https://www.theregister.co.uk/2011/10/25/review_updating_to_windows_phone_7_5/
Updating to Windows Phone 7.5
The stone in the Mango
Posted in Personal Tech, 25th October 2011 09:33 GMT
Review Just like Apple iPhone users needn't own a Mac to sync data and apply updates, Windows Phone 7 users needn't be reliant on a PC either. To broaden the appeal of Microsoft's latest handset OS, the company offers a Mac software alternative.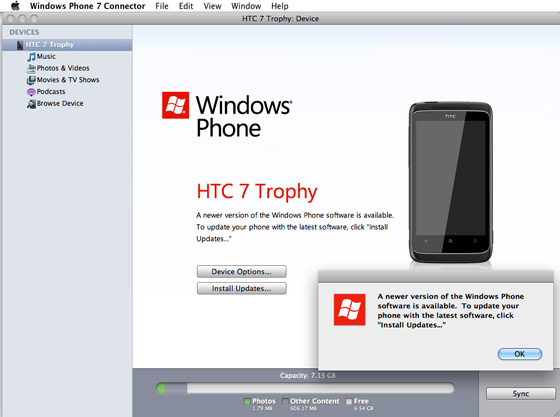 Nice to know there's an update, but what version is it?
Unlike Apple's dual platform iTunes offering, MS keeps Zune exclusively for its PC clientele and Mac users get Windows Phone 7 Connector. It's even available to download from Apple's Mac App Store. I've been using this Mac app with an HTC Trophy, eagerly awaiting the opportunity to update it to Windows Phone 7.5, aka Mango.
The other week, I thought it had arrived early, but this was just an update to version 7.0.7008.0. As far as installing goes, it all went smoothly. Download, instal, reboot – that sort of thing. The only grumble I had with the experience is that Windows Phone 7 Connector for Mac doesn't actually inform you of the update revision number that you're applying. You're flying blind. And it was only at the end of that particular update process that I realised that Mango hadn't ripened yet.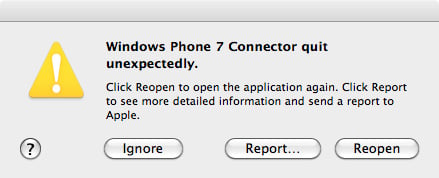 Mango crushed: Windows Phone Connector for Mac retires early
A few days ago, my phone started nagging me about updates again. This time, I was more hopeful despite there being no information about the version. However, Windows Phone 7 Connector for Mac didn't play nice on this occasion. It detected there was an update, but installing it was another matter. Going through the motions to apply the update resulted in an instant app crash. I'm no coder, but I'm guessing it's not good news when I get this every time:
Exception Type: EXC_BREAKPOINT (SIGTRAP) Exception Codes: 0x0000000000000002, 0x0000000000000000 Crashed Thread: 6 Dispatch queue: com.apple.root.default-priority

Application Specific Information: *** Terminating app due to uncaught exception 'NSInternalInconsistencyException', reason: 'Invalid parameter not satisfying: aString != nil'
Maybe it's another app causing trouble, but one thing seemed certain, getting a recent Windows Phone 7 update onto my HTC Trophy wasn't going to be happening with Windows Phone 7 Connector for Mac.
I Zunes
A Boot Camp reboot later and I had the phone plumbed into Zune. If this didn't work then I'd be screwed. And it didn't... and for a moment I thought I was. The update and instal process just seem to fly through various stages, and then nothing. The black and white logo that comes up on the phone appeared to be suggesting I plug it in. And seeing as it was plugged in already, I guess I had to unplug/replug it and ignore all those don't unplug warnings. Twenty minutes of hesitation later, I pulled the plug.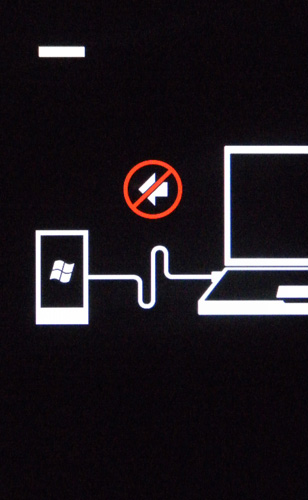 The handset view: the bar on the top left indicates installation progress
A warning flashed up saying my phone might be OK or it might not. The latter apparently being due to the fact that no back-up had been completed. As the phone blinked at me, I waited in hope that the other possibility – that the phone would restore itself from its previous state – would come to pass. Indeed it did. I was still on version 7.0.7008.0 and Zune was telling me that it had tried to instal version 7.0.7392.0. So I gave it another go. It took longer to go through its various stages but worked this time. Still no Mango though.
With the HTC Trophy still tethered, Zune reported another update – so it seemed like this was going to be a cumulative process. However, version 7.0.7403.0, that was now on its way to being installed, didn't suggest it was a major leap in dot releases. It occurred to me to unplug and give it a go on Windows Phone 7 Connector for Mac, but the fear of the phone becoming a brick was still fresh in my mind, so I persevered with Zune. Also, this update suggested that there was more than one to be installed, and indeed this was so.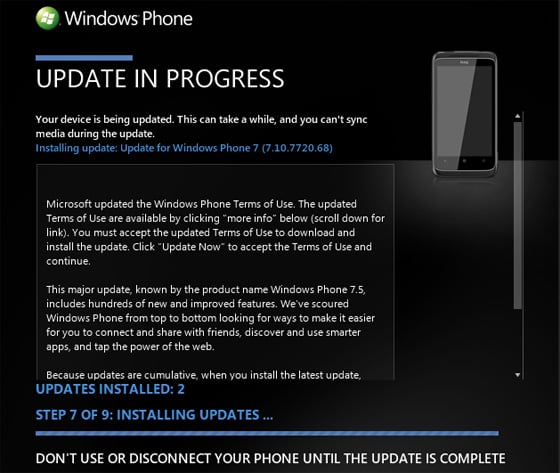 At least Zune tells you what version you're installing
Another reboot and then version 7.10.7720 was coming into land, but it took its time. The numbering didn't make sense (unless you look it up), why was Windows Phone 7.5 showing as 7.10? Still, it seemed likely that Mango was being squeezed into my HTC Trophy, especially as it took 45 minutes to get there – and I wasn't wrong. Shame I couldn't have managed it on the Mac software though – ah, those pesky uncaught exceptions... If the Windows Phone forums are anything to go by, I'm not the only one. ®