Original URL: https://www.theregister.co.uk/2011/10/25/review_tomtom_go_live_topgear_edition/
TomTom Go Live TopGear Edition
The best satnav... in the world?
Posted in Science, 25th October 2011 06:00 GMT
Review The monumental cock-up that saw the BBC grant then withdraw permission for TomTom to use Jeremy Clarkson's voice in a satnav must have the Dutch navigation wallahs jumping for joy.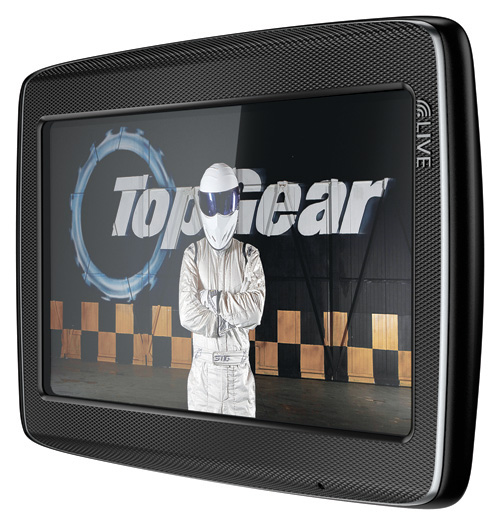 TomTom Go Live TopGear Edition: put it on Stig to mute
Not only has the ban generated the sort of media coverage that it could only have dreamed about but the BBC's clanger didn't involve a product recall – so tens of thousands of the things are already safely sat in warehouses in anticipation of the annual consumer frenzy that is Christmas.
In a nutshell, the £180 TomTom TopGear Edition is a run-of-the-mill Go Live 820 – a model which has now been replaced by the larger screened 825. Yet it is preloaded with Clarkson and Stig voices, unique TopGear car icons and themed start up and shut down screen flashes
Of course The Stig never says a word on telly so that's basically a silent mode. I for one am massively relieved that you don't get either Messrs. Hammond or May on the thing, as they are both becoming dictionary definitions of 'presenter over-exposure', especially the short and less talented one.
TomTom also says the TopGear Edition has a load of unique petrol-head POIs including race tracks and the TopGear studio at Dunsfold Aerodrome though I suspect many of these can be found on a regular TomTom. Clearly then, the appeal of this device will depend on your view of Clarkson the man and how much you want him guiding you o'er hill and dale.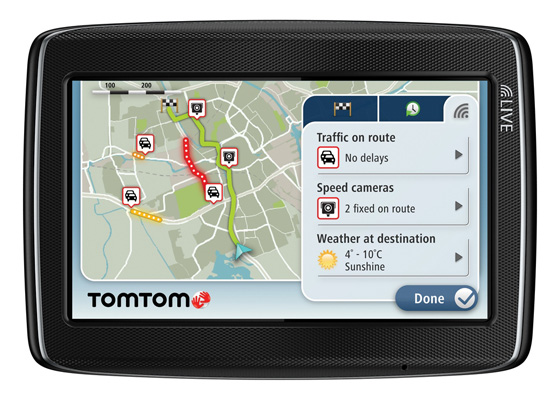 Standard TomTom fare after the TG flash screen
Opinionated pseudo-libertarian rantings aside, he can be rather amusing and, of course, he thumped Piers Morgan. Nobody who has done that can be regarded as wholly irredeemable. Turning from the man to the voice, Clarkson doesn't actually have a bad speaking voice for this sort of gig and the various humorous turns of phrase are generally rather amusing and pretty inoffensive.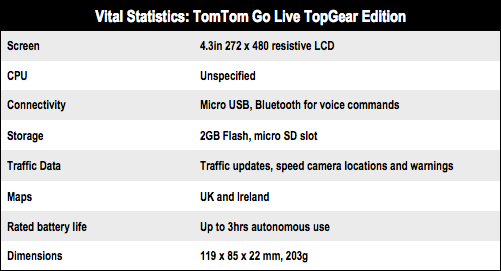 Star turn
To give you a taste of what's in store, if you miss a turn he will bark "Turn right. Turn RIGHT. You missed it! For the love of..." and if you continue up the wrong road you get "Stop and turn around where possible. Yes, you've cocked up again. Pay attention!".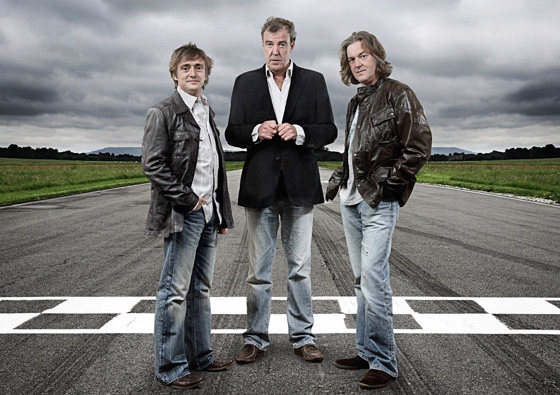 BBC TV's TopGear team: Thankfully, you only get a voice from the big chap in the middle
You can also choose between a metric and an imperial Jeremy, which came as quite a surprise. I'd have imagined him point blank refusing to countenance the former smacking, as it does, of things European and a world map no longer coloured red.
Like or loathe the talent, this is one of the more usable celebrity satnav voices I've encountered and I'll take it any day over Brian Blessed or Yoda or John Cleese. Still, if listening to Clarkson begins to grate, you can always switch to either one of the three other English voices fitted.
Celeb voice aside everything else is standard TomTom fare and includes maps of the UK and the Republic of Ireland, HD Traffic congestion monitoring and IQ Routes to plan the historically optimum path twixt A and B. There's also one year's free subscription to TomTom's LIVE services - including Google Local Search, speed camera locations and HD Traffic - across Western Europe.
The same is true of the physical design. The 4.3in resistive screen is sharp and bright and the built-in mount is versatile, solid and compact. It's also free of any exterior TopGear branding, which I take to be a good thing.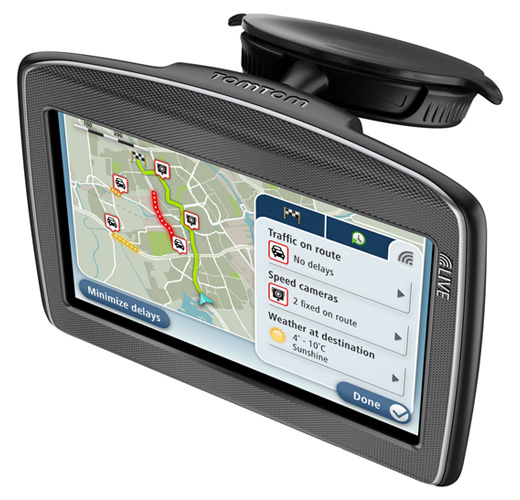 Excellent TT built-in mount
Using the device in anger I found route selection and traffic jam avoidance to be good, the vocal guidance technically succinct and accurate and a rummage through the menus turned up plenty of peripheral options like being able to edit or add your own points-of-interest.
One design choice I do take issue with though, is the oddly angled mouth of the micro USB port, which rules out using a non-TomTom cable and that means you will be forever moving it between car and house if you need to connect your TomTom to your PC.
Verdict
An essentially standard but still very competent and feature-laden 4.3in TomTom satnav with added Jeremy Clarkson. If you must have a celebrity voiced satnav, this is one of the more bearable on a practical level, providing of course you don't think that JC is too much of a twit. ®
More GPS Gear Reviews...

Magellan
Explorist 710
hiking GPS
TomTom
Start 20
Contour
GPS Bluetooth
camcorder
Mio
Spirit 687
Mio
Navman
V575 TV