Original URL: https://www.theregister.co.uk/2011/10/24/review_jurassic_park_ultimate_trilogy_blu_ray_disc_set/
Jurassic Park Ultimate Trilogy Blu-ray disc set
Relics on display
Posted in Personal Tech, 24th October 2011 11:10 GMT
Review Fears that Blu-ray is facing early extinction seem woefully misplaced after experiencing the Jurassic Park trilogy on the format recently. Feature rich and re-engineered in 1080p hi-def with 7.1 lossless audio, this high resolution three disc set delivers T-Rific quality and hours of extras to tempt collectors and film fans to upgrade from DVD.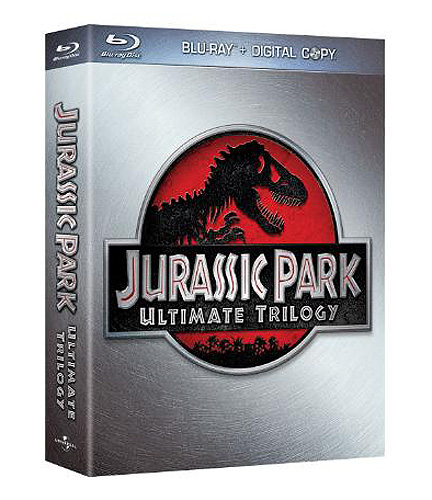 The best of three: Jurassic Park Ultimate Trilogy
The prize in the pack is obviously the original movie. Despite significant advances in the art of visual effects, the sense of wonder its dinosaurs engender remains undimmed. The combination computer/physical creature FX still convince and the story bolts along at a grand pace.
For home cinema fans, Jurassic Park has particular significance in that it was the first film to usher the multi-channel DTS digital sound system into movie theatres. Its subsequent appearance on LaserDisc introduced many to the concept of a separate LFE (low frequency effects) channel for the first time. For a generation, deep bass was to become synonymous with the stomp of a Tyrannosaurus and ripples in a beaker of water.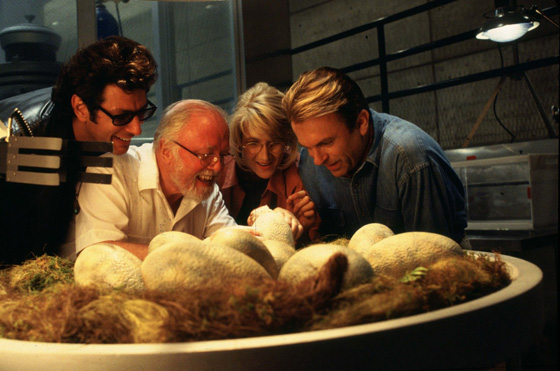 Old fossils revived: Dickie Attenborough has a cracking time
Remixed here in 7.1 DTS HD MA, the delivery of that classic soundtrack is even more impressive than I remembered. The sound design is consistently startling and John Williams' memorable score manages to sound both familiar and startlingly fresh, all at the same time.
Visually, these remasters supersede previous versions by some degree, although clarity tends to be a little variable across the trio and there's plenty of film grain to go around. 
 Perhaps contentiously, I rate The Lost World: Jurassic Park every bit as enjoyable as the original, albeit for quite different reasons. The second sequel is delicious monster movie hokum that balances humour with a torrent of well-staged action sequences.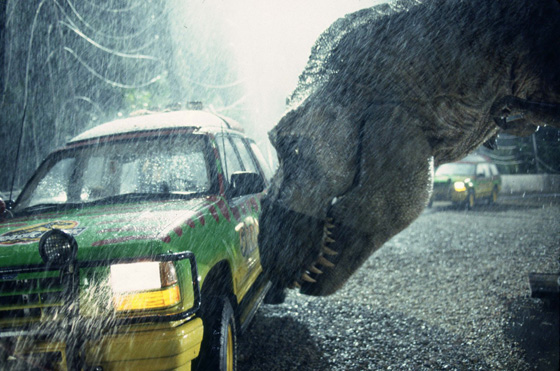 Ancient rumblings: yup, that's a Ford Exploder XLT, circa 1992
The movie also marks the first collaboration between Spielberg and cinematographer Janusz Kaminski, resulting in a darker vision which translates well to BD. 

JP3 is the frothy cappuccino which rounds off the Jurassic meal, less memorable but welcome none the less.
Documentary evidence
Of particular interest to fans of the series will be the hours of extras provided, the highlight of which is an all-new six-part talking-head documentary. Clocking in at around two hours, Return to Jurassic Park offers an encyclopaedic insight into the productions, and includes copious archival footage. I found it genuinely fascinating.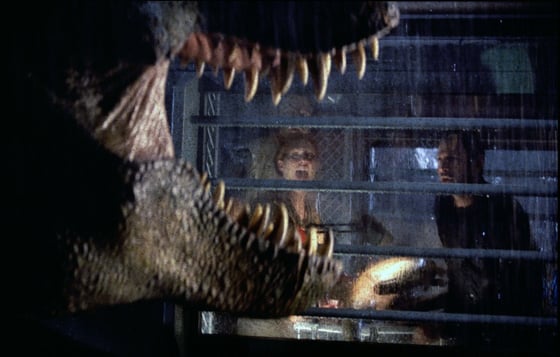 Happy meal, anyone?
The remaining supplementals have all appeared elsewhere, so if you already own Jurassic Park DVDs you may well get the feeling of déjà vu. There are Before and After sequences that deconstruct the CGI effects, as well as assorted animatics.
There's also a tour of Stan Winston's studio plus production archives to scour through (storyboards, models, concept drawings etc). Unlike the recent Star Wars Blu-ray disc set release, there's no sense of padding. Once bought, you really can retire any previous SD editions you may own.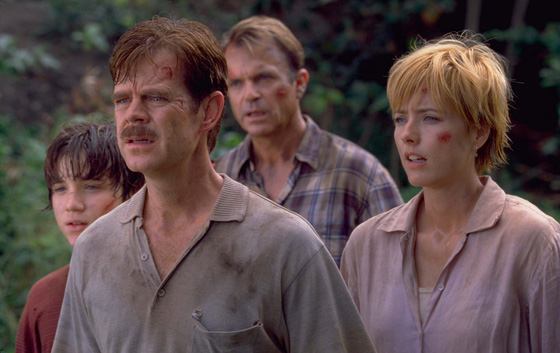 "Oh my, it's been six hours and we're not even at the out-takes yet"
Verdict

Hot on the heels of Star Wars, this is another modern classic to tick off the Blu-ray bucket list, although listed at £50 it's not exactly a bargain, so shop around. With a solid selection of extras, wonderfully remastered 7.1 sound and hi-def dinosaurs, the Jurassic Park Ultimate Trilogy is an adventure ride worth taking. 
Now bring on Jaws, ET and the original Indiana Jones trilogy and we'll be sorted. ®
More AV Reviews…

Akira remastered
Blu-ray disc set
Star Wars:
The Complete Saga
Blu-ray disc set
Sony
VPL-HW30ES
HD projector
The Lord of the Rings Trilogy
Extended Edition
Blu-ray disc set
Tron: Legacy
3D Blu-ray disc set