Original URL: https://www.theregister.co.uk/2011/10/21/review_games_batman_arkham_city/
Batman: Arkham City
The best superhero game. Ever.
Posted in Personal Tech, 21st October 2011 11:40 GMT
Review Hung upside down over a vat of acid or strapped to a conveyor belt inching towards a blast furnace, Batman could always rely on technology to help him pull off an unlikely escape. That is if he... could... just... reach... his... utility belt, of course.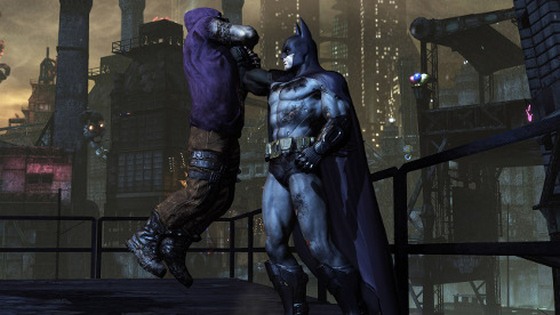 'If this is a consular ship, then where is the ambassador'
It's a trick developer Rocksteady has obviously learned from The Dark Knight. By dipping deep into its own technological armoury for Arkham City, it has pulled of the unlikely feat of improving upon Arkham Asylum, a title universally acclaimed as one of the best superhero games of all time.
Swapping Arkham Asylum's tight confines and scripting for the sandbox sprawl of Arkham City could have been disastrous, but just as Bruce Wayne cleverly re-engineers military technology into his crime-fighting arsenal, Rocksteady masterfully reworks the open-world mechanics of Prototype, Crackdown and others to expand the Arkhamverse in spectacular fashion.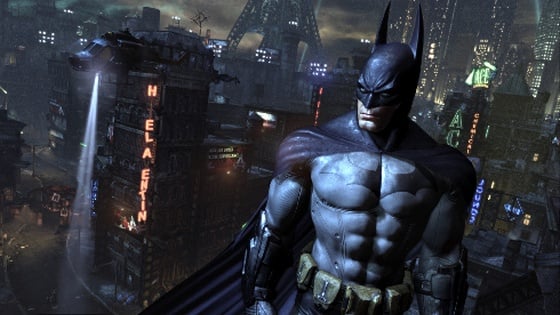 City flickers
It helps in no small part that Arkham Asylum's gameplay is carried over largely untouched. Despite introducing crime scene investigations and radio hacking, detective work remains a simple, unfussy side-dish to the main course of stealthy exploration and combat.
The inimitable close-quarter combat plays much the same, save for some new animations, enemy types and gadget combos. The exquisite balance of accessibility and depth is as impeccable now as it was two years ago. The increased verticality of Arkham City's skyline is augmented with destructible gargoyles and enemies wearing thermal-imaging goggles.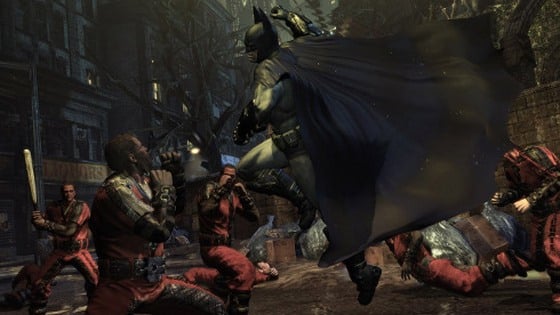 Punches flying
Arkham City's difference, then, is scale. Thanks to the sheer size of Arkham City itself – a super-prison walled off from the rest of Gotham to house its most notorious criminals – it's exploration that most distinguishes the sequel. By combining an early upgrade to your grapnel gun with Batman's dive-bomb and gliding manoeuvres, you can soar gracefully over the city, never having to set foot on the ground by design.
Escape from New... Gotham
It's the ideal vantage point to admire Rocksteady's sumptuous 'Dark Deco' Gotham, with skyscrapers rising through the wintry gloom and inmates clustered around bonfires on the squalid streets below, but it's also the perfect spot to familiarise yourself with the game's open-world structure.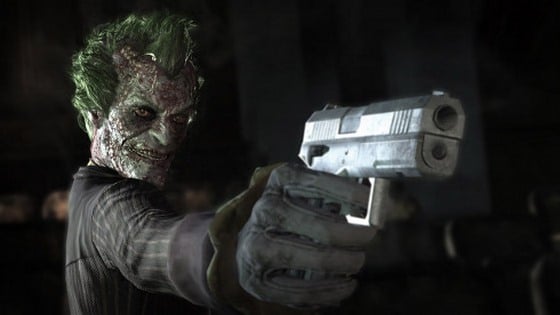 Who's laughing now?
You can dive down and pick a fight with Arkham's inmates whenever you like, but if you want to start chipping away at the game's sizeable campaign, you'll have to take on the main missions, side missions and augmented reality training events.
As you'd expect, main missions are linear, but in true comic book fashion, they're also episodic in structure, with some only loosely connected to the story arc. It's a good fit for the premise. With Gotham's super-villans engaged in a turf war for control of Arkham City, main missions flit between sub-plots and scenarios with alacrity, all the time jostling you between an ensemble of Batman's most iconic enemies.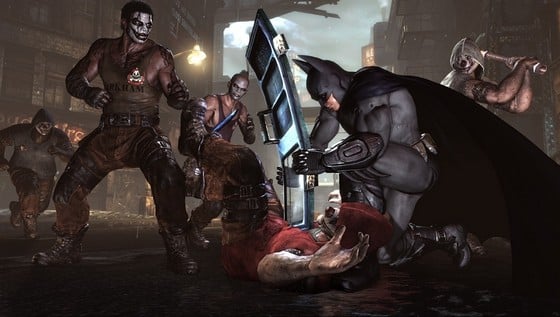 Agent of shield?
As in Arkham Asylum, the narrative and voice acting is top notch. It's standard superhero fare, of course, but it's imbued with the black humour and gritty realism that has defined Batman since Frank Miller's Year One continuity.
Despite a much lower billing this time around, Mark Hamill still manages a showstopping performance as the cheerfully deranged Joker, but he's run close by Nolan North's turn as Mr Cobblepot - aka The Penguin - who gets a welcome re-imagining as a vicious mockney crimelord.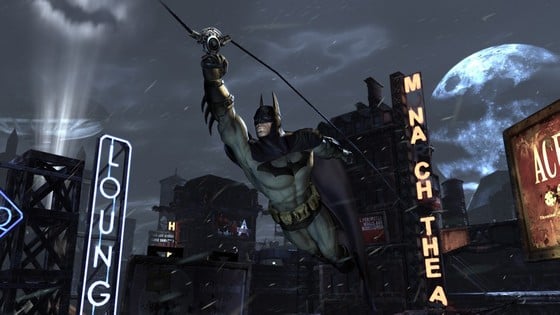 Bird on a wire
Catwoman also manages to impress notwithstanding her clichéd low-cleavage, femme fatal depiction – this is a comic, after all. A playable character with her own parallel story arc, Catwoman's unique combat moves and her ability to walk on walls bring real variety to her sections. So much so, in fact, that you actually feel short-changed by her two hours' worth of gameplay.
Dark night
There's no such concern about game duration overall, though. Batman is a massive game with plenty to do outside of the main campaign. The AR training missions pose a stern test of your gliding skills, challenging you to pass through ever more intricate ring placements without touching the environment. And the side missions never seem to dry up.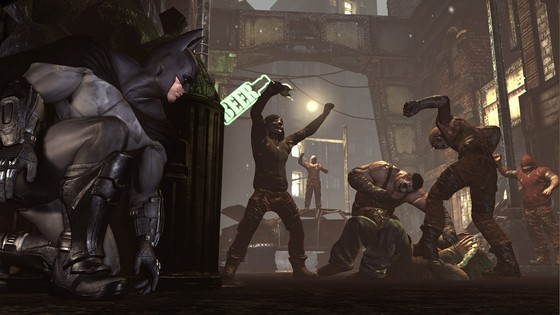 Hiding from a hiding
But it's the return of the Riddler Trophies that will place completion out of reach for most, with its mix of secret areas and puzzles sure to confound even the most ardent completists for weeks to come.
All this would warrant a near perfect score for Batman if it weren't for one glaring fault. In trying to cram so much gameplay into one game, Rocksteady is often guilty of cramming in too much.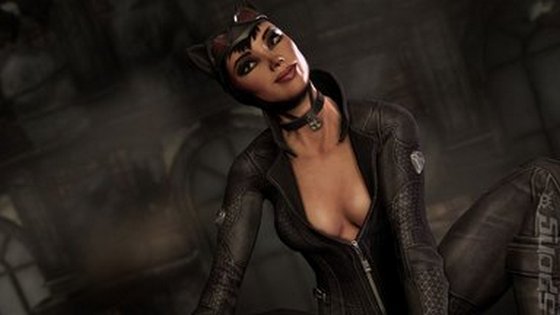 Zip-phile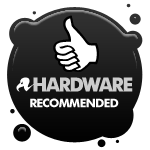 There's nothing wrong in decoding a lock with a cryptographic sequencer, for example, or blasting through a weak wall with explosive gel, or even opening up a shutter door with a quick blast of your remote electric charge device. But when you have to do all three in a row for the umpteenth time, you start to think that perhaps a simple door knob would have sufficed.
Verdict
It's easy to overlook the fault of its glaring overfussiness in what is otherwise an exceptional game. Naturally, the sequel can't quite match the original for innovation, but it's not just better than Arkham Asylum, and it's not just the best Batman game, Arkham City is by far the greatest superhero game ever made. ®
More Games Reviews

Forza 4
Ace Combat:
Assault Horizon
Dark Souls
Rage
Ico & Shadow of the
Colossus Collection