Original URL: https://www.theregister.co.uk/2011/10/21/apple_vs_facebook_smartphone/
Zuckerberg's HTML5 Trojan horse play
Facebook penetrates Apple/Google territory
Posted in Policy, 21st October 2011 16:35 GMT
Open ... And Shut Apple has become the world's most valuable company by filling us with childish wonder at (and ravenous lust to buy) its Jesus phone, but Facebook seems sure to surpass Apple's $350bn-plus market cap by providing the social fabric for all internet traffic. But first the social giant needs to figure out mobile. And fast.
It's not that Facebook is struggling for adoption. The company has 800 million active users on its social network, half of whom log in daily. The problem is that not nearly enough of those users log in using mobile devices. Not compared to other services, anyway.
Wall-St-analyst-turned-VC Mary Meeker highlighted at the Web 2.0 Summit in San Francisco, California, this week that Facebook trailed Twitter, Pandora and other web peers in connecting with its users over mobile devices: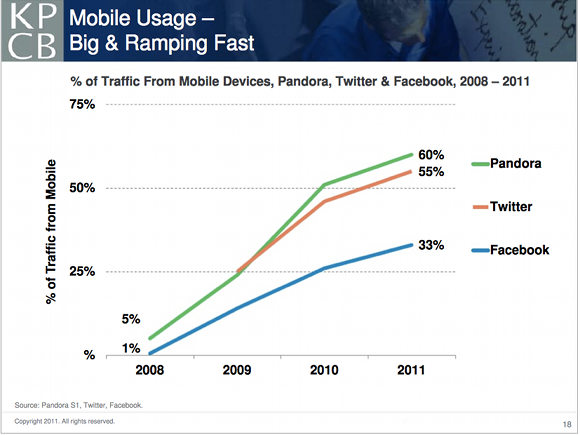 The world may spend a disproportionate amount of its internet time on Facebook, but with a full 91 per cent of mobile internet access being used to socialise, according to recent research, Facebook isn't claiming nearly its fair share of that mobile traffic.
This is bad news, as mobile users are reportedly more engaged than web users, take more notice of ads (a key business for Facebook), and are set to surpass desktop web users by 2014, according to Meeker's research.
Venture capitalist and former Mozilla chief John Lilly suggests that whereas Apple and Google are both strong in capturing attention on multiple "screens", with weaknesses in other areas, "Facebook is incredibly strong at networks, has some weakness in screens, and is pretty good with storage (at least for things like photos)". What it needs to do, then, is figure out how to bring the power of its networks to bear in mobile devices.
Obvious, right?
Perhaps, but how to do so is not so obvious, especially since it lacks the device business that Apple owns or the operating system beachheads that both Apple and Google claim. But Facebook is seeking to remedy this latter deficiency through an HTML5-friendly platform that enables Facebook to not only provide the world's phonebook, but also its mobile app platform.
Through Facebook's updates to its mobile versions, users create app "bookmarks" within Facebook that are actually mobile web apps/sites, which also show up in a user's news feed, helping them to spread (and keep Facebook at the center of its users' lives, rather than having them leave the Facebook experience to consume apps on Google's or Apple's home turf, Android and iOS).
It's a genius play, one that has GigaOm's Kevin Tofel forecasting the "long-term growth of Facebook [as] more likely to come from the continued use of web technologies which provide a relatively common code base across platforms and similar user experience across devices." In other words, not from the mere presence of a Facebook app on mobile devices, but rather of Facebook hosting the world's mobile (web) apps through its own mobile app platform.
With time spent on mobile apps now exceeding that spent on web browsing, this is an important, even critical, approach for Facebook. Facebook isn't so much cannibalising its strength on the web as forcing that strength onto mobile devices, setting itself up as a Trojan horse on Apple's and Google's territory. Machiavelli would be proud.
Matt Asay is senior vice president of business development at Strobe, a startup that offers an open source framework for building mobile apps. He was formerly chief operating officer of Ubuntu commercial operation Canonical. With more than a decade spent in open source, Asay served as Alfresco's general manager for the Americas and vice president of business development, and he helped put Novell on its open source track. Asay is an emeritus board member of the Open Source Initiative (OSI). His column, Open...and Shut, appears twice a week on The Register.