Original URL: https://www.theregister.co.uk/2011/10/21/apple_ipod_is_ten_years_old/
Apple's iPod: ten years old
The gadget that changed the music industry
Posted in Personal Tech, 21st October 2011 06:00 GMT
Apple's iconic iPod digital music player will be ten years old on Sunday.
The first model, which contained a 4200rpm, 1.8in Toshiba 5GB hard drive for storage, was announced on Tuesday, 23 October 2001, though didn't find its way into buyers' hands for another couple of weeks or so, on 10 November.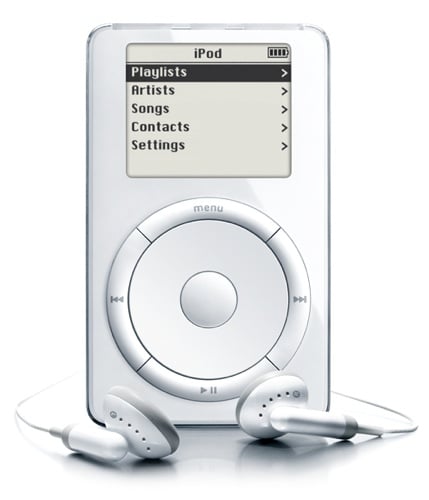 Design original
Early adopters were treated to a compact player - it was 101 x 61 x 20mm and weighed 186g - kitted out in the glossy white plastic that's now indelibly associated with Apple's music players, though the back panel was highly polished chrome-look stainless steel.
Yes, the now trademark white earphones first appeared bundled with the very first iPod. So too did Apple's compact AC adaptor with a removable pin module to allow it to be connected to power sockets the world over.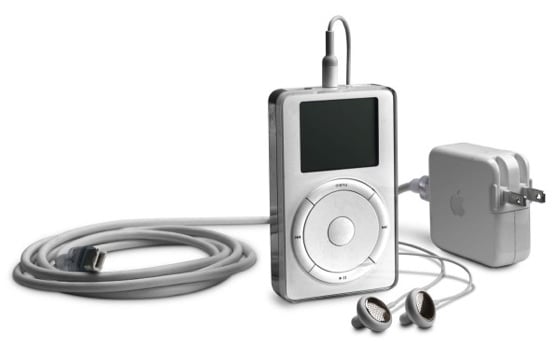 The first iPod came with 'phones, a Firewire cable and a compact AC adaptor
Above the novel rotating mechanical navwheel - really the only innovation Apple's first iPod brought to the portable music player market - was a 160 x 128 monochrome LCD showing iPod OS 1.0's side-scrolling hierarchical menu structure. It had 32MB of Ram, enough to buffer data for 20 minutes, not only to provide skip protection but also to allow the player to spin down the hard drive and conserve power. It could, Apple claimed, play music for ten hours.
Aimed exclusively at Mac owners - and thereby limiting demand until a Windows-compatible version was launched a year-and-a-half later, in July 2002 - the first iPod, codenamed 'Dulcimer' during development, used Firewire 400 to connect to a host computer, transferring songs far more quickly than the then commonplace USB 1.1 standard allowed. USB 1.1 would have taken hours to transfer the 1000 160Kb/s songs the iPod could hold. Firewire could do it in ten minutes.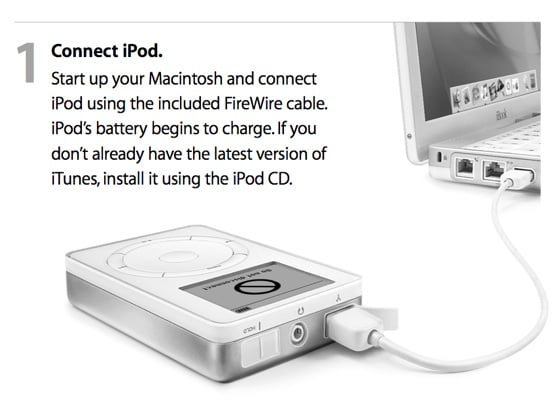 From the first iPod manual. Note the bent-back cover for the Firewire port - this was not present on first-gen iPods
The dock connector, foundation for an entire industry of iPod accessories, didn't debut until April 2003. Firewire support survived to 2007, but by 2005 had been replaced as a song transfer mechanism by USB, continuing from that time solely as a means for charging the player's battery.
By then, the iPod had reached its fifth generation. The original was developed by a team put in place by Apple's then head of hardware, Jon Rubenstein, later of Palm fame. Rubenstein put engineers Tony Fadell and Michael Duhey on the case, with industrial design being handled by Jonathan Ive.
Dulcimer development
Fadell had been pitching a hard drive-based player to the likes of Real Networks and Philips - a company at which he'd worked, as its Mobile Computing Group director of engineering - before turning to Apple, where he received a positive welcome from executives looking for ways to drive home the concept of the Mac as a digital content hub, the better to sell more computers to consumers.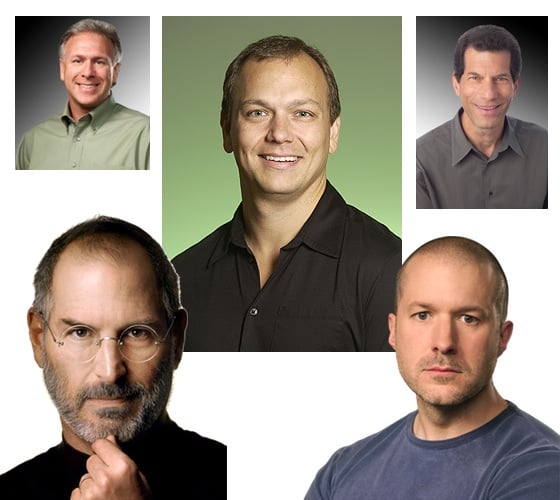 Minds behind the iPod: (clockwise from top) Tony Fadell, Jon Rubenstein, Jonathan Ive, Steve Jobs, Phil Schiller
Source: Apple
The portable music player was a market in which Apple felt it could make its mark. Other companies were already offering players, but they had yet to take the consumer market by storm. Apple had already acquired SoundJam MP, a digital music management app it would relaunch in January 2001 as iTunes 1.0.
"Why music?" former CEO Steve asked at the iPod launch. "A part of everyone's life (a large target market," said the slide behind him. Somehow, we think the words in parenthesis are the important ones.
"No one has found the recipe yet for digital music," Jobs said, talking about the efforts of companies from Creative to Sony.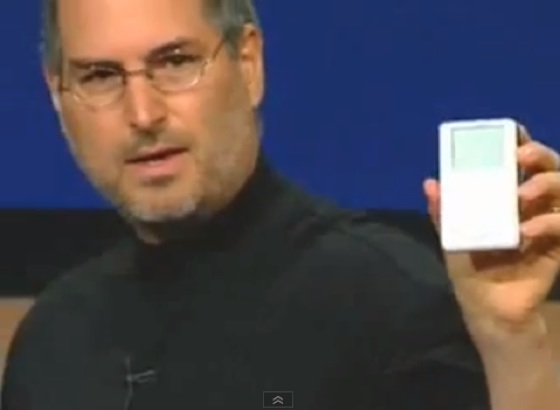 Steve Jobs unveils the iPod
The name of the player was subsequently coined, once the device was nearing completion, by freelance copywriter Vinnie - or Tim, according to some write-ups - Chieco.
The first hardware was based around a dual-core ARM-based system-on-a-chip developed by PortalPlayer, which also contributed much of Dulcimer's core OS. Another third-party, Pixo, built the UI component, under Apple supervision. Indeed, Jobs is said to have taken a particular interest in the first iPod's development. But plenty of other senior Apple staffers had their say in the evolution of the device - it was not one man's project.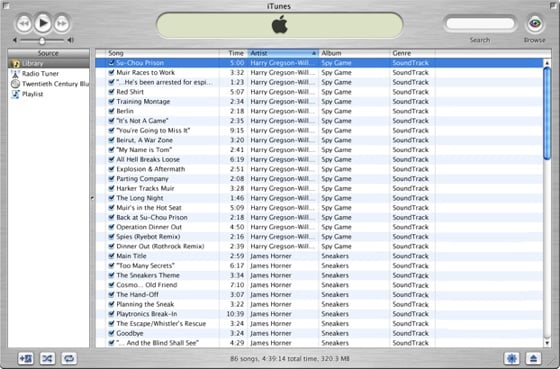 iTunes 1.0, derived from SoundJam MP and enhance with iPod support with the release of iTunes 2.0
Jonathan Ive would later say the development of the iPod "was about being very focused and not trying to do too much with the device". Complication, he reckons, would have killed it. "The enabling features aren't obvious and evident, because the key was getting rid of stuff."
Apple announced in early October 2001 that it would be hosting a press conference on 23 October to unveil a new product that was "not a Mac".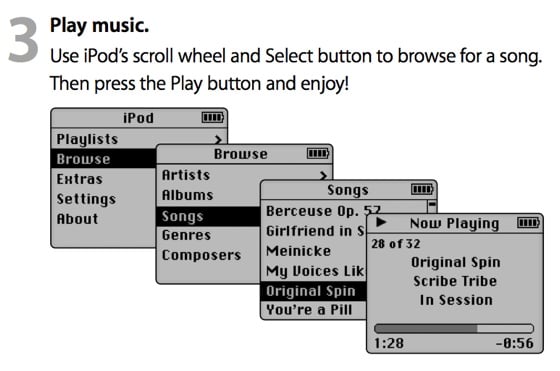 The iPod UI, implemented by Pixo, steered by Steve Jobs. From the first iPod manual
On the day, the iPod was launched as "1000 songs in your pocket" - amazing, given most other players only had room for a handful unless the tracks were encoded at woefully low bitrates.
Success in hindsight
Apple also released iTunes 2.0, which added internet radio support, 320Kb/s MP3 encoding, a ten-band equaliser. more reliable CD burning, drag-and-drop playlist creation and, of course, iPod support to the original version.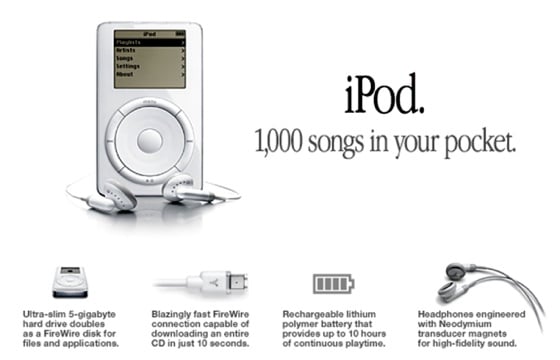 Capacious yet easy to use
Once the iPod had gone public, the reaction was generally negative. The device wasn't cheap - $400 in the US, and £300 in the UK - and was launched into a small market that the major consumer electronics companies were largely ignoring. If they didn't think digital music would ever amount to much, it was reasoned at the time, what could Apple do?
It's easy to judge Apple's success with hindsight, but at the time such criticisms were reasonable. What no one saw was the almost immediate rise of the peer-to-peer network Napster and the way it put digital music into the headlines.
Jobs launches the iPod
Alongside that, the iPod, with its high price tag, appealled less to Napster users and more to wealthy folk with large CD collections - discs they immediately began ripping in order to put songs on their new MP3 players.
The iPod popularised and led the move to copy CDs onto hard drives and then onto players. The arrival of a Windows-compatible iPods, connecting to MusicMatch software, grew the player's appeal, but Apple really didn't begin to change the music industry itself until the summer of 2003 and the launch of the iTunes Music Store and a Windows version of the iTunes app.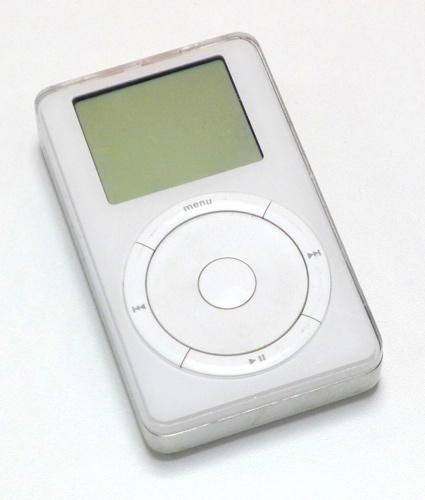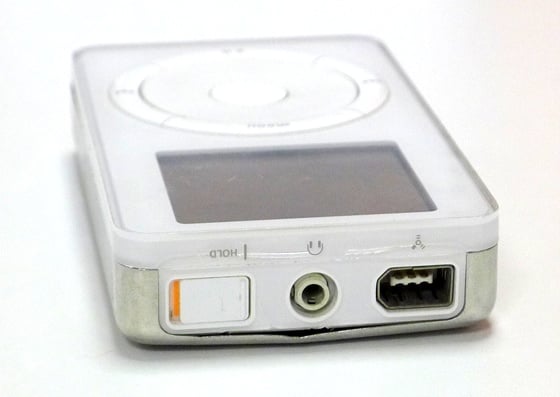 Reg Hardware's very own (non functioning) first-gen iPod
Now, punters didn't even have to bother with CDs.
Apple sold 125,000 iPods in the product's first two months on sale. It would take until Apple's 2005 fiscal year - the 12 month from October 2004 to September 2005 - for iPod demand to explode. Sales would continue to grow through to their peak in FY2008 before dipping slightly the following year and heading downward from that point on. But Apple still sells a heck of a lot of iPods each year. ®