Original URL: https://www.theregister.co.uk/2011/10/19/itu_heralds_uhdtv_progress/
ITU heralds ultra-high def TV progress
Even though 8K x 4K telly is ten years off
Posted in Personal Tech, 19th October 2011 12:49 GMT
The ITU, an international standards setter, has agreed "the pertinent technical characteristics" of the ultra-high definition televion (UHDTV) format.
So said the ITU itself, though quite what those characteristics are - beyond a target resolution of 7680 × 4320, of course - it didn't make clear.
According to Japanese broadcaster NHK, which is spearheading UHDTV development, the format should incorporate that 8K x 4K resolution, a 120Hz frame frequency, a 12-bit colour depth, and 22.2-channel sound encoded at 48 or 96KHz in 16, 20 or 24 bits.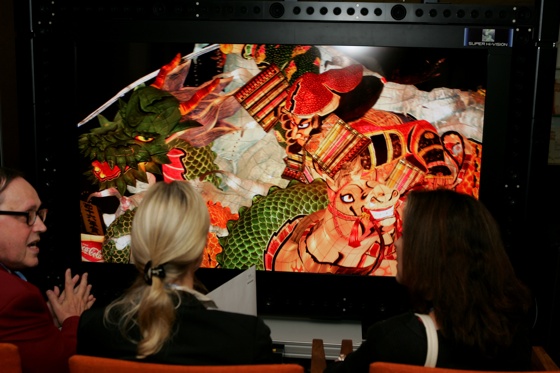 NHK demos UHDTV in September 2011
That's the spec NHK used for test broadcasts beamed between London and Amsterdam on 26 and 27 September, playing the content on a specially made 85in LCD UHD TV.
The BBC will be recording the 2012 London Olympics in UHDTV, streaming the footage to 15m display screens for public viewing.
All well and good for stadium gigs, but it's like to be 2016 at the very earliest before UHD TVs enter the market, and then at extremely high prices.
Even NHK doesn't expect to begin test broadcasts using UHDTV until 2020 - 17 years after the format was first demo'd, and 20 years after NHK first began looking at how it might shoot and transmit 8K x 4K digital video.
The proposed video encoding technology, High Efficiency Video Coding (HEVC), is currently being devised by the ITU and MPEG as the follow-up to the H.264/MPEG 4 AVC (Advanced Video Coding) codec.
Possibly set to be called H.265, HEVC is expected to be issued as a draft standard early in 2012. The complete standard should follow a year later, with formal ratification coming months after that.
That timetable assumes that interested parties reach agreement, something that doesn't always take place. Other standards, such as 802.11n Wi-Fi, have had their progress slowed significantly by standards-process participants falling out with each other.
Fortunately, the broad UHDTV timetable has room for delay here. ®