Original URL: https://www.theregister.co.uk/2011/10/15/ten_in_ear_headphones_with_microphones/
Ten... earphones for mobiles
Hear, say
Posted in Personal Tech, 15th October 2011 07:00 GMT
Product Round-up Here we go again with some more headphones, but this time I'm looking at those faithful friends you'd use on a daily basis with your smartphone. While still likely to be churning through MP3s, their function is also to act as hands-free kit, so conversational ability is key.
While you can spend silly money on smartphone earbuds, this round-up focuses more on models models that are in double figures, with just a few notable exceptions.
Given the range to choose from, there are a mix of models with some headsets specifically designed for the iPhone along with others to suit other popular smartphone brands. Listen up.
AKG K-350

At first glance, these basic buds hardly stand out from the pack. The cable is flimsy and easily tangles, plus the lightweight chambers sit in the ears like a regular pair of freebie earbuds – they were a bit scratchy too. When I recovered from these superficial wounds, I discovered this headset could knock out an impressive sound.
The K-350s benefit from a loud output, driven by a crisp top end, a smooth mid-range and a prominent bass to hold things together. At full volume, things start to get distorted, but this headset goes plenty loud so there's no need to turn things up all the way.
The built-in controls sit around the mouth area, so while they may fumble more changing tunes, the microphone delivers a clear voice and doesn't pick up a great deal of background noise. The controls and mic are functional only with iOS devices.
The K-350s certainly deliver a big sound for the price, and come with a trapezoid-shaped case and two extra pairs of eartips. Even so, I couldn't get on with the fit and have had to knock the rating down a notch as a result.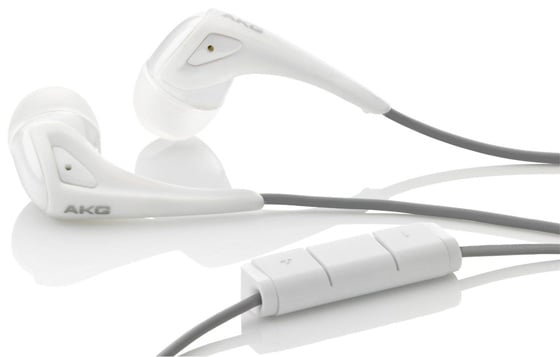 Reg Rating 70%
Price £70
More info AKG
Audio Technica CK400i

The CK400i headset is Audio Technica's low-end model that endeavours to take things up a level from the freebie buds you get with an iPhone. For other smartphones, the company makes an alternative model, the CK400is.
Despite being comfortable, they wouldn't stay in my ears properly, falling out far too often. I considered some comply-foam tips would probably help matters, and had a go at changing tips around, which turned out to be more of a struggle than you'd expect.
The design is fairly basic, with a bog standard symmetric cable and a few extra silicone tips. The chambers on each earpiece look like little brothers of the Audio-Technica CKS90's bass-chambers, which, by the way, also come with an in-line mic in the form of the CKS90i and are worth considering, if you have the cash to splash.
Unlike the CKS90s, though, the CK400s don't deliver much bass at all and there's a mid to top end emphasis. The less-than satisfactory fit doesn't help matters either, but even when held in place, the bass is still overpowered by the high-end presence.
In-line controls hang on the right side and perform well. The call quality and suppressed outside noise are impressive too. For the price, they offer fairly reasonable value, but for listening to music, they just don't cut it and need more of a robust bottom end that you'd find on Audio Techica's more up-market alternatives.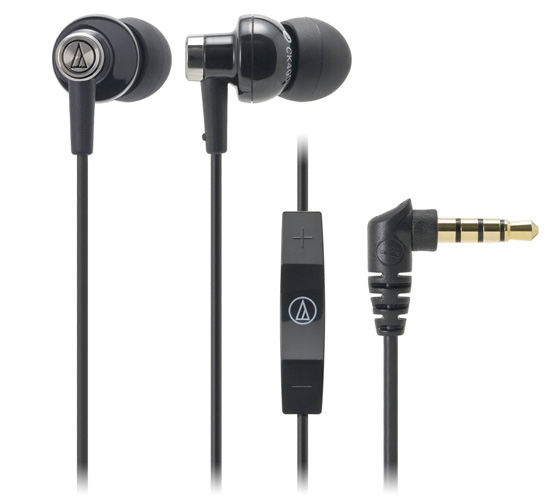 Etymotic MC2

This headset, targeted at non-Apple smartphone users, looks quite unappealing. Do I really put those things in my ears? They look like parts from the Moonraker laser gun.
The longer-than usual earpiece, can feel awkward in the ears unless slotted perfectly into the fold of your inner-lugs – but they stick out like a sore thumb. There are many tips though, and you could always opt for the company's personalised ear-mould scheme should you wish for the ultimate bond. Yet, when they're in place they stay there and cut out a lot of outside noise.
The M2Cs also impress with a warm sound. They features 8mm dual-magnet moving coil drivers that deliver a dominant midrange and smooth bass. The output is clear but sometimes a little flat and could benefit from a touch more top-end. Still, listening to music is comfortably delivered and as a hands-free kit, conversation is clear.
Thanks to a small omni-directional mic, speech is captured cleanly, but it does pick up louder background noises too, which can be distracting. The in-line control box – which could be placed better – is pretty basic too, with a standard multifunction button geared up for Android. Alternatively, iPhone users can look at the MC3, identical earbuds compatible with iOS.

Reg Rating 75%
Price £75
More info Etymotic
Jays a-Jays Four

This headset steps up to the plate like a helping of fettuccine. Its 5mm-wide flat pasta-like cable does a good job remaining tangle-free, although it doesn't retain a smooth shape when squashed for a while. The cable does succumb to a fair amount of contact noise, but even so, I prefer this design to cheaper and thinner alternatives.
The overall sound is very good, delivering a punchy bass and a slightly more pronounced midrange – which seems appropriate for a headset that claims to be "optimised for voice". When listening to music, vocals sound fantastic. Indeed, tonally, it is rather coloured, but it is nonetheless sonically appealing and quite a comfortable setup.
As a hands-free setup, the Fours are pretty good and come with a three-button remote built into the righthand side. The company boasts that its "MEMS silicon microphone" is less prone to RF noise and the annoying chatter associated with mobile interference. While thse claims seem to hold true, I have to admit I didn't experience interference issues with any of the other headsets tested either.
The buds don't offer complete noise isolation, which is probably a good thing when out and about. There are also five pairs of different sized silicone tips to choose from. Yet for half a ton, they're definitely worth checking out.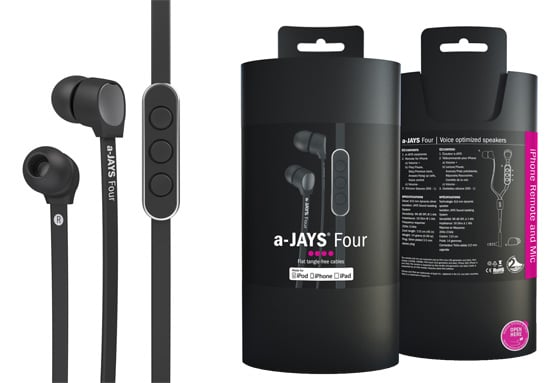 Klipsch Image S4i

Klipsch's popular S4 range has been doing the rounds for several years and while the pair I looked at was the S4i for Apple devices, the company has recently introduced an S4a version for Android too.
The S4i headset has a stylish sporty design and while the cable doesn't appear the most durable, in use, contact noise proved minimal. Also, for some reason, it's less tangle-prone than other rubbery equivalents.
The remote is built slightly lower into the cable than most, so while the built-in controls are easier to manipulate, the microphone is further from the mouth and is more prone to pick up other sounds besides voice. For a close mic experience, you just change the way you wear them to the cable-over-ear style. However, this sits like a fiddly chinstrap you'd get on a helmet and, when moving around, it's all too easy to dislodge the earbuds from your lugholes.
In use on a train, I noticed how the headset proved to be an excellent noise isolator. The audio is respectable too, with clear mid-to-top frequencies and a smooth bass, although it could benefit from just a tad more oomph. Still, I've heard a lot worse and the S4s can deliver extremely high levels before distorting. While the RRP does put the S4s at quite a premium for what you get, shop around and you'll find them nearer the £50 mark, which is much more like it.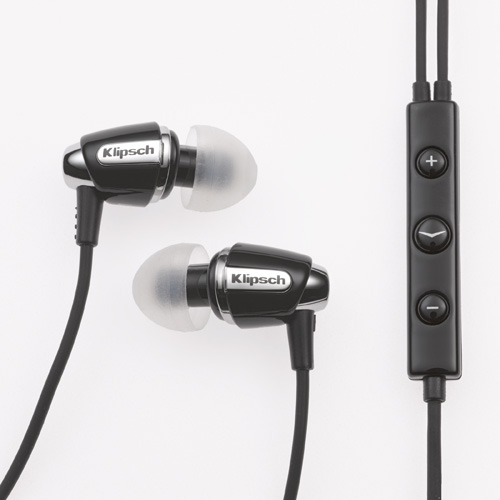 Reg Rating 75%
Price £90
More info Klipsch
MEEElectronics SP51P

I first encountered MEEElectronics kit whne putting together the over-ear headphones roundup earlier this year and was somewhat underwhelmed. However, the SP51Ps certainly perform better than its bigger brethren and surpassed several notable brands in this roundup.
While the design is nothing to write home about, the SP51Ps are far from beyond basic fare for smartphone users. The laminated cable design is robust and even though it can knot easily, it is simple to untangle. The built-in control/mic combo is a one button jobbie that resides to the right of the cheek. Its cylinder shape is a fiddle to navigate, but it does a fantastic job when making calls, delivering clear speech with limited background noise.
The SP51Ps stay in place firmly, but the earbuds do create the caterpillar-munching effect upon insertion, suggesting that corners have been cut in places. They're also quite big and the cog on the end of each bullet-like chamber is slightly scratchy on the ears. Yet the cog is what these buds are all about, as three different types can be fitted each delivering a different tonal colouration. While the Phonak's - which I look at later in this roundup - use a fiddly filter system for a similar effect, the SP51Ps are much easier to switch. However, you need to take care when doing so, as these small parts are all too easy to lose.
The build is a little on the cheap side – which doesn't fill me with confidence in terms of longevity – but the output is commendable and the adjustable soundscape is a feature I'd like to see implemented in more headsets.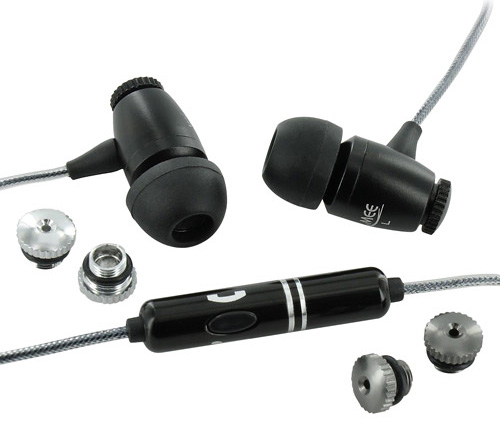 Monster Diddy Beats

As with all previous Beats we've looked at, these personal ghetto blasters are badboys in every sense of the word. More so here, perhaps, because they were co-created by Bad Boy Records founder Sean "Diddy" Combs.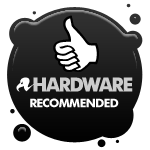 The Diddy Beats are some serious in-ear bling, with a shiny trim design and durable feel. Only thing they're missing now is the Swarovsky crystals – really. They are quite heavy, with the cable and heavier-than usual in-line attachments adding to the problem. Indeed, joggers and regular gym-attendees could find them somewhat burdensome. Even so, they stayed in the lugs comfortably – the flat cable does a good job keeping things tangle-free – and the microphone is well placed too.
The Diddys can go incredibly loud and handle it well without noticeable distortion – not that you'd need them too high as noise isolation is at a premium. Be careful when crossing the road.
The thumping powerful bass frequencies rule the show here, but a prominent mid-range invigorates vocals and the top-end is crisp enough to set the spine tingling with snappy snares and hissing hi-hats. They're pretty pricey, but joining the cool crowd tends to be that way and these are for iPhone too – go figure. Still, there's a lot of bang for your buck and, as much as I may not favour the man's music, Mr Diddy has some quality headgear here.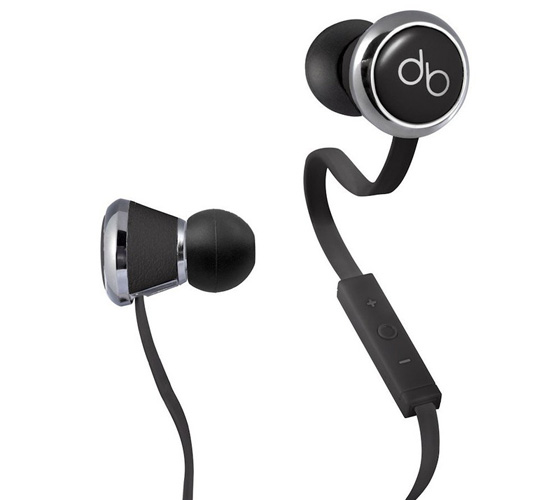 Phonak Audéo 112

Swiss hearing-aid company Phonak enters the UK market with its respectable range of in-ear monitors and impresses from the get-go.
With this smartphone model, there's an abundance of earpiece tips, including the desirable comply-foam type for an even better mould. While the over-the-ear style of fitting is highlighted, both methods of insertion keep the pieces firmly in place and comfortable for the long haul. The top half of the cable is thin and tangles a lot, but there is a slider-system to adjust the point at which it splits and there's no noticeable contact noise.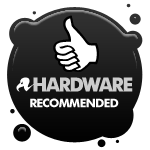 Two coloured filters deliver different tonal characteristics – black for 'warm' and grey for 'bright' – but fitting can be quite a fiddle. With either option, the audio is pleasant with excellent clarity and powerful bass. Noise isolation is good too and the built-in microphone performs well – there's a multifunction control button for smartphones too.
Unfortunately, the 112s are on the pricey side and hardly have a standout design, but definitely take some beating when it comes to sound delivery and are a worthy consideration for those willing to splash out on a decent, all-round smartphone headset.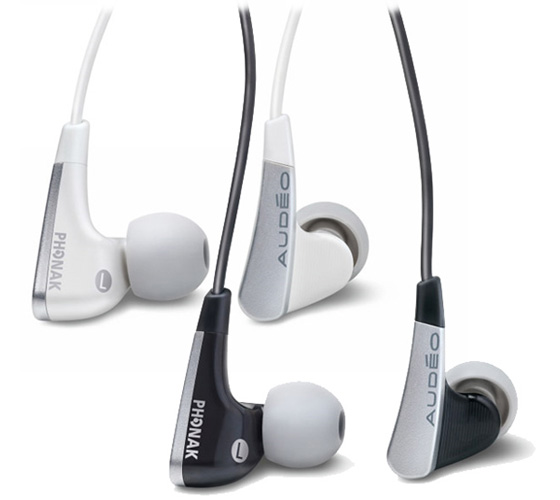 Sennheiser MM30i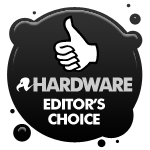 Small and basic but bloomin' marvellous, these Sennheisers are a great choice for any iPhone user seeking a budget headset with a lot of oomph. The buds are extremely light and push into the lugs comfortably. If it wasn't for the noise isolation, you wouldn't know they were there. Design is no-frills and the cable is a tad on the flimsy side, but what the MM30i lacks in style, is soon made up for by its robust sound.
The buds boom instantly with a thumping dominant bass, thick and punchy. Crisp high ends are powerful enough to balance it out, but the middle can get lost in the storm created. Still, the output is impressive as it can belt it out at damaging levels with only slight distortion.
The microphone is built into the top of the control box, which hangs on the left side an inch or so under the chin – just enough to see what you're doing when fiddling with controls and close enough to the mouth to grab a good sound. It hardly makes any contact noise either.
Overall, these little beauties are impressive and extremely good value for money. Shop around and you can find them for well under £40. While not the purest audio output in this roundup, it's still a respectable sound and for a price that earns the MM30i headset the Editor's Choice award.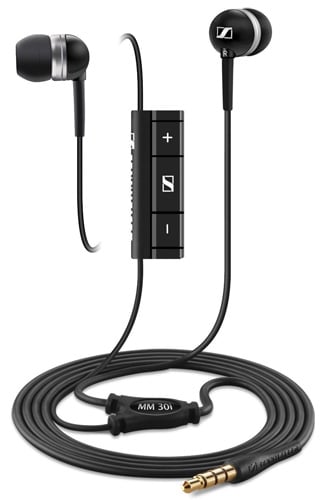 Skullcandy Fix

Skullcandy's distinctive braincase logo is hard to miss on the ears of commuters all over the capital these days. Indeed, the company has made quite a name for itself with an extensive range of funky, yet affordable audiogear and adds to the collection here with the Fix, a set designed specifically to stay in the ears. Erm, aren't they all?
The earbuds are a comfortable firm fit that isolate noise well enough to hear the music and not so much that you could wander into oncoming traffic. Oh, just like it says on the tin, they stay in place too. The cable is quite thin and suffers its fair share of contact noise, but the sleek in-line controls and mic combo is well-positioned and does a great job when making calls.
The audio output has a lower end emphasis delivering a dominant bass and a colourful mid-range. The chamber design is similar to that found on some Audio-Technica headsets, but with a more impressive sound than AT's CK400i.
If you've a liking for bass-orientated music on your iPhone, then the Fix should satisfy. On other material, the sound can come across as a bit dense, but they can be cranked up loud with minimal distortion. For the money though, there are better options, but the Fix headset does have a very snug fit and and an eyecatching design to boot. ®