Original URL: https://www.theregister.co.uk/2011/10/14/michael_dell_dell_world/
Texan lone star Dell lassoes storage into servers
Directly feeding CPUs with data ASAP
Posted in Storage, 14th October 2011 11:44 GMT
Dell World Texans have a certain swagger, and today in the Austin Convention Centre it was Dell's turn to sashay onto the stage. EMC World, Symantec Vision, Dell World, NetApp Insight - the single-vendor trade shows give corporates a catwalk on which to strut their stuff, and Michael Dell strode out to walk the walk and talk the talk as behoves the CEO of a $30-plus-billion corporation.
The warm-up music shook the seating to its foundations as the audience wandered in with hands full of taco breakfast rolls and coffee cups, eager to hear from the world's biggest PC box shifter turned end-to-end enterprise IT solutions supplier. A horde of corporate tweeters had smartphones and notebooks at the ready, keen to broadcast the great man's soundbites faster than neutrinos escaping from CERN.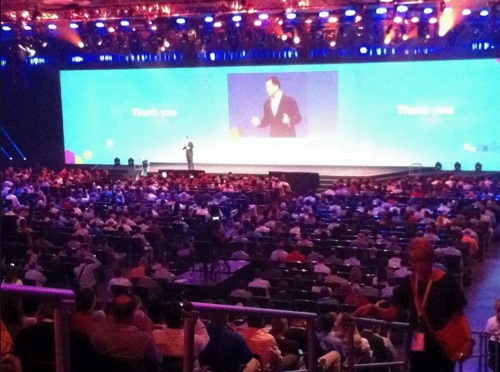 Michael Dell on stage at Dell World 2011
On he walked, besuited and tieless, and did his excellent stuff. Dell is a plain-speaking man with a common touch... despite that aura of being a billionaire. Customers and channel partners rush to have photographs taken of themselves with him; Hey, that's me with Michael, and he gladly plays along, apparently appreciating every customer and channel partner and employee.
The pitch was good; big numbers, big appreciation for customers, big opportunities, Dell is a big listener, big opportunities, and big things coming. Here's where we speed-and-feed freaks perked up.
Modular data centres and flash-enhanced servers
He talked about the modular data centres with virtually every watt coming in doing useful work and not being wasted on infrastructure maintenance. PUE (Power Usage Effectiveness) ratios of 1.04 and 1.03 were mentioned, with ambient air cooling sending chillers into the back of beyond.
These container-like data centre modules can hold 1,920 servers with 138TB of RAM and several petabytes of storage. Dell said: "We believe we are delivering over half of the world's modular data centres." Remember Sun's Blackbox? That was before it's time unfortunately and Dell modules are pouring into data centres through the doorway opened by Sun.
Next year these modules will be even more powerful. Michael said that the existing PowerEdge R910 has up to 2TB of main memory. The 12th generation PowerEdges next year will have more IO bandwidth and faster processors.
They will have flash storage "architected into the system from the beginning", directly in the server, Dell calling it tier zero. He talked of Dell's Fluid Data Architecture extending across EqualLogic and Compellent, with tiering extended from HDD and flash in the array into the server, via technology from the RNA Networks acquisition.
He said these flash-based servers will run database queries sixty times faster, that's right, 60X faster, than today.
He talked of data centre racks, single racks with 1,024 cores linked by 10GbitE to a Force 10 switch, and the switches talking 40GbitE to a core switch. The rack would contain 40TB of DRAM and 40TB of flash and run "more workloads per server than ever before".
Storage lagging behind servers
But there is a looming problem here and Darren Thomas, Dell's storage VP and general manager, talked about it yesterday. He said that today's PCIe bus is about as fast as Fibre Channel, meaning around 8Gbit/s, and Intel's next-generation processor memory bus will be 100 times faster - this was a big picture pitch. What that means, he says, is that servers will be waiting for networked storage and that won't do. He says he thinks he knows how to fix that but isn't ready to talk about it.
The answer would seem to be binary. Either the storage gets an order of magnitude or two increase in network link speed to the servers, or NAS and SAN give way to DAS (directly-attached storage) and are directly connected to servers somehow. The storage data gets to servers much, much faster, or the storage becomes integrated into the servers.
The net of this is that Dell's storage has to get used to faster servers wanting data fed into their memory faster than ever. Flash will be provided as a fast storage tier adjacent to the server's DRAM, and that flash has to be loaded from disk-based resources that can cope with the bandwidth demands made on it. That means the storage array software has to change.
Dell's storage has to get used to faster servers wanting data fed into their memory faster than ever.
Intel says that current second-generation PCIe does 5 giga-transfers/second (Gtf), meaning up to 20Gbit/s. Gen 3, coming with Romley processors in the first quarter next year, will run at 8Gtf and could do up to 100Gbit/s.
Storage's ambit will extend to tier zero server flash which will have, we imagine, a PCIe gen 3 link. So the bulk of the storage resource, tiers 1, 2 and whatever else, will need to feed this flash and accept writes from it. It could do it by having its own PCIe gen 3 interface or going in via an Ethernet port, presumably a 10Gbit one, meaning 10Gbit between the network interface and the storage. Arguably this would be too slow and a 40Gbit/s NIC would be needed.
Dell storage people aren't talking about any of this publicly. But it seems clear that the Compellent and EqualLogic controller software will have to manage tier zero flash and the externally-attached array becomes an internally-attached array either directly PCIe gen 3-connected or coming in via a NIC.
An interesting thought: if both EqualLogic and Compellent arrays become internally-attached and do server IO through a PCIe gen 3 interface then differentiation based on iSCSI vs Fibre Channel access falls away. It's all DAS - unless the PCIe bus carries a storage networking protocol.
Dell and innovation
What we are seeing here is a server-storage technology gap that Dell is filling from within its own resources. The lines between servers, networking and EqualLogic and Compellent storage are blurring with lots of staff meetings held to ensure that developments in each area are in lockstep.
Dell is now definitely focussing on innovation. This is no way and no longer a me-too technology company. Dell is upping its capabilities and taking on anybody and everybody in an IT world where separate server, network and storage boxes and silos are going away.
Big changes are coming and Michael Dell, the boss of the biggest IT company in Texas, its lone IT star we might say, is putting on his ten gallon hat and doing what an IT man has gotta do to make his way in the big data-driven cloud computing world he sees coming. The man from Texas is starting to swagger because he reckons he's got the answer. ®