Original URL: http://www.theregister.co.uk/2011/10/14/games_review_forza_4/
Forza 4
Petrolheadonism
Posted in Personal Tech, 14th October 2011 13:02 GMT
Review Driving simulators - you either get them or you don't. For those of you who can't tell your carburettors from your crankshafts, there's perhaps little chance that anything written here will convince you to invest. Shame, because Forza 4 is perhaps the most accessible driving sim yet designed. It has the depth demanded by the motorsport devotee, yes, but it's buried beneath presentation which keeps everything user-friendly.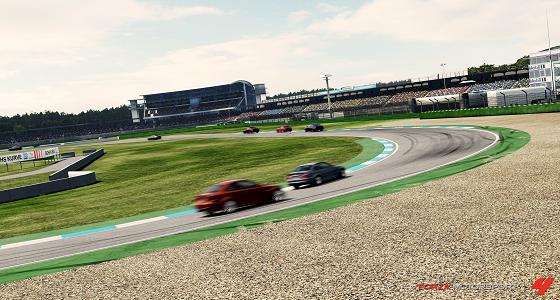 Take the World Tour, for example. Forza 4's main campaign mode actively responds to your current car selection, finding a suitable race to facilitate maximum track time. Even more cleverly – and here's the bit for you non-driving fans – it even auto-upgrades your car, assuming you have enough credits, to match the horsepower of the other drivers in that event ensuring you're able to compete. If you have the necessary skill, that is.
It's a far cry from Sony's Gran Turismo 5, a game that's impossible not to consider when playing Forza 4. Both games are not only vying for domination of the 'real life driving sim' genre, but both polarise console manufacturers and owners alike due to the fact that each is a console exclusive, heavily backed by the major stakeholders and held up as the best racer for each system.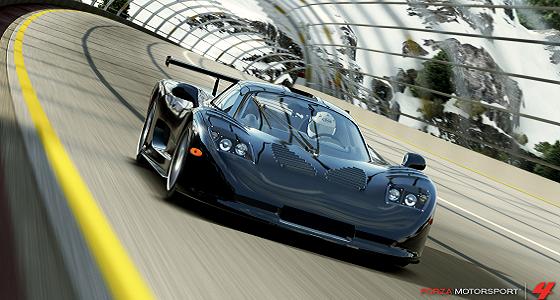 Where GT5 bewildered – its insistence on having just the right, manually tuned car in order to be able to enter its various events, for example – Forza embraces, happy to put its driving first and obsessive-compulsive tendencies second.
That's not to say you can't get involved in the nuts and bolts minutiae should you wish. Indeed, the engineering and tuning aspect of Forza is every inch as involved as GT5's, but it's nice to have the option of the quick fix.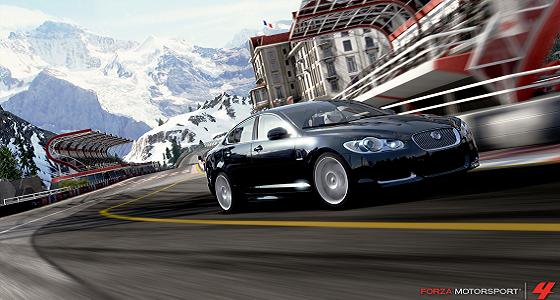 The delivery of a constant stream of cars for leveling-up - experience earned after every successful race - keeps your garage fresh, allowing you the luxury of a variety of car types at an early stage in proceedings. There's also reward for manufacturer affinity, so if say you mostly drive Fords you'll find that parts are discounted allowing you to more readily pimp your ride.
Driver assistance? No thanks
Another nice touch is how disabling driver aids affects your credit accumulation – credit being vital as a means to purchase cars, upgrade and so on – in what can only be encouragement from developer Turn 10 to turn them off once you're ready.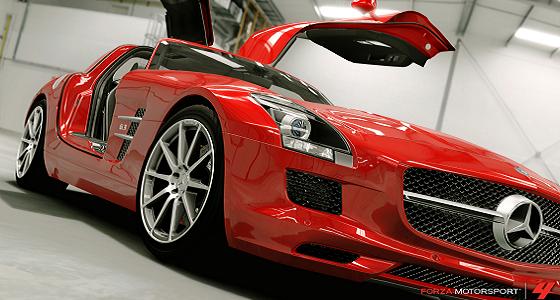 I'm a big advocate of banishing the overlaid driving line assist in particular. Sure it helps with learning braking zones and such, but all you'll end up doing is getting the driving game's version of tunnel-vision. Much better to turn it off, experiment with your cornering speeds and braking zones and take in your surroundings. Forza does, after all, offer up digital representation of some of the world's finest tarmac'd terrain.
It's in the tracks that further parallels can be drawn with GT5, both games priding themselves on providing perfect renditions of the likes of the Nürburgring, Laguna Seca, and... er... the Top Gear test track.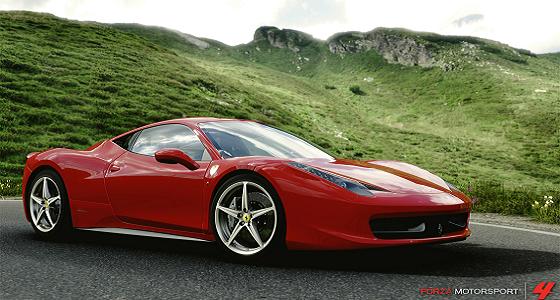 Let's take Laguna Seca by way of comparison, Forza 4's rendition is certainly a brighter affair, almost super-saturated in colours and a stark contrast to the more somber toned, but no less beautiful GT5. The actual tarmac itself is perhaps more convincing on Sony's racer, but Forza wins hands down in terms of scenery, the Lego-like trees of GT5 embarrassed by Forza's flora.
It's a similar story when it comes to the cars too, with Forza's models appearing that bit more colourful, equally aesthetically accurate but without such a severe edge to them.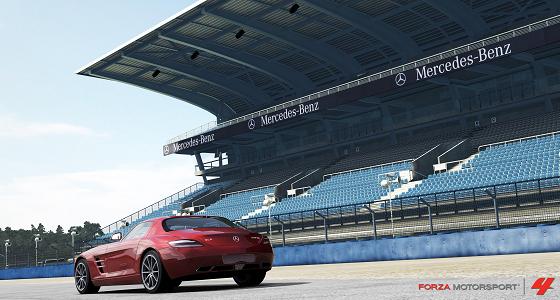 If forced to chose, I'd have to say that GT5 just about wins this particular comparison when comparing its 'premium' models – that's cars rendered specifically for GT5, interiors and all – to that of Forza, but it's close. And all 500 of Forza 4's cars include interiors, something GT5 can't boast.
It's also worth pointing out that bodywork damage is much superior in Forza. Panels crumple, paint gets scratched and lights smashed - and rendered inoperable - in realistic, ergonomic fashion. It's a good job the damage model works so well too because so kamikaze is the AI that contact is inevitable whenever one of your artificially driven competitors draws near.
Track daze
Sure, they'll take every opportunity to overtake - something to be complemented - but follow up such smarts with ridiculous stunts such as braking in your face to save position rather than accelerate out of a corner, say. Or shunting you into an oncoming barrier in a way that even Lewis Hamilton would think irresponsible.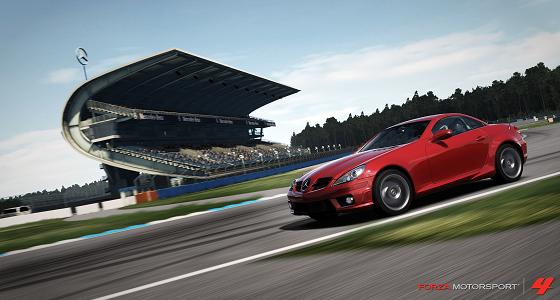 It's perhaps due to this wacky racing that I ended up taking advantage of Forza's other aid for lazy drivers: the rewind function. You don't have to use it, of course, but unless you disable it altogether, the temptation to give in is ever present, making races far easier than they really should be.
Take Forza 4 for a spin online, however, and, depending on how serious the drivers are you're up against, those AI worries melt away. Where GT5 epitomised Sony's PSN in general, a slow and unwieldy beast, Forza overwhelms with options.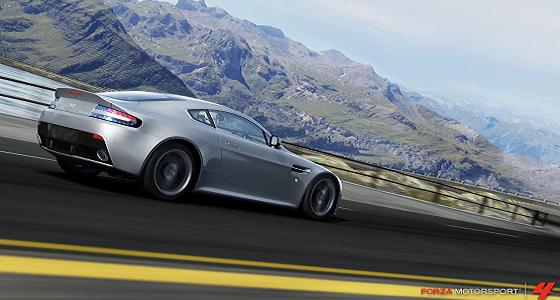 Up to 16 players can go toe-to-toe. There's the option to sell cars to and buy them from other drivers. There's the introduction of a 'Rivals' mode which allows you to see you friends' best times and so race it, even capturing their ghost data so you can see exactly where that extra tenth might be picked up – compelling stuff.
Though doing an admirable job of translating handling to control pad – and it does, cars feeling weighty and responsive and each distinct from the next – you might also be considering buying the new Wireless Speed Wheel. Set-up was easy, but as it's held, not anchored, so it does tend to get heavy after a prolonged stint.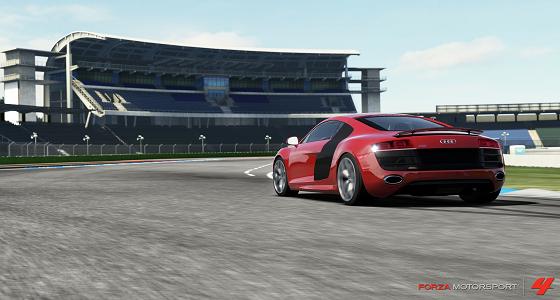 The obvious miss is force feedback, so negating much of the benefit and enjoyment of having a proper wheel. However, for those of us with the cash to spare, it provides a modicum of fun that the pad lacks, if just because it's cool to see your turning of the wheel translated on to the digital steering column.
Verdict
Perhaps one of the most telling aspects of this review is that there's been little cause to mention anything new or particularly original. Most of Forza 4's many assets are mere refinements and improvements over Forza 3. Aside from a sprinkling of new tracks, a try at Kinect support and a little more lustre to the visuals, it's enough to leave Forza 3 completionists with a sense of déjà vu.
However, when the source material was already of such high standard, surely Turn 10 can't really be blamed. And the enhanced online adds more longevity than anything the developer could have added to the single-layer campaign.
The debate will undoubtedly rage among racers and fanboys about which game does the better job, this or GT5? Perhaps the bigger question is where does the driving sim go from here? ®
More Games Reviews

Ace Combat:
Assault Horizon
Dark Souls
Rage
Ico & Shadow of the
Colossus Collection
Rise of
Nightmares