Original URL: https://www.theregister.co.uk/2011/10/13/review_ebook_reader_amazon_kindle_4/
Amazon Kindle 4
The library in your pocket?
Posted in Personal Tech, 13th October 2011 06:00 GMT
Review Amazon's Kindle Fire tablet was always going to grab the headlines when the retailer revamped its e-book reader line-up last month. But for many book buffs, its low-cost E Ink devices were more interesting.
Amazon has been aggressively driving down reader prices, and its entry level Kindle 4 - aka the 'Kindle Touchless', a nod to its touch-sensitive sibling, the Kindle Touch - is the cheapest reader the retailer has ever offered.
Comparisons with the 'cheap razor, expensive razor blade' model have been well detailed elsewhere. The Kindle is inexpensive because Amazon hopes to make its money by selling e-books, and that's all you need to know about why it's so much cheaper than other (decent) readers.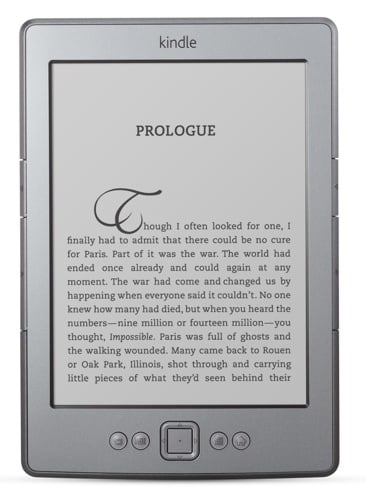 And the new Kindle is cheap - just £89 - and it makes buying and reading e-books very easy indeed. Not as spur-of-the-moment as the 3G-enabled Kindle 3 - this is a Wi-Fi only device - but with home wireless so ubiquitous, leaving the cellular radio out is a reasonable trade-off to get the price down.
Ditto halving the storage capacity from 4GB to 2GB, though the space available for e-books is smaller still: 1.35GB when you've deleted the user guide and one of the two dictionaries Amazon bundles.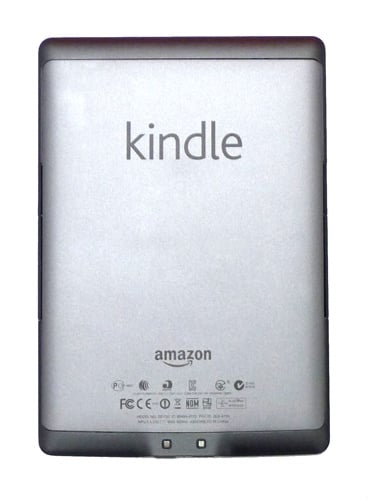 The back as a slightly rubbery feel for better grip
Don't get hung up on storage capacity. Even 1.35GB is enough space for more than 1200 books - I have a fraction of that on my 4GB Kindle 3. You've really got to be a hoarding-for-hoarding's-sake merchant to consider 2GB too small.
And you won't be storing MP3s and such on the Kindle 4. The 3.5mm jack seen on previous Kindles has gone. Ditto the volume control and the text-to-speech function. The old power slider is out too, replaced by a button - a better control, I think. Micro USB remains the file transfer and charging mechanism - but don't expect a USB AC adaptor to come with it; all you get bundled with the Kindle is a cable.

No more headphones any more
Gone too, many of you will be pleased to know, is the dead author screen saver, replaced by a more neutral array of textures built out of photos of everyday writing implements.
Incredible shrinking manual
The big change between Kindle 3 and 4 is a reduction in size. The bezel is much narrower and, as you'll have seen from the snaps, there's no keyboard. The new model is a fraction of a millimetre thicker, but feels more so thanks to a less rounded, less tapered edge.
The build quality seems decent enough.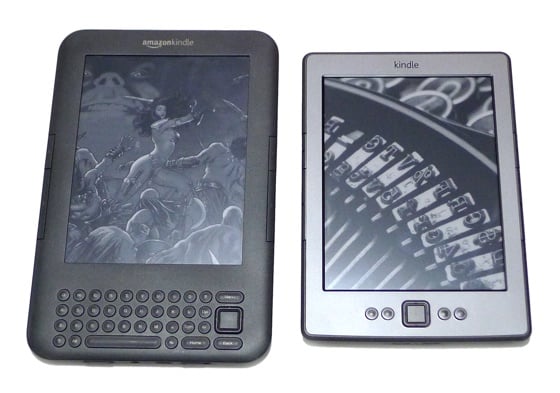 The old generation... and the next
The new Kindle is more pocketable than its predecessor, and while the virtual Qwerty keypad is certainly less convenient - and slower for text entry - than a physical one, when you're only keying in search strings and Wi-Fi WPA 2 keys, that's no real problem. If you expect to type more than that, wait for the Kindle Touch or go for the still-available Kindle 3, now renamed the Kindle Keyboard.
I like the Kindle 4's smaller size, but I miss the Kindle 3's curves and darker looks. And the old model had bigger page turn controls. The new ones are narrower than before, so they're rather harder to trigger one-handed.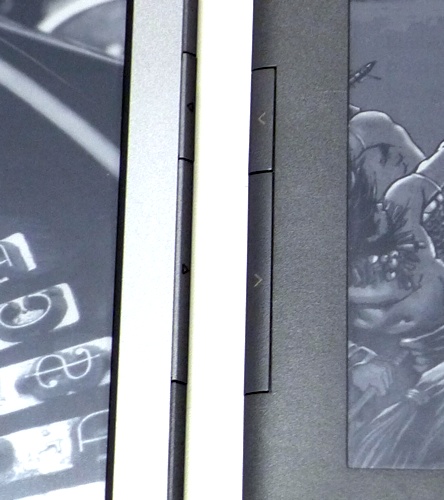 Kindle 4 has much narrower page turn buttons than its predecessor did
Amazon has given the Kindle 4 the same 6in, 600 x 800, 167ppi E Ink Pearl display it used in the 3. I still prefer it to squinting at a smartphone screen. What has changed is the refresh rate, sped up by cutting the regularity of a full screen reset - e-book readers' infamous black flash between new pages - from every page to every six pages.
Clearing the screen - turning all the pixels black - has the advantage of resetting the tiny particle packets used to shade each pixel. The cost is page turn time.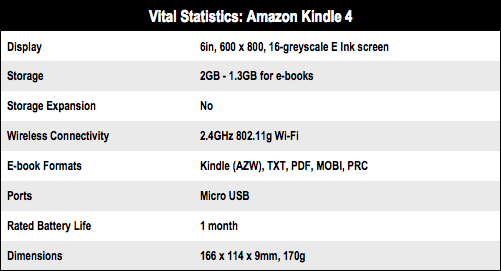 The text, the text, the text
Frankly, that never bothered me with the Kindle 3 and other Pearl-using readers, since it doesn't really hold you up any longer than turning a physical page does.
With a less regular reset, Amazon gets the Kindle 4 to turn pages a fraction of a second more quickly - except for the sixth page turn, of course - and renders the text less smooth with each turn until you get the full-screen reset.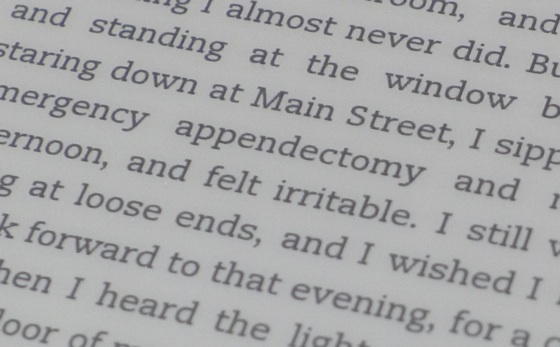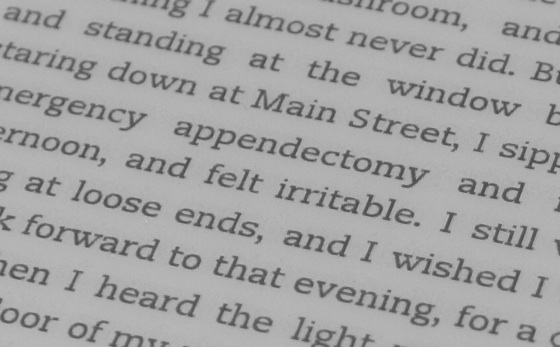 The text as it appears after a full screen refresh (top) and then after four page turns (bottom)
If you look closely you can see characters become progressively appear more jagged over the four page turns preceding the refresh. How much that actually bothers you is something only you, as an individual, can say. The idea annoys me, but I have to admit that as I shifted my attention to what I was reading from what I was reading it on, I stopped noticing it.
And if you do, there's a 4.0.1 firmware update that lets you go back to the old refresh each page turn mode.
Likewise, whether you're willing to accept Amazon's walled garden is also a matter of personal taste. Amazon-sold e-books are DRM'd, but the Kindle will display a range of formats unencumbered by DRM.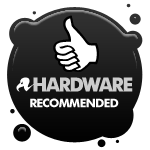 But not the commonplace ePub format, which is plain silly. If Amazon's goal is to prevent piracy, why allow Kindle read anything other than Amazon's own .AZW format? Punters can convert non-DRM ePubs into .mobi files for the Kindle easily enough - it seems perverse to impose this unnecessary extra step, even for the sake of being seen to be doing something to tackle piracy.
Verdict
The Kindle 4's small flaws prove to be less important than the much more obvious reduction in size. Amazon's offering was always cheaper than its nearest rival, Sony's Reader, but bigger. Now it's effectively the same size.
Ignore red herrings such as storage capacity and storage expansion - the Kindle 3 has sufficient space and the Cloud behind it for the rest - and you're really just left with brand and format personal preference, and pricing. If you only care about the latter, the Kindle 4 is the only e-book reader to consider. ®
More Tablet and Reader Reviews

Acer
Iconia
A100
Dell
Streak 7
HTC
Flyer
RIM
BlackBerry
PlayBook
Ten budget
Android
tablets