Original URL: https://www.theregister.co.uk/2011/10/12/demos_creative_industries_report/
Brit micro-biz needs tax breaks, promotion, cuddles
And that could mean you
Posted in Business, 12th October 2011 15:01 GMT
Britain's creative micro-businesses – spanning fields as diverse as software, music and fashion – are the key to growth, according to a new study.
Centre-left think tank Demos finds that these outfits, typically employing fewer than five people, are more resilient than other sectors, and recommends several measures to nurture the micros, which it says are badly treated at present by the civil service and economic beancounters.
Co-author Helen Burrows says that creative industries make a significant contribution to the UK economy, but 90 per cent employ fewer than five staff. This isn't recognised by policymakers, say the authors. The Demos Report – Risky Business – dispels the notion that micro-businesses are an employment risk. Their perky performance during the downturn shows them to be the healthiest sector of the economy.
Demos recommends that these companies should retain ownership of their own IP rather than sign it away to a client. It urges the BBC to implement this right away and strengthen creators' rights in the next BBC charter renewal. The wonks also recommend lower corporation tax on profits derived from copyright – similar to the "patent box" break. Demos also recommends changes in Blue Book accounting, and a dedicated growth unit within the civil service, which it says either ignores the micros or creative industries altogether.
(Currently copyright is handled by the IPO, a BIS agency – and the Spartist bureaucrats there give the impression they would be delighted to see intellectual property abolished.)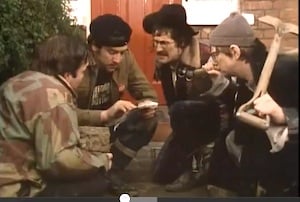 "Property is theft, comrade"
- IPO officials drawing up another IP strategy paper
Software companies are the largest component of the creative industries, by Demos' own definition, with 44.9 per cent of the sector. Advertising, publishing, design, architecture, music, fashion, TV, radio, film, video and photography make up the rest. Innovation in these drives significant demand in other sectors, Demos points out. Publishing and advertising tends to have larger companies.
Despite the jargon – "between them they have a good handle on the policy place where industrial hits cultural", we learn in the intro – this is a welcome contribution to the debate. Leftish think tanks and academics haven't exactly rushed to the support of small creative businesses before.
Many software developers will welcome a reward for their labour – and the recognition that their work is creative. To earn a break from the "copyright box", goods and services may be stamped with a kite mark. How would that apply to B2B software, we wonder? ®