Original URL: https://www.theregister.co.uk/2011/10/12/cisco_vxi_citrix_partnership/
Cisco VXI turns virty desktops into server sales
Are you (virtually) experienced?
Posted in The Channel, 12th October 2011 17:39 GMT
Cisco Systems has been looking for a killer app that will sell its "California" Unified Computing Systems and, after a year of selling preconfigured systems running XenDesktop with Citrix Systems, the company reckons that virtual desktop infrastructure (VDI) just might be the ticket to expanding Cisco's presence in the data center.
With Cisco everything has to be "unified" something or other these days, and the Virtual Experience Infrastructure initiative (VXI, heaven help us another ugly abbreviation) is about bringing together voice, video, and virtual desktops in a way that remote end users working from outside the corporate firewall are not left out in the digital cold with poor performance and diminished features.
In the wake of its reorganization a few months ago, Cisco said it would have five priorities: getting back the lead in core switching, extending its push into data centers (particularly with cloudy infrastructure and converged switching), getting companies to use more video and collaboration, and delivering the vague-sounding "architectures for business transformation". OK, so maybe it was really three priorities when you look at it closely. The point is, VXI hits all the priorities, so at least for management, it is a home run.
Cisco says that customers want virtual desktops (although that means different things to different people) because of the flexibility in terms of patching and recovery from crashes that the VDI approach has. This means (in most cases and certainly in the case of Cisco's efforts with both VMware and Citrix) storing PC images and/or PC applications in the data center and feeding them up to thin clients, laptops, or desktops from servers through LAN or WAN links. If configured properly, this VDI setup can be more secure and reduce the total cost of ownership of a business user desktop, er, device.
Desktop is becoming an increasingly less relevant word to describe what people use to do work. Maybe workstation, a very old-fashioned word indeed, is better? Cisco likes calling it a "virtual workspace," removing all indication of the underlying devices that end users employ. That's probably the best we're going to do.
The problem with VDI is that it can be expensive to get started, particularly when the back-end virtualization layers hosting the virtual desktops require SAN storage and beefy servers. The compute capacity on a PC is always going to be cheaper than an equivalent capacity on a server, and then you are serving up the PC experience over a LAN or WAN link and performance can be anywhere from near normal to perfectly awful. This Cisco image pretty much sums it up:
On the front end of the workspace, Cisco has two new clients it is putting out. One is the VXC 4000, a software appliance that runs Cisco's collaboration software on a virtualized Windows PC which is served up by either Citrix XenDesktop or VMware View. This software appliance for PCs doesn't yet support video, but will next year; it will be available before the end of the fourth quarter with voice integrated into the virtual PC. The Cisco VXI software appliance will run on any Windows XP or Windows 7 PC image served up from XenDesktop or View.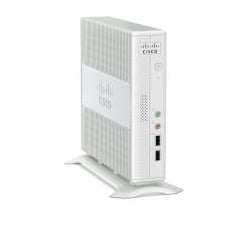 Cisco's VXC 6215 thin client
If you want to get an actual physical device to plop on the desktop to run the VDI instance, then Cisco is offering the VXC 6215 thin client, which is orderable in the fourth quarter and shipping in the first quarter of next year. It is a Linux-based thin client that has voice and video integrated into the virtual PC. Cisco's enterprise tablet, the Cius, is shipping and plays in this VXI effort, and older VXC 2100 and 2200 series thin clients are VXI-certified. Management tools from thin client maker Wyse, including its Device Manager, Virtual Desktop Accelerator, and TCX optimizations for virtualized environments, will work with the new VXC 6215 client, but Cisco and Wyse stopped short of saying it was a rebadged Wyse terminal.
On the backend when most of the action occurs in the VDI setup, Cisco announced a five-year technical collaboration and co-marketing effort, by both companies, to better integrate their respective technologies as they related to virtual desktops and other areas, such as XenServer on UCS servers or optimizations for Citrix software in Cisco switches. In some cases, this collaboration agreement, which is a follow-on to the VDI agreement the two companies signed a year ago.
That effort, said Phil Sherburne, vice president of enterprise architecture and systems at Cisco, has resulting in over 100 new clients putting XenDesktop VDI on UCS iron, and those customers are now pushing over 100,000 virtual desktops. Under that arrangement, Cisco and Citrix bundle up and preconfigure VDI setups, which are sold by Cisco and supported by Cisco.
Having tasted a little success with this collaboration, the two companies want to collaborate on data center infrastructure (including servers, switches, hypervisors, and such), end user devices, multimedia streaming, and packages aimed at service and cloud providers. No financial figures of the extended collaboration agreement were given, but John Fanelli, vice president of product marketing for enterprise desktops and applications at Citrix, said both companies were kicking in funds for the spectrum of the efforts.
The first fruit of this partnership that has direct bearing on Cisco's VXI effort will be a version of Cisco's Wide Area Application Services (WAAS) WAN optimization appliances, which come in hardware and virtual appliance form, that have been optimized for Citrix' XenDesktop VDI back-end and the HDX video and audio compression technologies that are part of the Citrix XenDesktop and XenApp application virtualization tools. Citrix, of course, sells its own Branch Repeater WAN optimizer, and will continue to do so, but Cisco wants to be able to peddle VDI with its own WAAS.
Presumably it won't be long before VMware and Cisco work out a way to optimize WAAS for the ESXi hypervisor and View, and it could even turn out that Cisco is able to get Branch Repeater optimized for the VMware VDI stack if enough customers ask for it. ®