Original URL: http://www.theregister.co.uk/2011/10/11/xiotech_last_throw/
XIO tosses the dice one more time
C'mon ... virtualisation!
Posted in The Channel, 11th October 2011 08:00 GMT
Comment Neither-fish-nor-fowl storage supplier XIO is looking to server virtualisation for growth spurt that has so far eluded it. If this fails then all XIO's bets could be off.
XIO, the renamed Xiotech, makes Integrated Storage Elements (ISE): sealed enclosures of solid state and disk drives with a five-year warranty and rocket science-level software delivering high, predictable and constant performance protected against component media failures. The latest version, Hyper ISE, combines solid state dives and disk drives in a 2-tiered product with continuous adaptive data placement on the tiers.

XIO's Hyper ISE
The ISE boxes are much, much more than intelligent storage array shelves but less than mainstream storage array controllers; more than JBODs but less than storage arrays, neither fish nor fowl as it were. Consequently XIO has arrangements with partners that include DataCore to provide the upper level storage controller stack functionality.
This means it has limited entry to enterprise customers who are conservative, dislike new things, and perhaps feel that a sealed canister means no thin provisioning and no ability to upgrade the disks inside to cheaper and/or larger capacity drives over time.
I think we can say that, in the five years since Seagate sold its ISE-inventing Advanced Storage Architecture group to Xiotech, Xiotech has not made a profit. Its VC backers bought in Alan Atkinson almost a year ago to turn things around. So far, he has not.
In August this year there was additional funding and a changed marketing effort with the company rebranded as XIO Storage, and a new focus on solution selling into the server virtualisation market. Alan Atkinson is entering his second year as the turnaround CEO and this year is probably a make-or-break one.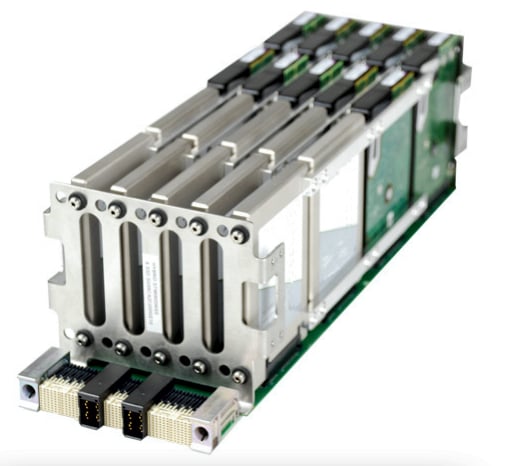 Hyper ISE module with SSDs and HDDs
We talked to him and his chief enterprise architect, Robert Stevenson, when they visited the UK
Hyper ISE launch, competition and markets
Alan Atkinson said that the Hyper ISE product was the fastest-selling launch product in the company's history, and that the company might end the quarter on 30 September with a shipment backlog. With Hyper ISE, XIO is competing against Fusion-io, Kaminario, TMS, Violin Memory, and Whiptail – all suppliers of shared access solid state storage systems.
Atkinson said: "I think the move to solid state is the most significant shift for storage since the rise of networked storage... There are eight to 10 suppliers in this space [with] different go-to-markets. For example, Nimble: customers looking at Nimble are not looking at XIO.
"It's good; there's no embedded incumbent with a CIO relationship. A number of our competitors are Indy cars with no power steering, no air-con and no brakes. They go really fast." Listen to that unspoken "but"... XIO's Hyper ISE on the other hand is likened to a fully-specified car.
You really want to put the storage controller in the hypervisor to minimise latency
HyperISE has high availability and mirroring, etc, but, according to Atkinson: "Its biggest advantage is price due to the SSD and disk drive combination compared to pure solid state storage."
He continued: "We can get more speed out of that box, because the data placement algorithm can be improved and customers get a speed boost via a firmware upgrade."
Robert Stevenson said server virtualisation, big data and the cloud all increased random storage I/O workloads "and we do well there... As mission-critical apps get virtualised and hypervisors run upper-level storage stack functions then XIO is well-positioned... You really want to put the storage controller in the hypervisor to minimise latency... EMC, NetAp, etc, will keep selling arrays with overlapping storage controller functionality and will be in the array sales preservation business."
Atkinson said: "The storage controller is under threat." To which competitors selling storage arrays might reply: "You wish". Atkinson talks of putting controller functionality in a spare server core. Of course the array vendors could point to their virtual storage appliances as doing exactly that.
XIO on PCIe and VMware
Atkinson says that solid state has to get closer to the (server) bus. PCIe is a little clunky as a protocol compared to external SAS, which you could run across a PCIe link.
Stevenson said: "A PCIe bus is not a good networking protocol. SAS can run at 12Gbit/s."
Atkinson said: "There's going to be some serious disruption in this space. VMware, if it wanted, could stop pretending SSD is disk... you may not like where [VMware] is in storage but it's doing it." He added: "You can make an argument that hypervisor support is more important than O/S support these days."
Is XIO getting VAAI certification? "We just approved the requisition for VMware [partnership program] membership."
XIO timeline
August 2011 - Xiotech changes name to XIO in a rebranding exercise. Hybrid ISE becomes Hyper ISE. New funding, new marketing effort, with Tony Asaro contribution, focus on solution sales, boosting European operations with new EMEA VP Roger Walton. Total funding could be $80m.
June 2011 - Hybrid ISE arrives, offering Fusion-io levels of performance for up to fifth of the price. Marketing head Brian Reagan leaves after less than a year in post to go to IBM.
March 2011 - Continuous availability for ISE across campus and metro distances. Said to be looking for another $30m funding.
February 2011 – Emprise brand is abandoned as Xiotech bets the company on ISE. Previous Magnitude traditional style HDD arrays effectively dropped by now.
January 2011 - Hybrid ISE announced. Xiotech moves HQ from Eden Prairie, Minnesota, to Colorado Springs where ISE Development is based. Nearly 20 per cent year-on-year growth in ISE revenues in 2010. Supplies Windows Server-based NAS head for ISE.
November 2010 - head marketeer Mike Hoch replaced by Brian Reagan.
October 2010 - Alan Atkinson becomes CEO, replacing Casey Powell. Atkinson founded WysDM, a backup reporting company, and sold it to EMC.
August 2010 - $10m funding round plus $10m line of credit for product development. Claims more than 1,500 ISE units sold since launch.
April 2009 - spin-down capability added to Emprise ISE arrays. More than 1,100 Emprise arrays shipped in ten months since launch.
November 2007 - Seagate sells its Advanced Storage Architecture group, the ISE inventors, to Xiotech, with Seagate boss Steve Luczo leading investor group to loan Xiotech $40m to buy the operation.
November 2002 - Xiotech is spun off from Seagate. It sells Magnitude SAN storage array product.
November 2000 - Seagate buys Xiotech for $360m.
1995 - Xiotech founded.
I think the move to solid state is the most significant shift for storage since the rise of networked storage.
Destination from here
Can XIO ride the server virtualisation wave and sell tens of thousands of ISE boxes with a accelerating applications focus against full-blooded storage array and pure flash hot box array competition? That is the question.
In evolutionary terms XIO has been a crustacean, confined to the sea shore and shallow seas. It can't swim and it can't fly. All it can do is scuttle along the seabed and seashore and hope it doesn't get picked off by a predator. Can it use server virtualisation, big data and the cloud to help it compete with the big boys?
From one point of view ISE looks really exciting, a new breed of storage combining the best of flash and hard disk drives and getting rid of their disadvantages. It should fly when disk gets stuck.
But from another viewpoint ISE looks like a a storage technology evolutionary dead-end. It hasn't been able go anywhere and isn't going anywhere. It is stuck in its own slow-moving mini-ISE age and that era looks like it is coming to its close. Exit XIO, so long ISE.
Which is it? Ah, if I knew that I'd be rich, and I'm not. Some say XIO is about to fly, others that it's going to tank. Let's hope it flies. It has unique kit which is fast and lasts and breaks the storage mould. Vive la difference! ®