Original URL: http://www.theregister.co.uk/2011/10/11/ten_freeview_hd_recorders/
Ten... Freeview HD recorders
Timeshifting telly treats
Posted in Personal Tech, 11th October 2011 12:00 GMT
Product Round-up The UK's ongoing digital switchover means that Freeview HD has probably now rolled out to a transmitter near you. If you're using old digital TVs or set-top boxes, you won't get the four – soon to be five – high-def channels through your aerial, alongside the standard line-up.
One of the best ways to upgrade is with a new recorder equipped with DVB-T2 tuners. If all goes to plan, Freeview recorders will continue to evolve with the launch of YouView, which aims to set a common standard for 'connected TV'. However, more than half of the DVRs below already access content such as the BBC iPlayer.
In many ways, products that cram in too much end up disappointing. The most dependable get the basics right – like tackling the problematic surround sound used on some HD broadcasts.
3view 3VHD

An unassuming little box, the 500GB 3view recorder has a surprisingly sophisticated user interface plus on-line features including iPlayer, internet radio and, 'soon', Sky Player. Its slick, responsive system is like a TiVo/Sky+ hybrid – and it can stream all recordings to compatible networked media players.
The Freeview HD picture is exemplary but tuning is a hassle because the box cannot differentiate between duplicate channels – a problem in post-switchover areas. It also leaves out support for HE-AAC 5.1 surround sound used by Freeview HD.
Media streaming is bug-ridden and non-50Hz material is not played smoothly, which is a shame given its otherwise broad format support. The 3view 3VHD is more like a work in progress but worth considering, especially if you can find it at a discounted price.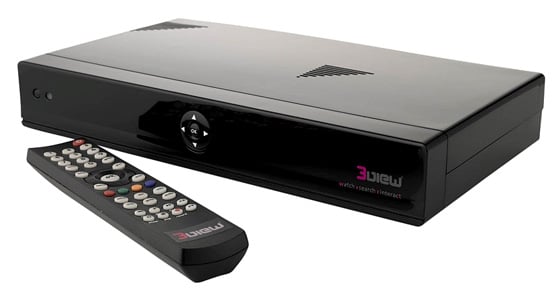 Reg Rating 65%
Price £300
More info 3 View
Humax HDR-FOX T2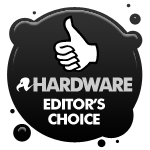 The Humax is a stalwart of Freeview HD DVRs, managing to blend powerful technology with consumer-friendly ease of use. It's also well supported with (occasional) updates that enabled extra features such as iPlayer. Like 3view's box, Sky Player may be added too.
It was also one of the first to properly handle HE-AAC 5.1 sound by converting to Dolby Digital. Some – but not all – media formats can also be streamed over the network. Disk capacity is 500GB.
It's worth noting that Humax's £90 'zapper' box, the HD-FOX T2, can become a single tuner recorder by connecting a USB drive, as can the interesting £130 TechniSat HDFV.

Reg Rating 85%
Price £250
More info Humax
Icecrypt T2400

The reassuringly sturdy T2400 – made by Turbosat – has a speedy, coherent on-screen display and well-arranged handset, although both could do with less clutter. The programme guide also provides keyword searching.
Its Ethernet port can be used to transfer files onto its hard drive by FTP, however, setting this up is relatively tricky. A wireless dongle upgrade is in the works.
The hard disk comes in generous 1TB or 2TB sizes, while the media player – using the internal disk or attached USB drives – handles MP3, DivX and H264/MKV, it is sometimes inconsistent. Overall AV quality is excellent but the claimed 5.1 audio output for Freeview HD didn't work on my test model.

Reg Rating 70%
Price £200
More info Icecrypt
LG HR600

A combination of Blu-ray player and 250GB Freeview recorder, the HR600 is a contradictory machine. The picture quality from HD channels and Blu-ray is admirable, while upscaling looks extremely impressive too. The media streamer is almost as comprehensive as it is from USB and there's built-in Wi-Fi.
Problems arise with 24fps playback, which if enabled, causes jerkiness with its iPlayer picture. If you disable it then Blu-ray movies aren't so great. It's also crash-prone and my sample couldn't handle HE-AAC 5.1 audio, causing distortion regardless of settings and making Freeview HD unviable. It scores highly for its price and numerous appealing features; just beware of its flaws and potential pitfalls.

Reg Rating 70%
Price £200
More info LG
Panasonic DMR-HW100

This is Panasonic's first standalone Freeview HD recorder, as others have included a Blu-ray drive. Essentials such as picture and sound quality are superb; HE-AAC 5.1 sound is converted into Dolby Digital, and it's even 3D ready.
There's exhaustive media file compatibility but only from directly connected USB storage. Similarly, it offers network streaming as a client or server but has various limitations. The hard disk is a relatively meagre 320GB and there's no Scart for copying onto DVD recorders. At launch it also lacks iPlayer, but this is anticipated in a future upgrade. If and when this happens, it may be worth a slightly higher rating.

Reg Rating 75%
Price £300
More info Panasonic
Sagemcom RT190-320 T2 HD

At the affordable end of the scale is this slimline no-frills recorder that at least covers all the main Freeview features effectively and delivers a decent AV performance throughout. The handset and user interface are functional rather than eye-catching and the front panel display borders on the garish.
There's a USB port used merely for opening MP3s and JPEGs. Its Ethernet connection has so far remained inactive, though an announcement was imminent from Sagemcom as of October 2011. Following an earlier upgrade, HE-AAC audio is now transcoded into DTS 5.1; and if the 320GB disk seems paltry, a 500GB version is available.

Reg Rating 65%
Price £200
More info Sagemcom
Samsung BD-DT7800

The BD-T7800 looks sleek but falls down on crucial points. There's 500GB of storage, very good picture quality and extensive multimedia playback from USB and a network using Ethernet or on-board Wi-Fi. HE-AAC 5.1 is supported (as multichannel DTS). Extras include a common interface slot for pay-TV, remote control from Android devices and Samsung's Smart Hub suite of iPlayer, LoveFilm, social media apps and more.
However, no on-line features work while recording and, despite twin tuners, two channels can't be recorded simultaneously. It has flashy animated menus but they're as superfluous as putting £150 running shoes on someone with broken legs.

Reg Rating 65%
Price £225
More info Samsung
Technomate TM-7102 HD-T2 Super

The wild card in this collection is a pricey recorder endowed with a DVB-T2 tuner plus two HD-compatible satellite tuners, along with a pair of smartcard and CI slots for pay-TV (not BSkyB).
Compared to more consumer-orientated products, the Technomate is unashamedly technical. The remote control and on-screen display opt for complexity over aesthetics and there's a formidable line-up of sockets. The instructions even show you how to custom fit a hard disk (it can be supplied without one).
The downside is an absence of Freeview+ extras such as logical channel ordering or programme guide keyword searching, while its multimedia format support is also sparse.

Triax T2-HD 217 PVR

Triax is mainly known for satellite dishes but here offers a low-cost 500GB recorder. Despite mid-size dimensions it has various sockets alongside the obligatory HDMI, including twin Scarts and two separate digital audio outputs. However, it won't convert HE-AAC 5.1 into amp-friendly multichannel sound, and the USB and Ethernet ports both lie dormant.
The on-screen display is uncomplicated and it's easy to jump around in the programme guide but it drops helpful assets like keyword searching. In every respect this is a run-of-the-mill DVR. The picture quality in standard and high definition is wishy washy and there's an annoying flashing blue LED during recording. Worst of all was my test sample's loud, almost incessant fan noise.

Reg Rating 50%
Price £200
More info Triax
TVonics DTR-Z500HD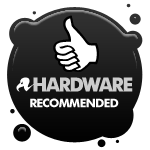 This likeable, compact DVR is one of the easiest to use. Its clear menus now include keyword searching for the programme guide and the handset is straightforward, if rather elongated and top heavy.
It has a 500GB capacity and a network connection, which in August 2011 was updated to add iPlayer (though it's not perfect and excludes the HD option). There's no media streaming and the USB port is for photo viewing only. However, one handy feature is its HDMI hub facility and it's good to find that Freeview HD's HE-AAC surround sound is transcoded into Dolby Digital 5.1. The picture quality is also generally top-notch.
The UK-based TVonics also supplies the innards for Toshiba's HDR5010KB recorder, which omits the iPlayer but adds a front panel display. ®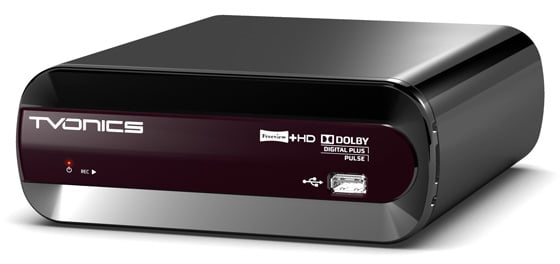 Reg Rating 80%
Price £200
More info TVonics