Original URL: https://www.theregister.co.uk/2011/10/11/review_game_dark_souls/
Dark Souls
Death awaits
Posted in Personal Tech, 11th October 2011 11:00 GMT
Review Plunging from a treacherous rampart, slowly succumbing to the poisonous bite or bludgeoned by a monstrous ice giant – Dark Souls wants you dead. And it doesn't care how.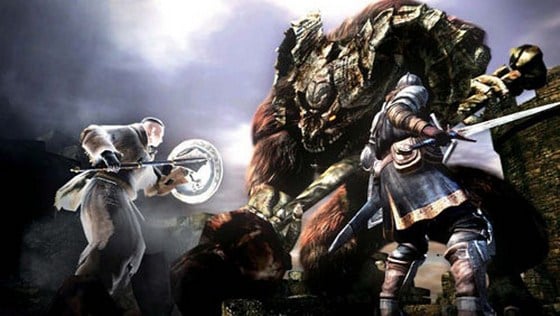 Shanking of the colossus
That should come as no surprise, of course. Anyone who dared play last year's Demon's Souls knows all too well that death will be their constant companion throughout the follow-up to From Software's infamous RPG. While Dark Souls is as tough, if not tougher than the original, it's also every bit as insanely addictive and rewarding.
It's also as uncompromisingly inaccessible. Many adventurers will be lured into its relentless punishment by the conventional RPG façade, but few will make it past its opening few hours, let alone the 50 or so required to see one of its multiple endings. Where other RPGs lavish players with upgrades and stat modifiers for the most humble exploration and hacking-and-slashing, Dark Souls demands nothing less than complete mastery of its prescriptive systems to overcome the seemingly impossible challenge.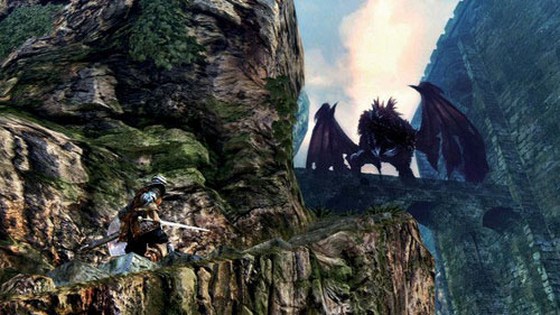 A tricky fight... just have to wing it
Despite a new narrative and setting, Dark Souls' black heart pulsates with the same core mechanics that made the original such a cult classic. Success here is rewarded not with spoils and omnipotence, merely the right to survive to face the next, even tougher challenge. Each and every lapse in judgement or rash impatience is punished with death, and even the weakest of enemies can kill in a couple of strikes – a mistimed lunge or parry swiftly answered with a mortal riposte.
And so you inch your way forwards, cowering behind your shield, observing enemy strike patterns for a fleeting opportunity to deal a decisive blow. But it's not just enemies who can kill you. The world of Lodran is replete with environmental hazards, from enemy-infested cul-de-sacs and spiked pits to rickety, vertiginous walkways and rooms filled with giant, bladed pendulums.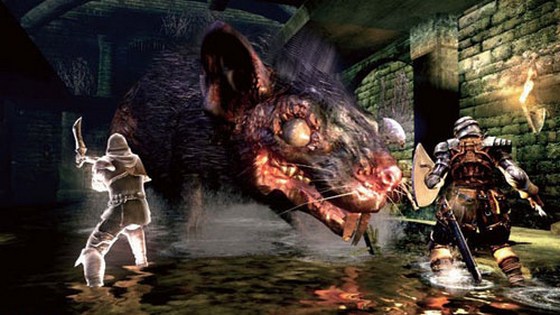 The mad ratter
The only respite comes in the form of bonfires, places of sanctuary scattered throughout the world. Once lit, they provide respawn points to recharge health and magic, level up, fix or upgrade weapons and armour, and refill your Estus flask with a restorative critical to surviving between bonfires.
But there's a catch. Resting at bonfires respawns all regular enemies throughout the world, transforming progression into an intricate game of risk and reward. Do you press on in the hope of finding another bonfire, unsure of the dangers lurking around the next corner? Or do you retreat to the last one to recharge, knowing you'll have to fight your way through every enemy again on your return?
Roll the die
The constant gamble is magnified by the game's fragile economy. Soul points are carried over from Demon's Souls as the game's only currency, driving everything from levelling-up to purchasing consumables. Die, however, and all your hard-earned soul points are deposited at the scene of death. Fail to reach the exact same spot with your subsequent life and you'll lose them forever.
It's a system which instils an increasing sense of vulnerability the farther you venture from a bonfire, but it's also one that allows for some essential farming, as you learn to exploit gauntlet runs between bonfires to harvest souls.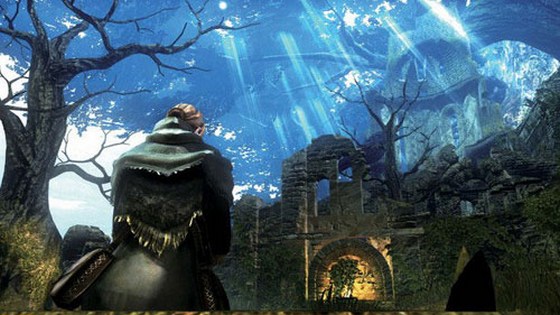 Shine on the shrine
While farming outstrips the difficulty curve in other RPGs, here it's vital just to keep pace with the exponential difficulty. As is discovering some of the many powerful items hidden around the world, such as magic weapons and rings. But even here, Dark Souls stays true to its exacting philosophy, demanding studious observation of the environment to scour for illusory walls, hidden paths and hard-to-reach areas.
There's little to guide your quest, too. Firelink Shrine works as a hub to connect Lodran's many lands, but it's a very different place from Demon's Souls' Nexus. It's populated with enemies, for a start. And there are no gateways or loading screens. Instead, you move seamlessly between lands with no world numbers to signpost the challenge ahead. So while you might be able to reach a new land through Firelink Shrine, death is the only indicator whether you're ready to.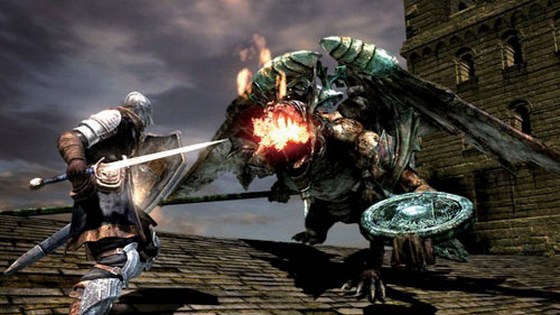 Don't look at the mantlepiece when stoking the fire
It's typical of the game's pervading reticence. There's little narrative to accompany your adventure, just a scant, opaque exposition casting you as the chosen one to make an undead pilgrimage to the land of Dark Lords. NPCs rarely offer anything in the way of elucidation, either - you're far more likely to receive their sneering derision than any odd titbit of guidance. And there are no maps, quest logs or objective markers to aid you.
Instead, Demon's Souls' revolutionary online features return to temper - or indeed, exacerbate - the formidable test. The messaging system remains an ambivalent tool for benevolent, malevolent or downright humorous use, but, in a heart-warming show of solidarity, it's cheering to see the vast majority of players continue use it altruistically.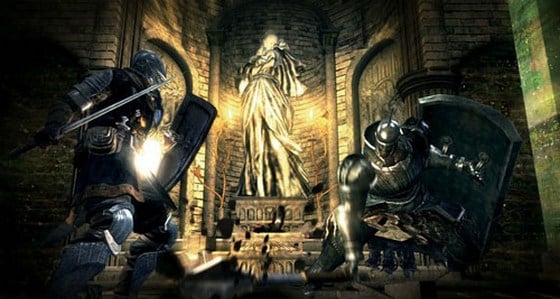 Statue of misery
And for the truly hardcore Souls' players, the esoteric summoning and invading options return to provide co-operative and competitive play.
Verdict
Dark Souls is the most difficult game of this generation and, outside of the high-score games of yesteryear, probably one of the most difficult of all time. It's also one of the greatest too. The relentless difficulty will deter most, and many will fall along the way. But while few games demand as much from their players, even fewer reward them so spectacularly. ®
More Games Reviews

Rage
Ico & Shadow of the
Colossus Collection
Rise of
Nightmares
F1 2011
Gears of War 3