Original URL: https://www.theregister.co.uk/2011/10/10/steve_jobs_bio_2/
The life and times of Steven Paul Jobs, Part Two
Empire-building inspirational visionary, or megalomaniacal swine?
Posted in Personal Tech, 10th October 2011 02:04 GMT
Before Steve Jobs introduced the iMac on May 6, 1998, his life – as we detailed earlier – had been a roller-coaster of ups and downs. After the iMac shipped on August 15 of that same year, however, he and the company he led traded that carnival ride for a rocket.
The iMac was an immediate success. "We have had a phenomenal response to this product," Jobs told Cnet two weeks after its launch. "We've not been able to keep up with demand; we're shipping tens of thousands [of iMacs] a week."
During the fourth calendar quarter of 1998, Apple shipped 519,000 iMacs, helping to more than triple the company's profits from the same quarter in the previous year. A total of around 800,000 iMacs had been sold since its debut.
Investors were happy – well, happier, at least – customers were happy, and, critically, developers were happy. Although hard figures are hard to come by, a significant number of developers were returning to the Mac platform as a result of the iMac's success.
Still, there were doubters. "Apple's at a peak right now," one financial analyst told the San Francisco Chronicle. "They are likely to see a plateauing of iMac shipments going forward and that is going to make the stock a lot less interesting."
On the day of that analyst's cautionary statement, Apple's stock – adjusted for subsequent splits – was at $10.35. Exactly one year later, it stood at $25.11, an increase of just about 150 per cent.
During that year, Jobs & Co. updated the iMac's specs, made it available in colors it labeled "Blueberry, Grape, Strawberry, Tangerine, Lime, and Graphite", and kept selling them. In July, the company also introduced the iMac's notebook sibling, the oddly toilet-seat-looking iBook (originally available in "Blueberry and Tangerine"), and updated the pro-level Power Macintosh G3 with the iMac's translucent-plastic design language.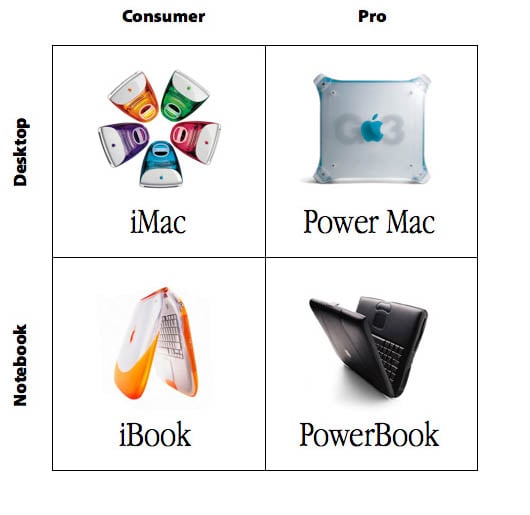 Steve Jobs' four-quadrant product grid, nicely filled in after July 1999 (source: all about Steve Jobs.com
In those days, Apple made most of its major announcements at IDG's biannual Macworld Expo shows – and the January 2000 Expo, held as usual in San Francisco, was no exception. For one, Jobs demoed Mac OS X.
Mac OS X was a direct result of the NeXT acquisition, with its Darwin kernel being built from the NeXTSTEP architecture, which itself was Unix at its core. As a result, Mac OS X promised to be far more stable than the original, rickety Mac operating system, which at the time of Jobs' Macworld 2000 presentation, was at OS 9 that had been released on October 23 of the previous year.
The appearance of Mac OS X – which Jobs was careful to instruct the faithful was pronounced "ten" not "x" – was also an outgrowth of the iMac design language, being replete with transparency, glowing colors, and a generous use of white.
The theme for the Mac OS X interface was called Aqua, which Jobs referred to as being so luscious that "you just want to lick it". (A non-Aqua version of Mac OS X called Mac OS X Server 1.0 had been released the previous March with a Mac OS 8 look-and-feel.)
During his Expo keynote, Jobs announced that "Mac OS X will be on sale as a software product starting this summer, and we will be preloading it on all machines a year from now":
Jobs, Apple, and Avie Tevanian – the NeXT veteran running the Mac OS X effort – didn't make that deadline. Nothing came out in summer, but on September 13 a public beta was released, and Apple charged users $29.95 for the privilege of being beta testers. Trivia tidbit: the beta was codenamed Kodiak, the only non-feline name for any version since.
Mac OS X 10.0, aka "Cheetah", finally shipped on March 24, 2001 – and a buggy mess it was. Mac users had to suffer through it and 10.1, "Puma", until the first truly mature version was released on August 23, 2002, and which used its codename, "Jaguar", in its public branding, as have all versions of Mac OS X since.
But let's return to that January 2000 keynote stage for a moment. At the end of his presentation, Jobs recapitulated his "one more thing" meme, which he had debuted at Macworld Expo 1998, and which he used to tack on an important announcement or product introduction at the end of his keynotes.
"I got back to Apple, along with several other people, two and a half years ago," he said after the keynote's faux ending and one-more-thinging. "What we found was a great company that needed a little bit of help."
Then, after praising the "incredibly talented people" with whom he had worked with at Apple and its partners, and after asking the audience to give them all a hand, he continued: "I think after two and a half years we've been able to prove to our shareholders at Pixar and our shareholders at Apple that maybe we can pull this dual-CEO thing off."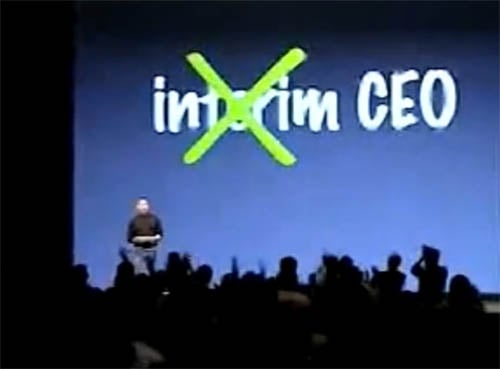 Apple's interim CEO becomes its iCEO
An "X" then appeared over the word "interim" on the presentation slide behind him, the "i" joined the "CEO", and Jobs became Apple's iCEO. The crowd leapt to its feet, yelling and chanting "Steve! Steve! Steve!" and gave him a half-minute ovation.
"You guys are making me funny now," he finally said, appearing to be somewhat taken aback. "I get to come to work every day and work with the most talented people on the planet at Apple and at Pixar, and it's the best job in the world."
Having been in that audience at that moment, this old cynic can report that it truly appeared that he meant it.
Digital hubbub and the iPod
On October 5, 1999, when Apple debuted the first FireWire-equipped iMacs – the iMac DV and iMac DV SE – it also unveiled a bundled app that was destined to reroute the company's fortunes, albeit indirectly.
That app, which ran on the Mac OS 8.6 operating system that came with those iMacs, was iMovie, which invited users to tether their MiniDV cameras to their iMacs over their FireWire ports, upload their videos, and then edit them with its rather straightforward interface.
iMovie was the first spoke connecting, in its case a camcorder, to a concept that Jobs would introduce at the January 2001 Macworld Expo: the "digital hub".
"We believe the PC – or more importantly the Mac – can become the digital hub of our new, emerging digital lifestyle," Jobs told his keynote crowd.
"We first began to understand this," Jobs said, "with the camcorder, because we invented an application called iMovie that added tremendous value to a camcorder."
The whole digital hub strategy that iMovie uncovered, according to Jobs, was the integration of hardware, the OS, the iMovie app, the internet and – of course – marketing. The lightbulb went off, he said, when he realized that "Apple's uniquely suited to do this because we're the last company in this business that has all these components under one roof".
The digital-hub concept may have started with digital video and iMovie, but Jobs saw it extending into all other areas of digital-device content: images, music, personal assistants, and so on. "We think this is going to be huge," he said.
It's fair to say he was right. And it's also fair to say that it wasn't digital video that anchored the digital hub, despite how hard Jobs pushed iMovie and iDVD, which he announced at that same keynote. It was another app also introduced that day: iTunes.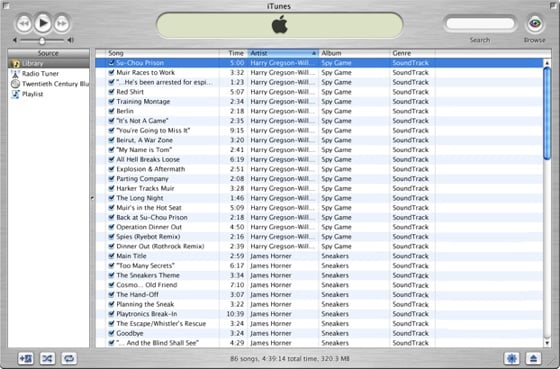 iTunes 1.0's basic layout was not significantly different from that of the current version, iTunes 10.4.1
But even more important than iTunes – which, by the way, was an Applezation of Casady & Greene's more competent SoundJam MP that Apple had purchased the previous year – was the cigarette pack–sized MP3 player that Apple released later in 2001: the iPod.
"Success has many fathers," as the old saying goes, and the (eventually) successful iPod has had its share of paternity claimants. Jobs deserves credit for recognising the importance of a large capacity and tight integration with iTunes. Jonathan Ive deserves his share, as well, for the then unusually bright and sleek design.
Then there was Jon Rubinstein, late of iMac fame, who told Wired in 2006: "I don't know whose idea it was to do a music player, but Steve jumped on it pretty quick and he asked me to look into it."
Runbinstein, while attending Macworld Tokyo in February 2001, visited Toshiba, where he was shown an early 1.8-inch hard drive – the drive that enabled the iPod that Rubinstein and his team eventually manufactured to hold the "1,000 songs in your pocket" that early ads for it emphasised.
But the relatively unknown daddy of the iPod was Tony Fadell, whom Rubinstein hired to engineer the device. Fadell was a veteran of Bill Atkinson and Andy Hertzfeld's General Magic, an Apple spinoff that was the incubator of early "personal digital assistant" technologies, as well as Philips Electronics.
Fadell and his team designed the iPod technology, Ive the iPod's case, marketing honcho Phil Schiller was reported to have suggested the scroll-wheel main control, and Rubinstein kept the team focused, staffed and funded. But it was Jobs who shepherded it in toto.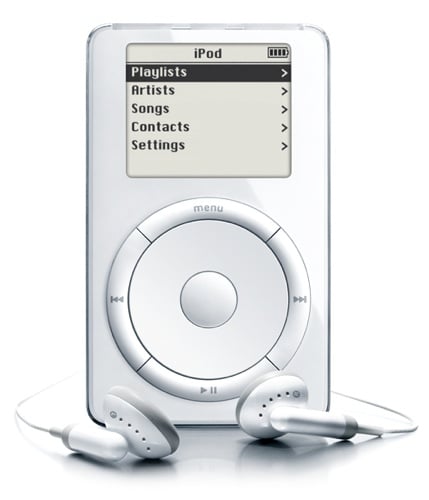 If the iMac saved Apple's bacon, the iPod defined its future: consumer electronics
As The New York Times quoted him as saying, "Most people make the mistake of thinking design is what it looks like. People think it's this veneer – that the designers are handed this box and told, 'Make it look good!' That's not what we think design is. It's not just what it looks like and feels like. Design is how it works."
Jobs made sure that the iPod worked in the way Jobs wanted it to work.
As Jonathan Ive remembers, "Steve made some very interesting observations very early on about how this was about navigating content. It was about being very focused and not trying to do too much with the device – which would have been its complication and, therefore, its demise."
The 5GB iPod was announced on October 23, 2001, and shipped a few weeks later. It met with a tepid reception due to its high price, lack of equalization, and other shortcomings.
Even the usually perspicacious vulture-identified publication you are now reading called it "a 'me too' product" in comparison with its competition – specifically the more-than-twice-as-hefty, non-pocketable, far less expensive, 2.5-inch drive–equipped, portable-CD-player-bastard child Creative Labs Nomad Jukebox, which had been released a few months earlier.
Oops.
We hastened to cover our tracks, however. After actually playing with the li'l fellow, The Reg concluded: "We like iPod, and we think a lot of other Mac users are going to too."
A lot of other Mac users – and PC users, as well – eventually did. As of the end of 2010, in all of its many iterations, nearly 300 million iPods had been sold. Its success – slowing now – began the process that led to Jobs dropping the word "Computer" from Apple's name at yet another Macworld Expo years into the future, on January 9, 2007.
One final note about Jobs' design sense and finger-on-the-pulse-of-the-market vision at the turn of the millenium: it wasn't always as spot-on as his more fervent hagiographers might paint it to be.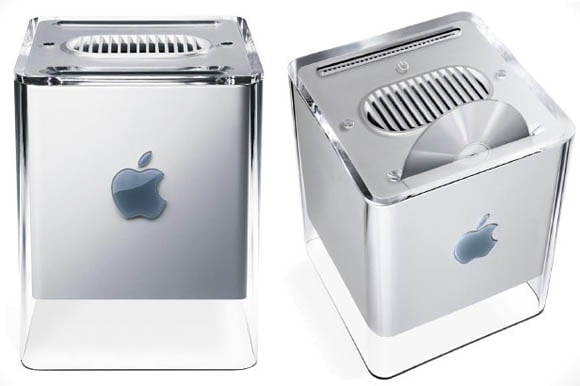 The Power Mac G4 Cube – even a heavy hitter strikes out at times
Jobs' beloved Power Mac G4 Cube debuted in July 2000, and one year later – in one of its finer marketing doublespeak releases in many a moon – Apple said that it would "suspend production of the Power Mac G4 Cube indefinitely," and that there was "a small chance it will reintroduce an upgraded model of the unique computer in the future".
That didn't happen, of course – the Cube was dead. However, its more affordable and less ostentatious descendant, the Mac mini, did show up in January 2005.
Empire-building
At 10am on May 19, 2001, a computer store opened in Tysons Corner, Virginia. Three hours later, another one opened in Glendale, California.
These two stores prompted BusinessWeek to run a story entitled Sorry, Steve: Here's Why Apple Stores Won't Work.
That article quoted the president of the retail research firm Channel Marketing as saying: "I give them two years before they're turning out the lights on a very painful and expensive mistake."
Another analyst told Cnet that the stores were merely "toy stores for the Mac faithful. To be able to boost Apple sales, I don't see them doing that".
A third, in the same story: "Wouldn't it just make more sense to spend $100 million on an advertising campaign that reaches a lot of people rather than opening stores that get a little traffic in select areas and are expensive to maintain over time?"
Today there are 357 Apple retail stores in 11 different countries. Again, Steve Jobs – who conceived the idea of upscale, hands-on computer shopping and hired former Target exec Ron Johnson to implement his ideas – was right, and his detractors were wrong.
In public, at least, Jobs' goals were modest. "Apple currently has around five per cent market share in personal computers. This means that out of one hundred computer users, five of them use Macs. If only five of those remaining 95 people switch to Macs, we'll double our market share."
As of March 2011, according to StatCounter, Mac OS X market share in the US was 15.36 per cent. NetMarketShare puts that number a little lower, at around 13.5 per cent.
In a video aimed at developers, Jobs toured the Tysons Corner store. Showing off the store's shelves of software, he said: "We can't wait to feature your software right here, in every single one of our stores. So, go write some more for us, and we'll build more shelves for as much as you can write."
Ten years ago, Jobs was courting developers, working to dispel one of the most-frequently heard arguments against buying a Mac – that there were far more titles available for users of Windows machines. Today, Apple is more discriminating, as it picks and chooses what goes into its online iOS App Store and Mac App Store.
But before those two online stores could alter the world's software sales calculus, Jobs turned the music industry on its head with Apple's first retail online-content effort: what was at first called the iTunes Music Store.
The store was created during a period of rampant piracy, when everyone – well, maybe not your great aunt Bessie, but nearly everyone else – was freely snagging music off the internet using utilities and services such as Napster.
The Napster app and service was launched in 1999 by Shawn Fanning, who Time magazine claimed was "nicknamed 'Napster' for the nappy hair under his omnipresent baseball cap". By early 2001 it had 50 million users, and a boatload of legal problems.
To Jobs, the problems faced by Fanning and Napster CEO Hank Barry, coupled with the astonishingly fast growth of that company's user base, was an opportunity to create the end-to-end hardware, software, internet, and marketing scheme that he had discussed when introducing the iPod.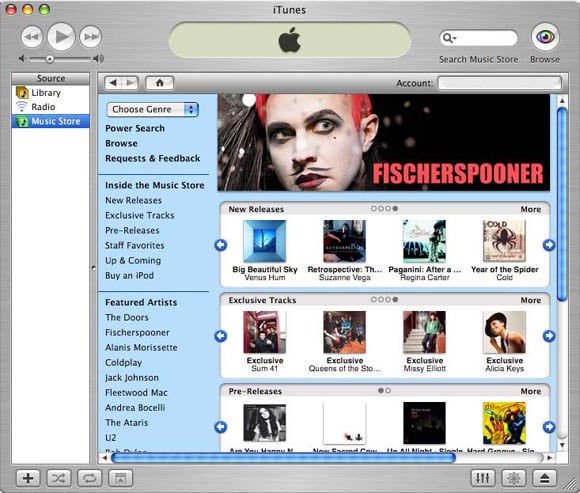 The iTunes Music Store, shown here in May 2003, went on to have a far more lucrative career than Fischerspooner
As Apple launched the store on April 28, 2003, Jobs said: "Consumers don't want to be treated like criminals and artists don't want their valuable work stolen. The iTunes Music Store offers a groundbreaking solution for both."
The idea of DRM-protected content being distributed over the internet wasn't new. Remember MusicNet, created by EMI, Bertelsmann, and AOL Time Warner, and launched in April 2001? It still exists, but as a backend provider. Subscription services such as Spotify find their adherents, as does Amazon's music store, and others.
Just as the iPod was far from being the first digital music player, Apple's music store wasn't the first place to buy music online. But it's inarguable that the iTunes Music Store became, and still is, the Big Kahuna of online music distribution.
Jobs bet that people would rather pay a relatively nominal fee for legal tunes presented and purchased one by one in a coherent purchase/store/play system, and not have to configure each hardware and software component of their system themselves, obtain the majority of their music illegally, and hope it all worked out.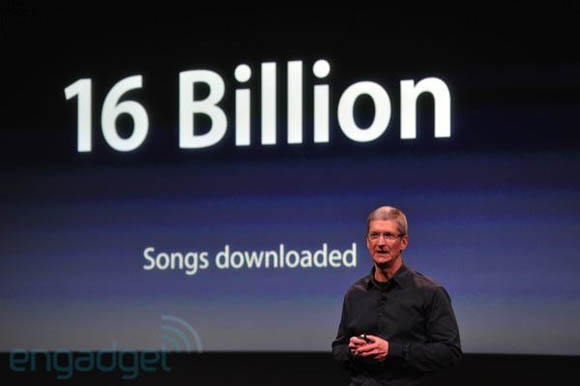 More than two songs per living earthling, downloaded in eight and one-half years
The record companies bought Jobs' "protect against piracy" argument, and customers bought songs by the squillions – during Apple CEO Tim Cook's introduction of the iPhone 4S on October 4, he announced that 16 billion songs had been downloaded from the store.
The iTunes-iPod-iTMS system proved that Jobs' strategy of end-to-end control worked – although, it must be noted, the iTunes app made it easy to also add songs that had not been purchased from the iTunes Music Store. That said, end-to-end control was a strategy that Jobs would employ more and more often – and more and more strictly – in later years.
As noted in a November 2001 Fortune article, Jobs at the time was fond of saying that one of Apple's strength was that "we build the whole widget". As his Apple grew, the definition of widget expanded almost to the point where it encompassed the user.
Had Jobs lived to a ripe old age, it would have been interesting to see how far he would have taken that strategy – or, for that matter, at what point he might have backed off.
Cancer, Intel, Pixar
On August 1, 2004, Jobs sent an email to Apple employees, saying that he had undergone an operation to remove a cancerous islet cell neuroendocrine tumor from his pancreas, that the operation had gone well, that he was taking a short break and would return to Apple in September – which he did.
When Jobs died on October 5, we detailed his recurring struggles with his health. We won't recapitulate them now. But we will pass on some of his own words, excerpted from his justly famous 2005 Stanford University commencement address:
About a year ago I was diagnosed with cancer. I had a scan at 7:30 in the morning, and it clearly showed a tumor on my pancreas. I didn't even know what a pancreas was. The doctors told me this was almost certainly a type of cancer that is incurable, and that I should expect to live no longer than three to six months. My doctor advised me to go home and get my affairs in order, which is doctor's code for prepare to die. It means to try to tell your kids everything you thought you'd have the next 10 years to tell them in just a few months. It means to make sure everything is buttoned up so that it will be as easy as possible for your family. It means to say your goodbyes.

Jobs at Stanford

I lived with that diagnosis all day. Later that evening I had a biopsy, where they stuck an endoscope down my throat, through my stomach and into my intestines, put a needle into my pancreas and got a few cells from the tumor. I was sedated, but my wife, who was there, told me that when they viewed the cells under a microscope the doctors started crying because it turned out to be a very rare form of pancreatic cancer that is curable with surgery. I had the surgery and I'm fine now.

This was the closest I've been to facing death, and I hope it's the closest I get for a few more decades. Having lived through it, I can now say this to you with a bit more certainty than when death was a useful but purely intellectual concept:

No one wants to die. Even people who want to go to heaven don't want to die to get there. And yet death is the destination we all share. No one has ever escaped it. And that is as it should be, because Death is very likely the single best invention of Life. It is Life's change agent. It clears out the old to make way for the new. Right now the new is you, but someday not too long from now, you will gradually become the old and be cleared away. Sorry to be so dramatic, but it is quite true.
Jobs gave that talk on June 12, 2005. Just a few days earlier – June 6 – he had stood before a very different crowd: 3,800 developers at Apple annual Worldwide Developers Conference, where he confirmed the rumors that Apple was moving from the IBM/Motorola/Freescale PowerPC family of processors to the chips made by fervid fanbois' hated rival, Intel.
Jobs had chosen the right audience for this announcement. Although developers would bear the brunt of the transition because of the need to adapt their apps to the x86 architecture, they were savvy enough to know that this was a step that Apple had to make.
"I stood up here two years in front of you and I promised you this," Jobs told the devs, pointing to a slide with a photo of a Power Mac G5 and the text "3.0 GHz ?"
"And we haven't been able to deliver that to you yet," he continued. "I think a lot of you would like to have a G5 in your PowerBook, and we haven't been able to deliver that to you yet. But these aren't even the most important reasons."
The most important reasons, Jobs said, were that the future PowerPC roadmap didn't provide processors that would fit with Apple's plans for less-power-hungry platforms. Intel's chips were simply better than the PowerPC in terms of power consumption, and would increasingly be so in future generations.
Reactions to Jobs' decision were all over the map. Microsoft CEO Steve Ballmer told Cnet: "There's more applications available for Windows than there are on Apple. All a chip change could do is probably slow that down because maybe there would be a big disruption with your ISV community ... What changes? I don't know."
One industry analyst castigated the switcheroo, telling PCWorld: "A wholesale move away from the IBM chips would be extremely foolish. Intel is not the 'de-facto leader in processor design' that it was a few years ago."
Another analyst credited Jobs with making a canny move – and one that was as much marketing as it was technical. "This takes some focus off of the PowerPC and the difference between Apple and everyone else – from a hardware perspective – and focuses more on the difference in the software," he told eWEEK.
"If you take away the hardware issues and turn it into more of an OS vs. OS type of situation," he reasoned, "this might be a good way [for Apple] to increase market share."
From The Reg's point of view, this last analyst was spot-on.
The first Intel-based Macs – the 15-inch MacBook Pro (replacing the PowerBook line) and 17-inch and 20-inch iMacs, all based on Intel's Core Duo processor – were announced at Macworld Expo on January 10, 2006.
The transition was completed at the next WWDC, on August 7, 2006, when the Xeon 5100–based Mac Pro and Xserve were announced, replacing the Power Mac G5 and Xserve G5, and handily beating the timetable that Jobs had announced at WWDC 2005, when he said that the transition would be complete "by the end of 2007".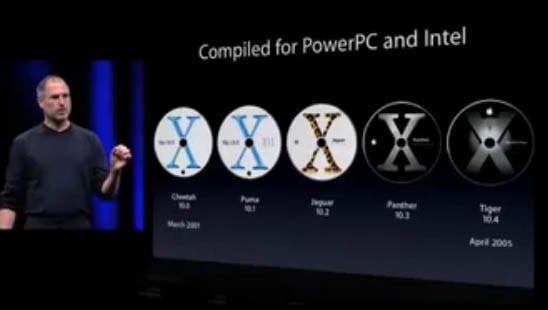 At WWDC 2005, Jobs revealed that Mac OS X had always been compiled for both PowerPC and Intel processors
It's clear today that Jobs' decision to move to Intel was a wise one, but that was certainly not the case on June 6, 2005. Again – not to belabor the point – Jobs was right, and his detractors wrong.
During all this change at Apple, Jobs was still wearing another hat: CEO of Pixar, where he had his own set of problems to deal with. For example, there was that 1997 five-picture deal with Disney, which Jobs tried to renegotiate in 2003 with then–Disney CEO Michael Eisner.
It has been widely reported that Jobs' terms in that renegotiation were absurdly high, and designed to mightily tick off Eisner – the two men, simply put, loathed one another. In any case, after the renegotiation failed, Jobs said that any continuation of the Pixar-Disney partnership was a non-starter.
Jobs received some help in his anti-Eisner efforts from an unexpected source: Walt's nephew Roy, who sent a letter to Eisner, resigning from his seat on the Disney board of directors. Disney's letter, which was made public in accordance to SEC rules, detailing a series of Eisner's failings, and summing up: "In conclusion, Michael, it is my sincere belief that it is you who should by leaving and not me."
An ugly struggle for control of Disney ensued, including a rumor that Jobs would patch things up with Pixar if the Disney board fired Eisner. To make a long story short, Eisner was – eventually – stripped of his powers, he – eventually – tendered his resignation, and Disney president Robert Iger was – eventually – named CEO.
Iger's promotion came in October 2005. On January 24, 2006, Disney bought Pixar for $7.4bn, Pixar's creative soul John Lasseter became Disney's creative director, and Jobs became both a member of Disney's board and very, very rich.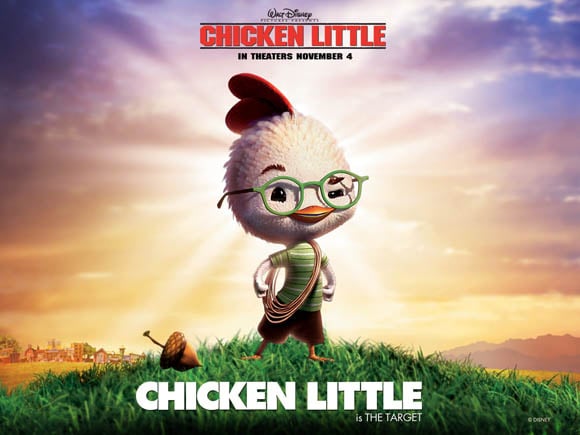 Disney's Chicken Little: just fowl foul enough to make Steve Jobs a billionaire – again
One side note to this highly compressed review of the Disney-Pixar saga: rumors of the acquisition swirled for some time before the deal was announced, as is common in such mega-deals. One particularly entertaining one was that Disney was waiting to see how well its own computer-animated efforts, Chicken Little, would do at the box office, before it would pull the trigger on the Pixar deal.
The chicken earned a respectable $314m worldwide, but the Pixar-Disney films had uniformly done better: Toy Story had earned $362m; A Bug's Life, $363m; Toy Story 2, $485m; Monsters, Inc., $527m; Finding Nemo, $868m; and The Incredibles, $633m – and those numbers don't even include merchandising, Happy Meals, and the like.
By the way, the most recent Pixar-Disney film, Toy Story 3, has earned over a billion dollars in box-office receipts alone.
iPhone, iPad
At this point in our retelling of the saga of the man who was eventually to be named the CEO of the Decade by Fortune magazine and immortalized in cheese, we're going to pick up the pace a bit.
During the past five years since the Intel transition was completed and the Pixar acquisition finalized, Jobs has become scrutinized from every angle, perspective, and viewpoint, and you, dear Reg reader, have been treated to well over a thousand articles on this website about him.
Unless you've been retracing Roald Engelbregt Gravning Amundsen's routes to both the North and South Poles for the past few years, you – as a savvy tech type – are likely familiar with Jobs' own route in the past five years. There's little more we could tell you than what you already know, so we'll just touch upon a few more matters – such as this little thing called the iPhone that you may have heard about.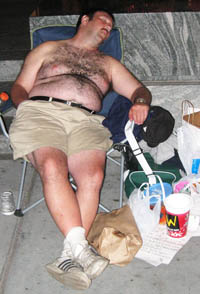 Waiting in the iPhone line
(source: AppleInsider)
Despite its many detractors and its demonstrable flaws, the iPhone has been a monumental success. Its supporters describe it as further proof that Jobs was a visionary who understood what consumers wanted before those consumers did themselves. Its detractors point to it as a ho-hum device that confirms their suspicions that most consumers are easily seduced by shiny-shiny, and that Jobs was a megalomaniac interested only in herding "sheeple" into his walled garden.
Among the chattering geekerati, sides are taken, insults are hurled, tempers flare – over a phone? Yes, over a phone, albeit one that runs apps.
Steven Paul Jobs did that to people.
The iPhone started crazy. Even well before it was released, wacky speculation and rear-view-mirror shortsidedness ruled. On that last point, remember before its release the way many spoke of the iPhone as being essentially an iPod that made phone calls?
Of the well over four thousand Reg articles that contain the word "iPhone", nearly two hundred were written before the damn thing even shipped. In 2002, for example, we reported a rumored "iPhone" – yes, that's the term we used – being developed in an Apple-Sony partnership. More rumors cropped up in 2004, with Apple's suspected iPhone partner being Motorola, and in 2006, with the partner being Japan's SoftBank. That year also saw a rather off-the-mark French magazine cover that featured the purported iPhone.
Ceci n'est pas une iPhone (with apologies to Magritte)
There were the rumors that the iPhone would have a slider form-factor, and that Apple would provide service for it and Motorola's "iPod phone", the ROKR (aka the LOZR), by becoming an MVNO (mobile virtual network operator). One analyst confidently predicted that "the new phone's design will be similar to that of the [first-generation] iPod Nano, and is likely to come in three colors: white, black, and platinum".
Industry observers lined up to judge the iPhone even before Jobs unveiled it on January 9, 2007, at Macworld Expo in San Francisco. That December, for example, one Reggie wrote: "As customers start to realise that the competition offers better functionality at a lower price ... sales will stagnate. ... The only question remaining is if, when the iPod phone fails, it will take the iPod with it."
Well, history has proved that the "iPod phone" did, indeed, lead to the decline of the iPod – but not in the way that our usually clear-headed colleague imagined.
Another Reg writer was kinder, reminding readers on the day after the iPhone's unveiling that Apple's Mac was successful only after it cornered the desktop publishing market. "Apple will be hoping the iPhone can similarly find some unexpected niche," he wrote. "It deserves to be far more than a US-only phenomenon."
Perhaps the most well-known dissing of the iPhone was by Microsoft CEO Steve Ballmer, who famously guffawed in a video interview: "Five hundred dollars? Fully subsidized? With a plan? I said, 'That is the most expensive phone in the world!' And it doesn't appeal to business customers because it doesn't have a keyboard, which makes it not a very good email machine."
(We can't resist relating a recent comment to that YouTube video: "i watched this on my iphone so fuck you ballmer".)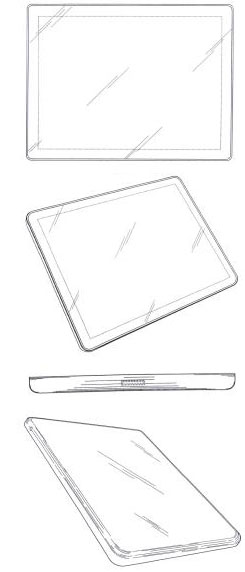 2004 Apple patent illustration
Reality check: Apple sold 128.4 million iPhones through June 2011. It will report sales through September on October 18, and there's little evidence that they nosedived in anticipation of the recently announced iPhone 4S, and Apple seems poised to ship a goodly number of them during the holiday season.
And speaking of the holiday season, the iPhone's larger, younger brother, the iPad, should also have a good next couple of months. The beancounters at Gartner, citing the fact that "Apple delivers a superior and unified user experience across its hardware, software and services," project that Apple will sell about 46.7 million of the fondleslabs during all of 2011. And 69 million in 2012. And 149 million in 2015.
It seems Jobs was right about that one, as well. It may have driven technically astute observers crazy when he cooed that his "magical and revolutionary" iPad was the "most important product" that he had ever worked on, but it's hard to argue that fact that the iPad essentially invented an entirely new category of products.
Well, it's hard to argue unless you're Bill Gates, who in a video interview with The Boston Globe said: "Tablet computing is an innovation where Microsoft has been ahead every step of the way. So if you want to look at tablets, and touchscreens, and how students use those – that's a Windows phenomenon."
That's the type of argument that might hold up in an IP battle, but not in the court of public opinion.
The iPad, like the iPhone, went through a long gestation period in the tummy of the rumor mill. As we pointed out after one such rumor surfaced in January 2009, "tablet Mac" rumors had appeared as early as November 2002, and kept right on bubbling along until the iPad was formally announced by Jobs on January 27 of last year.
At that announcement, Jobs noted that Apple had "pondered [the] question for years" as to whether a device that would occupy the space between a laptop and a phone made sense, so it's entirely possible that some of the tablet rumors that cropped up every so often were based on fact.
It's equally possible that Jobs surreptitiously floated some of them out into the rumor-sphere to gauge market interest. We may never know.
A personal perspective
Permit me now to drop into the first person, and speak directly as a Jobsian fanboi – a thoroughly thought-through label I wear with pride.
I've been following Apple closely since the Homebrew Computer Club days, the past 22 years as a journalist. Throughout those years I have been continually mystified by the intensity of the adoration and abhorrence inspired by Steven Paul Jobs.
Certainly, he earned both. He could, indeed, be an asshole. One of my favorite stories in this vein was told by David Bunnell, describing how Jobs flipped the finger at a photographer when shooting the cover for the inaugural issue of Macworld magazine.
What a dick. Not even a prick. Just a dick.
There are many more such stories in the Jobsian canon – Jobs berating underlings, lying through his teeth, stroking his own sizable ego. Even long-time friend Walt Mossberg wrote in The Wall Street Journal after Jobs' death: "He certainly had a nasty, mercurial side to him."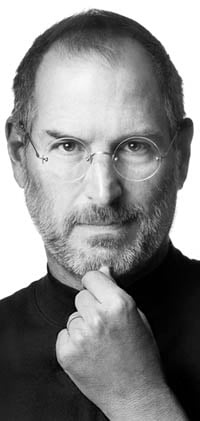 But to focus only on Bad Steve leads to such fervid overstatements as those made by one Forbes contributor, who distilled Jobs into a "a spooky, weird control freak who cultivated not so much fans as thought-slaves", adding that "Apple's real motto is, of course, 'Do Be Evil,' which means Jobs is essentially Mr Burns in a turtleneck".
My, my, what a subtle, nuanced balance of both Bad Steve and Good Steve.
For every story about Bad Steve, there's an equal and opposite story of him inspiring a co-worker, waxing philosophical in late-night conversations with friends, and being a devoted dad and loving husband.
But to swing too far in the other direction is to be equally reductionist. It's difficult, for example, to be any more over-the-top hagiographic than the headline of another reminiscence in Forbes: "Steve Jobs Reinvented What It Means to be Human".
Uh, no, he didn't.
Jobs invented little. But what he did do was in many ways more important than whose name ends up in the "inventor" field on a US Patent and Trademark Office document: Jobs looked far over the horizon and saw a world that he thought to be a good one, and he made multiple decisive decisions about how to get his team to create that world.
In some cases, his vision was not one that I believe to be a good one – the "walled garden", for one. But other decisions and directions, I would argue, were brilliant: stripping away complexity to reveal elegance, and making that elegance available to the greatest number of people, for example.
But frankly, what one writer and editor thinks about Jobs and his visions matters little. And equally frankly, it's too soon to conclusively judge his contributions, both positive and negative, in the digital world. But it's not too soon to say that he had a larger role than either you or I ever could imagine having.
To do so, we'd need the imagination of Steven Paul Jobs. And whether you come down on the side of Bad Steve or Good Steve, you have to admit that his imagination was formidable.
Could he be brilliant? Yes. Could he be an asshole? Yes. Could he be inspiring? Yes. Could he be ruthless? Yes. Could he be magnanimous? Yes. Could he be childish? Yes. Could he be childlike? Yes.
Just like you and me, only with the dial turned up to eleven.
The other day, I ran into a 2010 video in which Jobs talks about his management philosophy. Give the dead guy two minutes and twenty-six seconds of your time:
It's a fascinating performance, one that shows Jobs' utter self-confidence – or arrogance, if you're from the Bad Steve school of thought – along with his belief that an idea is more important than the status of the person who proposes it.
That is, if you believe that he's telling the truth. If not, then it's just Jobs the bullshitter, painting himself in a favorable light.
For some observers, it's easy to tell. They'll brand him as a devil or angel. Me? I can't tell – but I do believe that to brand him as inhabiting merely one extreme or another is a closed-minded absurdity.
That said, perhaps the key to understanding Jobs can be found in another thing that Mossberg said about him in his WSJ reminiscence: "He could sell. Man, he could sell."
Even to himself, perhaps.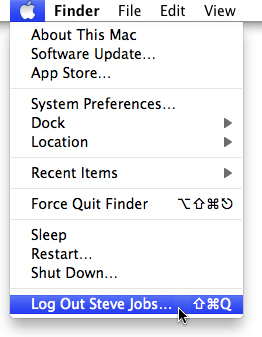 ®