Original URL: https://www.theregister.co.uk/2011/10/10/review_toshiba_qosmio_x770_gaming_notebook/
Toshiba Qosmio X770 17.3in 3D gaming notebook
Fully loaded
Posted in Personal Tech, 10th October 2011 12:00 GMT
Review When Toshiba UK announced the launch of the Qosmio X770 3D – a new gaming laptop with stereoscopic 3D graphics and a 17.3in HD screen, I immediately thought: could this be an Alienware killer? Toshiba has been said to lag behind other manufacturers when it comes to high-end gaming laptops, but after spending time with the X770 I would suggest that's no longer the case.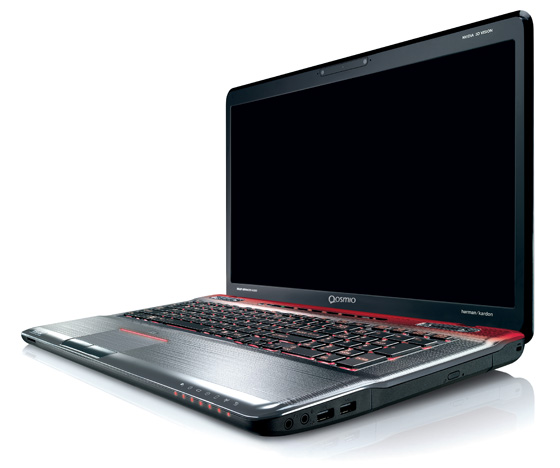 Taking the heat: Toshiba's Qosmio X770
The sample Qosmio X770-10J came in a huge leather case and I did wonder if it was going to unluggable. Indeed, portability isn't the X770's forte, but being 3.4kg doesn't render it immobile. It's still not comfortable to carry around for significant periods, even in my Crumpler backpack.
I really liked the texture imprinted into the plastic housing, which I am guessing is supposed to reference a Matrix-like data stream but reminded me not unpleasantly of retro 1970s wood feel.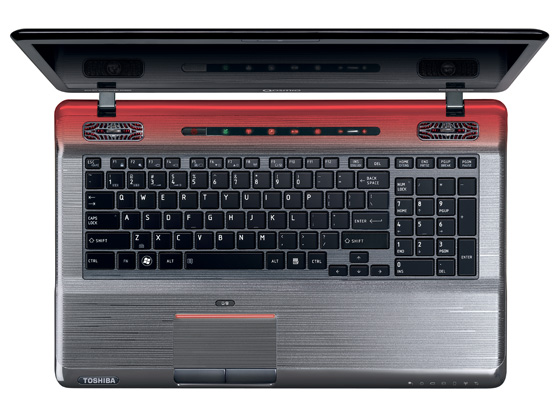 Harman-Kardon stereo speakers and sub-woofer on-board
Red gradient highlights on the sturdy chassis and across the speaker grilles – this machine's one design fault: these grilles look cheap and nasty – work well with the tiled keyboard's red backlighting. I hate to say it but this is a goth's laptop – all red backlighting and black chrome. Indeed, the amount of red light leaking out reminded me of a certain area in Amsterdam.
I love the tiled keyboard - it oozed quality. The keys were nicely spaced and delivered excellent response to touch. Along the top is the Toshiba's EasyControl bar, a glowing array of multimedia function keys that, at the touch of a red button, can be extinguished if it's too gimmicky for you.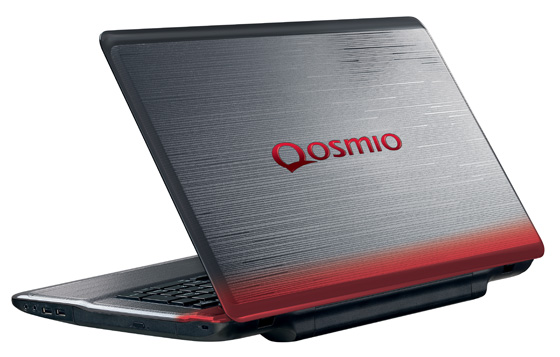 The styling of gaming laptops will always evoke mixed opinions – this one should appeal to goths
I was immediately impressed with the 17.3in 1920 x 1080 screen – it's gorgeous. Viewing from any angle is clear, both horizontally and vertically. Fancy watching movies with that special someone? It's only the weight of this notebook that will stop you moving in for a smooch and perhaps, your nearest and dearest's attention will be on the HD display, anyway.
Visual impact
There's no need to worry about ghosting or lag either, as it seems that the screen's rapid 120Hz refresh handles movie action sequences, FPS graphics and lightsabre battles just dandy.
Benchmark Tests
PCMark 7 Results

Longer bars are better
PCMark Vantage Results

Longer bars are better
I know we would all like to think that 3D is a passing fad, but I am becoming resigned to things popping out of the screen at me for the near future. Linking the Nvidia shutter glasses was simple but don't think I will be wearing them out. It took me a while to configure the stereoscopic 3D but once it kicked in I was suitably impressed. The 3D was clear but, perhaps understandably, not as impressive on a small screen as it is at the cinema.
Battery Life Results

Battery life in minutes
Longer bars are better
It took me a while to turn off the Nostromo-like hum that seems to come as a default theme sound on this fatty. Still, I've made no secret of my views on the significant difference good audio can make to gaming. As laptop sound system, I was impressed by the sound produced by the integrated Harman Kardon stero speakers and sub-woofer offered to both gaming and movie audio.
The X770's 2GHz Intel Core i7-2630QM has 8GB of Ram to play with – a combination of quad-core CPU and an abundance of memory that delivers a noticeably fast response when performing everyday tasks. Yet there's no escaping the fact that the Qosmio X770's main selling point is that it is designed specifically for gamers.
Now, let's play some games. I installed Steam so I could see how it runs on my current gaming list. I'd been reading that many people were having issues running Red Orchestra 2 so I thought that would be a great one to start with. I found it ran just as well as the two gaming desktops I own, averaging 30-40f/s on mid to high settings.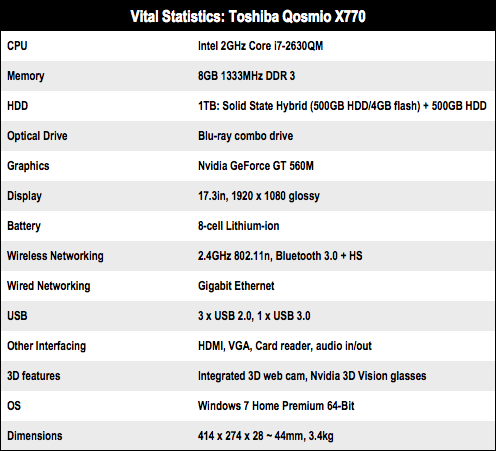 Game on
Next up I tried the greatly anticipated Battlefield 3 beta. I was able to max out the settings and get between 30-50f/s. Not bad, Toshiba. As I started each game, the temperature would rocket instantly and, when the fan kicked in, I was both surprised and impressed with the lack of noise it generated.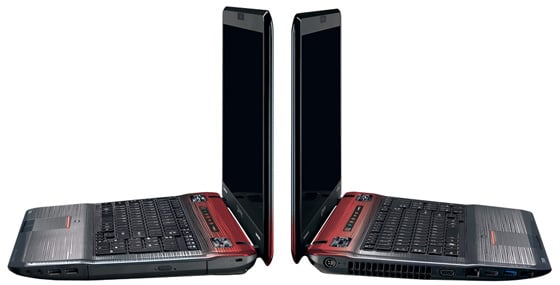 Chunky but still fairly portable even at 3.4kg
Even so, I have to say I was quickly distracted from the game by the heat as the Nvidia GeForce GTX 560M graphics chip with 1GB of dedicated GDDR 5 video memory set to work. As a GPU, it managed to handle anything I could throw at it with grace and clarity. It also delivers the stereoscopic visual treats with Nvidia's 3D Vision technology.
As for the benchmarks, its performance on Futuremark's latest number cruncher, PCMark 7, seems to give a better indication of the capabilities of this configuration, especially when compared up against the Dell Alienware M18x.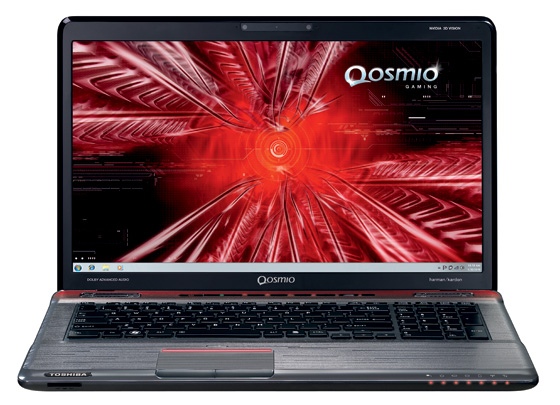 The full HD 17.3in screen puts on quite a display in both 2D and 3D modes
However, using the older PCMark Vantage - apparently intended for Windows Vista - the X770's score seems erroneous when Reg Hardware's office Acer TravelMate 5760G notches up a higher figure despite being a Core-i5 model. A nose around on-line for other scores produced by the X770-10J showed similar results when using PCMark Vantage. Tests with 3DMark 11 produced the combined score of 2315, beating the Alienware M18x's 1910 figure. With 3DMark 06, the X770 managed a score of 15,002.
The X770 battery lasted 55 minutes on a looping PCMark Vantage test, that's not even a train journey to Reading for me, so very disappointing. Yet it is a rather punishing work out, so with a bit of performance tweaking your mileage will undoubtedly vary. Like other gaming laptops with improbable weights, the fact you're going need to plug it in every hour makes its mobile gaming tag somewhat redundant. Why not buy a desktop for around the same price?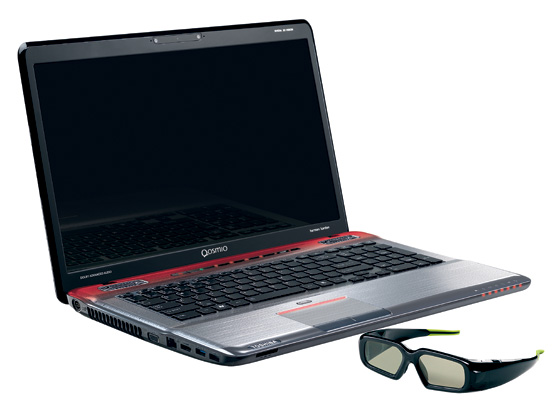 Perhaps more a gaming desktop replacement than something you'd want to carry around that often
Luckily, the X770 has some tricks up it's sleeve and, as an arty type, having two HD webcams – that allowed me to record 3D video and images – had great appeal. Also, I doubt if I would have any problems storing large digital video or photograph files given that it features two 500GB drives, one of them being a hybrid model with a 4GB Flash SSD on-board. Extras such as these, combined with a super vivid display and accurate gameplay, certainly make it an attractive proposition if speed and mobility are important to you.
Verdict
I'm impressed with the look and feel of this beast and 3D maybe a gimmick but it's sets this laptop apart from it's peers. But for £1700 and an unattractive battery life you're going need to ask yourself why you're not buying a desktop for the same price with the same specs. Still, if you were saving up for an Alienware machine, the Toshiba Qosmio X770 will certainly save you a few quid. ®
More Notebook Reviews

Acer
Timeline X
5830T
Sony
Vaio
SB
Dell
Alienware
M18x
Apple
MacBook
Air 13
HP
Pavilion
dv7