Original URL: https://www.theregister.co.uk/2011/10/07/reivew_cambridge_audio_id100/
Cambridge Audio iD100 hi-fi dock
Digital-only interface for audiophiles
Posted in Personal Tech, 7th October 2011 11:00 GMT
Review The Cambridge Audio iD100 is a dock with apparent delusions of grandeur. Brushed aluminium bodywork and a surfeit of serious connectivity signal a determination to squeeze every last drop of performance from any iOS device that comes its way.

 Clearly it takes the music on my iPod far more seriously than I do.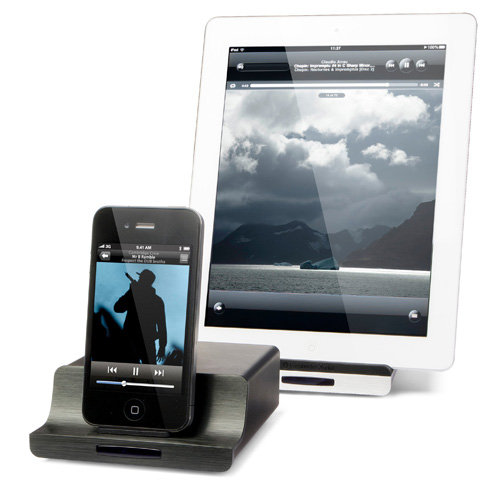 Cambridge Audio's iD100 accommodates all but the earliest iOS devices
The iD100 works with Pod, Phone, Touch and Pad, and ships with a selection of docking adaptors to ensure all are sitting comfortably. The largest cushion predictably accommodates the iPad, but there are also rubber stabilisers for the iPhone 3G/3GS, iPod Touch (generations one to three) and Nano (3G-5G).
Frankly, parking an iPad on a puny iPod dock seems a recipe for disaster, but this unit holds it well. The iD100 is low and heavy, and has meaningful rubber boots.
The iD100 is nothing if not versatile. In addition to coaxial and optical digital outputs, it sports an AES/EBU XLR connector. This rather esoteric option is more likely to be encountered in recording studios and is designed to interface with a matching balanced digital input on a DAC, amp or mixer.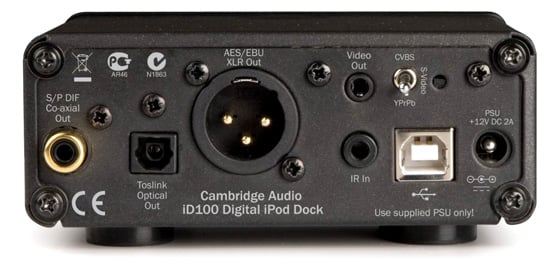 No analogue outputs here, it's digital-only with three interfaces to choose from
There is also a component and composite video output. A little rocker on the rear toggles between the two. Using the component output you can watch your 720p iTunes downloads in HD. Helpfully, Cambridge Audio bundles a mini-jack to component cable in the box. If you provide your own mini-jack to s-video lead, you can even output SD with separated luminance and chroma. Bit of a forgotten trick that one.
Other ports include an IR remote input, for use with an IR repeater, and a USB B connector which allows you to sync when using the dock.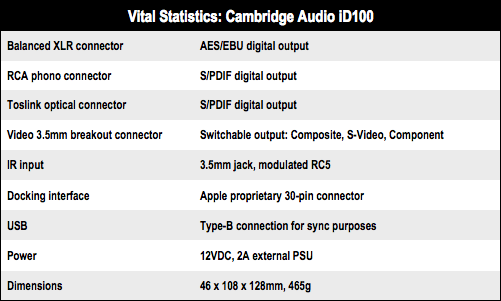 A good feed
The iD100 works straight from the box. There's no configuration to worry about, just choose your digital output and you're good to go. The unit looks subdued in operation, with just some blue status lights, but at least you know the thing's awake.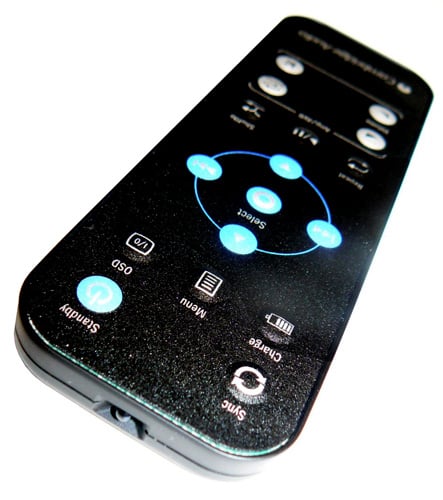 The remote handles routine operations but, alas, iPod menus don't appear on the video output
The supplied remote is a good deal more substantial than you might expect. Larger than a typical credit card sized zapper, it feels good in the hand. 

Digital audio is output direct from the docked device, that utilises some snazzy low jitter circuitry, to good effect.
320kb/s MP3s and Apple Lossless tracks both sound crisp and fulsome when routed into a resident Pioneer SC-LX90 AVR. Ultimately performance is down to the quality of electronics and amplification - as well as the original encoding - but it's reassuring to know you're starting off with the best possible feed.
But it's not just high quality music files which impress. The clarity of low bitrate sources is also a pleasant surprise, and while it might appear an odd observation, I was also struck by just how rounded my BBC podcasts sounded. Vocals are consistently warm and believable.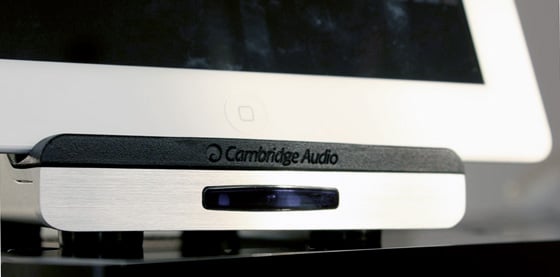 Various adapters allow for a snug fit
The iD100 does have some limitations though. You'll find iPod navigation stymied, as there's no menu from the video connection. This also means the iD100 is unable to route album art to a screen.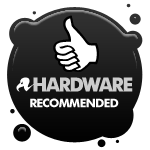 Verdict
Overall, I rate the iD100 highly. It's beautifully built and offers versatile hook up. And with a price tag of £150, it's an easy buy to justify if you want to make the most of your iTunes library or have a studio and a sampling habit. Just remember that you're going to need something good to plug it into to appreciate its capabilities. ®
More Audio Gear Reviews...

Audio Pro
WF100
Ten…
wireless speakers
Onkyo
TX-NR609
AV network receiver
Pure
Sirocco 550
Ten…
DAB kitchen radios