Original URL: https://www.theregister.co.uk/2011/10/06/review_lenovo_thinkcentre_edge_91z_all_in_one_pc/
Lenovo ThinkCentre Edge 91z all-in-one PC
Tidy desktop
Posted in Personal Tech, 6th October 2011 11:00 GMT
Review It may not match the sleek, silvery elegance of Apple's iMac, but Lenovo's ThinkCentre Edge 91z is a far more affordable option for people who want a compact all-in-one desktop computer.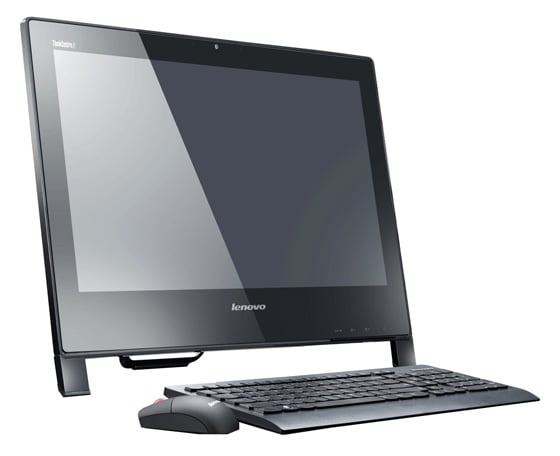 Lenovo's ThinkCentre Edge 91z: available with Intel Core-i3, i5 and i7 CPU options
The black plastic design of the ThinkCentre is fairly nondescript, but Lenovo does have a more stylish range of IdeaCentre all-in-ones that are designed for home use. The ThinkCentre range is primarily aimed at business folk who just want a tidy PC for running basic office apps.
All models in the Edge 91z range have the same 21.5in widescreen display, with a 1920 x 1080 resolution. The review model seemed a bit dark when initially set up, but a quick press of the Brightness button on the bottom-right edge of the unit revealed that the intensity was only set at 50 per cent – bumping it up delivered a clear and sharp image. However, a less glossy and reflective screen coating might be a better choice – especially if you've got harsh strip-lighting in your office.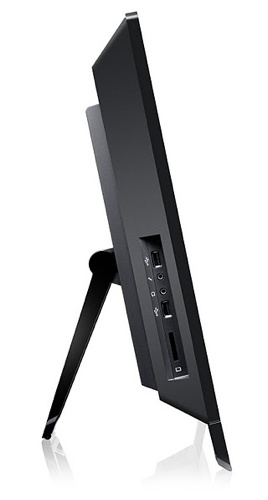 Ports a-plenty
The small built-in speakers produced a predictably thin sound, but there's an audio output connector so that you can connect external speakers for presentations or simply listening to some music while you work. I wasn't wild about the keyboard either.
Lenovo includes both wired and wireless mice with the ThinkCentre, but its UltraSlim wireless keyboard feels rather flimsy. I'd prefer something a bit sturdier when I'm thumping away on deadline day. But, keyboard aside, the ThinkCentre proved to be a fairly reliable workhorse PC.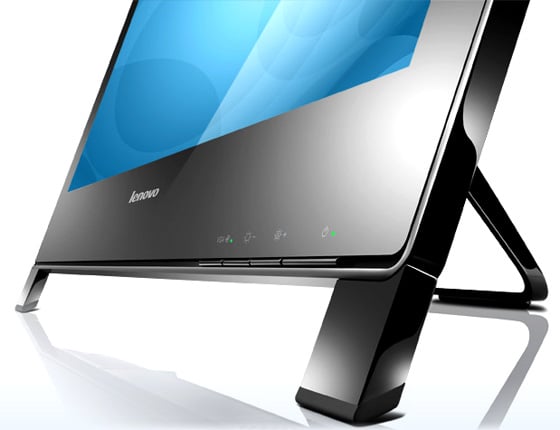 Stylish and yet suitably understated for office use
I tested the entry-level model in the range, which is equipped with an Intel dual-core i3 processor running at 3.1GHz, along with 2GB of Ram and 320GB hard disk. That's obviously a fairly modest spec these days, but a 3.1GHz processor is more than adequate for a workaday business PC that simply needs to run Microsoft Office, surf the web and handle email.
Graphic details
Even so, office workers do need to multi-task, so a minimum of 4GB of Ram would have made more sense for people who need to work with several applications open all at once. This base model clocked up an overall score on PCMark 7 of 2227, a fairly unspectacular figure that falls in line with expectations for this configuration.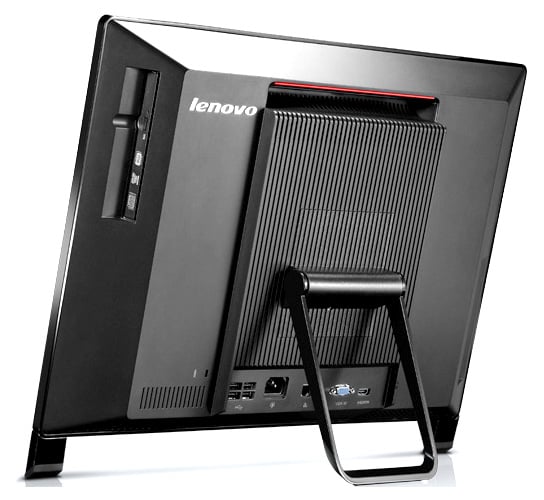 There are also Blu-ray and SSD-equipped versions in the ThinkCentre range
Lenovo is a bit vague about the graphics chip, referring to it only as the 'Intel HD Family'. In fact, it relies on the integrated Intel HD 2000 core built into its Core i3 Sandy Bridge CPU. I had to lower Far Cry 2 down to a mere 800 x 600 resolution to get a playable 26fps out of the Edge 91z – although that's almost irrelevant given the machine's intended target audience.
Unfortunately, Lenovo was even more vague about the price of the 91z, but then again, its configurations span Core i3, i5 and i7 CPU options. Still, it took a week of back-and-forth e-mailing before I received a tentative suggestion of just over £1000 – which would have made it more expensive than one of Apple's new i5 iMac models.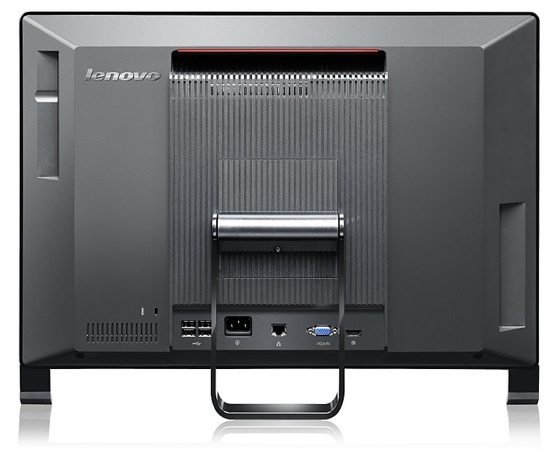 Plenty of ports round the back
In the end, I spoke to a Lenovo reseller who was just starting to accept orders for the 91z and who suggested that the price would be around the £670 mark. That's roughly in line with similar all-in-one systems from the likes of Dell and HP, although 4GB of Ram and larger hard disks tend to be the norm there. However, the reseller did suggest that the memory might be tweaked once the machine goes on sale in October.
Other features include a built-in 2Mp webcam, four USB 2.0 ports on the back of the unit and another two on the left-hand side. The DVD-ROM drive sits over on the right-hand edge – and makes me realize why Apple chose a slot-loading drive for the iMac, as the sideways-mounted pop-out tray on the Edge 91z is both ugly and fiddly to use.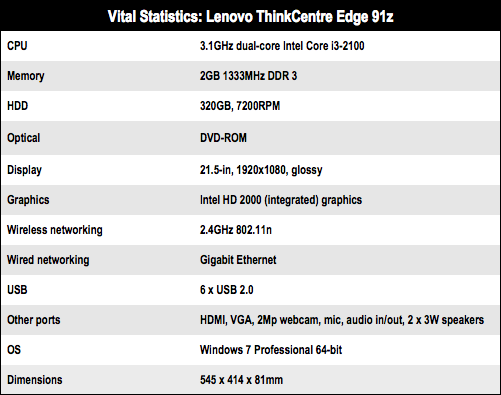 Centre of attention?
There are VGA and HDMI ports for connecting to external displays, and audio input and output available for external speakers and microphone. The Edge 91z doesn't have built-in Bluetooth, but with wireless peripherals bundled with the PC, that won't inconvenience many, if any, buyers.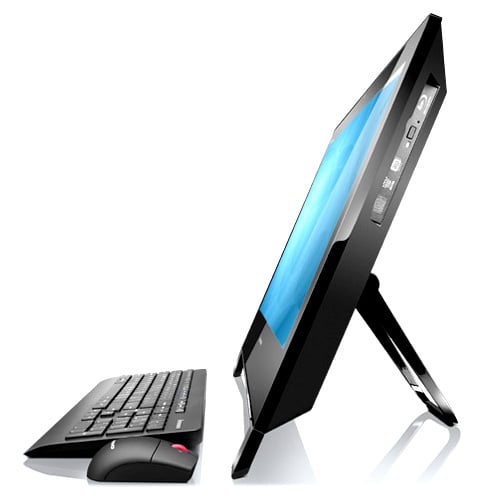 Supplied with wireless peripherals, but Bluetooth is an optional extra
The Edge 91z comes with an average selection of bundled software, including Norton Internet Security 2011 and Corel MovieFactory. There's also the ad-supported Microsoft Office Starter Edition, which will no doubt do wonders for your productivity, having ads pop-up when you're entering sales data into your Excel spreadsheet. Lenovo includes its own ThinkVantage software, which provides a handy all-in-one interface for tasks such as system diagnostics, driver updates, and back-ups.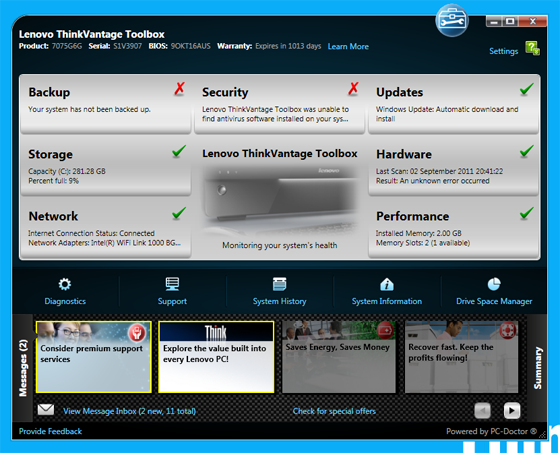 Lenovo's ThinkVantage utility suite
Verdict
There's nothing particularly exciting about the ThinkCentre 91z, but it's a safe choice if you simply want a compact desktop PC for routine office work. However, rivals such as Dell and HP are selling more stylish systems with more memory and disk space for about the same price, so the 91z may struggle to stand out from the crowd. ®
More Desktop PC Reviews

Apple
Mac Mini 2011
HP
TouchSmart 610
Sapphire
Edge HD
Dell
Inspiron
Zino HD 410
Apple
iMac 27in