Original URL: http://www.theregister.co.uk/2011/10/04/review_smartphone_htc_evo_3d_android/
HTC Evo 3D Android smartphone
'D' is for dud?
Posted in Personal Tech, 4th October 2011 11:00 GMT
Review LG might have been first with its Optimus 3D, but HTC hasn't wasted any time coming up with a glasses-free 3D phone of its own.
From the front, the Evo 3D looks like a standard, snazzy HTC smartphone, but it's one of the manufacturer's chunkier numbers. Its metallic casework is sturdy, but the paint on the edges where it sits slightly proud of the screen in the usual HTC fashion seemed very quick to flake away, spoiling the look.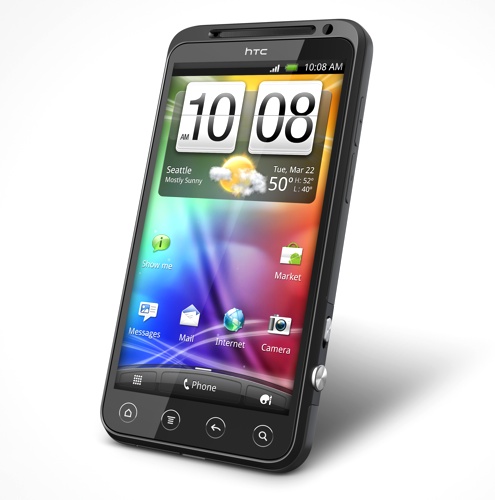 A 1.2GHz dual-core CPU makes for a reasonably nippy smartphone
The four standard Android buttons sit beneath the nicely sensitive 4.3in, 960 x 540 touchscreen, which can be flicked from 2D to 3D mode using a switch on the side of the phone. The thin, textured plastic casing on the back surrounds the two camera lenses required for stereoscopic snapping.
The Evo comes with Android 2.3.4 Gingerbread, and it has a 1.2GHz Qualcomm Snapdragon processor backed by 1GB of Ram, which keeps things nipping along nicely. The Quadrant Standard benchmarking tool gave it 2123, which has it lagging a little behind other dual-core devices, such as the Motorola Atrix, though it's still impressively fast.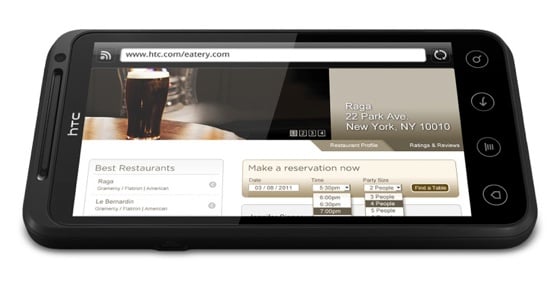 The qHD screen looks good
There's 1GB of memory storage on board, though you can bump this up by 32GB using a Micro SD card.
HTC's Sense user interface still looks and feels great, even though a lot of its attributes have been incorporated into standard Android or matched by other manufacturers. Still fairly new, though, is HTC Watch, a video streaming service that allows you to pay for and download a range of films and TV shows. Alas, there's not a lot of content on there yet, though there are a few prestige titles, and there's nothing at all to take advantage of the Evo's 3D screen.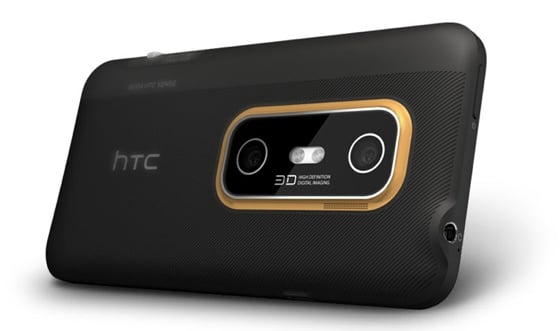 Two 5Mp cameras only makes for 2Mp 3D shots
In fact, none of the widgets or Sense features use 3D, which seems like a bit of a trick missed.
3D content: it's down to you
HTC has included a few sample 3D pics, and you can find 3D movie trailers on YouTube, so long as you type the cryptic "yt3d" into the search bar. You can download 3D games direct from the Gameloft website, and there's a bunch of 3D games available in the Android Market too, some of them for free. The 3D effect wasn't especially profound on any of the ones I tried.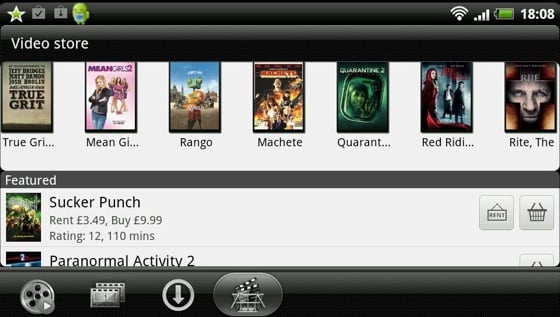 HTC's Watch service will sell you movies, but not in 3D
The 3D screen does look good, though. You don't get the maximum screen resolution with 3D images, but it's still impressively sharp and detailed.
Given the paucity of downloadable content, most of the 3D imagery you'll see on the Evo will come from its own 3D camera rig. It has autofocus and face detection, and the large camera shutter button on the side of the handset has a two-step movement: press lightly to focus, then more firmly to take the shot.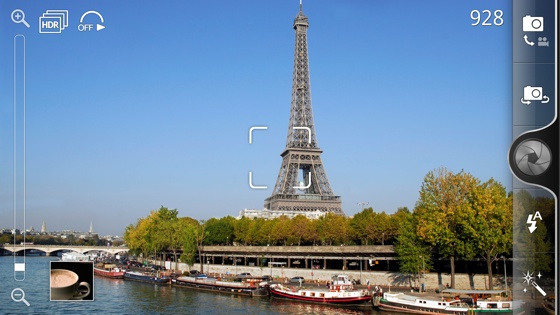 The camera app only works in landscape orientation
The Evo won't allow you to take portrait shots in 3D. If you try, it tells you to turn the phone around. The mode switch on the side allows you to flick easily - if not particularly quickly; it takes about three seconds to change - between 2D and 3D mode for both still and video.
Sample Shots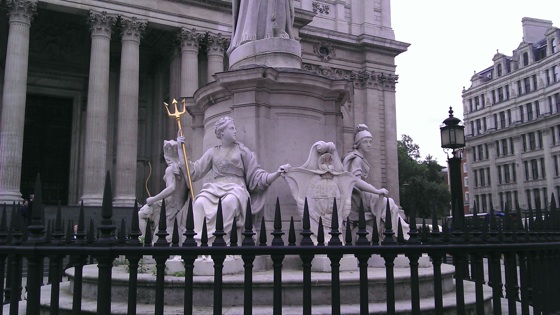 Click for full-size image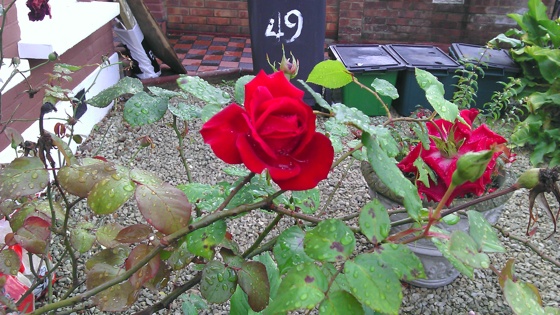 Click for full-size image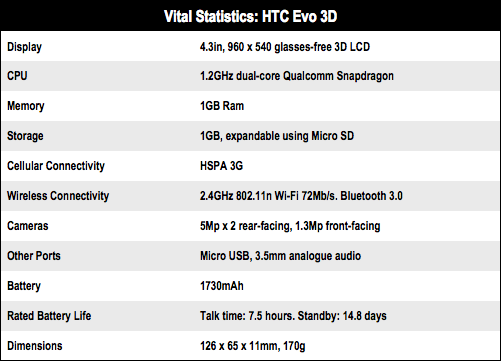 The third dimension
Still picture resolution drops from 5Mp to 2Mp in 3D mode and while there's certainly a 3D effect, it does strain the eyes a little to see it. As is often the case with glasses-free 3D screens, the viewing angle is very tight. Tilt the phone by a fraction of an inch and you'll lose it.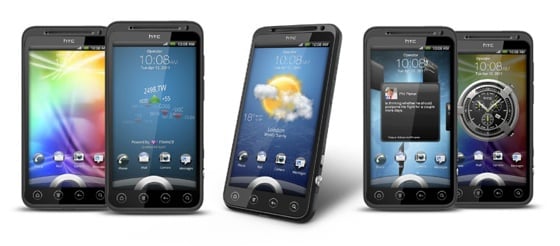 And once you've got your 3D pictures, there isn't an awful lot you can do with them. Folk you email snaps to won't see the effect on a standard 2D screen, and although I didn't have a chance to transfer any pics to a 3D TV, HTC couldn't confirm that this would even be possible.
The camera isn't the best when it comes to shooting 2D, either. As is too common with HTC cameras, picture quality isn't great: colour balance is unreliable and a little washed out and it's all too easy to get blurred results.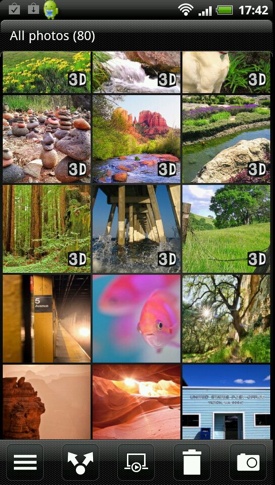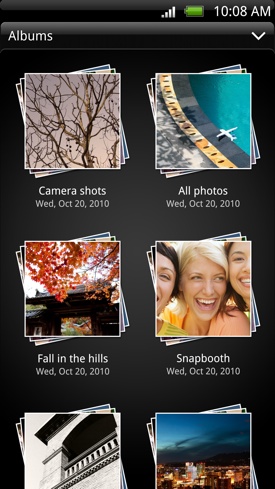 The Evo's Gallery app highlights 3D content (left) and lets you create albums of snaps (right)
Video recording can go up to 720p HD resolution, a step down from the 1080p quality you'll find on most other dual-core handsets.
Call quality is decent enough, delivering voices loud and clear, but the Evo's battery life is very poor indeed, even by smartphone standards. I never managed to get a full day's use out of it, at least not one that involved playback or capture of 3D content. So it's best to leave the 3D switch off when you can.
Verdict
The HTC Evo 3D is a powerful smartphone with an interesting party piece, but unless you're desperate to take 3D pics, watch 3D movies or play 3D games - and you're willing to take a big hit on battery life - you'll be better off with HTC's Sensation or Desire. ®
Thanks to Clove for the review sample
More Android Smartphone Reviews

Orange
Barcelona
Samsung
Galaxy Fit
HTC Salsa
Vodafone
Smart
Sony Ericsson
Xperia Neo