Original URL: https://www.theregister.co.uk/2011/10/04/games_review_rage/
id Software's Rage
Apocalypse wow
Posted in Personal Tech, 4th October 2011 12:29 GMT
Review Is it an RPG? Is it a first-person shooter? This is a question which reverberates around my mind while I wander through Rage's wastes. Why the confusion? Because id's latest shooter hovers somewhere in the middle of these genres, a chimera with, oddly enough, lashings of Motorstorm-esque racing thrown in for good measure.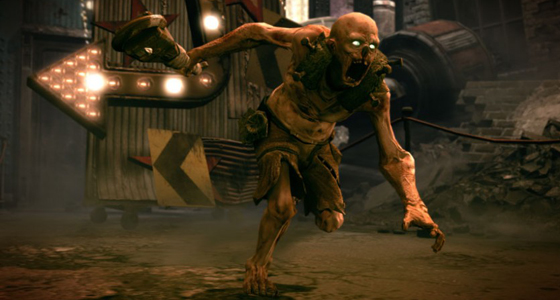 Wide eyes, zombie-like grin... typical clubber
Of course, these things come as no surprise. I've followed Rage's long gestation - this is an id shooter after all - with excited apprehension as press releases after press release unveiled the game's many intricacies. No Quake-style multiplayer, for example; a robust driving section included; huge installation sizes, notably for consoles; a co-op mode which supports the single-player campaign; the list goes on.
Rage, for those not in the know, is id's latest attempt to overhaul the FPS genre. Sporting a brand new engine, "id Tech 5", and variations on the developer's usual unsubtle shotgun-in-the-face formula. Set in a post-apocalyptic world - whatever next? - players assume the role of an ARK survivor – that's someone who rode out the world-ending Apophis meteorite in an Eden Project-style capsule.
Yes, Fallout fans might be thinking this all sounds very familiar. Well, prepare to have your suspicions confirmed as - yup - said future isn't at all that was planned. The world has descended into rampant chaos as civilisation broke down, gangs formed and mutants, well, mutated.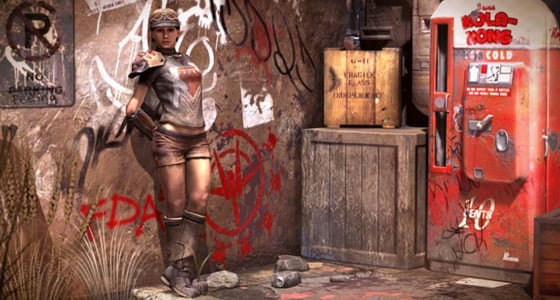 I know what you're thinking... but it's out of order
And there's the Authority, a totalitarian armed force whose iron grip over the game's aptly named Wastelands, is all but total. Looks like we might need to join some kind of resistance then, huh?
Upon emerging from ARK into daylight, the player is treated to one hell of a vista: blue sky, clouds, an eerie far off plume of smoke and mile after mile of twisted, corroded landscape. It seems id's Tech 5 is no mere hyperbole, "even" on an Xbox 360.
And just to answer the obvious question: I'm playing the 360 version simply because most of us don't have a PC with hardware expensive enough to really do Rage justice. For those interested, I installed disc one only. Load times are bearable, but textures do have a tendency to load in off the disk when under close inspection — distracting but by no means experience destroying.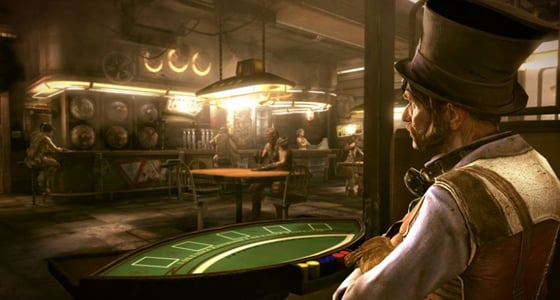 Mad hatter, Blackjacker
After a brief introduction to the game, your newly emerged Wastelander will find himself under the protection of the John Goodman-voiced Dan Hagar, over at a small garage settlement. As Rage's protagonist is taciturn, it's Dan who'll be doing the talking as he briefly introduces the Wastelands and asks you to go clear a local area of bandits.
Take the scenic route
The first thing I'd do in similar circumstances would be to ask what's happened in the years I've been underground. Are there were any other survivors like me? What happened to them? What is the political and geographical lay of the land?
Not so our hero, who simply accepts the mission and heads out with murder in mind, no questions asked. As I chugged my way over to the bandit's settlement in my buggy, I couldn't help thinking, "Where's my motivation?" A first, clipped hurdle in my integration into to the game.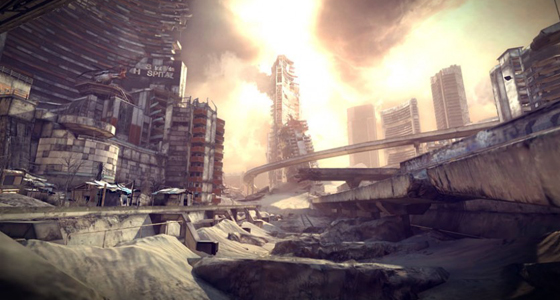 City, city, bang, bang
A musical score reminiscent of a Hitchcock thriller conjures an atmosphere edging toward the psychotic. One of Rage's surprise standouts, the audio, delivers a constant stream of context sensitive tension, impressively altering from location to location but unwavering in its sub-conscious affect.
At this stage of proceedings however, I'm still wondering exactly who the music is directed at: the bandit cannibals or the player character himself, happily blasting said bandits to bits on the word of the only person he's yet spoken to in this brave new world?
Regardless of conscientious objections, blast away I do, as bandits come at me with a mixture of close-quarters weapons and assault rifles. One of the first noteworthy impressions is the speed at which combat takes place. It's a breathless affair in which enemies throw themselves towards you if armed with blades, or take pot shots from cover if packing guns. It's a trend which continues throughout the game, the only difference being that these bandits are weak compared to later mutants and armoured Authority troopers.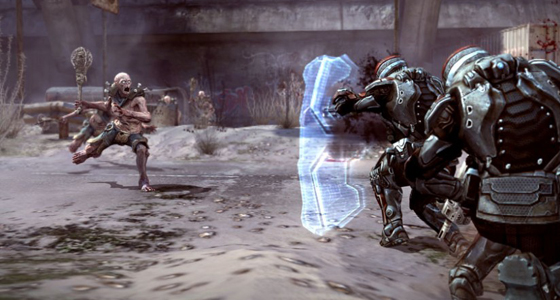 Loonies around the block
The AI does a good job of finding surprising angles to attack you from, mutants jigging at the last to strafe you, for example. The forementioned Authority soldiers come in a variety of flavours too, those equipped with energy shields often sheltering their comrades to increase their chances in a fire fight.
Then there are the various 'boss' characters, impressively handled for an FPS - Deus Ex, take note - and often requiring an almost Zelda-like strategy of repetitious damage in order to successfully fell them.
It's a good job enemies are so well drilled, as the player character is himself one awesome specimen of kick-ass. It transpires that ARK dwellers were all injected with Nanotrites - nanobots to you and me - which is how id explains away how your character's ability to regenerate health.
Not only possessed of healing that Wolverine would be envious of, your character can even resuscitate himself from the brink of death — a defibrillator mini-game activates if you take one too many shots. Successfully completed, said shock to the heart will not only bring you back into the fight but even electrocute your would be killers, so clearing the vicinity of hostiles.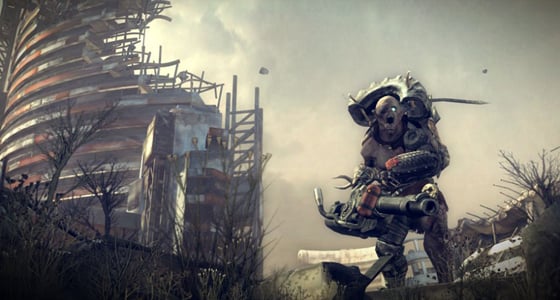 Lift your arms
It's almost too generous a health system, to be quite honest. The player is possessed of a toughness that makes a mockery of most of the threats he faces. Taken too many hits? Simply duck and cover for five seconds while you auto-heal. Can't wait five seconds? Then apply one of the many bandages you'll quickly accumulate to instantly boost your health.
A system whereby health only regenerates once all nearby enemies have been taken down would have seriously upped the tension of Rage's closely fought battles.
Gizza job
Rage also features RPG-like exploration and item gathering, albeit much more simple than the kind of gameplay found in Fallout 3 or Oblivion. On your travels you'll accumulate all manner of items which can then be engineered using the inventory menus.
Again, there's no real explanation as to why your character can do all this stuff - he just can. Plans for various devices – remote bomb cars, EMP grenades, sentry bots, smart ammo – can be bought or discovered, allowing you to customise your own armoury.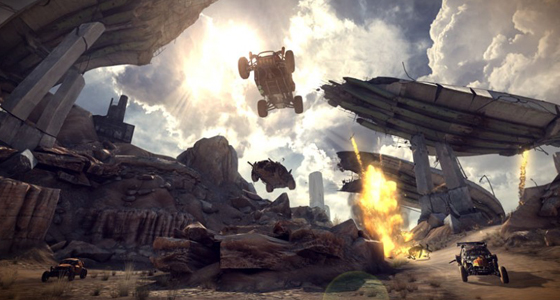 Gap jumpers, always smashing
There's a job system too. Indeed, nearly all the missions you undertake are basically commissions from the game's main characters. Secondary missions are also available if you talk to everybody and read the notice boards. Many of them will see you revisiting an area you have already explored, taking on similar foes and completing similar objectives: find remains, find evidence, or simply kill all hostiles.
Irrespective of missions, it's also possible to simply go for a cruise in the Wastelands, all in your car.
Your car is one actually one of your most important tools, not only for tracking across the vast expanses but also to protect you from marauding bandits. Weapons such as rockets and machine guns can all be attached to your auto in true Mad Max style. Your car can also be entered into races - fun in single-player mode and half of the online mode.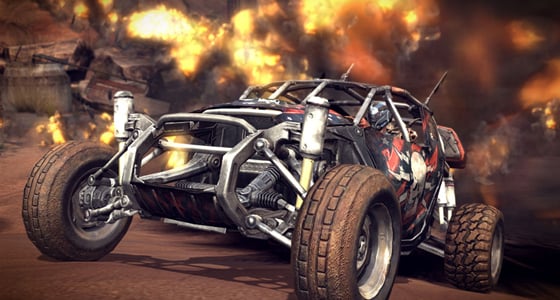 This part of the game is all buggy
It will be interesting to see how Rage does online but, with id adamant that it didn't want to rehash Quake's multiplayer arenas, the racetrack is the only place where competitive deathmatching can be found.
The other half of multiplayer, the "Wastelands Legends" mode, consists of a collection of co-op missions for two players - online or split-screen - all of which flesh out a storyline hinted at by the game's main characters – the origins of the Mutant Bash TV game show, for example.
Multi-kill, headshots, etc accrue each player points which provide some competition between gamers, while the ability to revive each other brings an element of team spirit. Again, a brave approach to the online structure of the game, and one which proves mildly diverting - providing your teammate is playing the right way.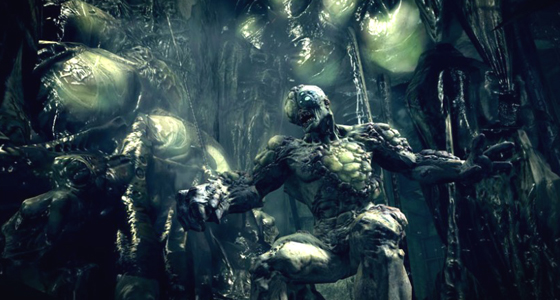 Sigourney Weaver couldn't get the make-up for the next Alien installment
Verdict
An FPS with RPG tendencies, held together with amazing sound, gorgeous visuals - yes, even on the Xbox 360 - and a racing mode which diverts though never quite convinces.
Hardcore RPG fans won't think much of the exploration aspect: wandering blindly into the desert rarely yields rewards, missions are linear - despite attempting to create the illusion of being multi-pathed - and the game is relatively brief at 12 hours to top the game, though completing all the extras will take longer.
FPS fans should, however, appreciate what id has done, the array of weaponry and quick-use items providing combat options which dwarf those found in most shooters.
I began my foray into Rage's Wastelands asking what my motivation was and after seeing the sights, getting dust on my boots and mutant blood all over my car's paintwork, I did emerge more convinced. Even if, like a vacuous but gorgeous blonde, the attraction is largely skin deep. ®
More Games Reviews

Ico & Shadow of the
Colossus Collection
Rise of
Nightmares
F1 2011
Gears of War 3
Resistance 3